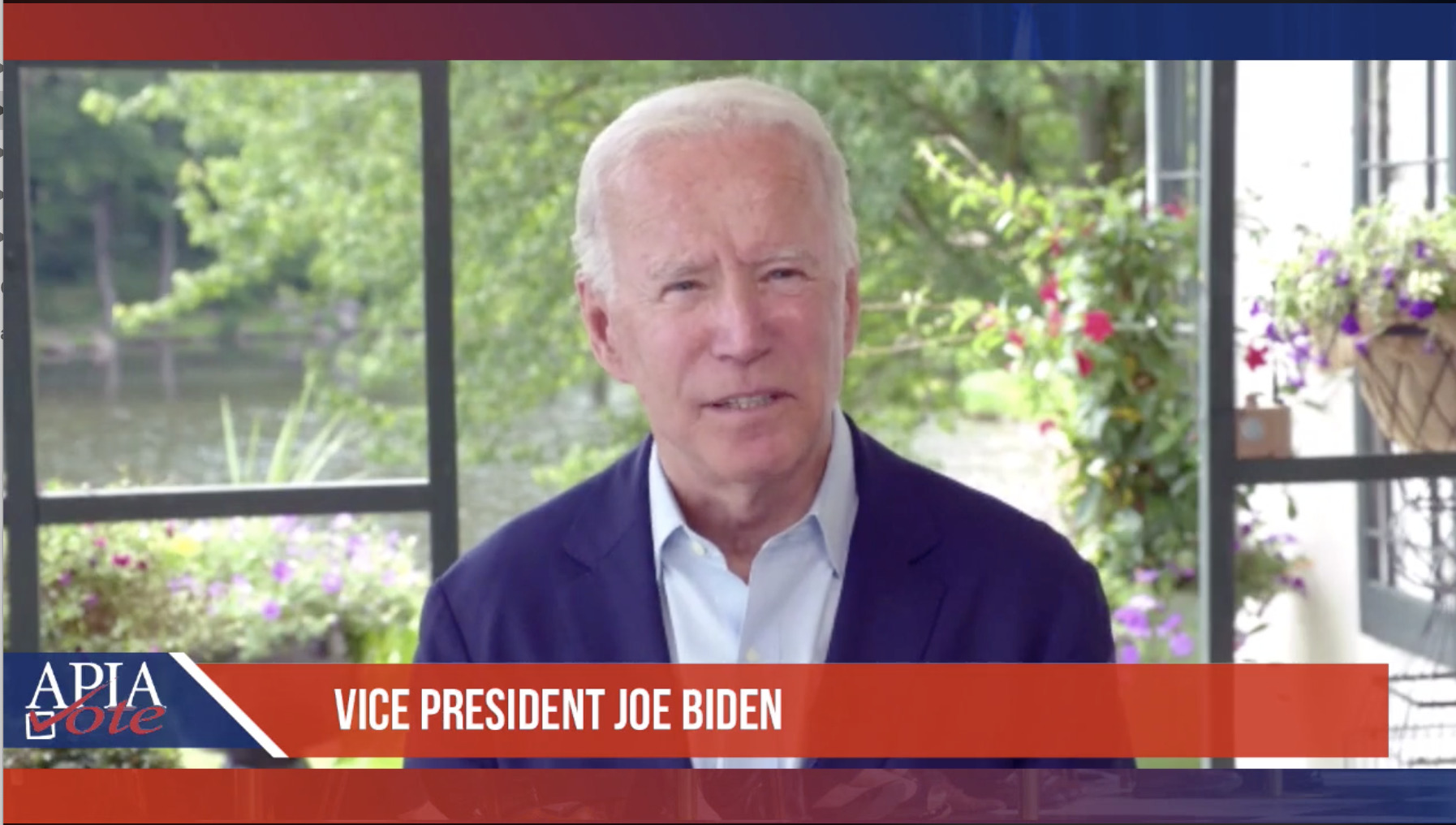 FILIPINO American elected officials and community leaders recently came together to throw their support behind former Vice President Joe Biden, the presumptive Democratic presidential nominee, ahead of November.
Over 200 participants joined a virtual meeting for "Filipino Americans for Biden," during which several speakers — from Rep. Bobby Scott of Virginia to philanthropist Loida Nicolas Lewis — shared why the former vice president is ready to take on President Donald Trump in the upcoming election.
"It's essential that we elect Joe Biden as our next president," Scott said, citing Biden's past work in health care, education and immigration.
The congressman, whose maternal grandfather had Filipino ancestry, also emphasized the importance of also voting down the ballot to reclaim the Democratic majority in Congress.
"But it is also important to elect others that will be on the ballot…We can take back the Senate," he said.
Gina Ortiz-Jones, an openly gay Iraq War veteran who is running again for Texas' 23rd District, urged the audience that it is up to them to get their family members, especially older eligible voters, registered to vote.
"I'm very concerned that if our voices are not at the table and if we are not making sure that we get all of our titas, lolas, manangs and manongs out to vote, then we will regret having had the chance to put our country back on the right track, understanding the importance of not only this country's example, but also what it's meant to each of us individually as Fil-Ams," Ortiz-Jones said.
She raised concerns about the current White House leadership during the pandemic and drew parallels with what is happening back in the Philippines.
Ortiz-Jones continued, "Given the number of blessings that this country has given us, we've certainly worked hard. But as we all see, frankly we're watching what's happening in the Philippines and Maria Ressa is unfortunately seeing firsthand what can happen in a country that doesn't prize the importance of an independent free press. And unfortunately, seeing a corrupted judiciary, you just have to look at what's happening there to see very quickly what could happen here. So we have to be there. It's our responsibility."
The congressional hopeful added that the excuses for not voting are invalid as "too much is at stake" and Fil-Ams "have to be part of that solution" by getting at least 20 individuals in their network to register to vote and cast their ballots for Biden.
With now less than four months until Election Day, the group is seeking to get at least "1 million" Fil-Ams onboard.
"This is just the beginning of the Filipino Americans who are now finding their voice and standing up for justice and equality," Nicolas Lewis said. "So please volunteer, all of you, and tell your friends. As Gina Ortiz-Jones says, get 20 more so that eventually we will reach 1 million Filipino Americans for Biden."
The virtual launch for the Fil-Ams for Biden group came the day after the former vice president appeared at the digital AAPI presidential town hall organized by APIAVote on Sunday, June 28, during which he addressed the issues specific to the AAPI community.
As anti-Asian sentiments have been on the rise since the COVID-19 pandemic hit the U.S., Biden denounced the rhetoric coming from Trump and his supporters.
"Asian Americans are being targeted with violence and are being subjected to xenophobic rhetoric from the mouth of the president himself," Biden said. "This is the president who, instead of bringing our country together, does everything he can to fan the flames of hate and division in this country."
He further gave viewers a peek into his platform as it relates to immigration, especially as Trump last month temporarily suspended the issuance of new work visas through 2020, preventing hundreds of thousands of foreigners seeking employment through the H-1B visa.
"People coming on these [H-1B] visas have built this country," the former vice president said, adding that in his first 100 days, he would send an immigration reform bill to congress to provide a roadmap to citizenship for undocumented immigrants.
"My immigration policy is built around keeping families together, modernizing the immigration system by keeping families together, [and having] unification and diversity as pillars of our immigration system, which it used to be," he said.
As election season draws closer, the Trump and Biden campaigns are seeking support from AAPI voters, considered the fastest-growing group in the U.S. electorate, according to a recent Pew Research Center analysis.
Trump's re-election campaign, meanwhile, has announced "Asian Pacific Americans for Trump," which has several Fil-Ams on its advisory board, as previously reported by the Asian Journal.