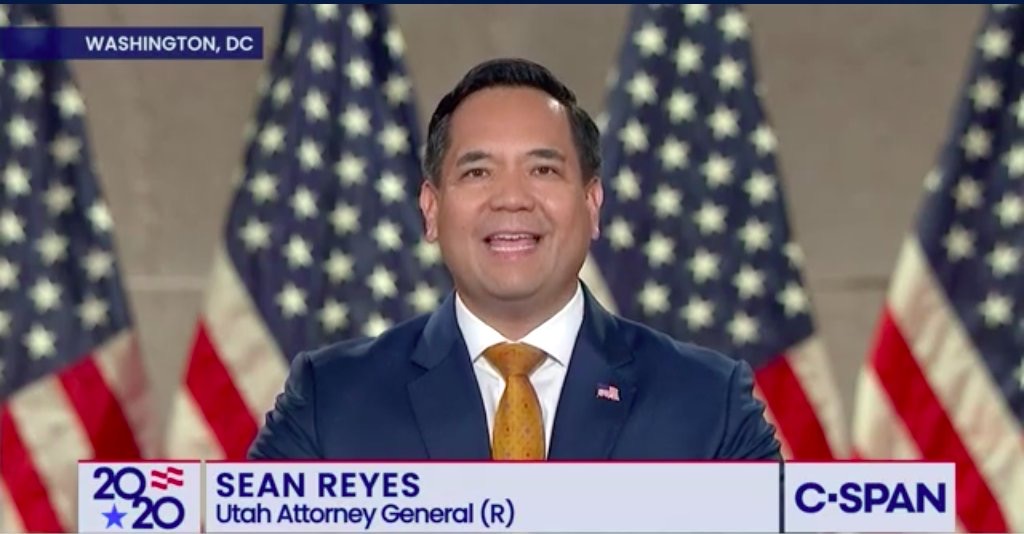 Following Dr. Amy Agbayani's appearance representing Hawaii during the roll call vote at the Democratic National Convention, this week's Republican National Convention featured a high-profile Filipino American elected official during the primetime program.
Utah Attorney General Sean Reyes, whose father was an immigrant of Filipino-Spanish descent from the Philippines, took to the main stage on the fourth night of the RNC on Thursday, August 27.
Reyes started his remarks by saying good evening in different languages reflective of his diverse background, including "Magandang Gabi Po" in Tagalog.
"I'm a proud American and proud descendant of warrior ancestors, women and men alike, from my Hawaiian, Filipino, Japanese and Spanish heritage," Reyes said. "My father demonstrated his warrior spirit over 50 years fighting a dictator in his homeland, the Philippines. Barely escaping with his life, he started anew in America."
ICYMI: If you didn't get the opportunity to watch my @GOPconvention speech tonight, here you go: https://t.co/lAT4vNsFlA#humantraffickingawareness #opioidcrisis #SuicidePrevention

— Sean Reyes (@SeanReyesUT) August 28, 2020
Reyes was appointed attorney general in December 2013, becoming the first minority elected statewide in Utah, ran again in 2014.
In his roughly four-minute remarks, Reyes also talked about his work to stop #humantrafficking and called President Donald Trump a "fierce warrior against human trafficking."
"I interact with some of the most marginalized victims on earth and they love America. They love President Trump because he's fighting for their freedom and America's freedom," Reyes argued.
The attorney general is a co-chair for both Trump's re-election campaign in Utah and "Asian Pacific Americans for Trump," a coalition of APA elected officials in support of a second term.
Utah Attorney General Sean Reyes (@SeanReyesUT) is a fighter and hard worker for the Great State of Utah. He is a big supporter of our #MAGA Agenda – Strong on Crime, the Second Amendment, and Loves our Law Enforcement….

— Donald J. Trump (@realDonaldTrump) April 23, 2020
He is currently running for a third term and was endorsed by Trump who tweeted in April that Reyes "is a fighter and hard worker for the Great State of Utah. He is a big supporter of our #MAGA Agenda – Strong on Crime, the Second Amendment, and Loves our Law Enforcement…."