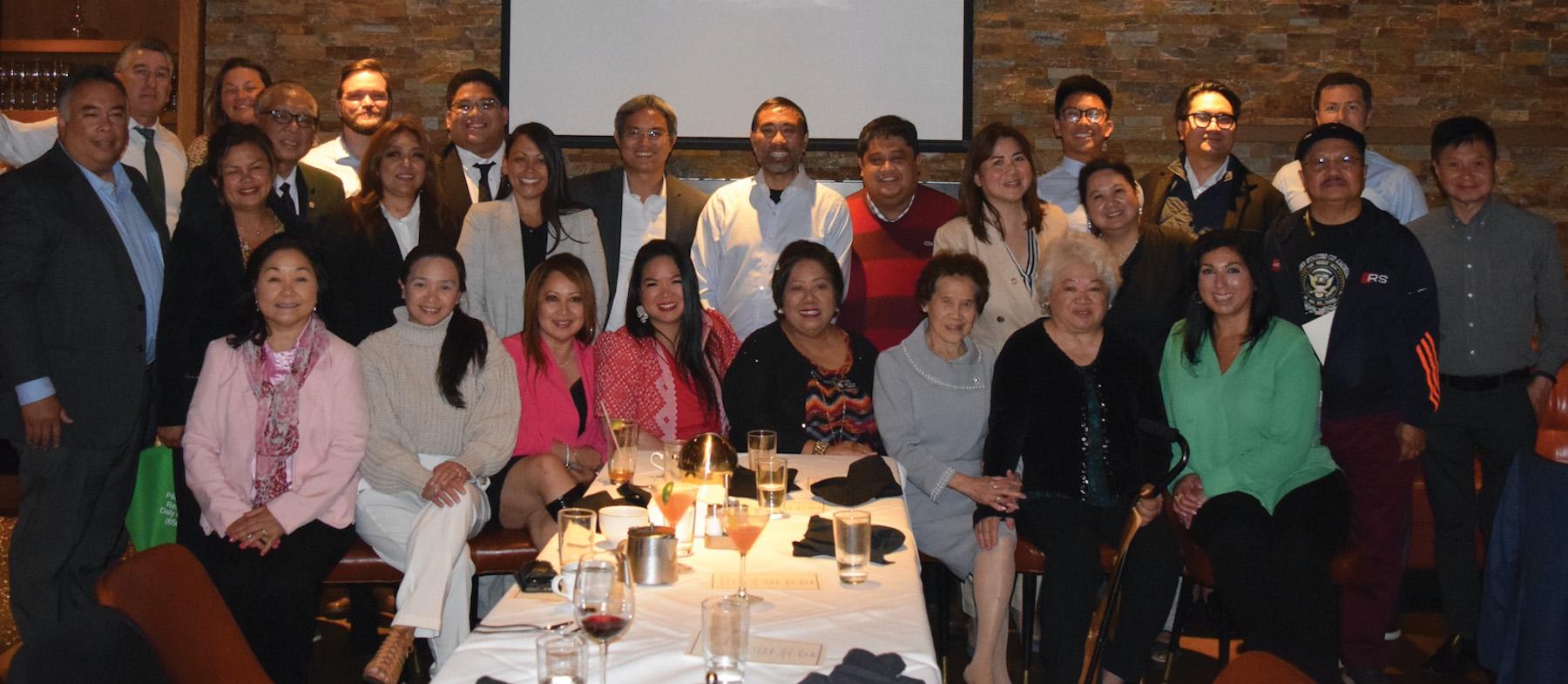 THE cities of Daly City, United States and Quezon City, Philippines renewed their sister city ties through a ceremonial exchange of their respective Keys to the City on Monday, June 10 at the city council chambers in Daly City.
During the exchange, Daly City Mayor Raymond Buenaventura and Quezon City District 4 Councilor Marra Suntay presented Keys to the City of their respective cities during a Daly City council meeting, witnessed by city officials, officers and board members of the Daly City-Quezon City Sister City Committee, Philippine Consulate General in San Francisco officials, and other invited guests.
The Daly City-Quezon City Sister City Committee was established in 1994, according to a press statement, "to foster an awareness of Filipino culture, to encourage the integration of Filipino residents of Daly City into the civic life of the city and to encourage trade and commerce."
In the past, it has been responsible for the Daly City Festival celebrating the Philippine Independence Day anniversary (June 12) and Filipino culture in the Westlake and Serramonte areas, an exchange of cultural, educational, business and trade ideas between Daly City and Quezon City, as well as coordinating visits between officials from the two sister cities.
In his remarks prior to the presentation of the keys to the city to representatives from both cities, Mayor Buenaventura, revealed his connection to Quezon City.
"I was actually born in Quezon City," Mayor Buenaventura said. "It makes me feel so proud to be born and come from there. You've come a long way in terms of what Quezon City has become… you have a great future when it comes to the city, your development."
"We started this path on a sister city relationship, because we in Daly City believe that we can learn something from each other… It is my hope and the rest of the council's hope that we can continue to build on that relationship and that we can reinforce and grow our relationship to be even stronger than ever because that's what a sister city is supposed to do. We are very grateful that you've made the trip all the way out here from the Philippines," he continued, while adding his hope of a Daly City delegation visiting Quezon City in the future.
After the presentation, Councilor Suntay expressed her gratitude, on behalf of the delegation and Quezon City Mayor Joy Belmonte and Vice Mayor Gian Sotto, to the city council and city officials for the accommodating them. "We are grateful and excited, given the opportunity, to experience the vibrant community of Daly City. I'm sure the knowledge and experience that we will gain during our visit will undoubtedly contribute to the development of our city, Quezon City," she said.
In their short remarks, Vice Mayor Juslyn Manalo and Councilmember Glenn Sylvester revealed their own ties to Quezon City, while Councilmember Pam DiGiovanni expressed a wish to be able to visit sometime soon.
"This is a momentous occasion to really revive the relationship and I look forward to also learning from city and seeing the tremendous growth your city has done. Actually, my parents are in Quezon City right now," Vice Mayor Manalo stated. "My mother was raised in Quezon City, [in] the Novaliches part. It's really amazing to see what has been done there but I also look forward to visiting in the near future… I hope you learn so much from our city departments and bringing back what you've learned here [to your city]."
Manalo also mentioned that the festivals and cultural events organized by the sister city committee was "culturally so enlightening to me as a child… what I do remember from those events was the food, the culture, the dancing. That was really the relationship forged for so many decades. So the impact is not only on two global cities, but you're also impacting young Filipino Americans to go back to their roots and celebrate their culture."
Councilmember Sylvester, who's married to a Filipino and whose mother hails from Pangasinan, revealed that during his tenure as head of the Filipino American Law Enforcement Officers (FALEO) Association, he was instrumental in establishing a chapter in Quezon City, located in Camp Crame. The organization conducted goodwill missions to the Philippines which he regularly participated in.
"I welcome all of you. It's a great pleasure. We exchange ideas, and so does FALEO with law enforcement and the fire services. I wish you the best. Enjoy your stay in Daly City. Maraming, maraming salamat," he concluded.
Councilmember DiGiovanni, who said that she loves how Filipinos celebrate life, stated that she looks forward to visiting Quezon City, where she wants to "explore the people, and that is what to me resonates… the heartwarming, embracing not just the food, but the culture, the vibrancy, the love of the people. When you are welcomed into that community, that is the essence."
"I look forward to welcoming Quezon City and the sisterhood, and let's just see… I bet we can do great things together. As a matter of fact, I know we can," she stated. "This is just the beginning."
Aside from the exchange of Keys to the City, representatives from Assemblymember Phil Ting's office handed over certificates to members of the Quezon City delegation.
A day later, on Tuesday, July 11, the Quezon City delegation was treated to a dinner reception by the Pilipino Bayanihan Resources Center (PBRC) at Original Joe's in the Westlake area of Daly City. City Administrator Michael Alimuring of the Quezon City government was able to join the delegation.
According to Cheryll Cuasay-Catuar of the sister city committee, the Quezon City delegation presented a wish list of activities that they wanted to accomplish during their working visit, which they were more than happy to arrange and even add onto.
Aside from visiting various Daly City departments (police, fire, library & recreation services, water & wastewater) and exchanging information with counterparts, the delegation will also visit iconic Silicon Valley businesses and institutions like Stanford University and Google, in addition to attending a Mile Marker ceremony and the PAMANA Gala Awards, among other things.
Cuasay-Catuar told the Asian Journal in a brief interview that what is being envisioned as one of the next steps in the sister city relationship is an exchange of ideas, and goods and services based on the needs of Daly City and Quezon City.
For Quezon City, Cuasay-Catuar said, it may involve learning about the various systems and processes in place in the various departments in Daly City and adapting that to facilities in the homeland. It may also involve sending equipment to the Quezon City when the opportunity arises.
For Daly City, it may be the opportunity for Quezon City leadership to send Filipino books to Daly City libraries, which are sorely needed. The sister city committee may also seek help in procuring celebrities for possible future events like the Kasayahan sa Daly City and a planned Filipino Day within the San Mateo County Fair schedule.
Additionally, the Daly City-Quezon City Sister City Committee is working on scheduling a delegation visit to the Philippines, possibly in 2024 when Quezon City plans to host their sister cities from around the world. n