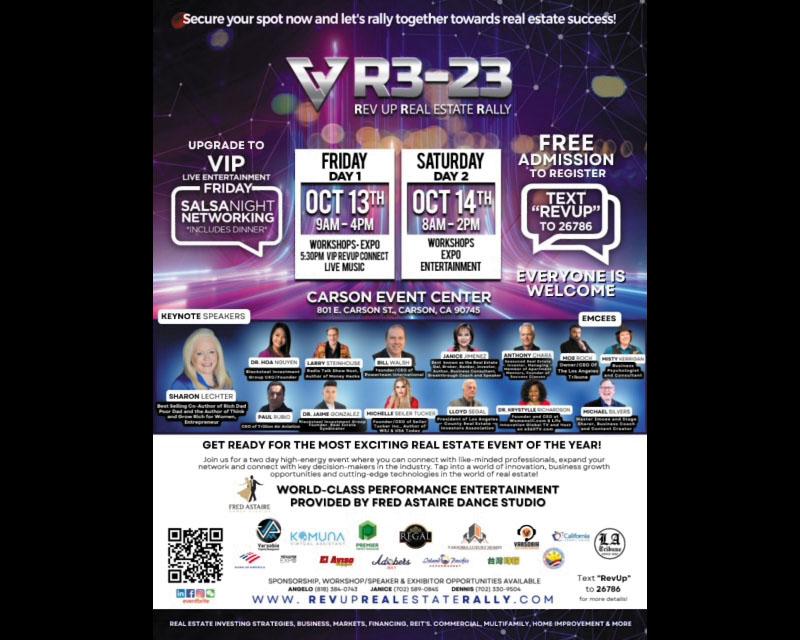 Los Angeles – The RevUp Real Estate Rally (R3-23) is touted as the most exciting real estate event of the year. It is a two-day high-energy event where real estate professionals can connect with like-minded professionals, expand their network, and connect with key decision-makers in the industry. Taking place October 13-14, 2023, RevUp Real Estate Rally is a place for professionals to tap into a world of innovation, business growth opportunities, and cutting-edge technologies in the world of real estate.  This event is co-produced by Janice Jimenez and Angelo Varsobia, an investor, venture capitalist, CEO of the Varsobia Group of Companies serial entrepreneur, and philanthropist.
RevUp Real Estate Rally (R3-23) is an exceptional platform that brings together professionals, experts, and enthusiasts from the real estate sector. With a focus on innovation, networking, and business growth, this rally will provide valuable insights, cutting-edge technologies, and opportunities to connect with key decision-makers in the industry. Advance registration is required to attend this free event.
While attendance is free, participants can upgrade and pay to attend the VIP Live Entertainment Event on Friday, October 13th dubbed as the Salsa Night Networking which will be led by the Fred Astaire Dance Studio. The evening allows one to network with the Keynote Speakers and real estate industry professionals.
"This event puts together every professional and business that feeds into the real estate industry, not just here in California, but also the neighboring states and the rest of the United States," says Janice Jimenez, CEO and Chief Organizer of the RevUp Real Estate Rally.
"The overall vision is to create an annual venue where everyone involved in the real estate industry is given opportunities to create awareness for their services, learn from the best in the business through the speakers and workshops we offer, and maximize business results for our participating sponsors and vendors. We estimate a total attendance of 3,000 for both days."
Attendees will have the opportunity to explore the latest trends, gain valuable insights, and connect with industry professionals. Whether you're a seasoned investor, a real estate enthusiast, or someone looking to enter the market, this rally is designed to provide attendees with the knowledge and resources they need to thrive in the real estate world.
The emcees for RevUp Rally are Misty Kerrigan (Director of Community Based Services at Oak Grove Center for Education, Treatment and the Arts) and Moe Rock (World-Renowned Content Producer, Investor, Speaker, Thought Leader, and Author.)
The event features a robust speaker line-up including:
Sharon Lechter (Entrepreneur, Bestselling Author, Financial Literacy Advocate and Successful Businesswoman, Co-Author of Rich Dad Poor Dad)
Larry Steinhouse (Radio Talk Show Host, Author of Money Hacks, Public Speaker, Entrepreneur, and CEO of investorschooling.com)
Dr. Hoa Nguyen (Blacksteel Investment Group CEO/Co-Founder, Eye Pieces Dallas Optometric Glaucoma Specialist)
Dr. Jaime Gonzalez (Blacksteel Investment Group President, Real Estate Syndicator, Optometrist)
Bill Walsh (Founder & CEO of Powerteam International, Venture Capitalist & Business Coach, Best Selling Author, Speaker, Event Producer, Empowering Professionals To Create Massive Success)
Paul Rubio (Co-Founder at California Economic Club, CEO of Rubio Aviation, CEO of Trillion Air Aviation)
Janice Jimenez (Real Estate Broker with over 15 years of Experience, Financial Services Provider, Retirement Designer, Insurance Services Provider, and Medicare Advantage Agent)
Michelle Seiler Tucker (Founder and CEO of Seiler Tucker Incorporated, Sold Over 500 Businesses, Author of WSJ & USA TODAY Bestseller Exit Rich)
The 2024 RevUp Real Estate Rally is already scheduled to take place at the Ahern Event Center in Las Vegas, NV on April 26-27, 2024. "We invite and encourage every real estate professional and business to participate in this one-of-a-kind gathering," added Jimenez. www.revuprealestaterally.com.
To learn more about Janice Jimenez, visit her online at www.JaniceJimenez.com or text Text REGAL to 26786.