WHEN stage actor Josh Dela Cruz was announced as the new host for the "Blue's Clues" reboot, a wave of nostalgia kicked in for kids who grew up watching Nickelodeon in the '90s.
Not only were they reminded of the blue puppy, the talking objects and "skidooing" into another world, the lyrics to the catchy songs — from "Mail Time" to "We Just Figured Out Blue's Clues" — came rushing back to consciousness.
On top of that, the new generation of Filipino Americans watching "Blue's Clues & You!" would see someone who resembles them on screen.
"Growing up, I never saw anyone on screen that I connected with," the 31-year-old actor told the Asian Journal. "I never saw myself reflected in a positive way — it was either the foreigner, the villain, or the joke. I get to be myself. I'm just Josh and I also am Filipino."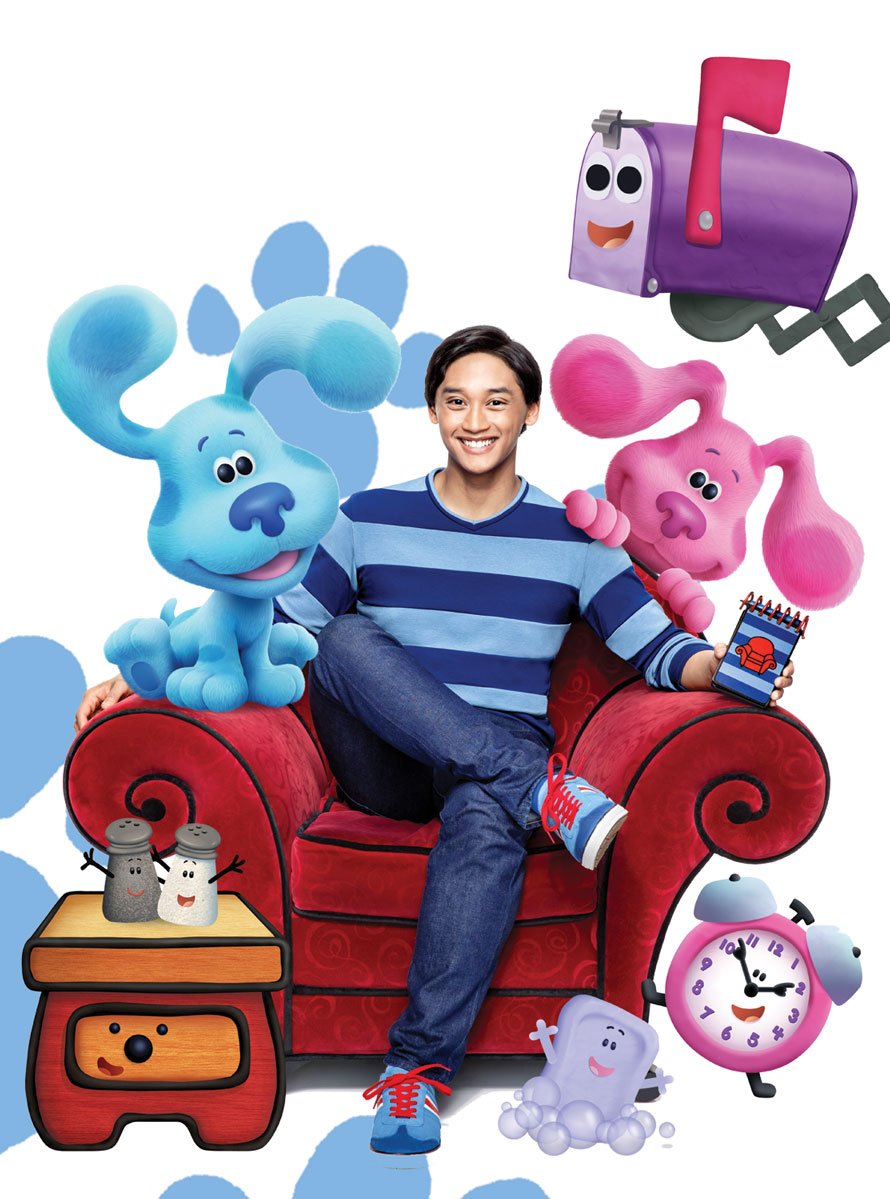 Dela Cruz, who last appeared in the Broadway staging of Disney's "Aladdin" as the titular role, swapped the genie for the iconic blue canine as a sidekick, who has now been enhanced in CGI animation.
"Every day on set is nostalgia for me. Drawing the very first clue on set was a cup," he said. "I remember being 7 years old and watching that episode with my little sister and it was a cup. We have Blue, Magenta, the Shaker family, all of our characters coming back but tiny little updates to bring it to 2020."
The Fil-Am actor, who was born in Dubai and grew up in New Milford, New Jersey, recalls watching the first generation of "Blue's Clues" with his younger sister and singing along to the musical numbers, which in part, spurred his budding interest in choir and then acting.
The show, which debuted in 1996 and ran for six seasons, started with Steve Burns as the host, clad in a striped green long sleeve and khaki pants. In the half-hour episodes, he guided the preschool-aged viewers in solving the mini-mystery, and along the way, would check-in on the various characters brought of life inside the small yellow house with a red roof. It was the first children's cable show of its kind built on interactivity.
Burns departed the series in 2002 as his character was going off to "college," and was replaced with his "younger brother," Joe (played by Donovan Patton) for the remaining two years.
Over two decades later as a reboot was imagined, Burns returned as a consultant and helped pluck Dela Cruz out of over 3,000 candidates.
Dela Cruz, who has a degree in musical theatre from Montclair State University, moved to New York and appeared in the off-Broadway musical, "Here Lies Love," based on the life of former Philippine first lady Imelda Marcos. He then became part of the ensemble for the original Broadway cast of Disney's "Aladdin." In 2017, he stepped into the lead character for a limited engagement before being chosen in his current role.
In preparing for hosting "Blue's Clues & You!," which involved playing out possible scenarios and revisiting old scripts, Burns pulled Dela Cruz aside and told him to explore what he brought to the table and to let go of the pressure of having to live up to his or Patton's work.
"That gave me the permission to not be so worried about how people are going to receive me as the new host because I'm never going to be Steve Burns. I'm never going to be Donovan Patton," Dela Cruz said. "They have a magic that is so unique to them and to try to copy that would be a waste because I'm never going to achieve that."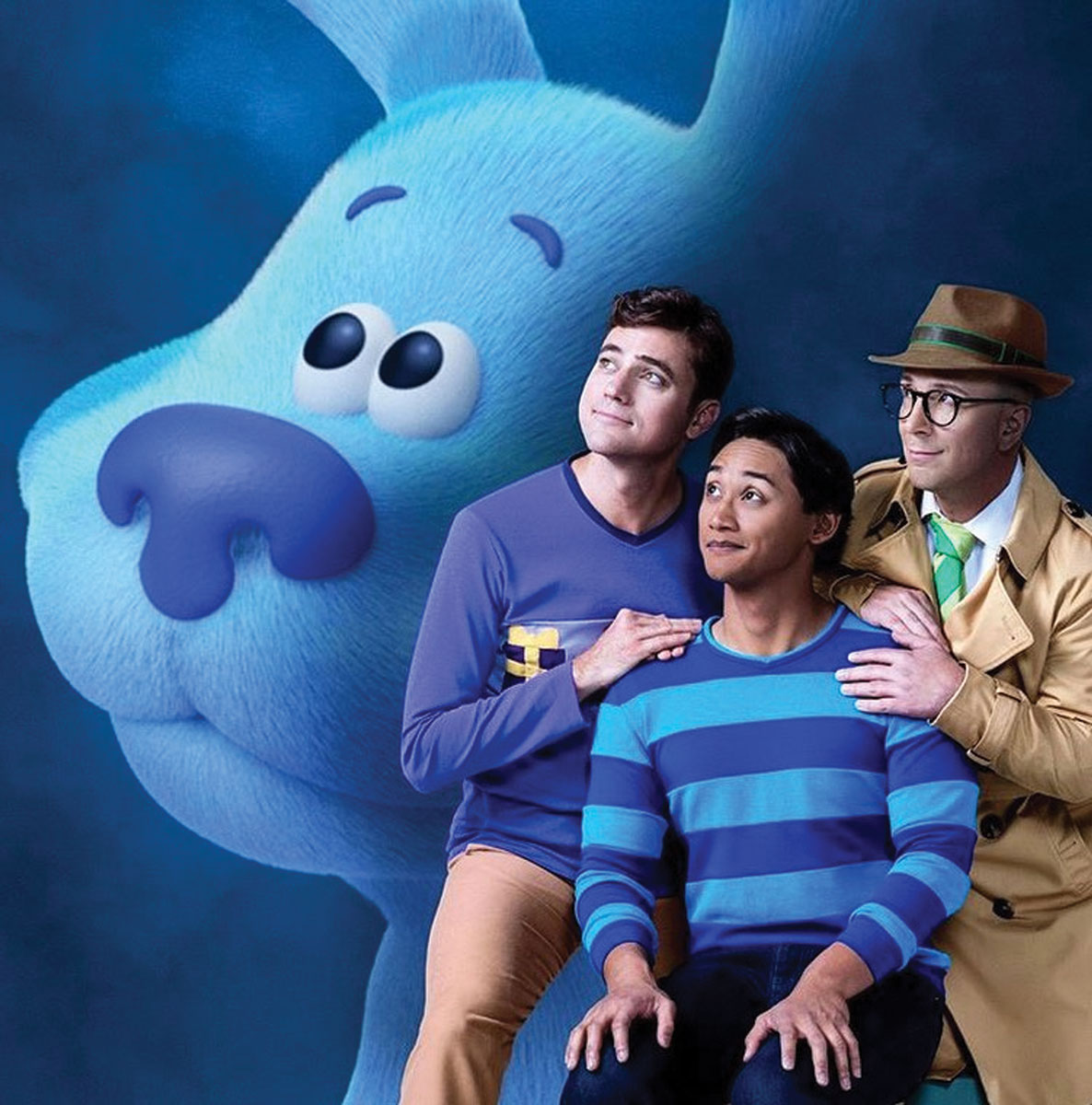 The premiere episode was aired in November 2019 as an introduction to Josh, a younger "cousin" to Steve and Joe who's now Blue's human companion.
Instead of being outfitted in Steve's green striped shirt or Joe's colorful long sleeve with squares, Dela Cruz wears a blue striped shirt with jeans and sneakers. He's able to put his musical background to use and has been given a guitar to play for the closing song once the mystery has been solved.
Filming the first season, which took place in Toronto, was a leap for the stage actor, who thrived on the live energy and audience reactions inside a theatre.
"I would say the biggest thing that I use from my Broadway career is the timing. It was very jarring to be on set for the very first time and to roll in the first tape. There are a lot of jokes that are written into the show and at that point, I had always been used to having the audience to react," he said. "Because they have to record sound, everyone has to be quiet, regardless if the joke is funny or not. So I remember going through it and I was like, 'I know this is a joke' and nothing, crickets."
Though viewers see the result with Blue and the universe's inhabitants, from Mr. Salt and Mrs. Pepper to the Shovel and Pail, Dela Cruz plays on silence and imagination to fill in these roles on set.
"It also does have its quirks that take getting used to, but again, we have such an amazing team. Even though I'm asking the pieces of tape on the floor or a tennis ball, I know exactly who I'm talking to and where I am in the world," he said.
As in the original series, the essence of "Blue's Clues & You!" is speaking directly to the viewers, encouraging them to piece together the meaning behind the three things Blue leaves her paw prints on, and pausing to allow them to respond and point out what the host is looking for.
"While our show is a remake of the original, the components of…children's education [and] early developmental education, haven't changed. Our incredible team does research with our script and with actual kids to see how they learn best and how they react and can retain [information]," Dela Cruz said.
The Handy Dandy Notebook remains a key prop in the series kept in Dela Cruz's back pocket to document the three clues. The drawings then come to life above his head as he sits in the red Thinking Chair to solve Blue's game.
However, as dozens of internet users have found out and have passionately reacted to, the show has undergone more upgrades to keep up with current technology and communication. Most children these days have been exposed to smartphones or tablets, but there's also a balance to still keep the analog of the past.
"Because we're coming back in 2020, we have the responsibility of either ignoring the advancements in technology or embracing them and turning them into positive outlets," he said.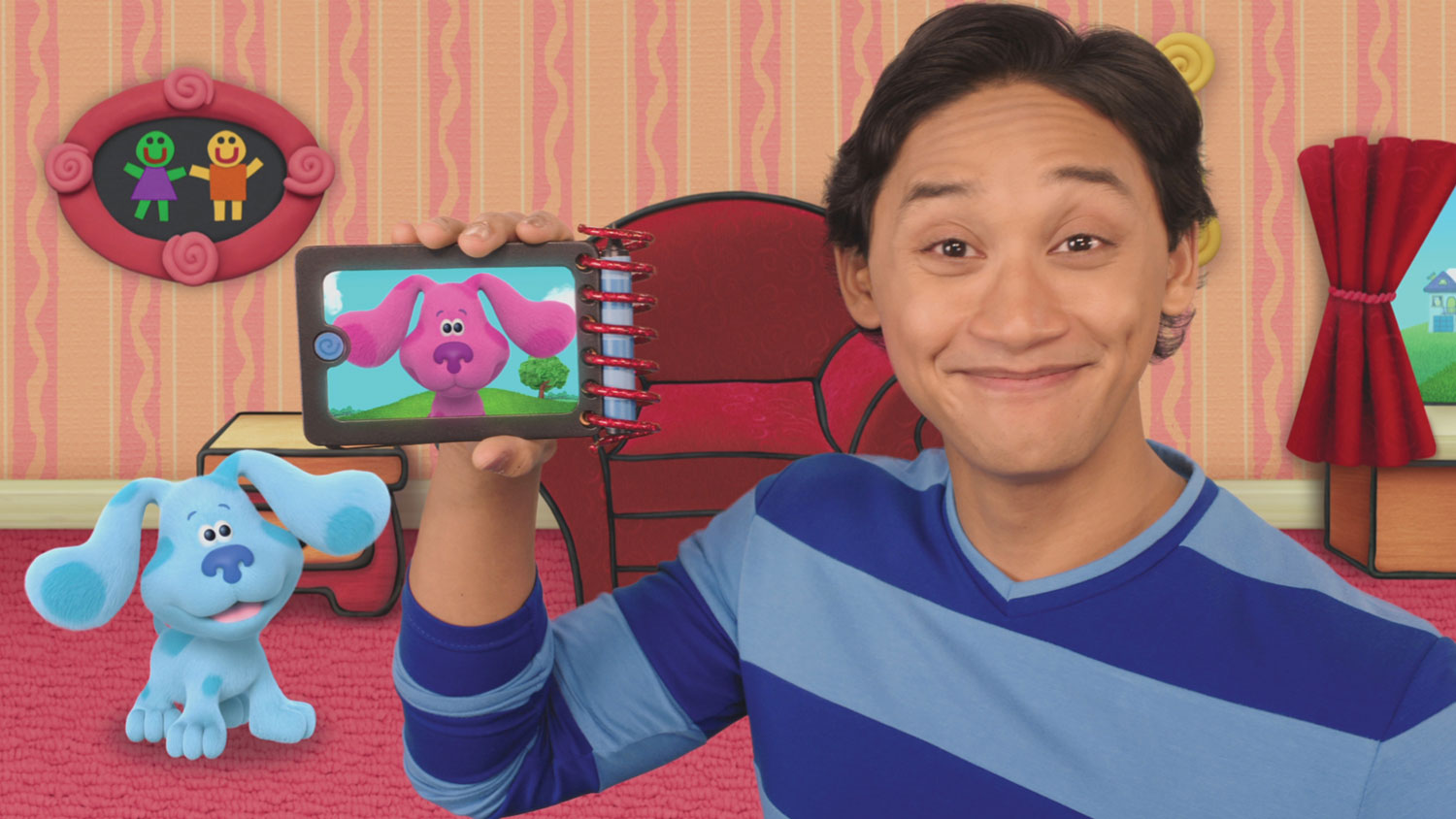 The "Mail Time" bit of each episode features the catchy jingle from the original — which Dela Cruz said he rehearsed ahead of his audition — as the smiley purple mailbox extends into the living room to notify that there's a new message.
But again, conforming to modernity, it's an email accessed from the backside of the Handy Dandy Notebook that doubles as a smartphone-like device. Dela Cruz belts, "We just got an email! I wonder who it's from," as the letter reveals a video from children who share a talent or word of encouragement.
The technology also allows the host to take photos and video calls. The second episode, for instance, revolves around the question of what Blue wants to do when her canine pal, Magenta, comes over. (Spoiler alert: It's for Josh to take a photo of the puppy duo with his phone.)
In the midst of the first season, "Blue's Clues & You!" was renewed for another 20 episodes and has been nominated for two Daytime Emmys in the Outstanding Preschool Children's Series and Outstanding Interactive Media For A Daytime Program categories.
The upcoming season will feature appearances from the beloved past hosts, Steve and Joe. Viewers will also be introduced to Filipino culture and another family member, a lola (a grandmother played by veteran Filipina-Canadian actress and singer Carolyn Fe).
"I can't wait for families to get to know her and to learn a little bit about Filipino culture in the episode and see the similarities, not just between Asians, but also within their culture about… how they interact with their grandmother and how they feel about their grandmother. I love her to death," Dela Cruz gushed.
Despite TV productions being stalled across the country, most of the filming for season two wrapped in February, just before the pandemic hit. Post-production ADR, however, is being done from home as Dela Cruz's studio apartment in New York is now overrun with soundproofing materials, panels and monitors.
With the hyperconnected world, viewers' interactions with Dela Cruz aren't limited to the episodes. For example, on Nick Jr.'s social channels, his videography skills come into play as he shares videos teaching an American Sign Language word of the week, bedtime stories, or activities families can do, especially since parents have had to double as teachers and keep kids occupied at home.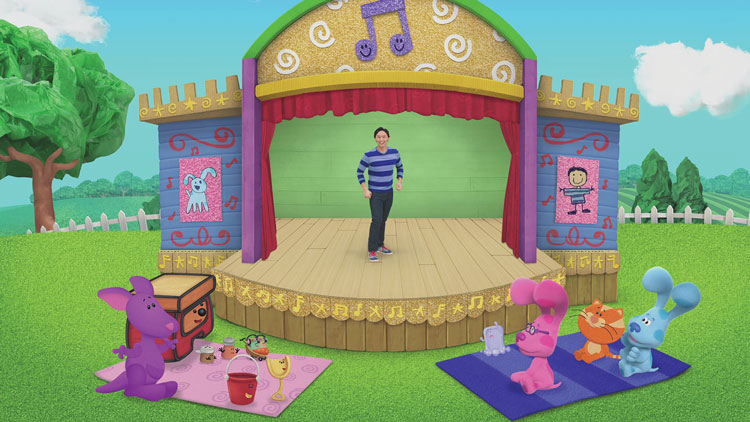 "We were able to work together to create virtual playdates where we have created extra content that is specific to the time of coronavirus, so dealing with extra activities that families can do together or just things that kids can do on their own to give parents just a little bit of a break and extra break outside of our show. That has been a lot of fun and really rewarding on my end," he said.
A special brand-new episode, entitled "Blue's Sing-Along Spectacular," will air on Tuesday, July 14, during which Blue leaves clues to figure out what song she wants to sing in her music festival. The episode is slated to have performances from Dela Cruz, Joe, pop singer Ally Brooke, the Sun (voiced by gospel singer Yolanda Adams), and Blue's many friends.
Later this month, a toy line inspired by the show will hit stores, including figurines of Dela Cruz, to reinforce problem solving and creative play.
Dela Cruz, as he's presented online, is beyond Josh on "Blue's Clues & You!" His Instagram account shows a glimpse into his personal life, whether photos with his wife Amanda and their real dog Ollie or showing his workout routines and vegan diet (Filipino food is easy to modify to his lifestyle, he said). Before the first episode even aired, Twitter users dug up some of his older photos, including a shirtless shot, and expressed their admiration for him.
The reactions to the "thirst trap" photos, as they're called, brought laughs to Dela Cruz and his family as he trended on the social media platform.
"This show has been a blessing in many ways. There is that stigma in society that Asian men aren't sexy or masculine," he said. "I'm so over the moon watching television shows or movies and there are more and more Asian men as leading men who aren't just the sidekick, the nerdy guy or all the nice stereotypes."
Instagram is also a platform where he chimes in on social justice and political issues, as his latest posts have been in solidarity with the Black Lives Matter movement, speaking up about the rise in anti-Asian hate during the pandemic, and raising awareness about the Anti-Terrorism Act in the Philippines.
"The fact that I have free rein over social media and that [Nickelodeon is] really standing, I believe, on the right side of this is really hopeful for me because these kids grow up, but it doesn't change the fact that they were kids once and that everyone deserves the right to life and that everyone deserves to be treated equally and fairly," Dela Cruz said.
At the beginning of June, Nickelodeon went off the air for exactly 8 minutes and 46 seconds, the same amount of time Minneapolis police officer Derek Chauvin knelt on George Floyd's neck as he muttered that he couldn't breathe.
The network also released a "Declaration of Kids' Rights" (e.g. "You have the right to be seen, heard, and respected as a citizen of the world") and aired a special with singer Alicia Keys about how to discuss race with young children.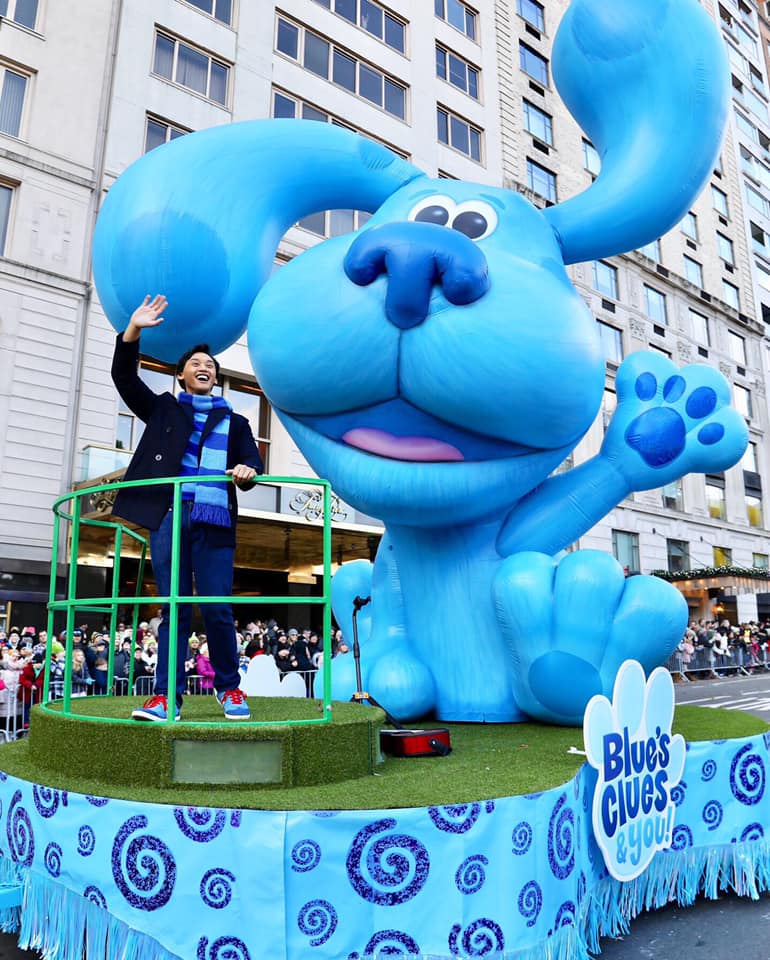 "I'm so thankful to be part of this company and that we're in that fight with the rest of the country because it is important and we can't ignore it," Dela Cruz said. "If we don't fight for it now, we can't expect to have people fight for us for other important issues."
As another season is set to hit the children's network, Dela Cruz is still relishing in the messages and opportunities — like appearing in the Macy's Thanksgiving Parade in 2019 alongside a 22-foot inflatable version of Blue — his newfound fame has brought forth.
Even as he's made history for Asian and Filipino American representation in children's entertainment, he hopes that other ethnicities and backgrounds still feel seen.
"I have friends that send me texts of their kids saying, 'He looks like me.' It hits me like a ton of bricks every time because I never really experienced that as a kid," he said. "I hope that even if you don't see yourself reflected in this show, by looking at me, that kids grow up and kids know that just because you don't see yourself there, it doesn't mean that you can't be that person to open the door for everyone else because that's how I felt. I'm so happy that I get this responsibility…I hope that I can continue to be a good role model for kids, no matter what they look like or how they identify."