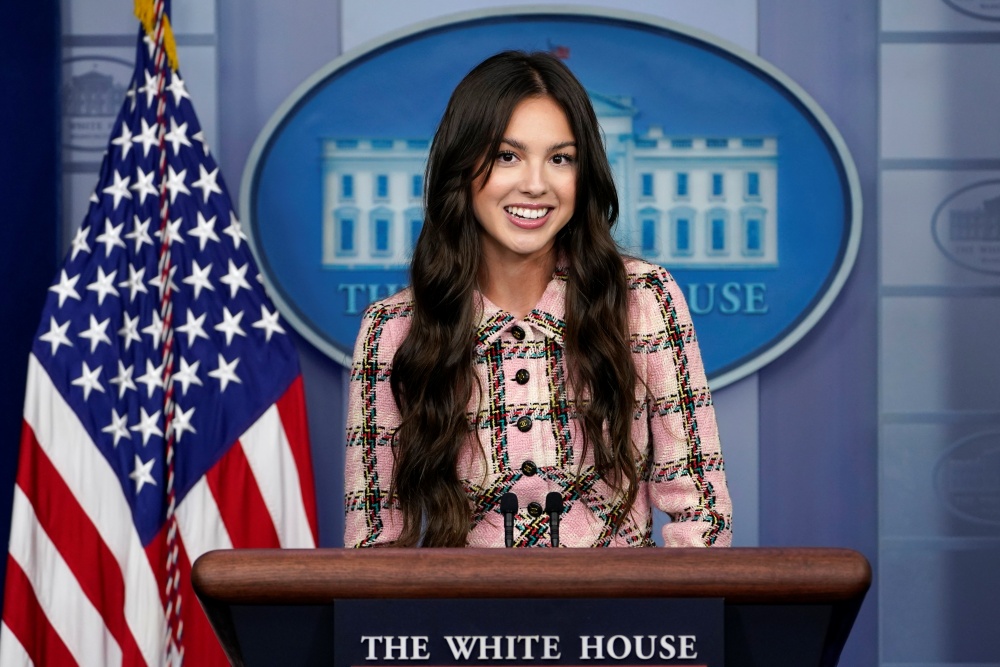 I got my COVID vaccine last week just like we always talked about.
Those may not be the actual opening lyrics to the 2021 hit "drivers license," but it is a sentiment prompted by its writer, teen pop sensation Olivia Rodrigo, on Wednesday, July 14 during a COVID-19 vaccination campaign at the White House.
The Filipina American singer-songwriter-actress addressed the American public from the White House press podium encouraging young people to get their COVID-19 vaccine.
Rodrigo, 18, joined White House press secretary Jen Psaki and praised the vaccine campaign helmed by President Joe Biden and Dr. Anthony Fauci. She also announced that she's teamed up with the Biden administration for a series of videos promoting vaccinations, "including answering important questions young people have about getting vaccinated."
View this post on Instagram
Rodrigo's partnership with the White House is just one of a slew of initiatives that the Biden administration has lodged to encourage young people to get vaccinated.
"I am beyond honored and humbled to be here today to help spread the message about the importance of youth vaccination," the "good 4 u" singer said, encouraging viewers to visit the federal government's vaccines.gov website.
"I'm in awe of the work [that] President Biden and Dr. Fauci have done and was happy to help lend my support to this important initiative. It's important to have conversations with friends and family members, encouraging all community members to get vaccinated, and actually get to a vaccination site," she added.
According to Psaki, Rodrigo had offered to deliver remarks at the White House, which she said may be an essential move to incentivize teenagers — individuals aged 12 years old and above are eligible for the Pfizer-BioNTech COVID-19 vaccine — to get their shots.
As of press time, only about 25% of children aged 12 to 15 are fully vaccinated, according to the latest data provided by the Centers for Disease Control and Prevention (CDC). About 34% of people in this age group have received at least one dose of the vaccine. Among 16 and 17 year olds, 46% have received at least one dose with about 37% fully vaccinated.
View this post on Instagram
After Rodrigo's remarks, Psaki said that "getting vaccinated is a way to keep yourself safe, a way to ensure you can see your friends…go to concerns [and] live a healthy life."
Of Rodrigo's visit, Psaki added, "I will say, not every 18-year-old uses their time to come do this so we appreciate her willingness to."
On Instagram, Biden's official account posted a photo of the president and Rodrigo donning sunglasses in the Oval Office with the caption: "Thanks for stopping by, Olivia, and for using your voice to urge young people to get vaccinated. If we all do our part and get the COVID-19 vaccine, we can defeat this virus once and for all. Let's do this."
Rodrigo's White House visit was first announced on Instagram when Biden's account posted a throwback photo of the president captioned: "I know this young person would've gotten vaccinated, but we've got to get other young people protected as well. Who's willing to help?"
Rodrigo commented on the post on Tuesday, July 13, "i'm in! see you tomorrow at the white house! [sic]"
The promotional videos will be posted on the White House's official Instagram accounts as well as Rodrigo's page, which currently has 28 million followers.