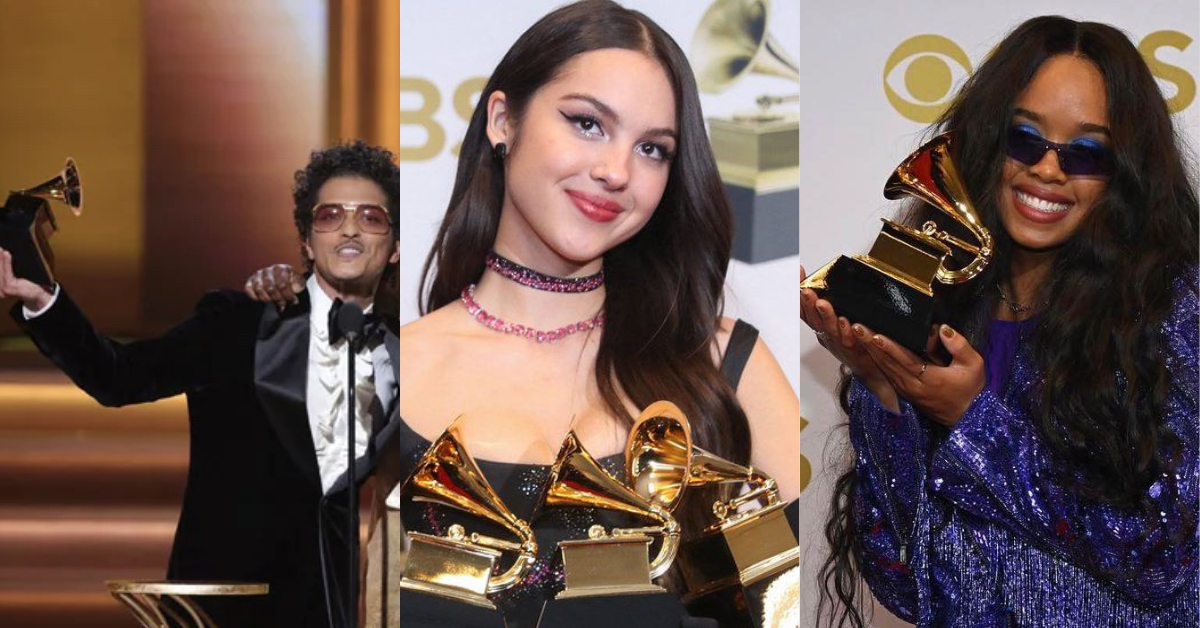 Between Rodrigo, Mars, H.E.R. and Saweetie, the 64th Grammys were quite possibly the most Filipino Grammy awards
NO matter what part of the world they're from, Filipinos everywhere know the value that music, performance, and skilled singing hold in the culture — there is a 99% chance that the Filipino reading this has, at one time, been begrudgingly forced to sing karaoke at a family gathering.
After last Sunday night, nobody is safe from that Magic Sing machine.
On Sunday, April 2, the 64th Grammy Awards aired, and it was a thoroughly Filipino American affair with America's It Girl, breakout superstar Olivia Rodrigo, and the multi-talented Bruno Mars winning some of the biggest awards on music's most important night.
After performing her breakout hit "Drivers License" early in the show, Rodrigo won the coveted Best New Artist award, to which she said in her acceptance speech, "This is my biggest dream come true."
Additionally, Rodrigo, 19, won the awards for Best Pop Solo Performance for "Drivers License" and Best Pop Vocal Album for her debut album, "Sour."
After winning Best Pop Vocal Album, Rodrigo dedicated her award to her parents, saying in her speech, "When I was 9 years old, I told my mom I wanted to be a gymnast even though I could barely do a cartwheel. She thought I was joking, but I was super defensive. So the next week when I told her I was going to win a Grammy, she was very supportive even though she probably thought it was just a little kid pipe dream."
Rodrigo, whose father is Filipino, finished her speech, saying, "I want to thank my mom and dad for being equally as proud of me for winning a Grammy as they were when I learned how to do a back walkover."
Rodrigo — who hails from Temecula, California and is also an actress on the Disney Channel — was up for seven awards in total in all four major categories, including Record of the Year.
Mars, known for his commitment to modernizing retro sounds, won Record of the Year for the song "Leave the Door Open," the sultry soulful lead single Mars released as one-half of Silk Sonic, his current collaboration with musician Anderson .Paak.
Though Record of the Year is considered the biggest award of the night, the duo also won Song of the Year for "Leave the Door Open," which also earned them the Grammys for Best R&B Song and Best R&B Performance. (The latter was a tie between Silk Sonic and R&B songstress Jazmine Sullivan.)
Not to be outdone, the already-award-winning R&B singer and musician H.E.R. also won her fifth Grammy Award on Sunday, taking home the award for Best Traditional R&B Performance for "Fight For You," for which H.E.R. had already won a Golden Globe award, Critics' Choice award, and an Academy Award.
Though she didn't win any awards on Sunday, Saweetie (real name Diamonte Quiava Valentin Harper) was the only female rapper nominated in the Best New Artist. She was also nominated for Best Rap Song for the catchy hit "Best Friend."
As a half Black and half Filipino and Chinese woman, Saweetie has always been vocal and proud of her mixed heritage. In an interview with the Recording Academy, she said, "The reason why I share both sides is because I know there are Asian kids at home, Black kids at home, and it's dope to represent where you're from — because if I can do it, I know they'll feel like they can do it. I try to share as much as my background as possible, so that kids who need inspiration can identify with me — and so they know that if Saweetie can do it, they can too."
Though this year's Grammy Awards certainly had an undeniable Filipino presence in its superstars, it is important to know that Filipino musicians and producers have always been part of Grammy history.
As part of the American folk group "The New Christy Minstrels," the guitarist and vocalist Larry Ramos was the first Filipino — and the first person of Asian descent — to win a Grammy. In 1963, Ramos and the group accepted the award for Best Performance by a Chorus for their debut album, "Presenting the New Christy Minstrels."
Filipino American songwriter and composer for musical theatre and film Robert Lopez is famously the youngest —and the quickest to become an— EGOT winner, winning at least two awards in the major American awarding bodies: the Academy Awards, the Emmy Awards, the Grammy Awards, and the Tony Awards.
Lopez's first Grammy came in 2012 for Best Musical Theater Album for the hit stage musical "The Book of Mormon." In 2015, he won Grammys for the soundtrack to "Frozen" and the film's lead song, "Let It Go."
The renowned producer Ramon Ibanga, Jr., better known as Illmind, has worked with the industry's biggest names, and has been nominated for Grammys 10 times, twice winning for his extensive work — including "Everything is Love," the collaborative album between Beyonce and Jay-Z.