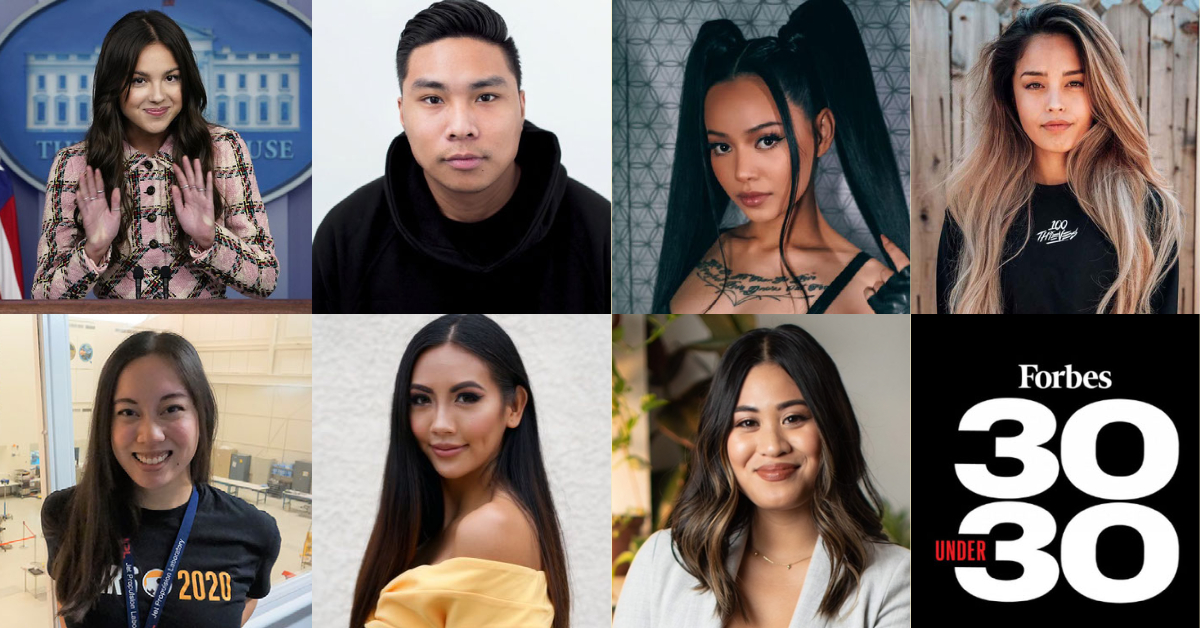 The year 2021 was a complicated year for the Filipino American community.
As Filipinos (and Asians and Asian Americans in general) continue to fight misinformation and bigotry of anti-Asian hate, communities are seeking respite and unity amid the tragedies of COVID-19.
However devastating and hopeless the year may have been for Filipinos, there were plenty of high points and young members of the community stepping up and providing inspiration to the masses.
Every year, Forbes releases its "30 Under 30" list which honors innovators, tastemakers, and influencers under 30 years old to show that wisdom and tenacity can manifest even in younger generations.
The class of 2022 is one of the most diverse lists since the magazine began its "30 Under 30" lists 10 years ago. According to the magazine, nearly half of the individuals listed identify as people of color and about a quarter are immigrants.
And, unsurprisingly, quite a few of the celebrants are members of the Filipino and Filipino American communities.
Olivia Rodrigo, singer/songwriter/actor
If only one name could define the pop music genre in 2021, it would be Olivia Rodrigo. The 18-year-old sensation claimed 2021 with her viral hit single "drivers license." The award-winning torch ballad would just be the beginning of her speedy ascent, which accelerated with the May release of her debut album "SOUR," which debuted at No. 1 on the Billboard Top 200.
Aside from being the voice of Generation Z, Rodrigo also participated in a vaccine campaign alongside the White House to promote vaccinations among younger Americans. In the latter half of the year, the young star scooped up a bevy of awards including Best New Artist at the American Music Awards and three MTV Video Music Awards.
As if the year couldn't get better for America's It Girl, Rodrigo also received seven 2022 Grammy nominations.
Marianne Paguia Gonzalez, engineer at NASA Jet Propulsion Lab
At 29 years old, Marianne Gonzalez's work is out of this world — literally. As a chemical engineer at NASA's Jet Propulsion Lab, she has worked on several projects including an experiment designed to generate oxygen on the planet Mars. Currently, she is working on an exploration into the possibility of microbial life on one of Jupiter's moons.
In March, Gonzalez, who is a second-generation Filipino American, told the Asian Journal, "As a Filipina and a minority in this field, it is easy to feel like you might not belong. I would encourage any aspiring Filipina engineers to work on building their confidence. Being a woman of color in a dominantly male field can be scary at times. As long as you remind yourself about why you're passionate about engineering, it makes it all worth it."
Alyssa Navarro, executive producer Walt Disney Studios
As media and entertainment companies strive toward more diverse workforces, Alyssa Navarro of Walt Disney Studios is front and center of the cause. Navarro, 27, specializes in minority representation and inclusion strategies for the entertainment titan and was integral in the formation of Disney Launchpad Shorts Incubator, which gives up-and-coming filmmakers a platform to showcase their work on Disney+.
Writing in an Instagram post celebrating her inclusion on Forbes' list, Navarro wrote, "Representation, diversity, equity, and inclusion is so meaningful and personal to me. The fact that Forbes has recognized this work validates my passion and dedication to continue to open doors so that more people from underrepresented backgrounds get to tell their stories on the big screen."
John Vincent Salcedo, vice president of digital marketing at Columbia Records
As Columbia Records youngest and only Filipino vice president, Salcedo has been overseeing marketing strategies for some of today's most exciting musical acts, including Tyler, the Creator's Billboard No. 1 album "CALL ME IF YOU GET LOST" and Lil Nas X's hit singles "MONTERO (Call Me By Your Name)" and "Industry Baby (feat. Jack Harlow)."
As a Filipino who migrated to the U.S. as a young kid, he has made it a mission to bring in more Filipinos and Filipino Americans into the music industry. He told Myx Global earlier this year, "Filipinos have wild talent and as one of those who have been blessed with a position in one of the biggest global music labels, I hope to bridge the gap, build more connections, and bring to the spotlight our creative prowess."
Bella Poarch, TikTok star
In the pantheon of viral social media stars, Bella Poarch's rise seemingly came out of nowhere. But once she came on to the scene, her place in the Generation Z cultural imagination was secured.
An immigrant from the Philippines who was born to Filipino parents and adopted by a white father and Filipina mother, the now-24-year-old Poarch initially enlisted in the United States Navy and served from 2015 to 2019, after her parents disapproved of her performing in a high school talent show.
In 2020 she created a TikTok account that started off as a gaming and cosplay account, but that summer, she gained a massive following from her lip-sync videos where she dons a cutesy, e-girl aesthetic. This past May, she released her first single, "Build a Bitch," and continues to rise the ranks of Gen Z idolatry.
Trisha Bantigue, co-founder of Queenly
As a Pinay, Trisha Bantigue knows the importance of pageantry in the Filipino community. But her story is unlike most Filipinas who decide to model and enter beauty pageants.
After escaping abuse as a teenager, Bantigue leveraged her ambition for a better future through working at fast-food joints, modeling and entering pageants to earn a living. After graduating from UC Berkeley, she worked at some of Silicon Valley's largest firms like Facebook and Google before co-founding the online marketplace Queenly with Kathy Zhou (with whom Bantigue is featured on the Forbes list) in 2017.
Queenly allows users to resell formalwear to other pageant contestants, kind of like Poshmark or Depop but specifically for pageant wear, which can cost hundreds of dollars.
"Making it to the @forbes 30 Under 30 list is a literal dream come true, and never would I have thought I'd be on a Forbes cover by age 27. I can't even begin to explain the overwhelming feeling of gratitude right now as it all feels so surreal (yes I'm screaming inside as I type this out)," Bantigue wrote on Instagram.
She added, "Ever since I was a little girl, I wanted to create an impact onto society and with @queenlyapp, I have the opportunity to touch millions of lives. My past self would be so damn proud seeing this today."
Rachell Hofstetter, gaming content creator at 100 Thieves
As an entertainment medium, gaming has become one of the hottest spaces over the last decade. Traditionally a male-dominated (and often misogynist) space, several women have come to the fore to establish a more diverse gaming community.
Rachell "Valkyrae" Hofstetter is quite possibly the most influential female game streamer in the gaming world with more than 3 million subscribers on YouTube and Instagram, each. In 2020, she was named Content Creator of the Year at The Game Awards and joined 100 Thieves, a top gaming and esports organization.
Reacting to her placement on the Forbes list, she wrote on Twitter, "​​I MADE THE FORBES 30 under 30 LIST!!!!!!!!!! I'm honored.. this was one of my goals and i can't believe it actually happened.. wow"