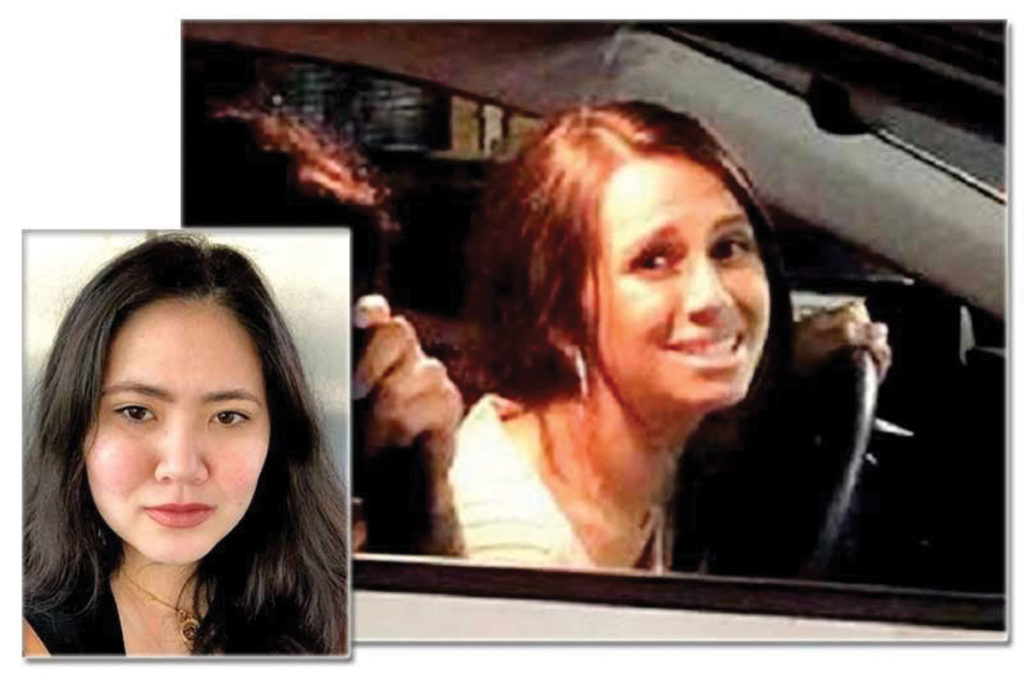 WHAT began as an innocent outing for donuts in turned into an upsetting, but familiar affair of bigoted attitudes and racist verbal harassment toward a person of color.
Last week, Selina Cairel, who is half-Filipina and half-English, posted a video on her Facebook page of a young white woman, Sierra Measelle, hurling racist and xenophobic remarks at Cairel outside a donut shop in downtown Portland, Oregon on the evening of Tuesday, September 11.
That video, which was posted the following day, quickly circulated throughout social media when national news outlets picked it up, garnering more than 2 million views.
According to Cairel, after getting donuts that Tuesday, she and her three friends got into her car and started to back out of the spot. That was when Cairel saw Measelle and her friend walked behind her car, so she pressed the brakes. Cairel said that she "wasn't even close to hitting them" but asked the two girls if they were OK. That was when the insults began.
"[Measelle] literally took one good look at me and started laughing and was like, 'She's Asian. She can't see that's why she can't drive,'" Cairel, 22, told the Asian Journal in a phone interview. "I didn't know this person, she didn't know me and she knew nothing about me, but said that."
Although the remark was shocking to Cairel (who was the only person of color in the car), she "wanted to be the bigger person" and just leave. But she felt compelled to ask Measelle, who is reportedly in her mid-twenties, why she would say that to her, to which Measelle laughed, pulled out her phone first to start recording and said, "this is going on Instagram."
"So, she pulled out her phone first, and began saying these nasty things about Asian folks, saying, 'You're all illegals.' She made fun of my accent because she thought I'd have an Asian accent, and both she and her friend just kept on laughing," Cairel recounted.
That was when Cairel decided to record the interaction because she wanted people to "know that this kind of behavior shouldn't be accepted."
In the 30-second video, Measelle, laughing, tells Cairel, "Before you say anything, you might want to make sure you're actual legals, and then call the cops."
After Measelle drove away, Cairel recounts an insistent feeling of shock that this had happened to her. She decided to post the video on her Facebook page for her friends and family with a caption detailing her disturbance by the interaction with a complete stranger. But after her friends and family shared the video, people across the country did, too, and they mirrored that sense of shock and disgust at Measelle's comments.
"I was really overwhelmed, and I kind of didn't expect anyone to care at all," Cairel shared. "I was so surprised that actual people cared and I felt very appreciated by that. And it got my hopes up that there are good, nice people out there in the world!"
Portland — which is famously branded as a liberal's haven — is Cairel's "home away from home." Cairel — who was born in the Philippines, but relocated with her family in Washington state when she was 11 — lives about an hour's drive north of Portland in Vancouver, Washington and regularly visits the Rose City.
But this is the first time she's ever had an encounter like this before, and it opened her eyes to the sobering reality that racism and bigotry "can really happen anywhere and to anybody at anytime."
Shortly after Cairel's video went viral, Internet sleuthers doxxed (Internet speak for the foraging and release of someone's personal information) Measelle and publicly posted her full name, address, occupation and her place of work. (Because of the video, her employer reportedly fired her.)
This opened the door to bullying, threats and general hostility towards Measelle, who ended up deleting her social media accounts, a consequence that Cairel doesn't agree with.
"I felt a little bit of guilt because people just started exposing her. It did not feel good, and it was uncalled for, regardless of what she said to me and what she has done. It's still not OK," Cairel affirmed.
After the video went viral Measelle apologized to Cairel via Instagram direct message, and later publicly, writing in an Instagram post on Sunday, Sept. 16: "I am sorry for the ignorant, hateful comments I made to [Cairel] and her friend. I'm ashamed that I let my emotions get the best of me, and I reacted in such a hurtful manner that goes completely against my beliefs and morals. I'm extremely disappointed in myself and my lack of empathy."
Cairel decided not to respond to Measelle, remarking, "It was all still fresh and it just kept replaying in my mind: what she said to me, her laughing, her voice. It's going to take some time for me to find forgiveness."
The ubiquity of social media has captured these moments has given a rise to the exposure to the taunting of certain minority groups all throughout the country. Like Cairel, the individuals posting the videos — who are often the targets of such bullying and harassment — do so to expose the prevalence of racism.
Though Asians aren't the most targeted minority group, according to FBI hate crime statistics, Filipinos have been more frequently subjected to racist and xenophobic heckling by strangers, as reported by the Asian Journal.
In Las Vegas last year, a woman called a Filipino-American man and all Filipinos "orange savages," launching into a tirade: "If it weren't for Teddy Roosevelt needing a f—ing port in the Philippines, you'd be speaking Chinese or Russian now."
Earlier this year, a Filipino-American family was taunted by a woman in the line of a grocery store in Daly City, California, where the woman scoffed at the amount of food the family bought and falsely classified the family as immigrants and accused the family (and all immigrants) of "taking our food" and "taking our jobs."
In Los Angeles, a Filipina nurse was verbally harassed by a white couple in the parking lot of the Eagle Rock Plaza, where the woman of the couple actually went up to the nurse and struck her, causing swelling and bruising on her temple.
Though Cairel said that she still feels shock from the encounter with Measelle, she said it hasn't broken her spirit and, actually, has faith that society is actually moving towards acceptance of all people and hopes that people who has similar incidents stands up for themselves.
"I have a really positive view of the world, believe it or not, that we're progressing towards leaving all the racism, discrimination and prejudice behind, especially with [millennials]," Cairel beamed. "It made me proud of who I am as a Filipino and as an American and proud of my parents who worked so hard to bring us here. Be proud of who you are and stand up for yourself if this happens to you. Don't let this disrespectful behavior go unseen." (Klarize Medenilla/AJPress)