Up for re-election as LA County Sheriff, McDonnell shares achievements in fighting human trafficking, ensuring public safety and public trust on immigration front
In the decade of #BlackLivesMatter and zero-tolerance immigration policies under President Trump, trust in law enforcement has never been more contentious.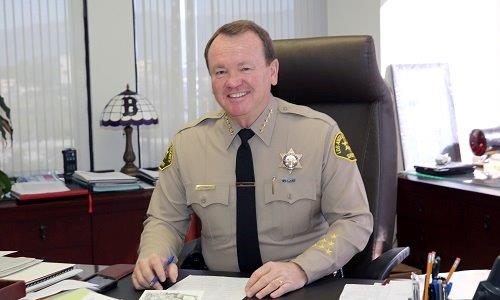 Finding a balance between achieving public safety and ensuring public trust has been the goal for Los Angeles County Sheriff's Department (LASD), which for the last four years has been headed by Sheriff Jim McDonnell, who is up for re-election in November.
McDonnell kicked off his career in law enforcement after he graduated from the Los Angeles Police Academy in 1981. After 28 years at the LAPD, where he held every rank save for chief of police, he was appointed as the police chief of the Long Beach Police Department, which saw a 20 percent decrease in crime under his watch and improved community relations.
In 2014, McDonnell became the first person outside the LASD to be elected the LA County Sheriff in more than 100 years. He inherited a department rocked by jail abuse and corruption scandals which resulted in low public support after the sentencing of then-Sheriff Lee Baca and Undersheriff Paul Tanaka.
In the last four years, McDonnell said that his prime objective as head of the county's law enforcement is to earn back that public trust and ensure internal accountability and transparency while also effectively keeping neighborhoods safe.
"I'm proud of the work we've done," McDonnell shared with the Asian Journal in a recent interview. "We've held countless community forums talking about what our role is, especially as it relates to immigration, and what it's not in an effort to be as transparent as we can and to educate the public and let them know that we're here for them and we're here to be able to protect everybody."
The LASD is the largest sheriff's department in the country and operates the largest system of jails in the world. With that kind of impact, McDonnell and his department worked with the Office of Governor Jerry Brown on the implementation of sanctuary state laws.
Last year, McDonnell's LASD came under fire from immigration activists when it was revealed that the department was allowing agents from the U.S. Immigration and Customs Enforcement (ICE) into its jails. According to McDonnell, ICE has access to inmates in custody, and not those in pre-trial, who account for half of the jail population.
By allowing ICE into jail facilities, it keeps them from patrolling the neighborhoods, McDonnell said.
"By doing that we were hopeful that would prevent ICE from having to go into the community to locate the person they could've taken into custody in a jail environment without risk to anybody else and in an orderly fashion," McDonnell explained, adding that if ICE was patrolling the streets rather than apprehending individuals in jail, "they could potentially, not only arrest the individual they're looking for, but if there are additional undocumented people in the environment, they're potentially subject to investigation and deportation as well, and many of them would be people working hard and trying to make a living. We didn't want to subject them to that."
Before McDonnell came to the LASD, the department had employees who were cross-designated as ICE officers per the 287(g) program, but McDonnell terminated that program as well as the practice of sharing witness information with ICE officials.
In 2017, the LASD booked and released around 120,000 individuals, and 1.05 percent of those inmates were transferred to ICE, and in 2018, that number is decreasing to just under 1 percent according to LASD statistics.
McDonnell stressed the importance of a department that makes it safe for victims within the undocumented community to come forward to the LASD without fear of being turned over to ICE; he noted the increase of U visas — nonimmigrant visa for victims of crimes —  since improving community relations.
"We don't ask the immigration status in the process because it's critical to us to not be viewed as an extension of immigration. We are a public agency that's there to protect everybody," McDonnell affirmed.
Combating human trafficking has also been a major goal for McDonnell's department.
In November 2015, McDonnell's LASD established the Human Trafficking Bureau which has a team of 35 detectives focused on three primary objectives: rescue the victims, apprehend the traffickers or pimps and go after the johns who solicit these victims, who are typically girls between the ages of 12 and 14.
Since 2015, the LASD has rescued more than 260 victims and arrested more than 1,200 traffickers for a variety of charges from pimping and pandering to gun charges and drug-related issues.
"It's a work in progress, but I'm very proud of the work we've achieved so far," McDonnell said of his department's efforts in combating human trafficking. "We truly have some of the best and the brightest working in this specialty."
If re-elected, McDonnell said that he would make it a priority to continue building community relations and to build a dialogue between the department and the public on how best to protect the vast communities of the county.
"We want to be able to educate the community what we're seeing as far as threats, trends, patterns or various types of crimes, and to be able to educate them on how to avoid being a victim of a crime and how to report them," McDonnell said. "That's always been a big deal to us, and I look forward to the opportunity to work with specific communities, like the Asian community, on how best to serve and protect them from becoming victims of crimes."
McDonnell earned most of the votes in the June primary, garnering 47 percent of the vote. He faces retired LA County Sheriff's Lt. Alex Villanueva — who earned 33 percent of votes in the primary — in the runoff election on Tuesday, Nov. 6. (Klarize Medenilla/AJPress)