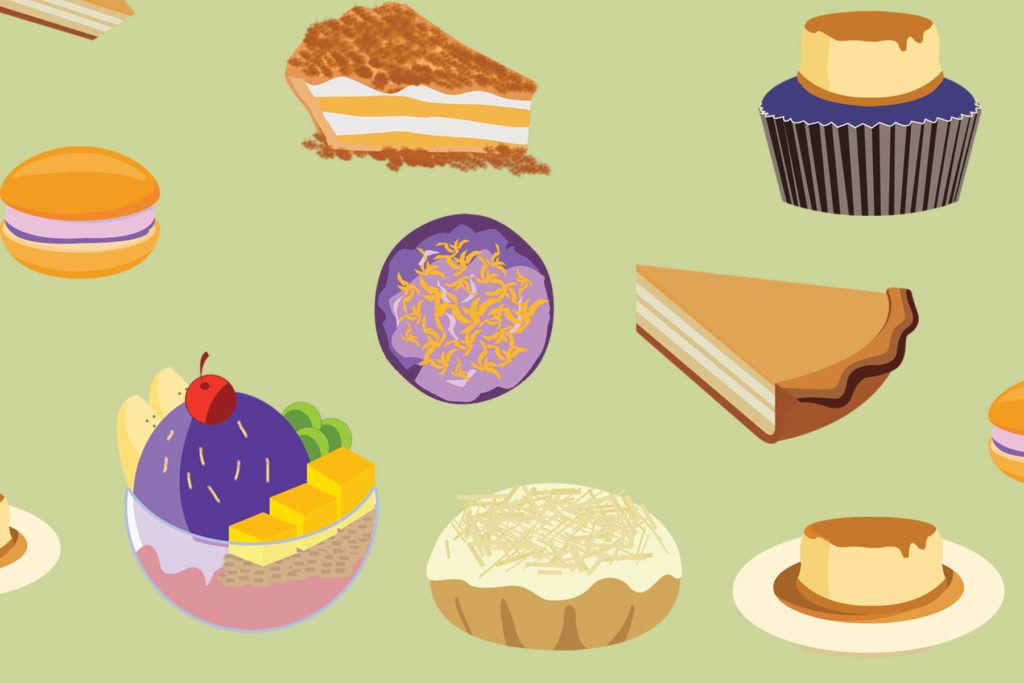 WITH Women's History Month underway, the Asian Journal takes a look at the contributions Filipina-American women have made to the dessert scene across Southern California.
There is an abundance of examples we can point to, whether these women are pastry chefs at top restaurants or pushing Filipino ingredients like the now ubiquitous ube (purple yam) that has made its way to non-Filipino-owned establishments as well because of its picture-friendly hue and versatility.
Sally Camacho-Mueller is the executive pastry chef and managing partner at French restaurant Tesse in West Hollywood. Carissa Ortega of Ninong's Pastries and Cafe in Northridge has decadent pancake and French toast flavors, from turon to ensaymada.
In Cerritos, Karla Purificacion's Kape Republik considers buko pandan crinkles and baked turon rolls bestsellers. Caroline Adobo Cakes — who shares stunning and mouth-watering photos of her creations and family meals on Instagram — has made-to-order cakes like the ube leche flan bundt cake or halo halo mousse.
At artisanal ice cream shop Wanderlust Creamery, co-founder and creative partner Adrienne Borlongan has ube malted crunch (inspired by her Fil-Am upbringing) as a staple flavor at the three locations. This past October, we wrote about how the shop introduced 12 flavors for Fil-Am History Month, such as salted duck egg, sapin sapin, keso de bola, and sans rival.
Taking a deeper look, seven SoCal-based Pinay bakers, pastry chefs, and entrepreneurs share their craft and lessons, and where sweets fit into the greater awareness of Filipino cuisine in the United States.
Margarita "Marge" Manzke – co-owner/pastry chef, République + Sari Sari Store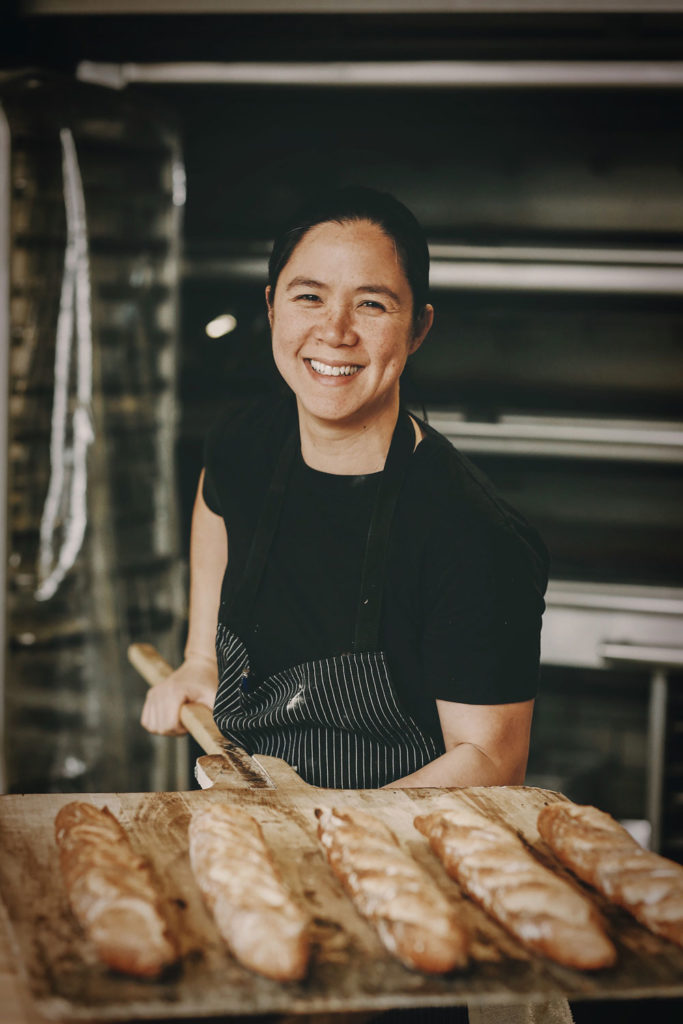 On her plate: Marge Manzke, who comes from a family in the food and hospitality industry in the Philippines, studied pastry at Le Cordon Bleu in London, then received a degree in culinary arts at The Culinary Institute of America in New York. Her extensive résumé includes Spago, Patina (where she met now husband and business partner Walter Manzke), and Mélisse. The Manzkes have République, Sari Sari Store and Petty Cash in LA, as well as eight cafés and bakeries in Metro Manila alongside Marge's sister Ana De Ocampo: Wildflour (six locations), ice cream & soda fountain Farmacy, and the franchise of Pink's Hot Dogs.
Running a typical day: Manzke starts her day at République at 3 a.m., when she and her team bake the pastries to be ready by 7 a.m. Being a multiple business owner also involves dealing with managerial duties or driving down to Grand Central Market where Sari Sari Store, her Filipino rice bowl concept, is located. Her day ends at 4 p.m. when she picks up her kids from school.
Despite the time of day or weather conditions, you can expect a line outside of République or the counter seats occupied at Sari Sari. Creating a dining-friendly ambience and relevant menu continue to draw people to Manzke's restaurants. "We always try to improve every day and think there's always something to work on and improve and be better at. We push ourselves and our staff to not be content just because there's a line out there. That can go away easily as soon as we let our guard down and start to relax," she says.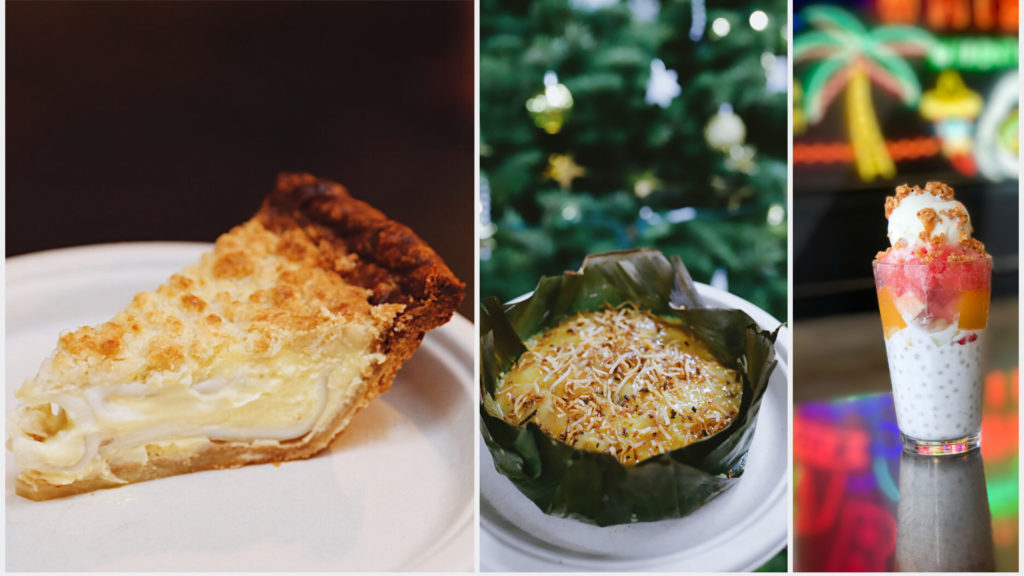 Developing signature desserts: "My desserts and pastries are straightforward and nothing fancy, but the flavors are what speaks," Manzke says. She doesn't sit down to write her recipes; new dessert and pastry ideas arrive "at the spur of the moment or get inspiration from traveling." At République, her best-sellers include crème brûlée and raspberry bombolinis, croissants and pain au chocolat. Sari Sari Store has buko (young coconut) pie and halo halo on its daily menu, and specials like bibingka during Christmastime. The typical canned beans and jar are missing from her halo halo, which instead uses fresh seasonal fruits, leche flan, coconut tapioca and ice cream.
"The Philippines has a big selection of sweets. A lot of people know halo halo and buko pie, but there's so much more than just that," Manzke says. "I'm trying to little by little introduce some other things." But she does not force Filipino flavors if they don't make sense overall. When mangoes are in season, she tries to develop new desserts around it, like a biko creation last year with mangoes and coconut jam on top.
Recognitions and what's next: A four-time semifinalist for the James Beard Foundation's Outstanding Pastry Chef award, Manzke reflects, "I'm very proud and humbled to get nominated. I don't work hard thinking I'm going to get a James Beard award. It's what I love to do and what I was born to do. I can't imagine myself doing anything but cooking in the kitchen or making pastries. Of course, it's an honor to represent my heritage." Her first cookbook, "Baking at République: Masterful Techniques and Recipes," will be released on April 2 (read more on cookbook recommendations on Page 6). Later this year, she and Walter will open a restaurant at the Herald Examiner building in Downtown LA.
What grounds her: "Less is more. Keep it simple as far as baking or trying to conceptualize a dessert. When it gets too much, I remind myself of that."
Barb Batiste – Owner & chef, B Sweet + Big Boi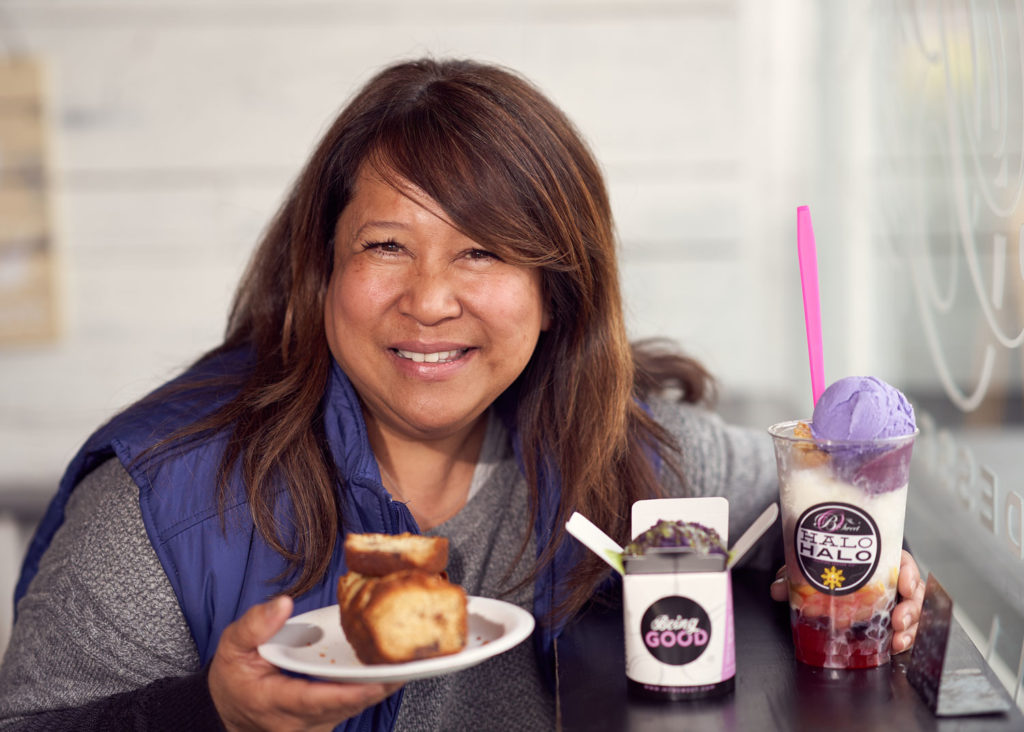 Following the sweet tooth: "I never forget the most important meal, which is dessert. If I could eat it first, I would," jokes Chef Barb Batiste, a former graphic designer who came into the professional world of desserts after developing a chocolate chip banana bread recipe on the side. She would become the executive pastry chef at the Loews Santa Monica Beach and then head pastry chef of LA Art Gallery until she started her own catering company with friend and business partner Kurt Steinitz in 2009. Sawtelle Boulevard in West LA is where Batiste has made her mark, with her dessert shop B Sweet opening in 2014 based on the catering and two dessert trucks. In 2017, savory casual Filipino joint Big Boi opened few doors down.
Intuition and sharing: "I'm pretty well-known not to have anything written down. I cook from my heart. That's how my mom, my lolas, titas cooked. They don't have a recipe book and would always instruct based on how many sandoks (ladle) used," she says. "Sometimes I think I should have recipes but every time I follow one, I end up changing it or enhancing it somehow. A little bit more butter or more cream cheese never hurts."
Going into either B Sweet or Big Boi, you'll notice a lot of decor alluding to love or the spirit of salamat (thank you), which is how Batiste grew up. "They feel that whoever owns it — whether they know it's me or not — cares about the quality of the food and desserts and how it's delivered and present to them. Everything I touch has a level of care," she says.
This is also reflected in the generous portion sizes at both places, which comes from seeing her family cook abundantly and always have leftovers.
"There's always that one person you're not going to make happy but I always think about those people who are never going to be happy with anything," she says. "You have to realize that's one out of hundreds of people so how do I take that? It's very personal to me and I take it in. But it drives me to make sure that the desserts are always on point."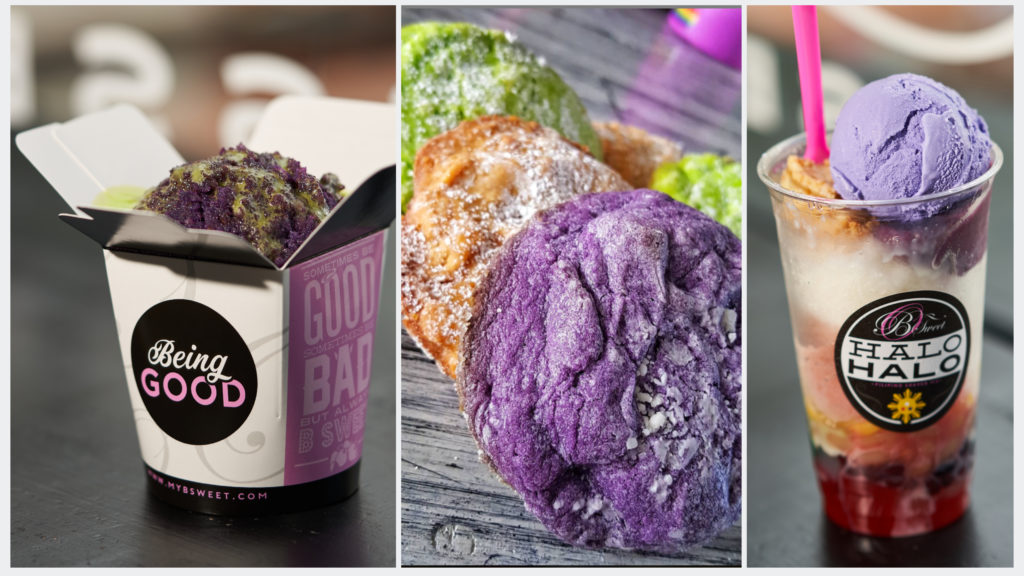 A decade of advocating Filipino flavors: Five years after the brick and mortar opened and a decade since Batiste started catering, the crowds haven't dissipated at B Sweet, where she's infused sweet Filipino elements into menu staples like ube pan de sal pudding, halo-halo, and halos (pressed donut sandwiches using Magnolia ice cream). "Ube is still a favorite, regardless of whether it's in a cheesecake or a cake or just a scoop of ice cream. It still seems to be one of the popular Filipino flavors," she says. "When we don't have it — but now we always do — people are quite angry. I don't think people will ever get sick of it."
At Big Boi, you can find her ube butter with pan de sal or ube waffles and turon pancakes at the Sunday pop-up brunch from 8 a.m. to 1 p.m. Both places are open Wednesday to Sunday.
Batiste is quick to narrate a story of a group of blonde girls who visited the shop this past summer and would tell other customers what halo halo is all about. "These are your local California girls who have probably never tried Filipino food until B Sweet came along. That speaks so loudly for me…that they were so excited for it not because it was a trendy thing but it actually tasted so good to them," she says.
More than ube: Even though ube is what has put Batiste on the map, she's just getting started with the Filipino flavors. "Right now, we're focused on ube but there are all these desserts that I think about like sapin sapin, which I need to introduce, or polvoron… Just the candies alone in the Philippines. We talk about ensaymadas and whatever we're used to but people haven't even seen the half of it. There's still so much to be done in terms of sharing the Filipino desserts," she says. 
"What we want to do is expose Filipino food and the more that people work with it and put it out there, whether it's dessert or savory, we want to reach everybody so it shouldn't be a competition. It's food," she adds.
Returning to purpose: "It's always been about cooking, loving the food, and feeding people and getting the reaction from them. It's a tough balance because I'm not a businessperson by trade. I had to learn all of this…I do have my days where I'm exhausted and question everything, but my heart is so full and that's when I know I love what I do so much."
Kristine de la Cruz – Founder, Créme Caramel + FrankieLucy Bakeshop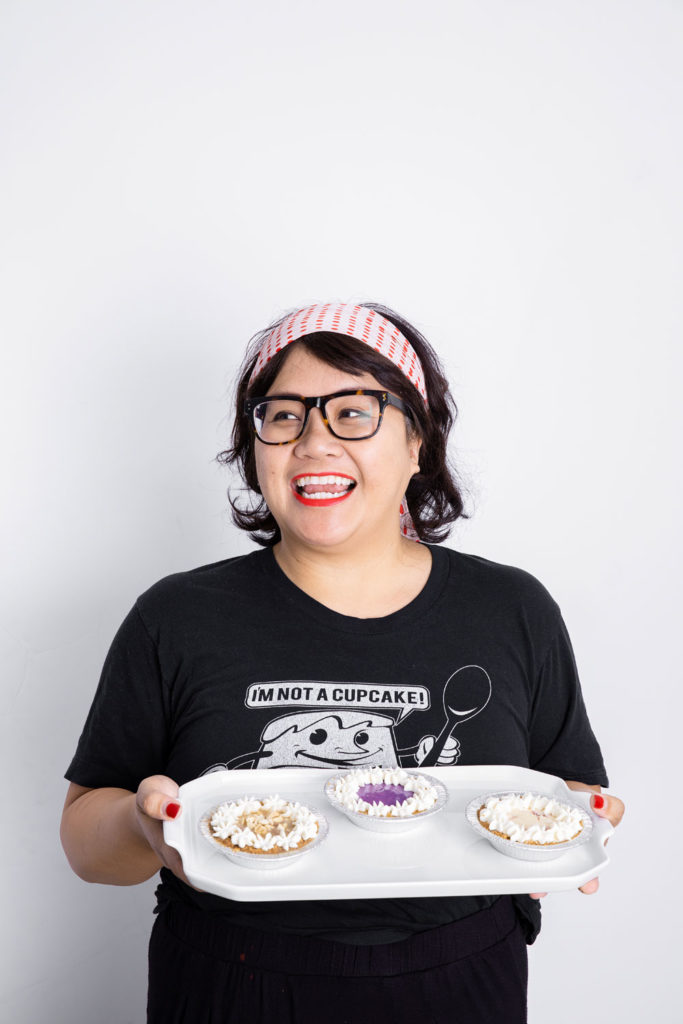 Taking the leap: In July 2009, Kristine de la Cruz completed a 52-page business plan after giving herself a year to work on it centered around her aunt's leche flan recipe, but was not "emotionally prepared" until November of that year when she sold her first batches. A year later, together with her partner Sean Gilleland, Créme Caramel sold at farmers' market around the LA area, mostly in non-Filipino areas to test the pulse of prepared foods without having to open a brick and mortar. The first shop was opened in Sherman Oaks in 2013, which marketed itself as a custard and confection dessert bakery.
"Three years into the business is when a lot of ube-based stuff started getting a lot of love. Since we had already been selling, it's like we were already positioned to move through, which was great timing," de la Cruz says. "Great timing, considering it took four years for us to get that kind of highlight and recognition."
In 2017, a second location called FrankieLucy Bakeshop was opened in Silver Lake in partnership with Found Coffee. It carries all of the items found at Créme Caramel but sells out faster because of the lesser quantities each day.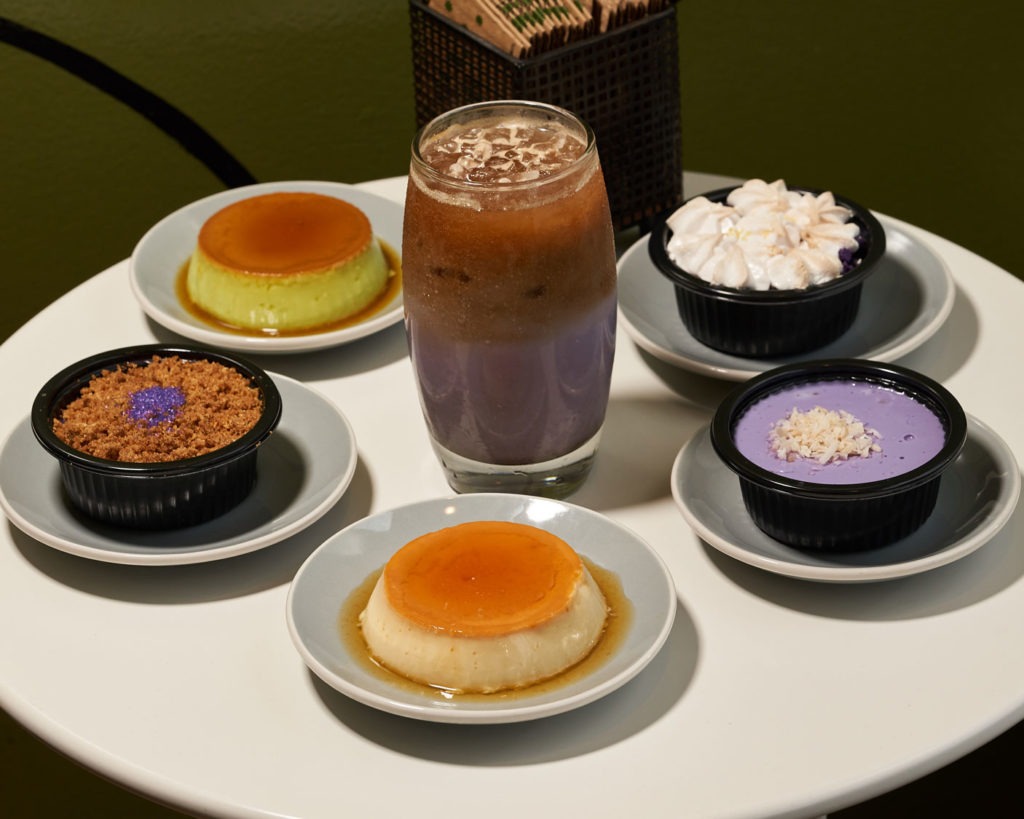 Happy accident: The ube upside down pie continues to be a bestseller, which was unintentionally made as she was preparing ube and pandan creme caramel for their first wholesale account, The Park's Finest.
"At the time, I was the only one baking and I couldn't afford to waste stuff. The trays that were set aside for them were a little toasty on the top. But you know, leche flan, when you're baking it, you're baking the bottom and when you turn it over, no one's going to see it," she narrates. "Because it was a wholesale client, it couldn't look toasty on the top so I ended up putting together a crust and then made some for the farmers' market that week, which ended up selling out. It was a happy accident of a product that ended up getting a lot of love and continues to be one of our bestsellers."
A new generation of Filipino bakeries: Being a Fil-Am food business owner in LA, despite some of its challenges, de la Cruz says the benefit is how welcoming and collaborative other chefs are because there's that support and less secrecy. "We see the big picture and there's enough business for everyone. We share the same consumer and we can only benefit from that. The more people try the food, the more likely they are going to try other stuff that's out there," she says.
This generation is also not afraid to expand to other markets as well outside of the Fil-Am community. "The first ones being like the mom and pop and turo turos — that generation was just focusing on the Filipino community," she says. "Whereas, my generation and the ones after are the ones trying to be inclusive of everyone in the community because we have two cultures we're very proud to be a part of, both the Filipino and American sides."
Quality control: "Early on, we were presented with the opportunity to do wholesale on a grander scale at a factory, but the thing was we would have to compromise on some of the ingredients. It just felt like it was a different business model than what we were going to follow," she says, but now the business is at a point where it can entertain that option as a way to introduce its products in areas where they can't open physically.
Today, Créme Caramel and FrankieLucy's desserts can be found at nearly 20 outlets across Southern California, like Oi Asian Fusion and the Parks Finest. On Pi Day (3/14), Mendocino Farms in Sherman Oaks will be selling Créme Caramel pies for a week and depending on the reception, this partnership could blossom to other locations as well.
Though her business has gotten a lot of attention on social media, de la Cruz says that upholding the quality and making customers feel like they are getting their money's worth are important considerations. "It's easy to be swayed by the stunt food or things that are Instagrammable, and that's why I feel ube has gotten such love. But at the same time, there has to be an element of something that's long lasting versus something people will just line up for now," she says. "There still has to be good customer service, the food still has to taste good. We can't just try to grab that immediate dollar just to get people through the door."
Human connection: "If my business is centered around providing the need or to ease the pain of having someone have an Instagrammable photo, that's not sustainable. I'm thankful that people come into our store to try our food and that they return. But we've always been about customer service…It's not like we're trying to change your world, but we're just trying to make sure it's not so transactional, it's more relationship building."
Ginger Lim-Dimapasok – Owner, Cafe 86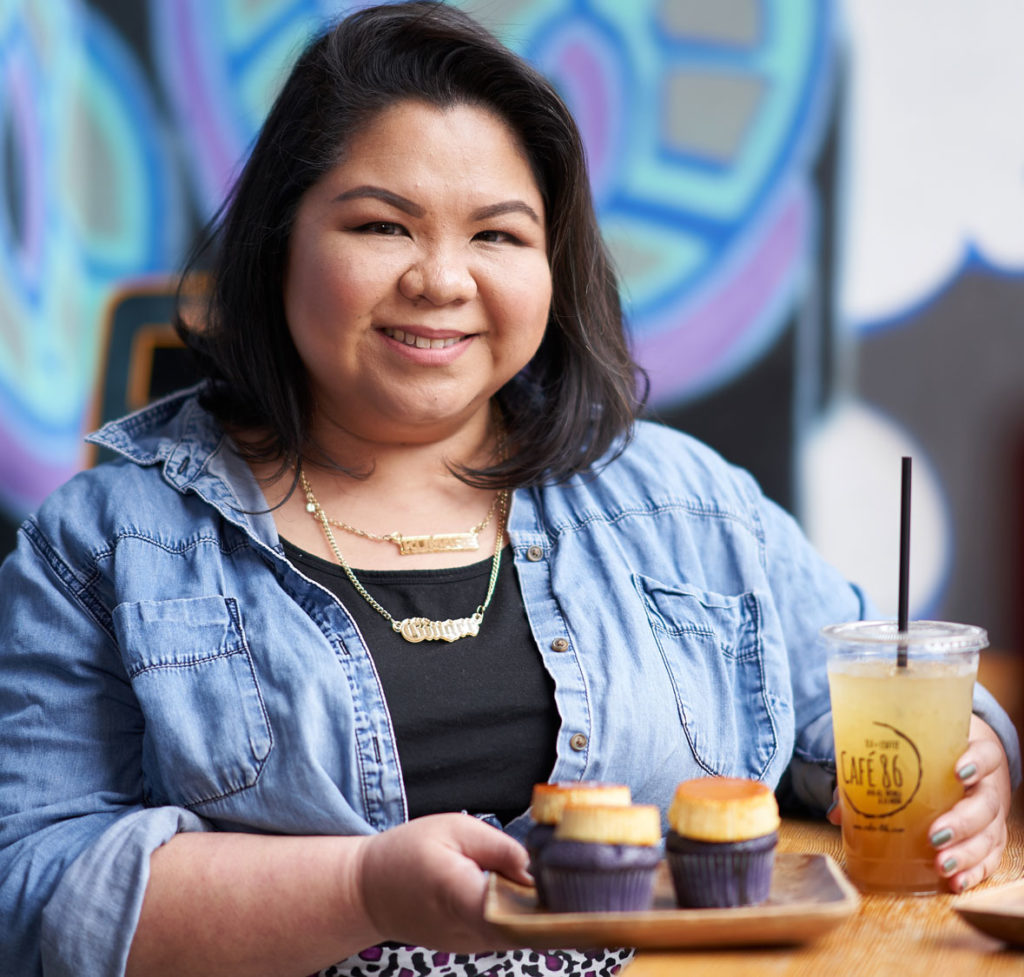 Switching gears: Growing up in the Philippines, Ginger Lim-Dimapasok's mother ran a turo-turo restaurant, which was next to a bakeshop where she would sneak off to and watch the bakers frost cakes and design cookies. "That's what triggered my passion for baking," she recalls, adding role models like Nora Daza, Doreen Fernandez, Martha Stewart and Julia Child.
Lim-Dimapasok, a stay-at-home mom to two kids, put those baking skills to use when she and her husband first opened Cafe 86 in their city of Chino. The couple wanted a business of their own, as well as a place where James could host his weekly car meets. Originally conceptualized as a coffee and boba shop, Lim-Dimapasok infused Filipino flavors like calamansi and ube into the various drinks. Her husband encouraged her to bake a few desserts for the soft opening — Thai tea brownies, ube cinnamon rolls and ube truffles — which were resounding hits.
Today, Cafe 86 has somewhere around 50 menu items that use ube in some way, from lattes to milkshakes to desserts. Some signature pastries, which are ever present on Instagram, include the ube cupcake topped with leche flan, ube cake truffles, and halo halo bread pudding.
"Sharing Filipino culture through our food is a very important milestone for us because it's not something that I imagined I would be doing," she reflects. "It feels like I was able to share what my mom taught me in the beginning on how to treat people, how to entertain, and take care of customers. Being able to translate that through our food and stores is pretty amazing for us."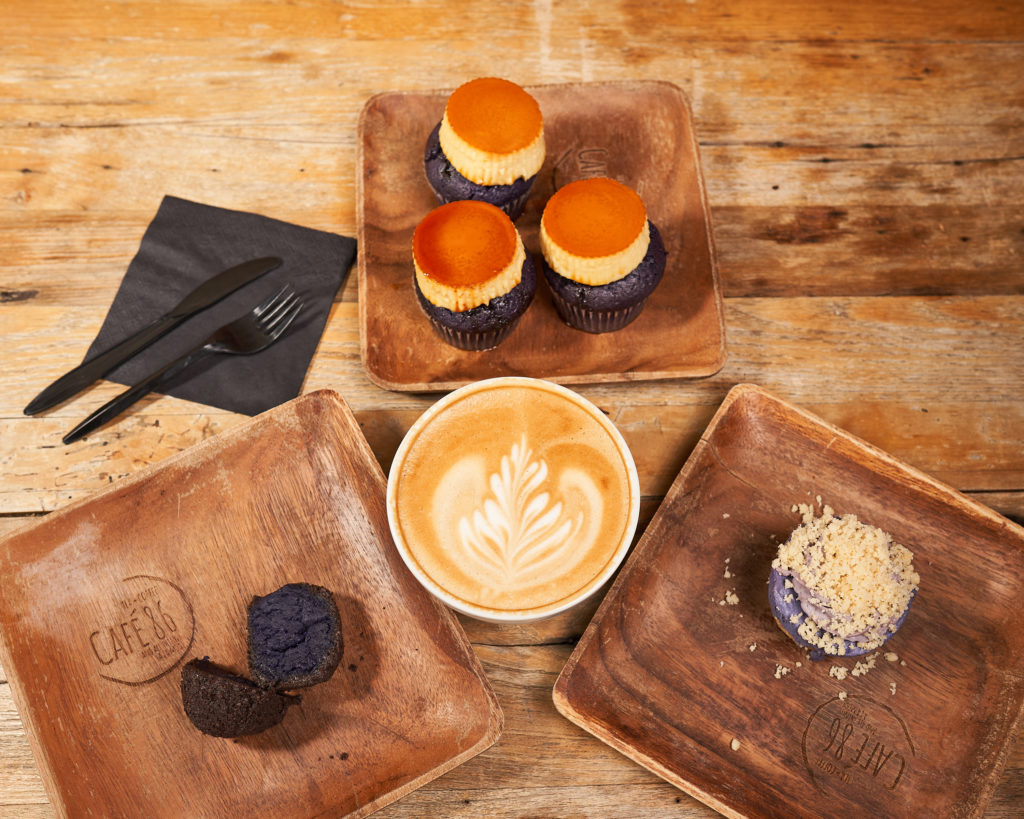 Scaling recipes: Lim-Dimapasok recounts that the transition from her home to a professional kitchen "was one of the most daunting experiences I've ever had because I was going from using a little KitchenAid and all of a sudden, we bring in a 50-quart mixer." She adds, "You don't know that you can't scale a recipe times 10 without it having any repercussions on how it affects the recipes. We had to learn and go through a lot of trial and error."
The ube truffles, which are coated with crushed Oreos, continue to be popular across the board because they are a "gateway" to what the purple yam for those who are unfamiliar. Though not everyone has a liking for flan, the ube leche flan cupcake is the most photographed because of its presentation. It's a nod to growing up at Filipino parties where the dessert table would have putong (steamed rice cake) ube and leche flan. "It's nothing new but coming to America and seeing it here makes it mind-blowing all of a sudden," Lim-Dimapasok notes.
Saturating the market: Lim-Dimapasok proudly patrons other Fil-Am establishments and doesn't see them as competitors. "We serve different things, but even when we do something similar, the whole point of the whole Filipino food movement is for us to be able to saturate the way there's Japanese food in every corner, the way there's Korean BBQ in almost every city now," she says. "The way we see vanilla, chocolate, matcha green tea ice cream in every ice cream spot, we want to be able to see ube there. We want to be able to see ube cupcakes at Sprinkles. That's the goal."
Sustainable expansion: With four locations in Chino, Pasadena, Artesia and Las Vegas, Lim-Dimapasok shares that being able to open a new store nearly every year in business has been a feat. The areas were chosen based on asking customers where they were coming from; the common responses were Glendale, Eagle Rock, Cerritos and Las Vegas. "At the beginning, we didn't want to focus on our market being purely Filipino — that's why we opened in places like Pasadena. But Artesia actually became our busiest and most successful store because of all the Filipino support," she says.
Later this year, Cafe 86 will be opening in San Diego late and offer nationwide shipping of some of its products. "In order to grow your business, you need to understand what goes on around you, your community, and your staff," she muses. "A lot of things will sound so tempting in this industry and money will always sound so attractive but you can't make it your main thing because it's also the root of all evil."
Strong morals: "Work with integrity no matter what you do. It's not always going to be money-driven. If we're just going to focus on money, it would tell me to get out of it right now because there's not a lot of it coming through all the time."
Chari Heredia-Reyes – Owner & baker, Ensaymada Project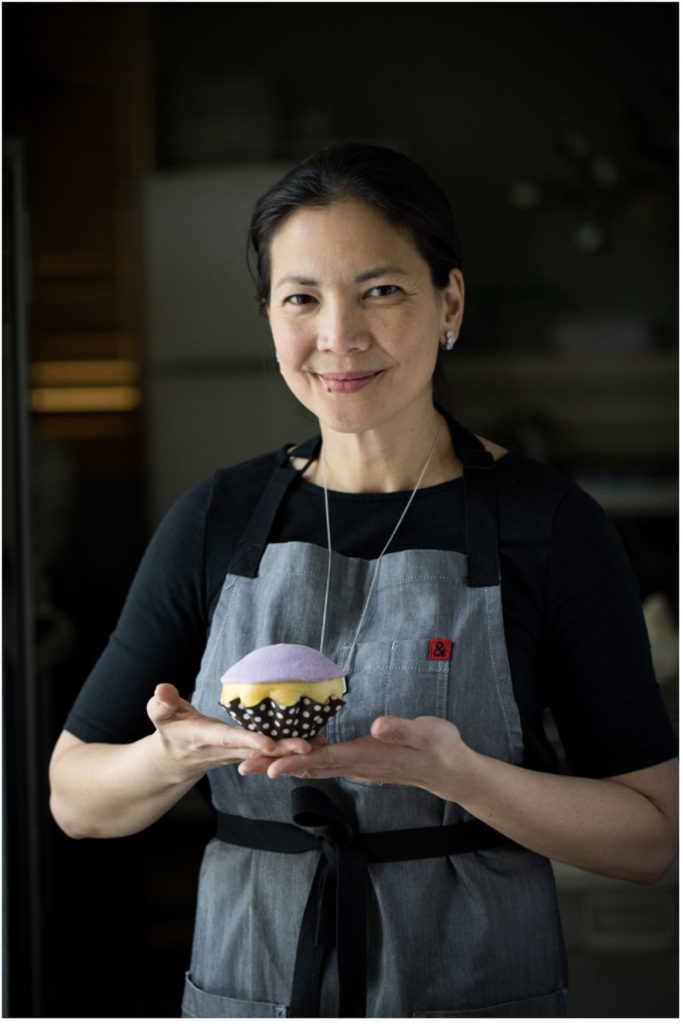 Passion for baking: Growing up in the Philippines, Chari Heredia-Reyes remembers helping her mom who had a holiday business of selling desserts. Though she would pursue a career as an educator and move to Southern California, Heredia-Reyes missed baking so she slowly started making ensaymada — brioche butter pastry topped with cheese and sugar — for family occasions and gifts for friends.
That soon became a full-fledged business out of her Canyon Country home, alongside her chef husband Ramon and their four children pitching in. Her mission: to bring "authentic Filipino ensaymada" to people around the U.S. and even worldwide.
"We regard the ensaymada as a venerable bread handed down through generations, holding a special place in our Philippine heritage," she says. "These are crafted by hand and flawlessly presented using an artisanal recipe that leaves no room for compromise."
Mastering the product: It's a meticulous process in creating each batch of ensaymada, with Ensaymada Project nailing it down to 10 hours when it usually takes 14 on average. On any given day, Ensaymada Project produces around 70 dozen ensaymadas, which come in 22 rotating flavors each week, from ube, salted egg, matcha, cookie butter, maple bacon and more. The different flavors, Heredia-Reyes says, shows how versatile ensaymadas can be.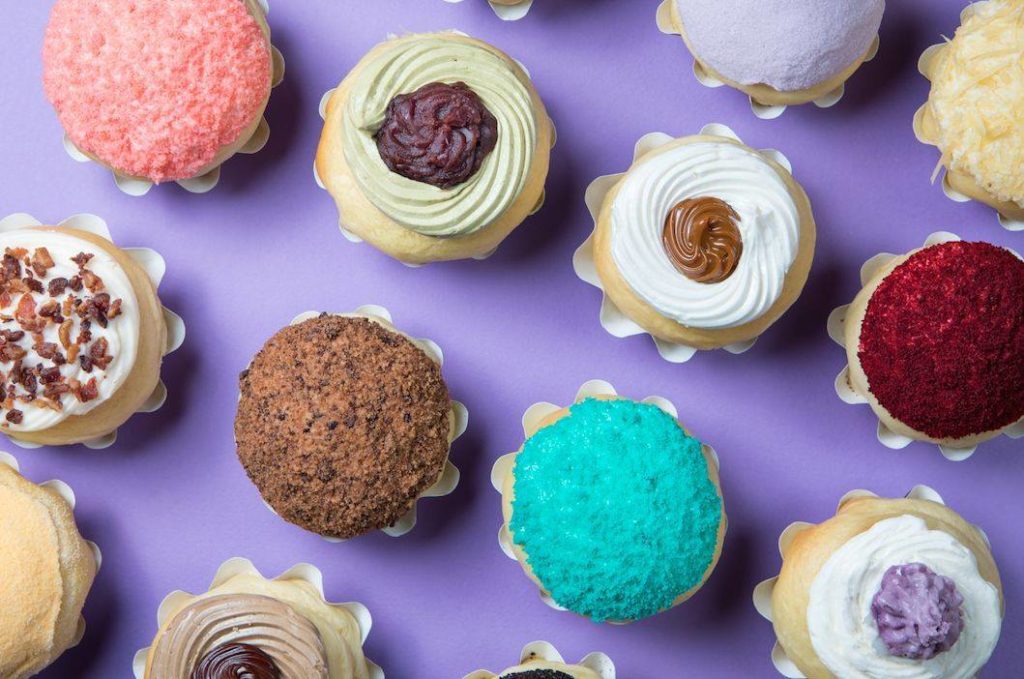 Ensaymada Project started off selling through its website and would ship orders to customers. Boxes can also be picked up daily at her Canyon Country home and weekends at the new kitchen in Canoga Park. The brand can now be found weekly at Smorgasburg and other events in Southern California, like 626 and OC Night Markets and LA Food Bowl, and retail partners like Titas of Manila in West Covina and LA Rose Cafe in Hollywood.
Passing down traditions: Just like her mom passed down her ensaymada recipe, Heredia-Reyes hopes that by eating one of her pastries, it will educate others on the history of the dessert bread and the traditions around it, including how it is popular in the Philippines during the holidays. "It is our hope that Ensaymada Project will continue a centuries-old legacy that fosters such global ties – one ensaymada at a time," she says.
Her secret: "Focus on quality and customer service — it's the secret to success. Also take good care of your employees, the backbone of the company."
Isa Fabro — Owner & pastry chef, IsaMADE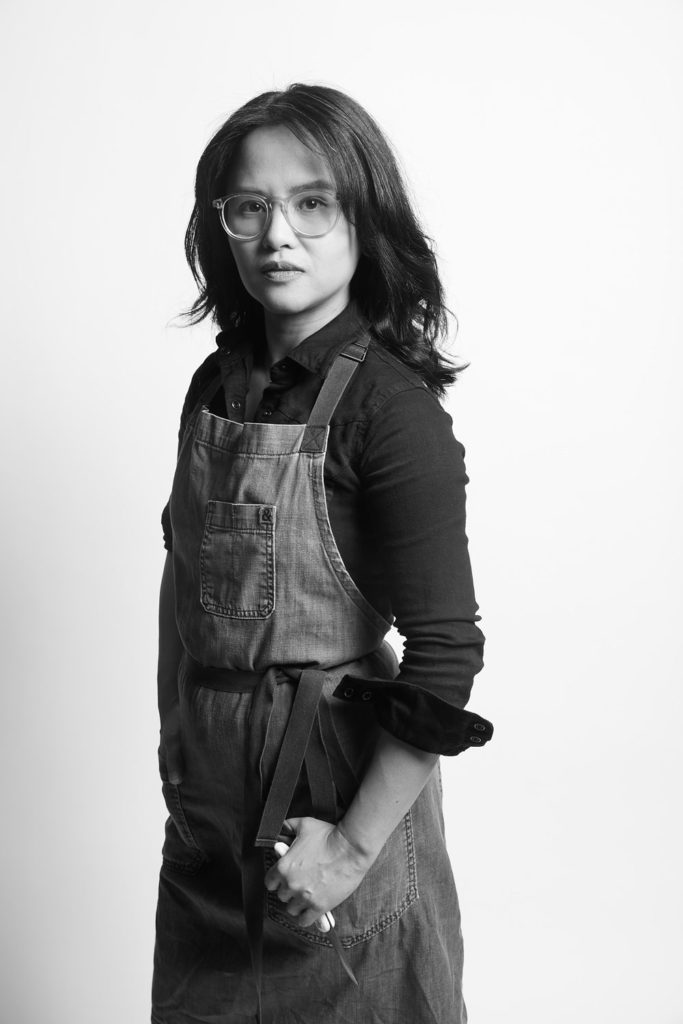 On recognizing the calling: It's been 14 years since Isa Fabro transitioned from a career in music to food. After falling ill and spending time in the ICU, it took a year for her to fully recover, when she realized that cooking was "the only kind of work that gives me the biggest challenge and fulfillment." Fabro started off as a line cook on the savory side for the first seven years, working with Michelin-starred and James Beard-nominated chefs and restaurants, until she experienced back issues. She switched to pastry, which she says employs "the best of my formulaic and calculated mind," and landed positions at Hatfields and Sycamore Kitchen before becoming pastry chef at Chef Josef Centeno's Orsa & Winston then overall executive pastry chef at Centeno's restaurant group (which also included Bar Ama, Baco Mercat, and Ledlow).
"I would not be the pastry chef I am today had I not had the fine dining foundation and mentorship realized as a line cook. I've been lucky to work with some of the best chefs and restaurants in LA," she says.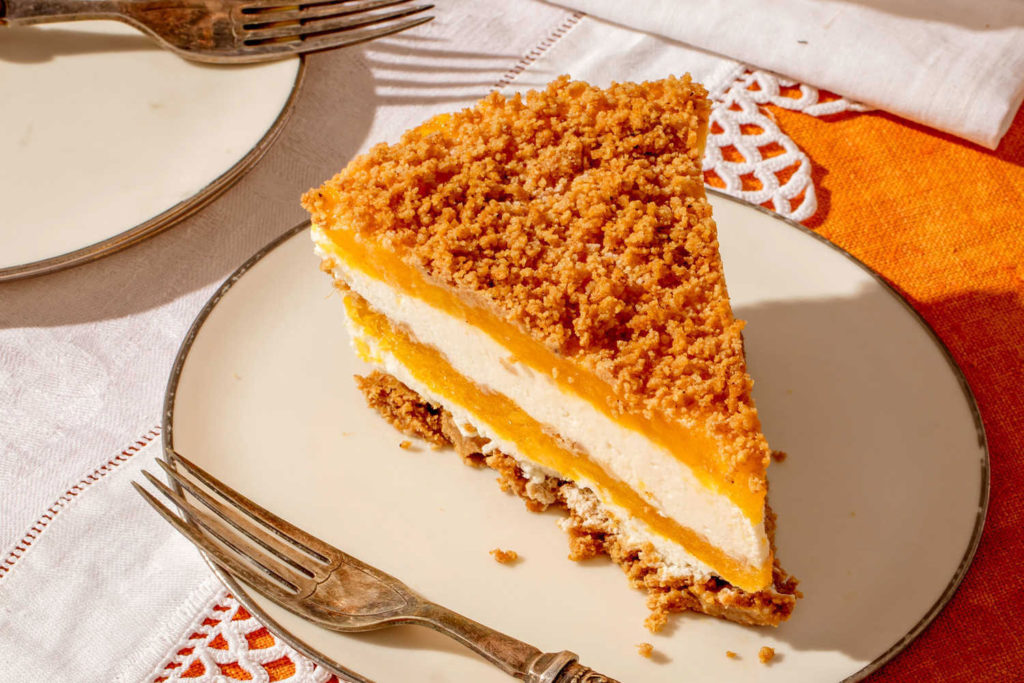 Self-branding: In 2016, Fabro took a month-long trip to the Philippines, which was the first time she was fully immersed in Filipino culture. She was compelled to venture on her own and consult on other projects, including creating a dessert menu at Alvin Cailan's incubator Unit 120. Under her pop-up IsaMADE, she creates made-to-order desserts and pastries, such as the royal bibingka pie, food for the gods cake, Bicol express empanadas during the holiday season, and mango royale pie, strawberry sago, and latik pudding in the spring. Her work has garnered features in the New York Times, Los Angeles Times, Bon Appétit, and more.
Heritage as a key ingredient: "At this point, anything I do pastry or dessert wise must be Filipino-inspired. The last four years have been my most personal and profound cooking. I'm expressing myself creatively, and this has nurtured a sense of joy and pride in the community. Up until four years ago, I felt very distant from the culture. I've learned that this feeling is a more common struggle amongst first generation immigrants like myself, so I'm hoping that my dedication will help others open doors and rediscover roots." 
Where to find her in 2019: In the past three years, Fabro has held pop-ups at local cafés and has been visible at various culinary events and festivals (remember her viral halo halo at Coachella that had fruity pebbles?). This May, she'll be back for the LA Food Bowl for events with chefs Diep Tran of Good Girl Dinette and Saengthong Douangdara of Saeng's Kitchen, and will be at Guest Chef Burger Night at Esters Wine Shop & Bar in Santa Monica, where she'll make a kare kare burger and surprise dessert. She also has some projects that are still under wraps. "Whatever I do, I will take every opportunity to make Filipino food because it is my chance to keep the culinary conversation going.  It is my honor to present our cuisine to as many people as possible," she adds.
Best career advice: Fabro says that the power lies within you to figure things out.
"We all need teachers starting out, but there comes a point when you have to stop being a student and put the responsibility in your own hands. There's a lot of self-study required, especially if you have a unique vision. The longer you work at something, that vision will become more clear and entirely your own. No one else can get you where you want to be except for yourself. Once you have this, your team, systems and operations will fall into place, but remember, it always starts with you."
Gigi Pascual – Co-owner & pastry chef, Dough & Arrow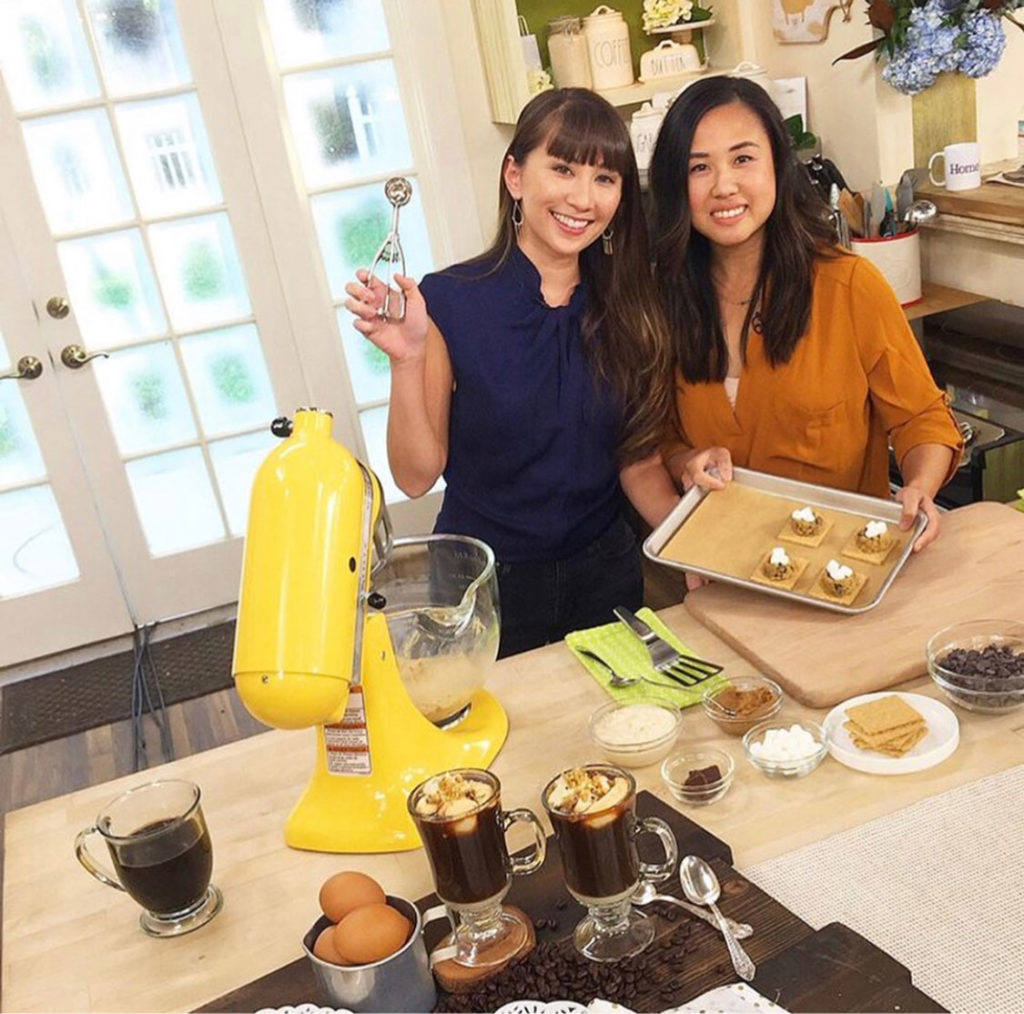 On her second wind: Gigi Pascual, who studied pastry arts at the French Culinary Institute in New York, was previously featured in the Asian Journal for her breakfast Buttermilk Truck, considered one of the first 10 food trucks in LA in 2009. It turned into a product line of red velvet and ube pancake mixes, which were sold at mainstream stores like Crate & Barrel and Sur La Table and were used at shops like DK's Donuts and Friendly Donuts. Pascual took some time off when her first child was born, but last year launched Dough & Arrow, a cookie and coffee shop, in Costa Mesa with business partner Jennifer Green, formerly of Nom Nom Truck.
Playing on childhood memories: Pascual recalls growing up eating Mrs. Fields cookies as a child, and ever since, she has been "playing around with different cookie recipes." "When you go into Dough & Arrow, for me it's a nostalgic factor because cookies are something I grew up with. When you walk in, one of the first things you'll notice is the smell because we're baking small batch cookies throughout the day and also the smell of coffee," she says. "As you walk up to the counter, you're going to see the display of the cookies and the espresso machine. We're playing on the sights and the smells and then when you do eat it, it's bringing you back to childhood."
Making the perfect cookie: Some may knock cookies as a basic dessert, but Pascual argues that there a multitude of ways to craft a cookie. "You can make it crispy or chewy, depending on the preference of the chef or whoever is curating the menu. My favorite cookie is a little bit crispy on the outside and chewy in the middle, sometimes even a little gooey so that was the basis of Dough & Arrow," she explains.
At Dough & Arrow, you can find options like sea salt chocolate chip, cereal killer (which has rice crispies and captain crunch), and ube toasted coconut. There are seasonal, gluten-free and vegan options as well. The menu has coffees, cold brews and teas to complement the sweets.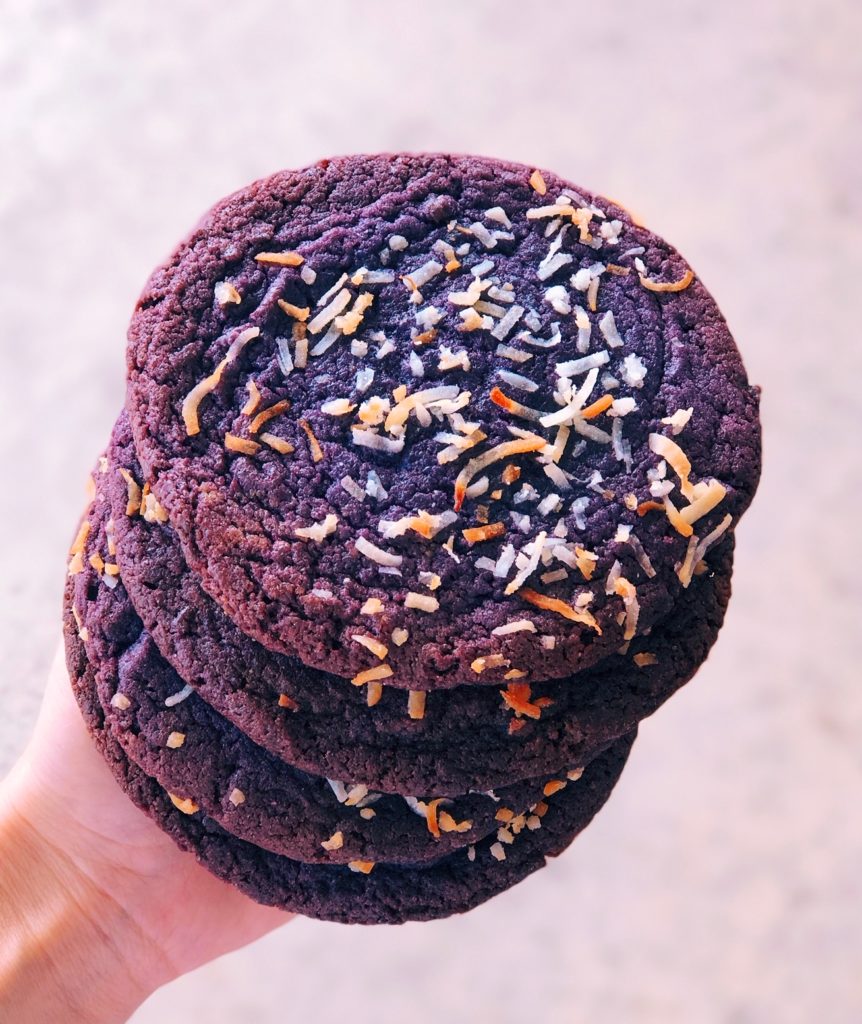 Ube as a mainstay: Pascual, who was one of the early champions of ube, says that she doesn't have to explain what it is anymore. "Even if we don't explain what it is, people already know. It's amazing to see how that's evolved already over the past couple years. It was just natural to me to introduce that because it's already something that people are familiar with. It's also a really pretty color. It's probably one of my favorite Filipino flavors growing up," she adds.
Going back to roots: Pascual observes a dessert trend being mixing classic techniques with flavors of one's heritage or childhood influences. "That's a common theme and the best way to express yourself by using techniques that you know and introduce flavors that you've grown up with or maybe your family has grown up with," she says.
Core values: "Especially after having a child, the most important thing is your family — to always take care of yourself and your family and everything else falls into place."