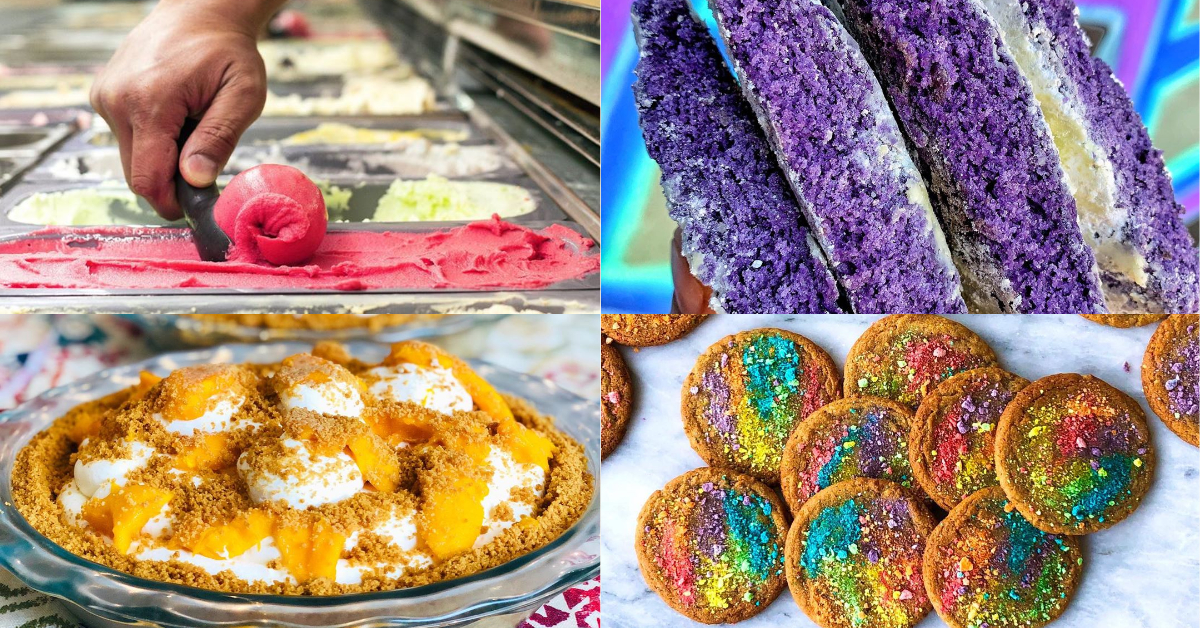 With the third straight week of protests ongoing in the United States, Filipino American chefs along the West Coast are contributing to the Black Lives Matter movement by donating proceeds to various community organizations.
Juneteenth Red Punch
Los Angeles-based Artisanal ice cream shop Wanderlust Creamery has a new seasonal flavor called "Juneteenth Red Punch" sorbet "inspired by the culinary tradition of serving red drinks at feasts on Juneteenth (June 19th), celebrating Black Independence Day," it wrote in an Instagram post. 100% of Proceeds from the flavor will go to Color of Change and Pretty Brown Girls.
Kindness and Mischief Coffee in Highland Park is celebrating Juneteenth all weekend by donating a portion of profits to Fair Fight Action and Black Voters Matter Fund, two organizations that help voter turnout and access.
Black Lives Matter in HiFi
In LA's Historic Filipinotown, a "Black Lives Matter in HiFi" bake sale fundraiser will be held on Saturday, June 19 from 11 a.m. to 3 p.m. at HiFi Kitchen (1663 Beverly Boulevard, Los Angeles, CA 90026).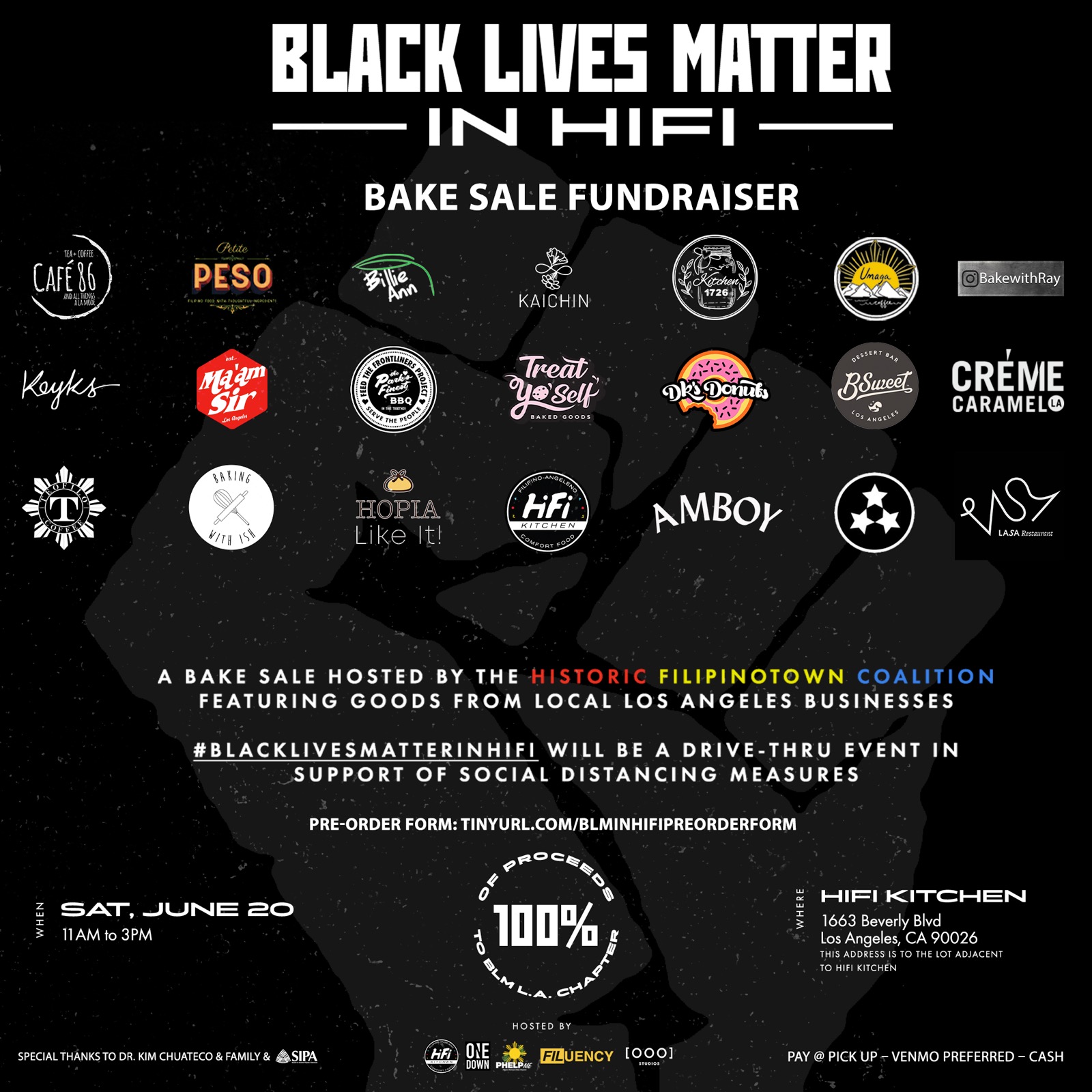 Local businesses — including Ma'am Sir, Petite Peso, B Sweet, Café 86, Créme Caramel, LASA, The Park's Finest and Amboy — will serve up savory and sweet pastries from all things ube to kare kare tamales. Items on the online pre-order form have sold out but walk-in orders are still available on Saturday on a first-come, first-served basis. 100% of the proceeds will go to the LA chapter of Black Lives Matter.
Pies For Justice
Another initiative in Los Angeles is Gather For Good, an online charity bake sale featuring sweet and savory pies from 50 select pastry chefs, bakers, restaurant owners and farmers. All proceeds will go toward Black Lives Matter Los Angeles and The Gathering for Justice.
The pie sale will be live on the Gather for Good website on Juneteenth — Friday, June 19 starting at 9 a.m. until sold out with the list of pies and donation prices. Each pie will have its own designated pick-up time and location based on the chef on Saturday, June 20 between 12 to 3 p.m.
View this post on Instagram
Pinay pastry chef Isa Fabro will have her Mango Royale pie for sale. "I believe in what Black Lives Matter Los Angeles and The Gathering for Justice are trying to accomplish, as I have strived to instill the same cross-cultural understanding as a Filipino-American woman of color through my humble work as a chef," Fabro told the Asian Journal.
Bakers Against Racism
A worldwide virtual bake sale called Bakers Against Racism is ongoing until June 20. The campaign, co-created by Washington, D.C.-based pastry chefs Paola Velez and Willa Pelini, has led to over 1,000 professional and amateur chefs to bake and sell desserts and then donate a majority of the proceeds to an organization that supports local black communities or social justice causes.
Now Serving, a Fil-Am owned cookbook shop in LA's Chinatown, announced it would be participating on June 20 by making S'more Rice Krispie Treats. Orders will be taken until Friday, June 19 for pick up on Saturday from 11 a.m. to 3 p.m. A shipping option is available as well. Proceeds from the sale will benefit The Conscious Kid's Anti-Racist Children's Books Education Fund.
Dough and Arrow, a Fil-Am co-owned cookie shop in Costa Mesa, California, will also be participating with 100% of proceeds from its Pride Month Cereal Killer Cookies to be donated.
View this post on Instagram
Rezel Kealoha, a food photographer and recipe developer, from the Bay Area is selling Filipino flavor cookie boxes and will donate to the Miles Hall Foundation.
In Seattle, Hood Famous Bakeshop is joining the bake sale by selling pan de sal and ube butter and has chosen proceeds to go toward Black Lives Matter Seattle-King County and The Okra Project, which supports the black trans community. The shop also added that for those not in Seattle but still want to donate, the pan de sals will go toward front line health care workers in the city.
In addition to this upcoming weekend of action, other Fil-Am chefs and restaurants have shown their support for the protests and organizations advancing the cause.
In San Francisco, The Sarap Shop donated profits from its meal kits to Until Freedom, a social justice organization that addresses systemic and racial injustice. Last week, Little Skillet chose several groups to donate 10% of daily sales, including Black Visions Collective, Project Level and The Movement for Black Lives.
Magna Kusina in Portland, Oregon has been donating a meal for every meal purchased to various communities and front line workers and recently donated to Campaign Zero, Action Bail Fund and Black Visions Collective.
"Each one helping on different levels, from policy, consequence resolution, and uprooting on a base level. We fight as one," the restaurant said in an Instagram post.