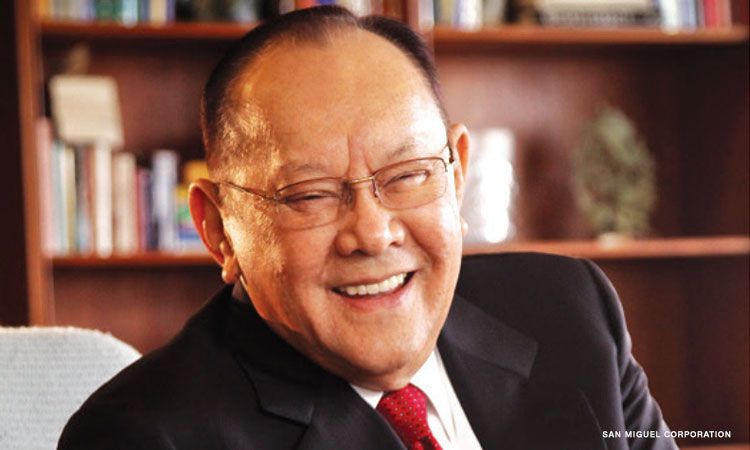 We first met the late visionary industrialist Eduardo "Danding" Cojuangco some 50 years ago in 1969, when we were both elected to the House of Representatives. We served until 1972 as our term was abruptly terminated when martial law was declared.
Some of our colleagues in the pre-martial law House were Cornelio Villareal of Capiz, Jose B. Laurel Jr. of Batangas, Nicanor Yniguez of Leyte, and Ramon Mitra Jr. of Palawan, who all became speakers of the House; as well as Jose Zulueta of Iloilo and Neptali Gonzales of Rizal, who both became Senate president.
Ambassador Cojuangco and we would sometimes find ourselves at different sides of the political fence but we have kept our friendship and respected each other's political convictions.
In 1992, when Danding ran for president, we were a close political colleague of his fellow presidential contender, then former Defense Secretary Fidel V. Ramos who is our provincemate in Pangasinan. We co-founded with Ramos, hero of the Edsa People Power Revolution, and the late Senator and Foreign Affairs Secretary Raul Manglapus the Lakas-NUCD-UMDP, now Lakas-CMD, which became Ramos' campaign vehicle that catapulted him to Malacanang.
Danding founded and served as chairman of the Nationalist People's Coalition (NPC), which is still running strong up to this day.
In 1998, when we ran for president, Danding backed another presidential aspirant, the then incumbent Vice President Joseph Estrada, who won the presidency. We landed second in the field of ten candidates. President Estrada and we have also remained friends up to this day.
When we were privileged to have served five-times as speaker of the House, the Nationalist People's Coalition under Danding was our ally in shepherding and passing socio-economic and political reform laws, including some of our humble landmark initiatives — the Bases Conversion Law, which converted the former U.S. military bases into Filipino industrial parks and satellite cities, and the Build Operate Transfer (BOT) Law, which was later adopted by various countries around the world.
In early June of 1992, following the intense electoral battle among seven presidential candidates and our own desire to reach out to those who slugged it out with Ramos in the presidential race, we sought a meeting with Danding and he warmly received us in his New Manila residence. Ramos was then leading in the national canvassing being conducted jointly by the Senate and the House of Representatives.
Danding, a true cavalier and statesman, fully understood that a post-election crisis would not be good for the country and made it clear that he would do his part in avoiding possible political chaos. On our invitation, he later met with Ramos in our then Dasmarinas Village residence. In that meeting, Danding chose the path of reconciliation, solidarity and cooperation without setting any conditions. He gave paramount importance to the country's interests, more than any other consideration.
Danding's contributions to national development have carved a wide and unique niche in our country's history. The San Miguel Corporation, which he and his incomparable associate, Ramon Ang, successfully established into the largest food, beverage and industrial conglomerate in the Philippines and Southeast Asia is truly a pride and honor of the Filipino people for all generations and an inspiration for Asians.
Certainly, Danding Cojuangco is one of the great Filipinos of our time.