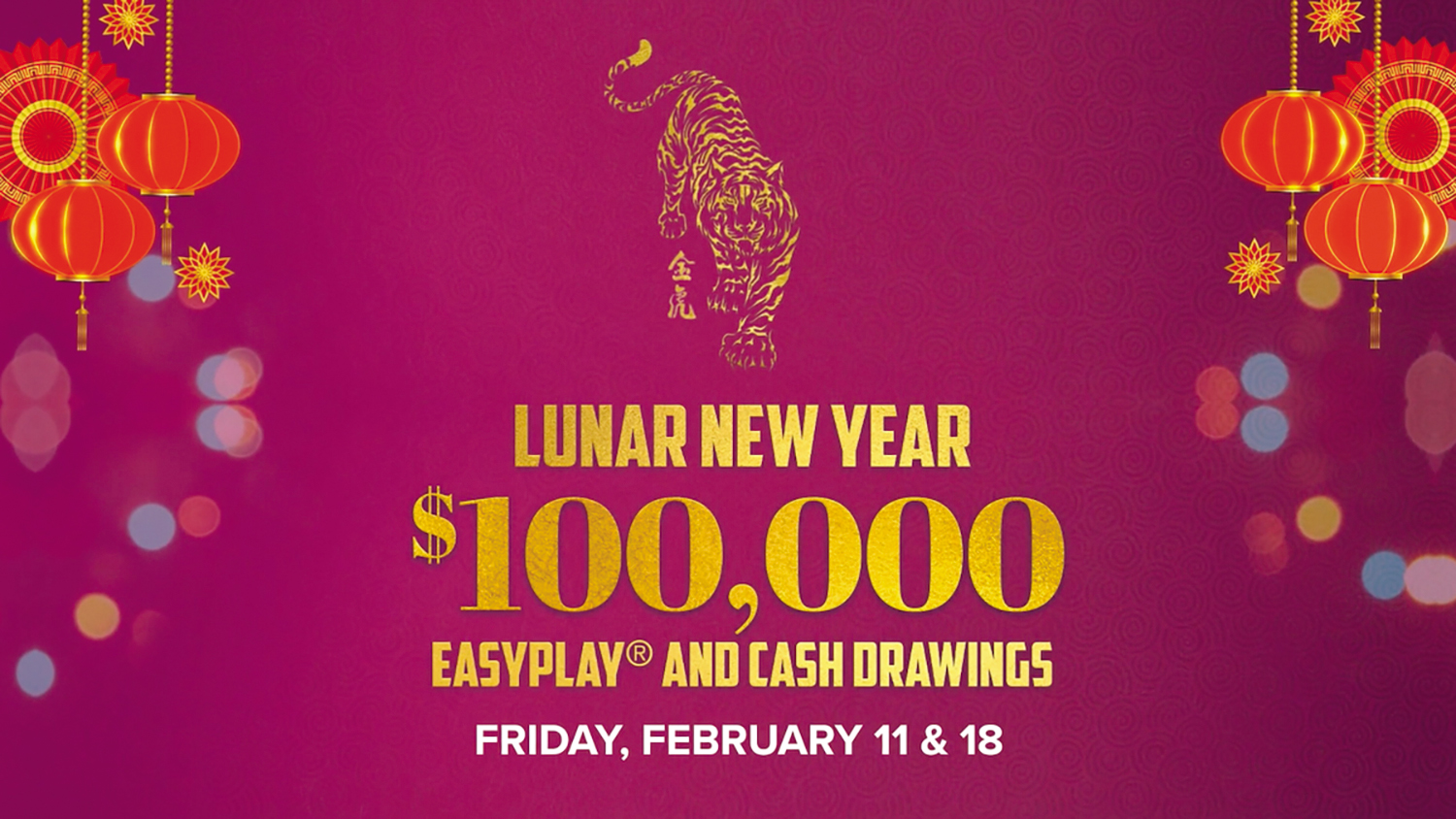 Come celebrate the Lunar New Year with $100,000 EasyPlay, Cash Drawings at Pechanga
AS 2022, the Year of the Tiger, approaches, Pechanga Resort Casino welcomes everyone to join in the celebration of the festival with a series of promotions and giveaways this February.
Lunar New Year $100K EasyPlay & Cash Drawing
Pechanga Resort Casino celebrates the Lunar New Year by giving away $100K in EasyPlays and cash prizes on Friday, February 11 & 18. Club members can earn entries to the drawing by playing slots or table games from 6 p.m. to 10 p.m. each day for a chance to win big prizes. 60 winners will be drawn to receive $250, $500, or $750 in EasyPlay. 1 lucky winner will be drawn at 10 p.m. for the ultimate cash prize of $25,000. Come discover the thrill of possibly of winning multiple times!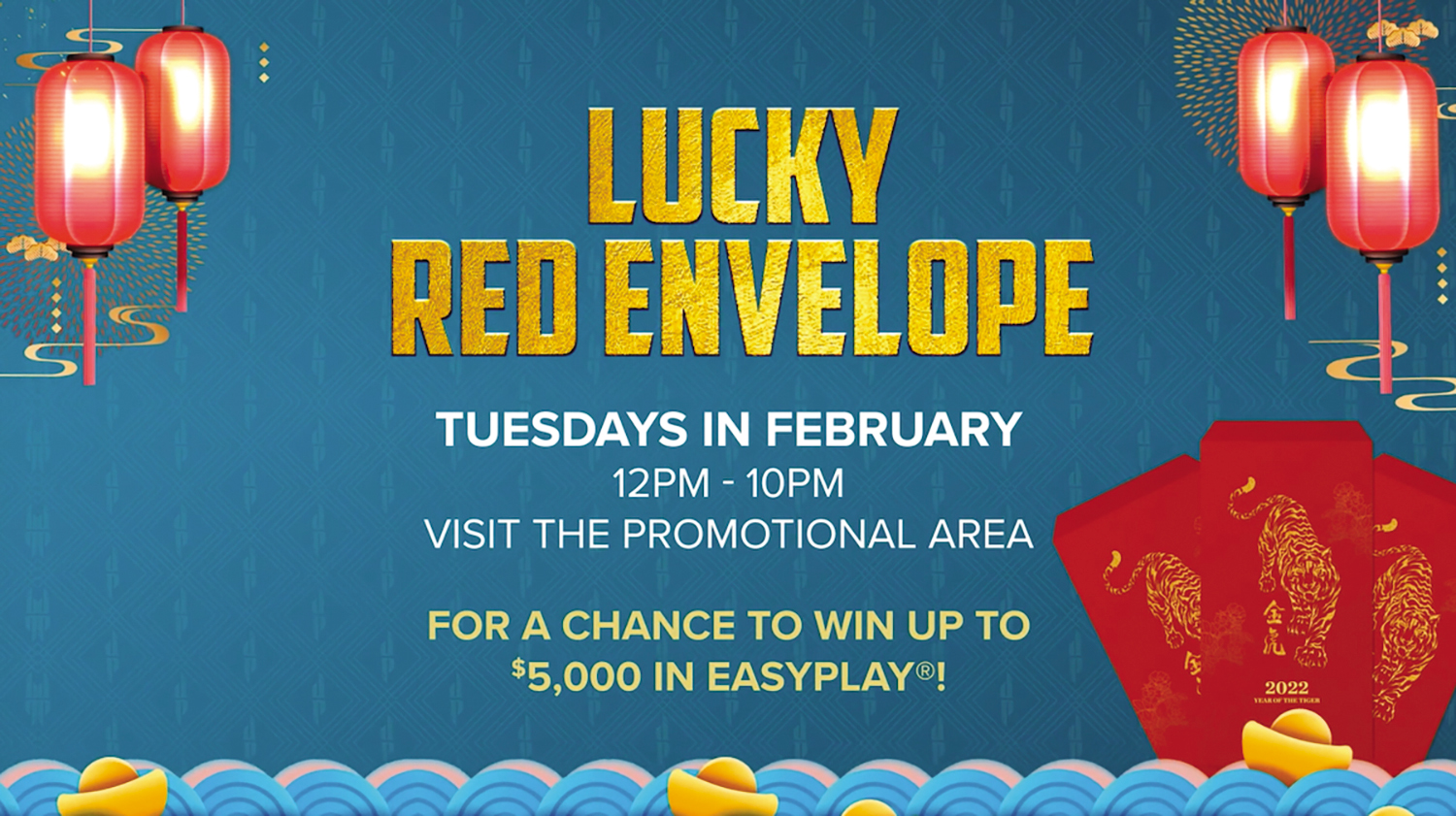 $5K Lucky Red Envelope Giveaway
Pechanga lets players become even luckier with the "Lucky Red Envelope" promotion this February. Club members just simply visit the Promotional Area every Tuesday in February from 12 p.m. to 10 p.m. for a chance to win up to $5,000 in EasyPlay!
Lunar New Year Luck Lion Dance
In celebration of the Lunar New Year, Pechanga Resort Casino will arrange a splendid Lucky Lion Dancer Performance on February 5. Starting at 3 p.m., the "Lion Dancer Team", which symbolizes auspiciousness and good luck, will start at the north entrance, and cruise around the casino floors. Everyone will be able to get Red Packets to give to the Lion Dancers to pray for a Good New Year.
Exclusive Dining and Drinks Specials
Pechanga Resort Casino also welcome guests to reserve tables for Family Dinner or Business Lunch to enjoy exclusive "Lucky" Lunar New Year Dining and Drink Specials that have been meticulously prepared by the chefs of Bamboo, Blazing Noodles and Umi Sushi & Oyster Bar.
Tastily made by Umi Chef Kiyo Ikeda, the Lobster Three Ways ($98), Sticky Rice Stuffed Chicken ($58) and the Eel Lotus Wrap ($42) will certainly bring you to a new level of dining experience.
Chef Marie Surakul at Bamboo serves Steamed Whole Fish ($98), which means an increase in prosperity, and Long-Life Noodles with Beef Tenderloin ($38). She points out that noodle is a symbol of happiness and longevity, and guests will experience instant happiness while eating these Lunar New Year specialties.
Blazing Noodles, just off the Pechanga hotel lobby, dishes up eight traditional Asian specialties for the occasion. From Fried Red Snapper to Stir-fry Lamb Meat with Spicy XO Sauce, these special dishes' prices range from $22 to $92.
The dining specialties in Blazing Noodles, Bamboo and Umi will be available from Jan. 28 through Feb. 13. Reservations are recommended at Umi Sushi & Oyster Bar and can be made by visiting www.Pechanga.com/eat or calling (951) 770-8504.
Above all, Pechanga's expert mixologists created a 5 Spice Old Fashioned Cocktail for the Lunar New Year. Each spices represent one of the five elements: wood, fire, earth, water, and metal, which is symbolic for an everlasting luck and fortune. Guests can stop by the Acorn, Corner or Round Bars from Jan. 28 to Feb. 13. Guests can taste this specialty cocktail for just $12.75.
Lunar New Year Property Décors
The Lunar New Year symbolizes the fresh start of a new year, a new beginning. In celebration of this festival, Pechanga, starting from January 17, 2022, have decorated the entire property with traditional New Year elements, such as bright red lanterns, refined oriental-style garden bridge, and beautifully bloomed peach blossoms, traditional calligraphy spring couplets and more. Throughout the floor, you will be able to find countless photo-op spots for your selfies or a family portrait, while capturing the stunningly displayed Lunar New Year decorations.
For more information on Pechanga events and promotions, please call (877) 711-2946 or visit our website Pechanga.com. Must be at least 21 years of age to participate in promotions.
Come enjoy Pechanga's four diamond-rated service with a peace of mind, and to learn more about the health and safety measures that have been implemented, please visit pechanga.com/covid.
Pechanga Resort Casino offers one of the largest and most expansive resort/casino experiences anywhere in the United States. Voted the number one casino in the country by USA Today and rated a Four Diamond property by AAA since 2002, Pechanga Resort Casino provides an unparalleled getaway, whether for the day or for an extended luxury stay. Pechanga offers more than 5,000 of the hottest slots, table games, world-class entertainment, 1,100 hotel rooms, dining, spa and golf at Journey at Pechanga, Pechanga Resort Casino features a destination that meets and exceeds the needs of its guests and the community. Pechanga Resort & Casino is owned and operated by the Pechanga Band of Luiseño Indians.
For more information, call toll free (877) 711-2946 or visit www.Pechanga.com. Follow Pechanga Resort & Casino on Facebook and on Twitter @PechangaCasino.
(Advertising Supplement)