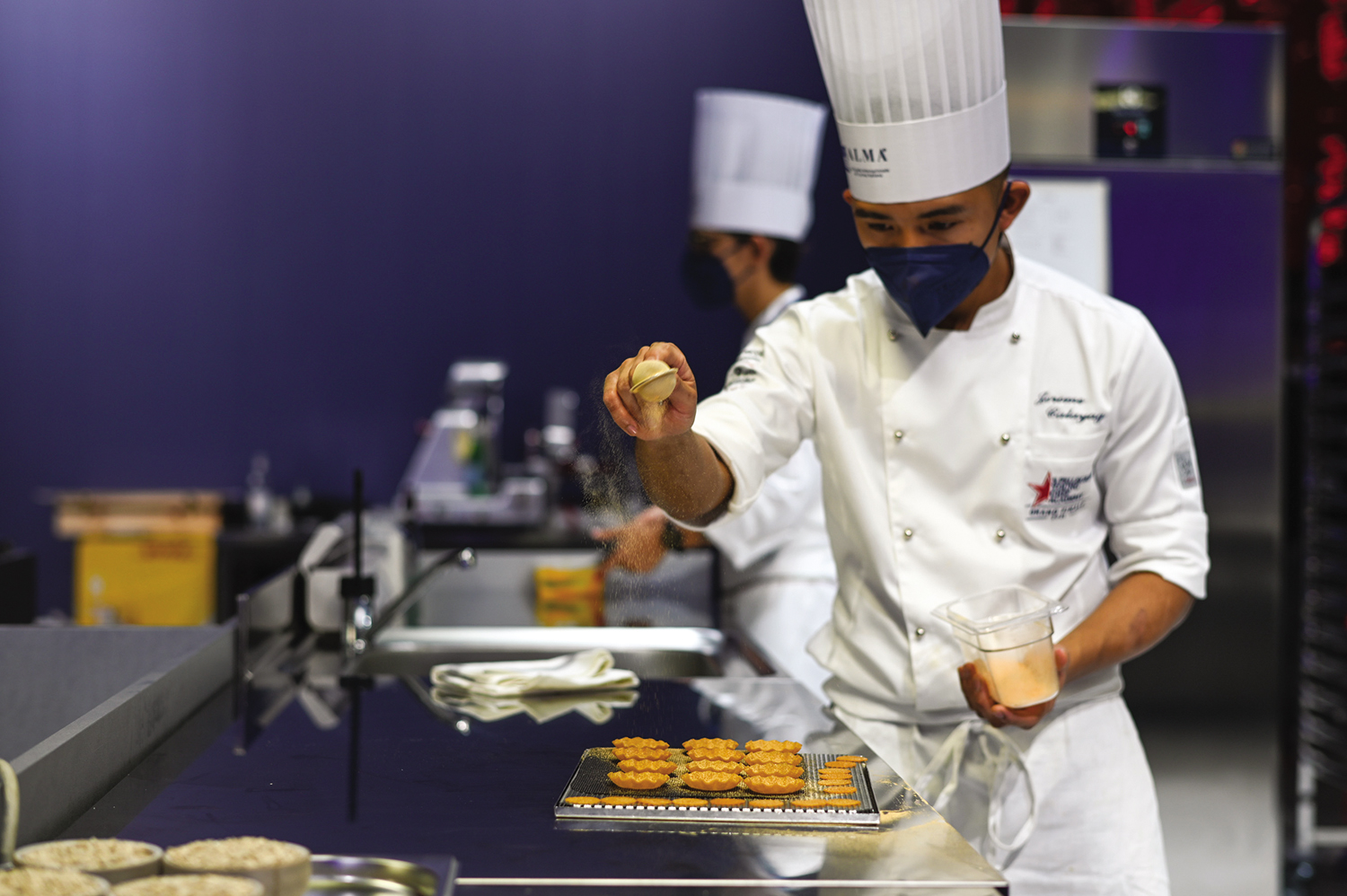 THE biggest global talent search to find the best young chef in the world found its winner in Jerome Ianmark Calayag, a Stockholm-based Filipino chef originally from the Philippines.
The young chef bested nine other chefs to win S.Pellegrino Young Chef Academy Competition 2019-2021, a grand, three-day gastronomic event held in Milan last October. The worldwide competition was designed to find and nurture the future of gastronomy.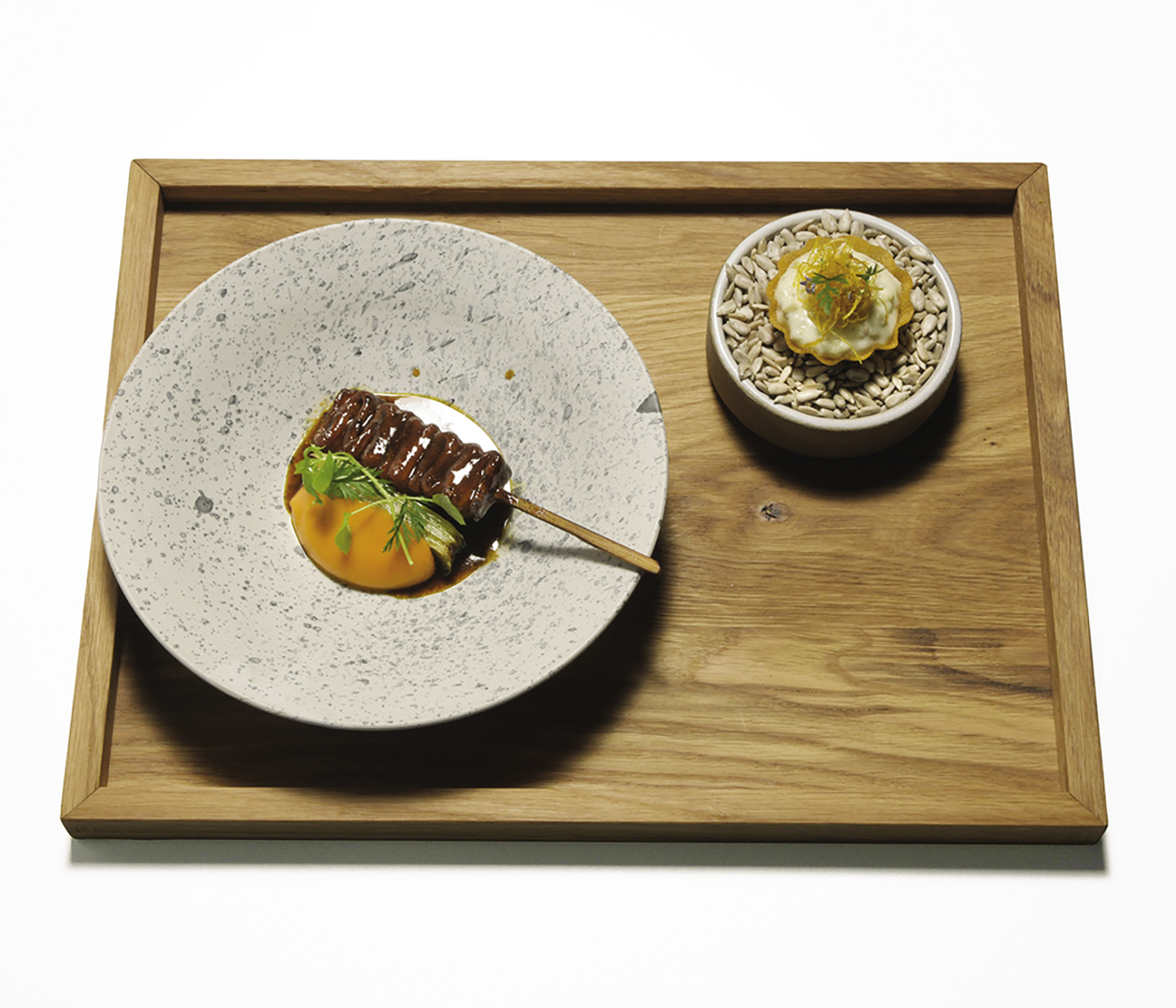 Calayag's impressive "Humble Vegetables" Signature Dish wowed the Grand Jury with his choice of ingredients, his skills, genius, the beauty of the dish, and the message behind the plate, beating entries from the other talented chefs from around the world.
The look of the dish he presented was inspired by the barbecued isaw or chicken intestines, something he remembers eating when he was growing up in the Philippines.
"This is a reflection of my journey, who I am now and who I was," he told the jury. "I was inspired by the carrot and this street food I used to buy in the Philippines, but this is a Nordic dish and it is very common in Sweden since we grow more carrots than potatoes."
Calayag moved to Sweden when he was 16 years old. His memory of the street food that he used to eat as a kid is still vivid in his memory and that is what he says he tries to recreate when he cooks using Scandinavian ingredients and techniques.
"This was a great experience. I can easily say that joining the competition is one of the best decisions I have ever made. It was awesome to meet all the chefs," he told the Asian Journal, describing his journey in the global competition.
Calayag's family is originally from Paombong, Bulacan. His mother moved to Sweden and he followed when he was 16 years old. He is now fluent in Swedish.
Life in Stockholm has been good, according to him. "I can't complain, there are lots of opportunities," he said.
Calayag said that he misses eating Filipino dishes including his favorites sinigang and sisig, so when cravings start, he goes to the kitchen and cooks because there are no Filipino restaurants nearby.
"Unfortunately I don't think there is a proper Filippinerna restaurant here in Sweden," he said. "When I cook, I usually make the Filipino dishes plant-based, which is challenging."
And that is his current dream: to help push the gastronomy world to be more sustainable.
Rising to the Top
"I wanted to be a chef when I was 14," Calayag shared.
This is the reason why he went to Rönnowska skolan in Helsingborg to learn about the culinary industry.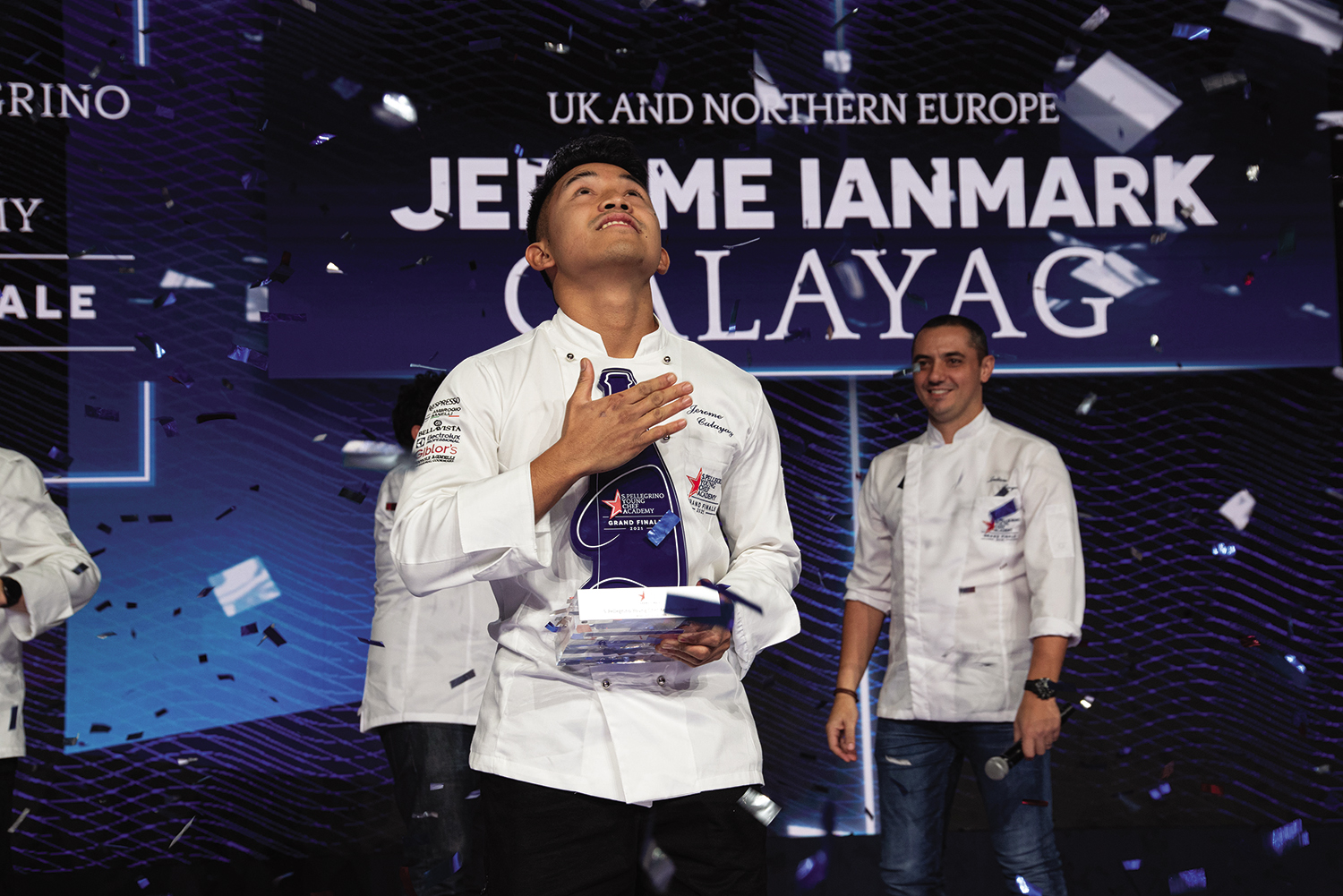 His efforts have paid off. Winning the S.Pellegrino Young Chef Academy Competition is already a major bonus since he admits he enjoys doing what he does every single day.
The 25-year-old Calayag is the fourth winner of the search which began in 2015 and now stands as a beacon of opportunity as he embarks on a stimulating journey to help shape the gastronomy of tomorrow.
Calayag's journey to the top was not an easy one.
This edition of the competition saw applicants from all over the world, with 135 young chefs passing the preliminary selections and taking part in live cook-offs in front of international jury panels from the participating countries of the 12 regions.
Calayag represented young chefs currently working in the United Kingdom, Ireland, Netherlands, Norway, Sweden, and Denmark. The Regional Winners arrived at the Grand Finale after a mentorship path during which, thanks to the support of a Senior Chef, they were able to refine their signature dishes.
"Jerome truly shone in front of our esteemed Grand Jury, and our warmest congratulations go to him, with the wish he will bring his own passion and thinking to the table to help shape the gastronomy of tomorrow," said Stefano Bolognese, Sanpellegrino International Business Unit Director.
Recently, he got another feather to add to his cap as he became a member of the Swedish Culinary Team (2021-2024). The Swedish Culinary Team represents Sweden in international culinary competitions like the Culinary World Cup and the Culinary Olympics.
'High on Flavors'
Calayag captivated the competition's Grand Jury, an esteemed panel of internationally renowned chefs who are giants of global gastronomy – Enrico Bartolini, Manu Buffara, Andreas Caminada, Mauro Colagreco, Gavin Kaysen, and Clare Smyth, securing his victory as the best young chef in the world.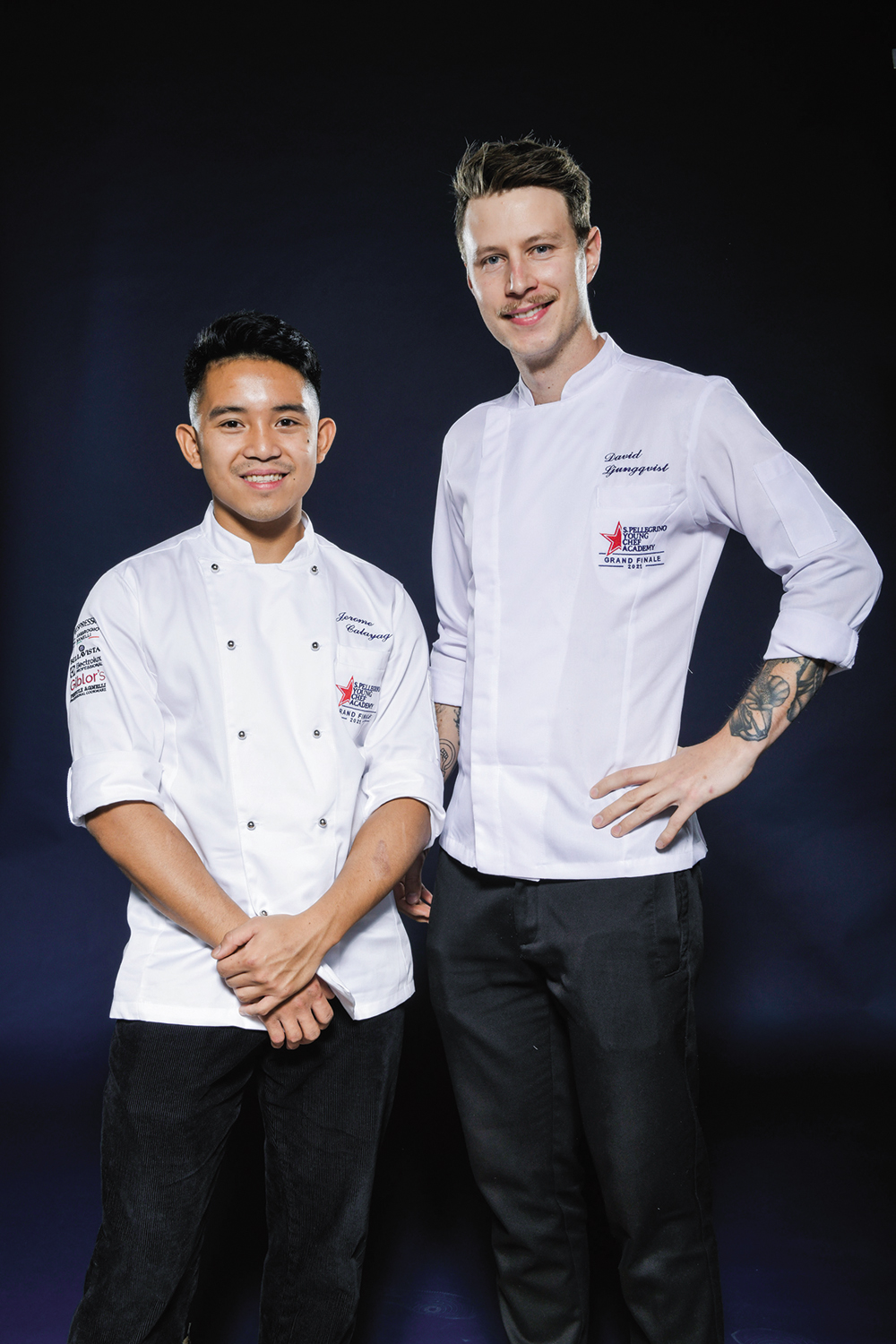 David Ljungqvist, Calayag's mentor and boss at Portal Restaurant in Stockholm, helped him improve his signature dish. He described his ward's cooking as "brave, high on flavors" and that eating the dishes he prepares is "like getting a slap on the face, in a good way".
"The dish has intense flavors, it has high acid and salt in a way that makes you crave more. I love the creativity of taking the carrot and presenting it this way," said Kaysen. "I really like what you achieved with these carrots, the flavor of meat from the smoking," added Colagreco.
One of the judges admitted to having goosebumps when he tasted Calayag's dish.
"It is so tasty and amazing. The carrot represents his roots. My hair on the back stand up…If you get a chance to try it, it is really bold, with deep and intense flavor. My mouth is happy, I am happy," Caminada said.
"I think it expresses the connection with the vegetables we all had to have, and the storytelling of the dish is also done very well," Buffara said. Finally, Bartolini added: "I'm glad to have met you, as a magician you used an excellent technique to treat vegetables."
"It's great that you understand how much flavor you can extract from a vegetable. There's not many people who look at vegetables that way, you've really extracted so much flavor here, it's absolutely delicious," Smyth said.
Asked why he chose to build the dish around the everyday carrot, he said he was 'inspired' by the root vegetable. "Carrots are so delicious and packed with umami and sweetness. In Sweden we have so many carrots," he said.
Calayag added that he chose to showcase a vegetarian dish because that's what he loves to cook and eat.
"I believe that everyone should be cooking and eating more vegetables," said the young chef. "We can take it slow and steady so we can push gastronomy to a more sustainable way. You can cook very good food with such humble ingredients."
While other chefs have pivoted to plant-based menus post-pandemic, Calayag first created his signature dish back in 2018. "The pandemic hasn't changed the way that I think about food, it amplified my belief in what I am doing and what I can affect and how many good things I can do in this world," he said.
The overwhelmed young chef collected his award in front of an assembled audience of fellow chefs and food enthusiasts, who got to their feet to applaud him at the prestigious ceremony held at Palazzo del Senato in Milan.
"I just wanted to express how it has been and what I have been learning through the years," said the beaming young chef after hugging his mentor Ljungqvist on stage. "The taste of the food I enjoy eating was on that plate."
Looking forward, Calayag said he has big ambitions for the future. Whether it's opening a restaurant, in Sweden or elsewhere, he is sure that he will do it sustainably. "I think it's going to be vegetarian. It depends, maybe there will be sustainable ways of producing food that is sustainable and it's not vegetables."
Addressing any young chef thinking about entering the competition in the future, Calayag has this advice: "Do it before you think you are ready, you shouldn't wait until you are ready as you might never do it and that's not good. You miss every shot that you don't take."