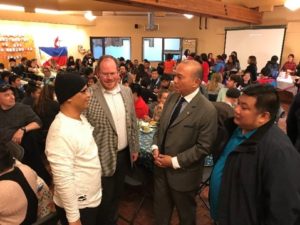 CALGARY 09 October 2018 —  The Filipino community in Banff and Canmore, Alberta showcased true bayanihan spirit as they hosted a Filipino food festival attended by by some 500 Filipinos and Canadians on 27 September 2018.
Consul General Gilberto Asuque congratulated the Filipino community for their successful hosting of the food festival at the Banff Senior Center on 27 September 2018, as he highlighted the significant contributions of the Filipino workers in Banff for the year-round success of the tourism and hotel and restaurant industry in the Rocky Mountains.
The Filipino Organization in the Rocky Mountains (FORM) led by its founder Jun Cacayuran briefed Consul General Asuque and Member of the Legislative Assembly (MLA) of Banff-Cochrane Constituency Cameron Westhead on the strong community spirit and volunteer work of the Filipinos in Banff and Canmore in preparing the traditional Filipino fiesta cuisine.
The FORM members served lechon, adobo, pancit, molo soup, lumpia, vegetable dishes and desserts of puto, kutsinta, sapin-sapin, maha blanca, leche flan, buko pandan jelly and fruit salad for the well-attended special community potluck dinner.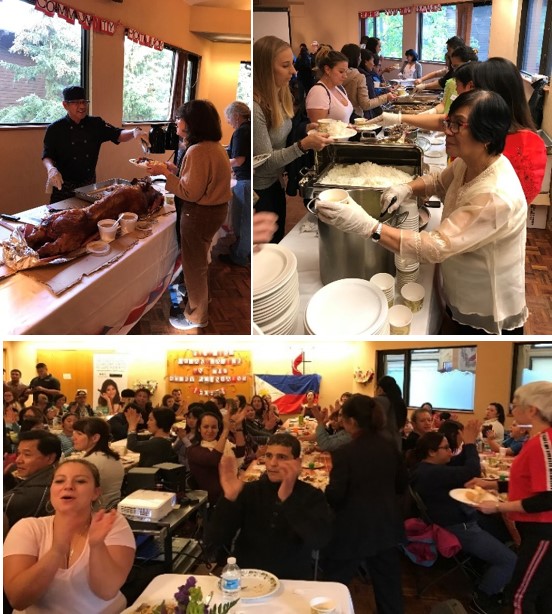 The Community Services Office of the Banff Town Hall assisted the FORM in organizing the Filipino food festival, which was one of the well-attended events where the queue for the food hall extended up to the walk-way leading to the center.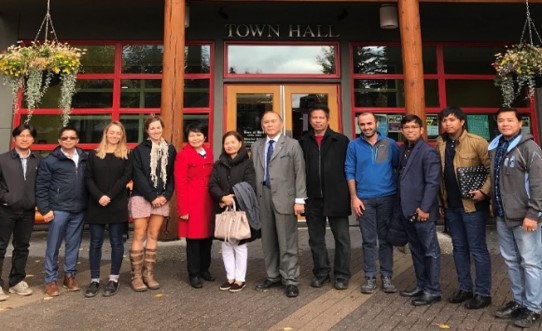 Banff is a resort town in the province of Alberta, located within Banff National Park. It is located in Alberta's Rockies along the Trans-Canada Highway. Some 1000 Filipino workers provide the majority of the manpower for the hotel and tourism industry in Banff, many of them volunteered after their work schedules to support the FORM in the hosting of the food festival.
Mr. Cacayuran himself works at the five-star Fairmont Banff Springs in Banff, where Filipino workers comprise a significant number of the total staff. MLA Westhead recognized the valuable contributions of the Filipinos in the tourism and local economy of Banff and expressed support for moves in the MLA to welcome more Filipino workers for the hotel and restaurant industry in the Rocky Mountains.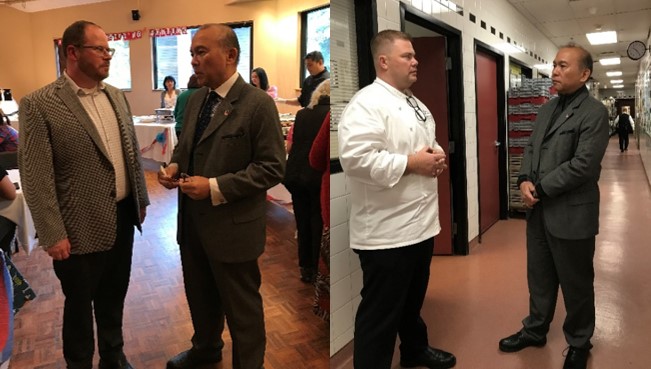 Consul General Asuque also met Robert Ash, Executive Chef of the Fairmont Banff Springs at the kitchen floor of the hotel, to discuss prospects of hiring more Filipinos for the banquet, restaurant and other hotel services.
Mr. Ash, who has worked in other international hotel chains before moving to the Fairmont in Banff, has great admiration for the dedication and work ethics of the Filipino workers in the various hotels he has served as executive chef.  He is looking forward to the opportunity of hiring more Filipino workers to provide the much needed manpower for the hotel and restaurant services of Fairmont. END
_
For more information, visit www.calgarypcg.dfa.gov.ph or https://www.facebook.com/Philippine-Consulate-General-in-Calgary-569041073472108/