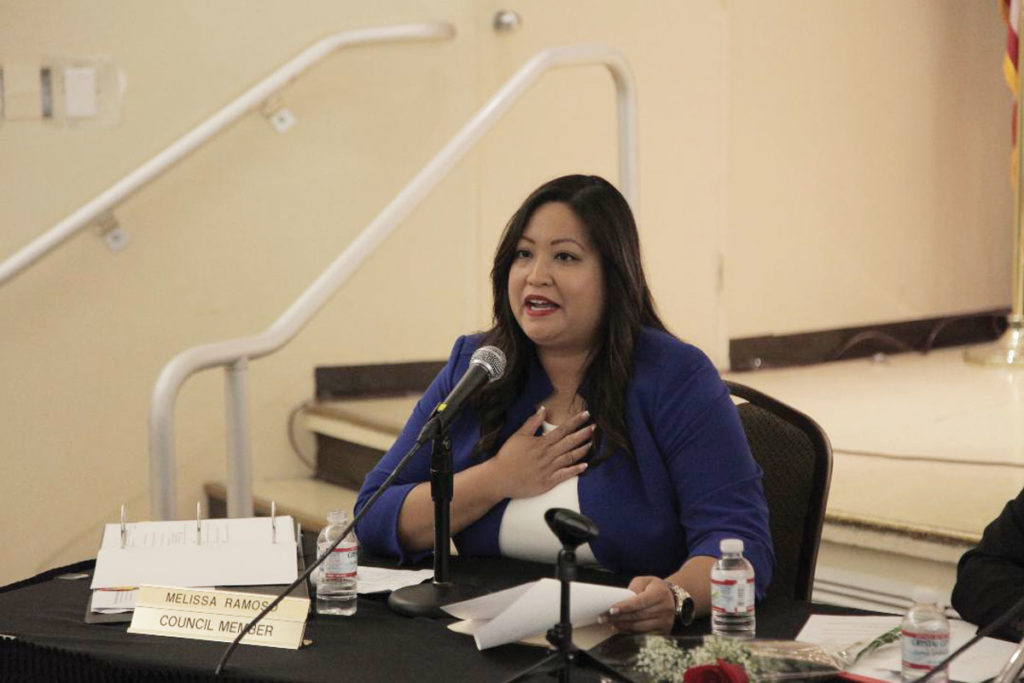 Melissa Ramoso was sworn into the Artesia City Council as the only woman and Fil-Am councilmember on Monday, December 10, after receiving over 1,700 votes during the election period.
"I am grateful and extremely humbled that 1,762 voters cast their ballot in favor of me, for me to be seated before you today," said Ramoso.
She is now also the city's youngest councilmember and will serve a four-year term.
"I may be the youngest to sit at the dais, but I'm not here to play.  I'm here to work hard and serve," she said, briefly mentioning that her first office hours at City Hall will be on December 21st from 2 to 4 p.m.
Prior to Ramoso's election, Fil-Am Victor Manalo had served on the city council since 2007. He ran for re-election during this cycle, but failed to make it to the top three.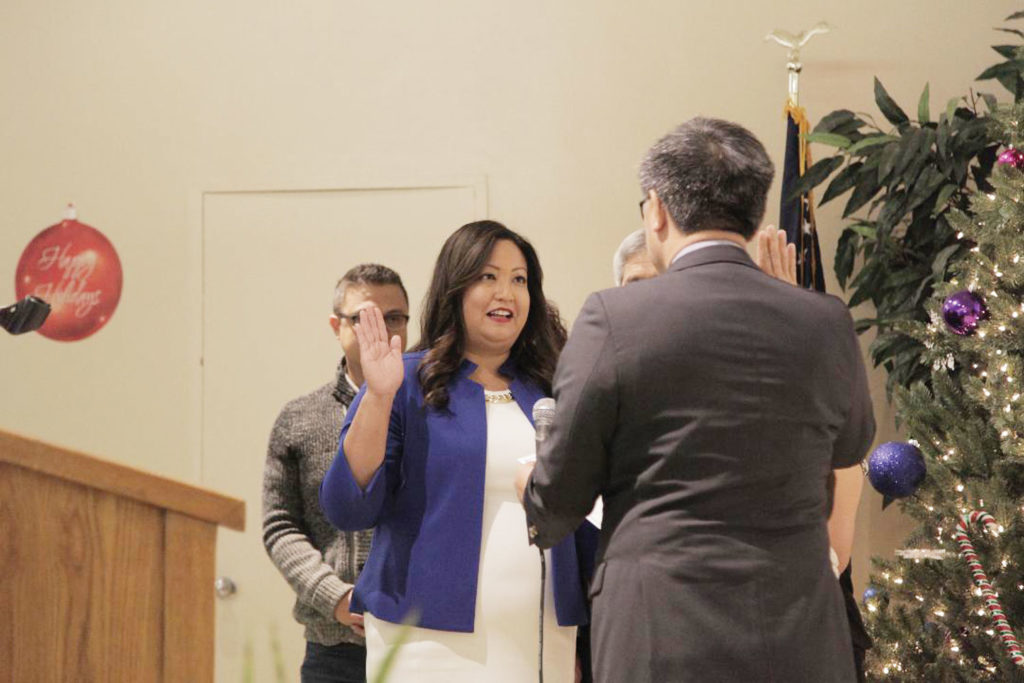 Among Ramoso's most immediate goals for herself as a councilmember are to be well-informed of all the projects and what the city processes are so she will be well prepared to answer and find solutions for Artesia's residents, she said.
"I'm reading through my city's finances, project plans and even city codes," Ramoso told the Asian Journal.  "I will be making my rounds with residents again so I can make sure I address their concerns from when I was on the campaign trail."
She added that listening to residents and being their voice is one thing she is most looking forward to as a councilmember.
"I've been in public service for over 14 years and now I can make a greater impact as an elected official.  The city has [the] ability to grow especially with an incoming rail system," she said, referring to the new light rail route soon to connect Artesia and Downtown Los Angeles.
"Being able to prepare and plan for possibilities is exciting.  I can't wait to see what's in store for my city's future," added Ramoso.
Councilwoman in the making
At her swearing-in ceremony, Ramoso shared with attendees how her interest in politics started young when she was just 6 years old, and how it was something family members were fully aware of.
"My grandfather told me that President George H.W. Bush liked broccoli just like me.  Last week in President George W. Bush's eulogy, I found out that he actually didn't like it," said Ramoso jokingly.
She said it was from that conversation with her grandfather that she realized he either wanted to make sure she ate her vegetables, or wanted to pique her interest in government.
"It was both," said Ramoso.  "And it was the start of many political conversations for years to come and countless letters he'd share with me which he had written to U.S. Senators and elected officials."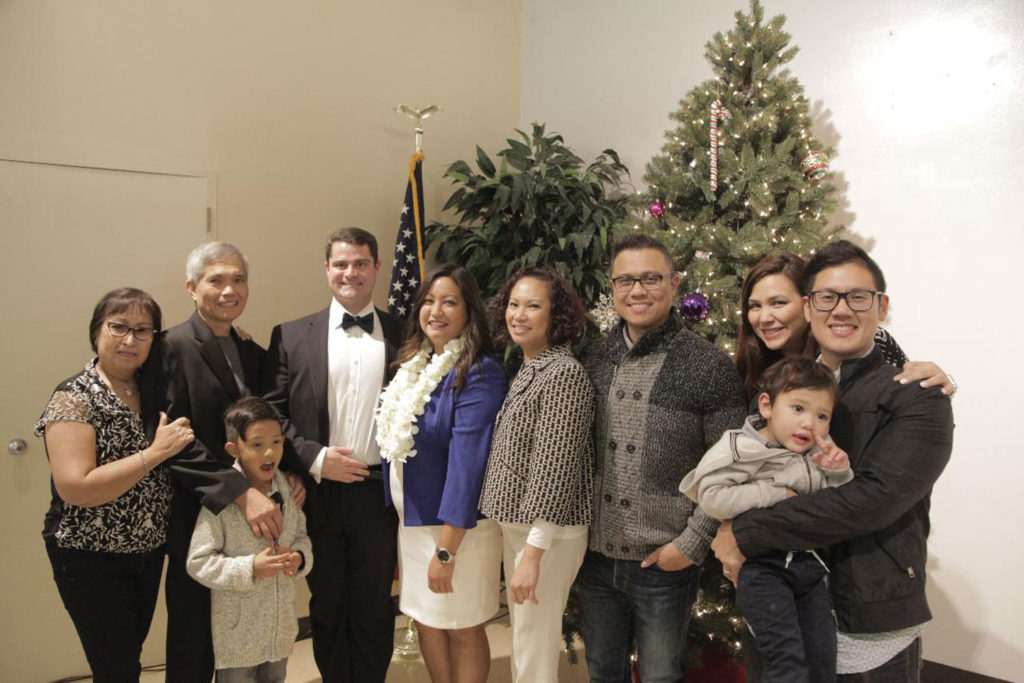 "As millennials call it today, she was my 'spirit animal,'" Ramoso said of her grandmother.
Of her journey to being elected councilmember, she said this election was unlike any she's experienced in her government career leading up to her win.  
"Voters would slam a door in my face, not want to shake my hand, give me a hard time and then tell me they went in another direction with their vote after the fact, or because I was a woman.  I was not even approved membership to exclusive closed Facebook groups of Artesia residents," said Ramoso. 
She continued, "Regardless of what I went through, I will be a councilmember for all Artesians.  Respect should always be given with no political boundaries.  I will listen to you.  I will help you find solutions and implement them.  I will always inform you of what is happening in our city.  I will keep you safe."
Born in neighboring Downey, Ramoso has long been a local to the area and received her education from the ABC Unified School District's Richard Gahr High School before going to the University of California, Irvine for her undergrad.
To those who witnessed her being sworn into office, she expressed gratitude to her mother and grandfather for having brought her to Artesia almost every weekend as a young child.  There, they would walk from one plaza to the next, giving her a chance to learn about her culture and other cultures through food and small business which she called the "backbone to our local economy."
On what it means to be elected the only woman and Fil-Am on the Artesia city council, Ramoso called it a tremendous honor.
"I have a big responsibility and I should serve with dignity and grace," Ramoso told the Asian Journal.  "Regardless of being a woman or not, I will have to have tough skin to be an elected official.  My father told that I need to do what is right and I promise to do that, so I honor my family and the Filipino-American community."