Miss Universe titleholders for the Philippines, Gloria Diaz (1969), Margie Moran (1973) and Pia Wurtzbach (2015), expressed their congratulatory remarks to Catriona Gray as she claimed the fourth crown for the country during the 2018 Miss Universe pageant.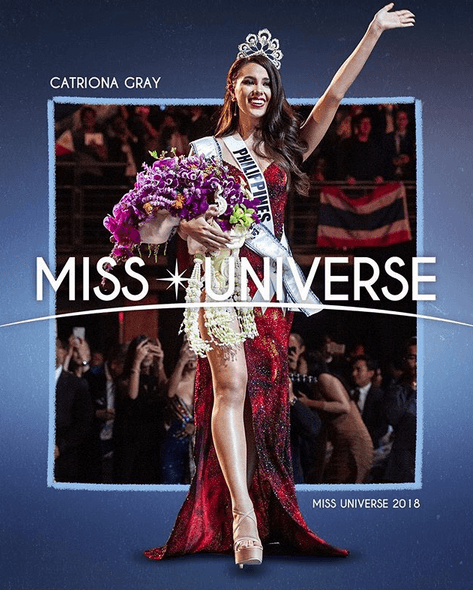 Gray, donning a Mayon volcano-inspired red gown by Mak Tumang, was crowned during the ceremony at the Impact Arena in Bangkok, Thailand on Monday, December 17. She paired her gown with her conversation piece, "Three Stars and a Sun" ear cuff, that earned the admiration of many for being a homage to the Philippine flag.
Diaz, the first Miss Universe, commended Gray's advocacy for the children in her interview with radio station DZMM. She also suggested that the new titleholder should pursue a modeling career outside the country since she has the potential to thrive in that industry.
"In my opinion, if New York offers her to become a model and she has the discipline, she should go for it. She should go international and be a model and be in the biggest modeling agency. And siyempre (of course) visit us so often because the Philippines is very proud of her," Diaz said.
Moran, in her interview with ABS-CBN News Channel, welcomed Gray to the roster of Miss Universe winners. She praised the young queen for inspiring the Filipinos.
"She was excellent but in the end, she nailed it in her answer [to] the final question. She really nailed it. She did very well. I think she was well prepared. She was enthusiastic; whatever she answered, she answered it well and complete. She prepared for it," Moran said.
Miss Universe 2015 Pia Wurtzbach, who was personally present to witness Gray's victory enthusiastically, described how the reigning queen proudly represented the Philippines in the pageant.
"You started strong and captured our hearts with your grace, commitment and fearlessness! And that walk. How could anyone forget that walk? Now, you've conquered the Universe! This is just the beginning. Congratulations, Miss Universe 2018. You have made us all proud! Raise your flag!" Wurtzbach said.
During the final question portion, Gray was asked about her most important life lesson and how would she apply it to her time as Miss Universe.
"I work a lot in the slums of Tondo, Manila and the life there is poor and very sad. And I've always taught myself to look for the beauty of it and look in the beauty of the faces of the children and to be grateful," Gray said.
She added, "And I will bring this aspect as a Miss Universe to see situations with a silver lining and to assess where I could give something, where I could provide something as a spokesperson. And this, I think if I can teach people to be grateful, we can have an amazing world where negativity could not grow and foster and children will have smiles on their faces."
More than just the crown
As the whole country celebrates the win of the newly-crowned Miss Universe 2018, Filipinos begin to wonder what lies in store for the 24-year-old reigning queen as she proceeds to her post-pageant life.
Pride and honor are not the only things that she bagged for the Philippines. Aside from the iconic rising phoenix crown bearing over 100 pearls by Mikimoto & Company, Ltd.; the Miss Universe Organization (MUO) granted Gray with tons of other perks and prizes throughout her reign.
As the crowned Miss Universe, Gray will receive a year-long salary just for being Miss Universe. She will be provided with luxury accommodations in a New York City apartment for the duration of her reign – including living expenses.
Her clothing and cosmetic needs will be well taken care of as she will be supplied with a year's worth of beauty products, such as skin and health care essentials. Chinese Laundry will also grant her with a full shoe wardrobe in her year as Miss Universe.
Opportunities will flood the Filipino-Australian queen as she struts to various events including ­casting ­opportunities, movie ­premieres, screenings, ­Broadway shows and launch parties. Her entire look will be styled by the official MUO fashion stylist and a modeling portfolio will be organized for her by leading fashion photographers.
"Through the organization, the winner is provided a platform for possibility based on her objectives for the year. Alongside The Miss Universe Organization, she will plan how to achieve her goals on the national and global scale," the MUO said in a statement.