If she secures an impressive victory over former world title challenger Istela Nunes on Saturday, July 7, Filipina dynamo Gina "Conviction" Iniong might place herself on the verge of a shot at the ONE Women's Atomweight World Championship.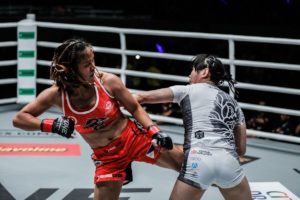 Both outstanding female mixed martial artists are set to face each other on the undercard of ONE: BATTLE FOR THE HEAVENS, which takes place at the Guangzhou Tianhe Gymnasium in Guangzhou, China.
However, the 29-year-old Baguio City native revealed that she is not in a hurry and would rather take the long road to a championship crack than prematurely vie for the gold-plated strap.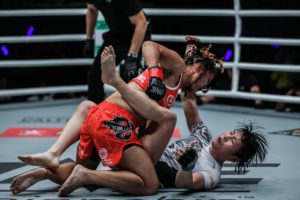 "I don't want to rush things. I have to keep training to keep my edge. I know I can be a world champion. I know that in my heart, so I have to work very hard to achieve that dream," Iniong stated.
"If I can keep getting better and keep winning, I know I will reach the top sooner or later. I am willing to do it step-by-step," she added.
Following her unanimous decision loss in the rematch against Mei Yamaguchi last November, Iniong discovered many things about herself that served useful in preparing for her future outings.
"There is a lot of pressure on me to perform because I am considered one of the top competitors in the division. Although I consider myself still in the development process, a lot is expected of me, and with each bout, I have to give it my absolute best," she said.
"I know if I had beaten Mei, I would have come very close to a title shot. Instead, I was a step slower the entire night, and I lost. Still, I was happy to be able to showcase my skills in such a huge bout," Iniong explained further.
Five months after her disappointing defeat to Yamaguchi, Iniong made a thunderous statement, looking better than ever against Jenny "Lady GoGo" Huang this past April.
Iniong dominated the ex-world title contender in all areas, even nullifying Huang's submission wizardry with her Team Lakay brand of wrestling to cruise to a unanimous decision victory.
"Every martial artist should have the sense of growth. This sport is consistently evolving, and every competitor should adapt to changes and improve their overall game. It's either you adapt or you fail. I just learned my lesson," Iniong expressed.
If Iniong can defeat Nunes and notch another decisive triumph, she could conceivably find herself as the next challenger for the women's atomweight trinket, which is currently in the possession of Angela Lee.
Although a date with Lee is certainly a possibility, Iniong assures that she is not taking Nunes for granted.
While she is entirely focused in her three-round atomweight encounter with Nunes, Iniong is also keeping an eye on the future.
"There's always a right moment. Every bout is a lesson. We gain valuable knowledge every time we train and step into the battle," she stressed. "I rather take a step-by-step approach. I am not looking past Istela Nunes right now. I know what's at stake here."
Iniong remains optimistic that an intricately-crafted world title will be wrapped around her waist someday.
"It would be an honor for me to compete for the world title in the near future. If I can beat a former world title challenger again, then I can move up in my career. In God's time, I will be a champion," she concluded.
For more updates on ONE Championship, please visit www.onefc.com, follow us on Twitter and Instagram @ONEChampionship, and like us on Facebook at https://www.facebook.com/ONEChampionship.