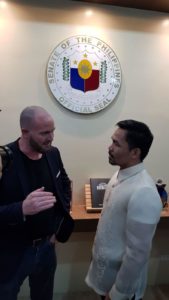 26 JULY 2018 – SINGAPORE: Ringstar Boxing, Asia's fastest growing  sports media property, headed by its Founder & CEO Scott Farrell, has just announced his intention to co-produce Manny Pacquiao's next bout in Manila, Philippines, early next year.
If it happens, this can be an event which can see the boxing champ defend his recently won world welterweight belt, just over a week ago in Kuala Lumpur, Malaysia.  Wherein he lorded over Argentinian boxer Lucas Matthysse, who got TKO'd, two (2) minutes forty-nine (49) seconds into the seventh (7th) round, at the Axiata Arena, in downtown Kuala Lumpur.
According to Scott Farrell, "I would like to bring the 'Thrilla' back to Manila, like it was back in 1975, with Muhammad Ali.  I want to give the people of the Philippines the chance to watch their own hero and boxing legend, Senator Manny Pacquiao defend his belt, or fight for another world title on his home ground."
"Let's make this even bigger and more productive and donate all ticket sales to the Manny & Jinkee Foundation and really make everything about his fight a positive step forward, not only for the sport, but also for  the people of the Philippines.  I have worked tirelessly to put Asian boxing on the world map. This would be another gigantic step in my mission…come on MP promotions let's sit down and discuss something truly incredible and very achievable", ends Farrell.
***
Ringstar Boxing, Asia's fastest growing sports media property has now reached an overwhelming broadcast footprint of over a potential billion viewers across the globe, and is currently gearing up for its upcoming show in Singapore, 'The Roar of Singapore V –
The Kings of Lion City', scheduled on September 29, 2018.
***
Get the latest announcements at www.ringstar-boxing.com and follow us at www.facebook.com/ringstarboxing and on Twitter and Instagram at @ringstarboxing.
About Ringstar
Founded in 2016, Ringstar Boxing is Asia's fastest growing media property with a broadcast footprint of over one Billion potential viewers in over 40 countries.
Its current flagship event, "The Roar of Singapore", features highly acclaimed boxers from around the world. The company's mission is to promote and foster sportsmanship between fighters, position Singapore as a leading sports media destination, and to create excellent value for partners. Since incorporation, The Roar of Singapore has reached viewers worldwide. This has been achieved through a combination of the vision and the matchmaking skills of the company's Founder, Scott Patrick Farrell, and the hard work and dedication of the Ringstar Management team.