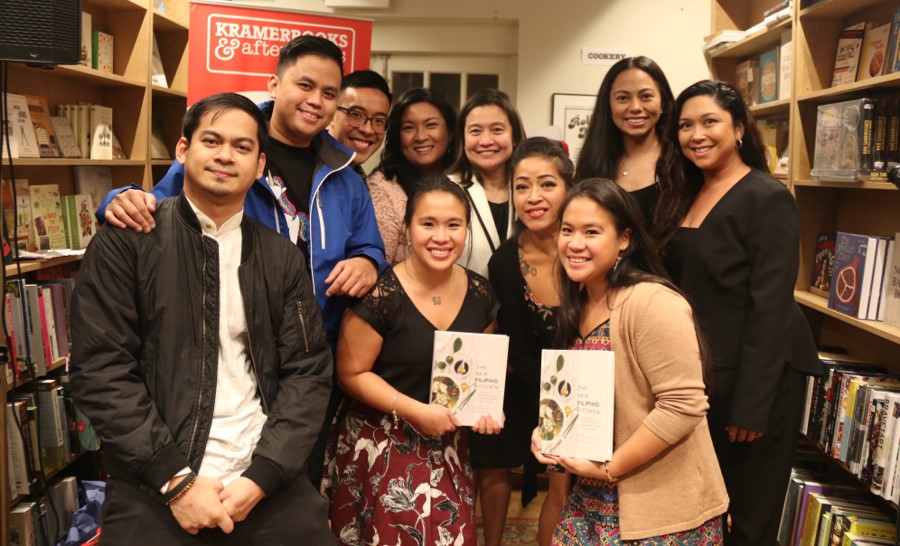 WASHINGTON, D.C. 04 October 2018 – A new book on Philippine cuisine, "The New Filipino Kitchen: Stories And Recipes From Around The Globe," made a successful debut in Washington, D.C., through the joint efforts of Sentro Rizal Washington D.C., the Office of the Philippine Agriculture Attaché, and Kramerbooks & Afterwords on 27 September 2018.
Edited by Jacqueline Chio-Lauri, "The New Filipino Kitchen" is an anthology of 30 stories and recipes from expatriate Filipino chefs and home cooks in North America. It has received highly positive reviews from Publishers Weekly and Booklist, and is a number one bestseller in Southeast Asian Cooking on Amazon.
In his welcome remarks, Embassy Economic Officer Minister Jose Victor Chan-Gonzaga said, "'The New Filipino Kitchen' is a celebration of a cuisine whose time to be recognized and enjoyed the world over, has come. Filled with stories and recipes of acclaimed Filipino chefs, home cooks and writers from the Filipino diaspora community, 'The New Filipino Kitchen' revels in the dazzling array of flavors and textures of Philippine cuisine while bringing the readers along on the authors' personal journeys of discovering and embracing their unique identity and heritage."
Six of the contributing authors read excerpts of their work during the book launch. Cristina Quakenbush of New Orleans shared an excerpt from her story behind the Filipino dishkinilaw, while Tennessee-based Dalena Benavente talked about her first taste of afritada.
Milwaukeean Alexa Alfaro recounted conversations with her father on making lumpia, Vanessa Lorenzo shared her pride in her family's habichuelas recipe, while New York-based blogger and culinary ambassador Paolo Espanola read an excerpt from his story behind pancit molo.
Kristina Villavicencio, one of the four creators of the Filipino-American Timpla supper club in Washington, D.C., shared their story behind the Filipino dessert cassava cake.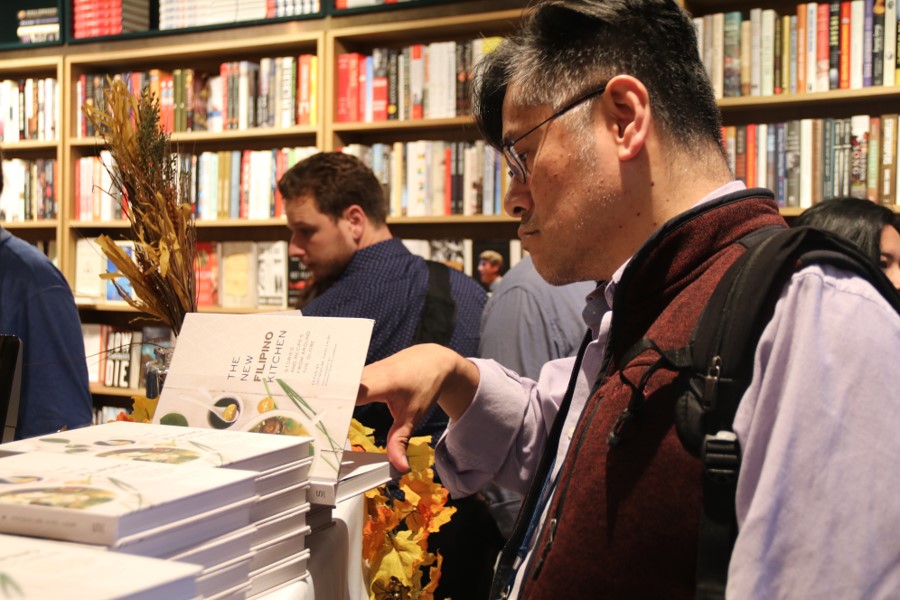 Embassy's Public Diplomacy Officer and Sentro Rizal Washington D.C. Administrator Darell Artates read an excerpt from a chapter contributed by White House Chef Cristeta Comerford. In "Ang Pambihirang Luto ni Nanay (Mom's Extraordinary Cooking)," Chef Comerford shares fond memories of her mother's escabeche recipe.
Philippine Agriculture Attaché to the Americas Dr. Josyline Javelosa delivered a message on behalf of the editor Jacqueline Chio-Lauri, who is currently in the United Kingdom.
"By supporting this book, you are not only helping promote Filipino food and culture, but also helping pave the way for Filipino voices to be heard in the mainstream, now and in the future," Ms. Chio-Lauri said in her message.
She also writes in the book's introduction, "Complex and diverse, Filipino cuisine is ineffable. Trying to define it in few sentences will always fall short in capturing its essence. To make sense of Filipino food, it has to be experienced, with all the emotions and sensations that are associated with it."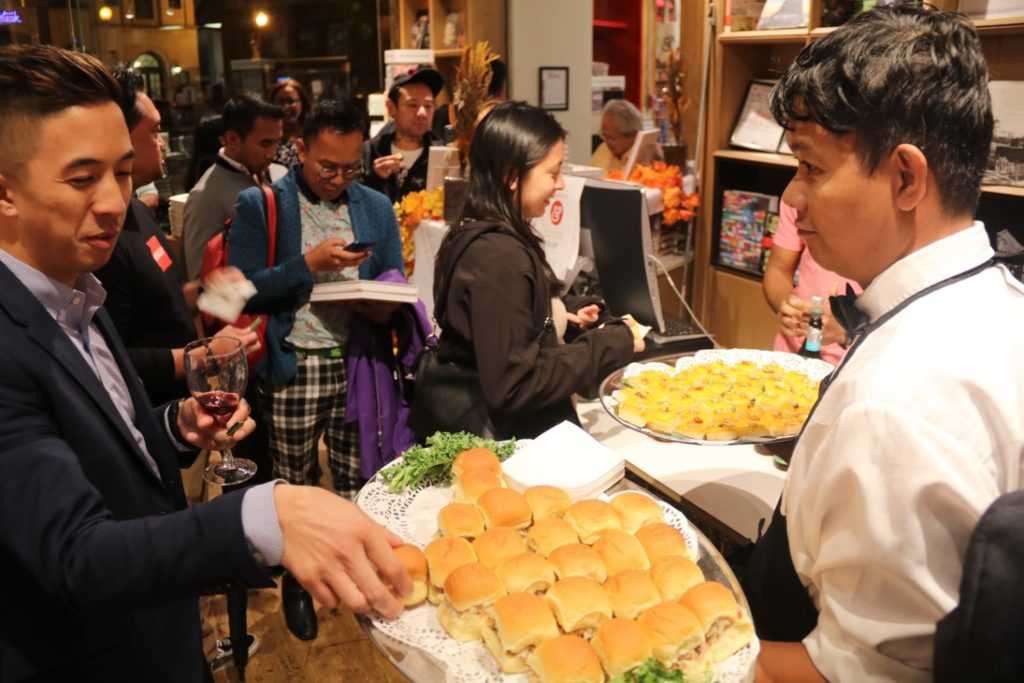 Members of the audience were treated to free servings of adobo sliders and cassava cake. 15 lucky individuals who bought copies of the book also received a customized "Flavors: It's More Fun in the Philippines" aprons, distributed by the Philippine Department of Tourism-New York Office.
"We are delighted and honored to be a part of this project that celebrates the achievements of Philippine cuisine and the Filipino diaspora community. I wish 'The New Filipino Kitchen' continued success and I hope that it would inspire further explorations and enjoyment of our cuisine," Ambassador to the United States Jose Manuel G. Romualdez said.
"We are grateful to Kramerbooks & Afterwords for partnering with us on this event," Ambassador Romualdez added. The book launch is the first collaboration between the Embassy and Kramers.
Founded in 1976, Kramerbooks & Afterwords, or Kramers, is an iconic institution along the U.S. capital's historic Dupont Circle.
–
For more information, visit www.washingtonpe.dfa.gov.ph / www.philippineembassy-usa.org or https://www.facebook.com/PHLinUSA @philippinesusa on Twitter.