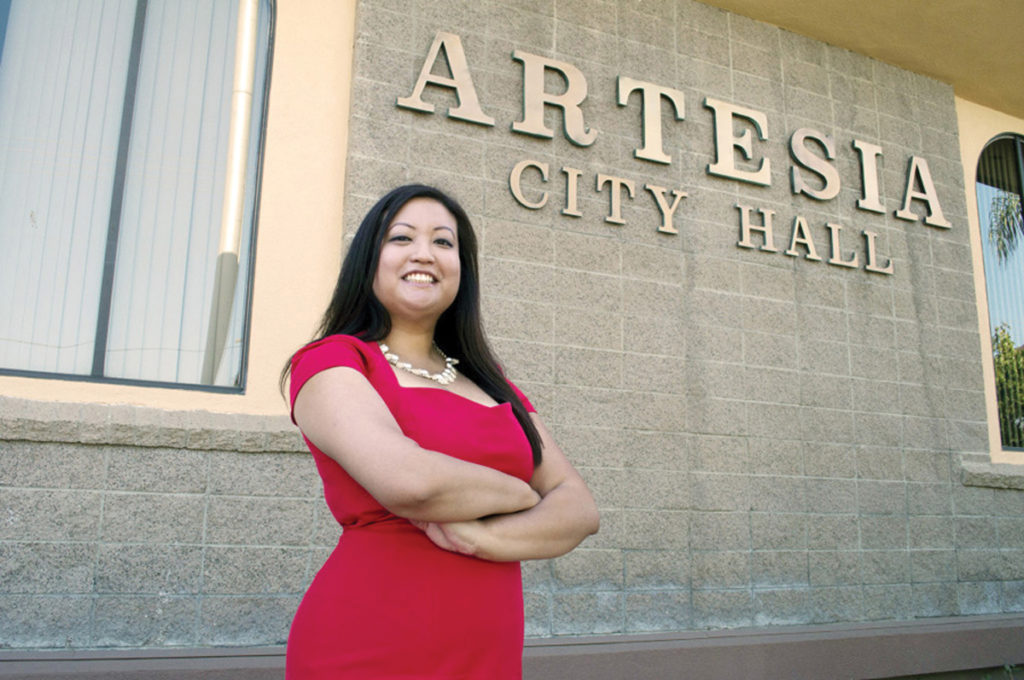 Filipina-American Melissa Ramoso on Wednesday, November 21, declared victory on winning a seat as the only woman on the Artesia City Council.
Since election day, Ramoso has held onto her position as one of the top three vote-getters in the Artesia City Council elections where she was the only woman on the November 6th ballot.  
As the last rounds of outstanding ballots were counted by the Los Angeles County Registrar of Votes, Ramoso has placed in a solid third place.  
"It has been such an incredible journey and I wanted to take this opportunity to thank everyone before the Thanksgiving Holiday for their love and support.  I am deeply humbled to be one of Artesia's newest Council members," said Ramoso in a statement.  "I promise to work hard to justify Artesians confidence in me, keep residents informed about what the city is doing, and ask for their input as new projects and issues arise.  My door will always be open."
For over 14 years working in government, Ramoso has represented federal and state legislatures in serving their constituents through listening to their problems, finding solutions, and implementing them.
Ramoso has plans of working with the same enthusiasm in the city of Artesia where she has long been a local to the area, having graduated from the ABC Unified School District's Richard Gahr High School before attending the University of California, Irvine.
"I love the hometown feel that it has, and the people, and pride that many residents show and express," Ramoso previously told the Asian Journal during her campaign run.  
"I want to keep that spirit, in addition to making the city grow and be innovative as our families grow as well," she added.
Ramoso's city council agenda combines leadership and public service experience to bring Artesia forward.  
Being one of Los Angeles County's Gateway Cities, Artesia is home to numerous ethnic enclaves, including the Filipino community which makes up the majority of Artesia's Asian population.
There are also the Portuguese and Dutch communities who first settled in the area in the early 1920s and 1930, and the burgeoning South Asian community along Pioneer Boulevard marking the largest Indian enclave in Southern California.
Throughout her campaign, Ramoso stated that her top priorities for the community would be making City Hall more accessible, improvising the quality of life for all Artesia's neighborhoods, and strengthening its local economy.
Asked what one of her favorite memories of Artesia was, Ramoso told the Asian Journal that Artesia was where she first experienced a sense of community that was brought forth by culturally diverse businesses like Goldilocks which first opened its doors in Artesia, not too far from where she currently lives.
"I can't wait to get to work for all Artesians," Ramoso said in a statement upon winning her seat.  "Artesia's best days are to come!" (Rae Ann Varona/AJPress)