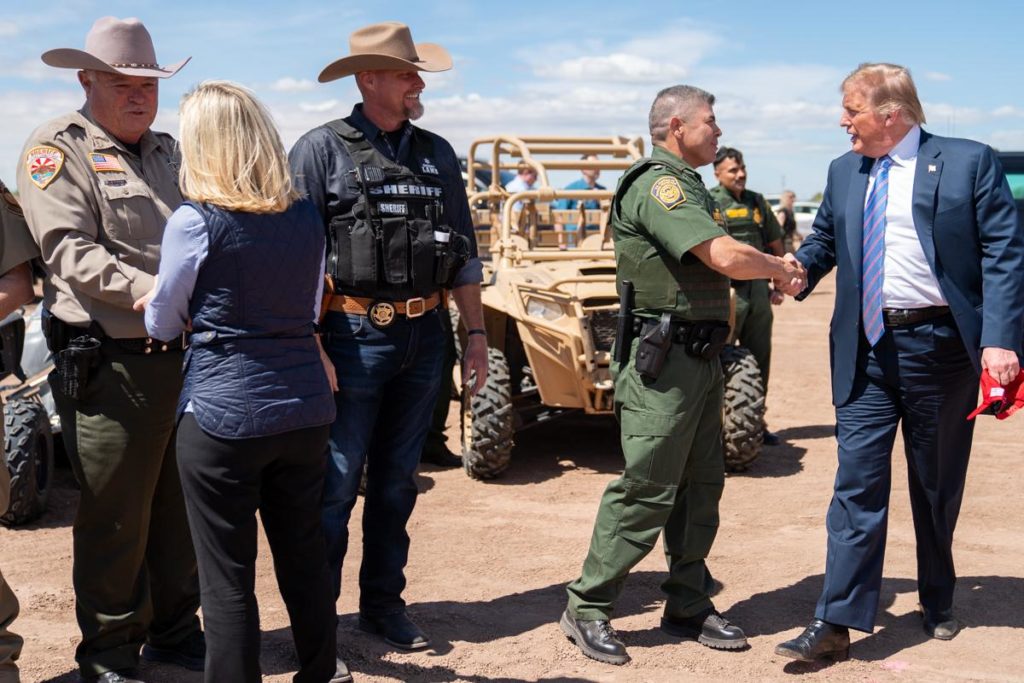 President Donald Trump arrived at the southern border in Calexico, California on Friday, April 5 to tour a recently rebuilt section of two-mile fencing and to meet with local law enforcement officials to address what his administration has called a "border crisis."
The visit came a day after he retracted his threat to shut down the entire border. The morning before leaving to the border, Trump reasoned that Mexico had been "absolutely terrific" in the past four days in apprehending migrants. He said Mexico apprehended 1,400 people on Thursday, and 1,000 people the day before.
Speaking at a roundtable event with local officials, Trump said that the U.S. system was too full to take in any more migrants.
"The system is full. We can't take you anymore," said Trump. "We have a system that's full.  It's just full. When it's full, there's nothing you can do. We have to say, 'I'm sorry, we can't take you.'"
Despite withdrawing his decision to shut down the border, Trump also said on Friday that he was still willing to impose tariffs on Mexican cars and that his decision to not close the border was not final.
"I never changed my mind at all. I may shut it down at some point, but I'd rather do tariffs," said Trump, adding tariffs would be 25% per car.
On the border wall, Trump said he was expecting there to be significant progress in its construction  — specifically "close to 400 miles" — within the next couple of years.
"That's a lot — 400 miles will cover most of it," said Trump, adding that the wall was "anti-climb."
"If you want to climb that, it's pretty sharp up on top, too," said Trump, according to CNN. "If you want to climb that then you deserve whatever you can get, but it's very, very hard. It's meant anti-climb. It's called anti-climb, so it's a great wall."
"I think it looks fantastic — very see-through, so you're able to see the other side, which is a very important element," he added.
The wall is said to currently be 30 feet tall and roughly two miles long.
Trump also on his visit addressed asylum seekers, who he suggested were perpetrating a hoax.
"I look at some of these asylum people. They're gang members. They're not afraid of anything," said Trump, according to the Associated Press. 
"They're not afraid of anything… It's a scam, it's a hoax. I know about hoaxes. I just went through a hoax," he added, referring to the recently complete special counsel's investigation.
Trump also received criticism on Friday after he incorrectly cited the Flores settlement — which includes rules such as the prohibiting children from being kept in custody for more than 20 days —  as being named after a judge.
"The Flores decision is a disaster. I have to tell you, Judge Flores whoever you may be, that decision was a disaster for our country," said Trump.
Critics were quick to correct him, clarifying that the settlement was named after the 1985 class action lawsuit plaintiff Jenny Flores, who was 15 years old when she was detained by U.S. immigration enforcement and held in a facility along with adult men and women.
Trump, who was in California also to attend an evening fundraiser in Beverly Hills on Friday, also made comments on the state being among the first to challenge his national emergency declaration.
"California's always the first one to complain. And I don't mean the people of California. They're fantastic. I'm talking about the politicians in California," said Trump, as quoted by CNN. "When their forests go up, they complain. They gotta take care of their forests a lot better. But when the wall — they want the wall in San Diego and they're always the first one. They were the first one to pull the National Guard. And they need the National Guard."
In addition to Southern California, Trump was expected to visit Las Vegas for a Republican Jewish Coalition national leadership meeting on Saturday. (Rae Ann Varona/AJPress)