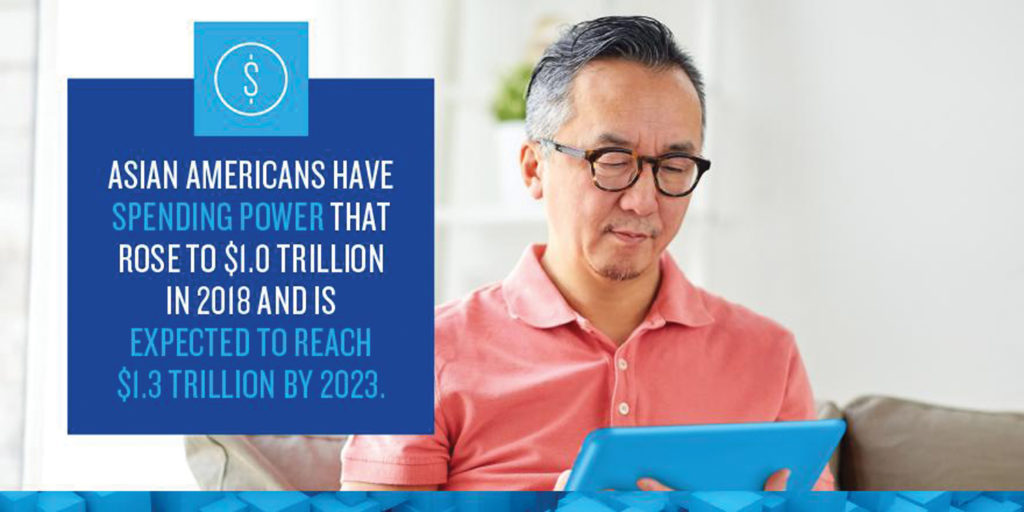 A new report released by Nielsen on Thursday, May 9 said that Asian Americans spent $1 trillion last year — a testament to the demographic's growing spending power and influence in mainstream U.S. culture.
Linking the correlation between the growing population number and high spending, the report — titled "Informed Influencers and Powerful Purchasers: The Asian American Consumer Journey" — added that at a current population of 22.6 million, spending power among Asian Americans is expected to reach $1.3 trillion by 2023. 
It added that in the last decade alone, the Asian American population has grown by seven million people — the most of any ethnic group in the nation. Whereas the total U.S. population saw an 8% percent growth, Asian Americans saw an uptick of 45% for the same time period.
The report said that in addition to growing as a demographic, Asian American households are also 17% bigger than the average U.S. household.
"In fact, Asian American households boast the highest incomes of any racial or ethnic group in the U.S. — incomes that have boosted the buying power of Asian Americans by 68% since 2010," said the report.
But at the core of what makes the growing ethnic group so influential is its ability to connect, said the report, which looked at the group's internet usage and digital consumption trends.
Asian Americans as a group have a higher percentage connected to the internet with 99% having internet connectivity compared to the U.S. average of 93%. Percentages are also higher when it comes to ownership of devices: 97% of Asian Americans own a smartphone compared to 91% of the total population, and 89% own a computer compared to 76% of the total population.
"Given this demographic's connected lifestyles, it should come as no surprise that Asian Americans' usage of internet-connected devices outpaces the average U.S. consumer," the report said. 
Looking at media consumption practices, the report found that not only are Asian Americans spending the most time watching television at almost 23 hours a week, they're also at the forefront of the shift from traditional cable and over-the-air viewing to "broadband only" viewing and consumption through subscription video on demand services like Netflix, Hulu, and Amazon Prime. 
"These platforms are extremely popular with Asian American households, with 81% subscribing to at least one of them (19% higher than the total population)," said the report.
On social media where younger Asian Americans have been found to be especially savvy, the report highlighted that Asian Americans as a group particularly outpace the general U.S. when it comes to online shopping. 
According to the report, 26% agreed that social media had an important role in their discovery about products, 19% agreed that rating or reviewing was an important reason for social media use, and 22% agreed that receiving offers and other discounts were important on social media.
Furthermore, Asian Americans said they enjoyed sharing advice on purchases and their opinions on products with others. With electronics and technology, 43% agreed that they gave advice to others looking to buy new devices. For food, 71% said that they typically recommended food products they liked to people they knew.
And while online shopping was found to more importantly offer a sense of cultural connection for Asian Americans in that many reported using the internet to buy hard-to-find products from Asia, the report further found that such purchase trends were making a hit in U.S. mainstream culture.
For example, trending among non-Asians in the U.S. are Japanese snack box subscriptions and Korean baby seats. Market sales of Asian sauces and condiments also each grew 6% last year.
"Products such as ready-to-drink green tea and curry spices have seen impressive dollar and unit volume far outpacing that of overall beverages and spices," said the report which included ghee, kombucha, naan, Asian dumplings, sushi, sesame cooking oil, jasmine rice, and curry paste among Asian foods finding mainstream appeal.
"Asian Americans are reshaping the American path to purchase, traversing the consumer journey fortified with their status as trailblazers in innovative internet connectivity, e-commerce with a global perspective, and holistic views of diet and consumption," concluded the report. "Despite a greater percentage of Asian Americans under 35 being U.S. born, culture sustainability driven by multigenerational influences and the ability to blend cultures to create an evolved U.S. culture in their own image is having a profound effect on American society."