Dispelling the AAPI electorate's stereotypes and how to further mobilize AAPI voters in the future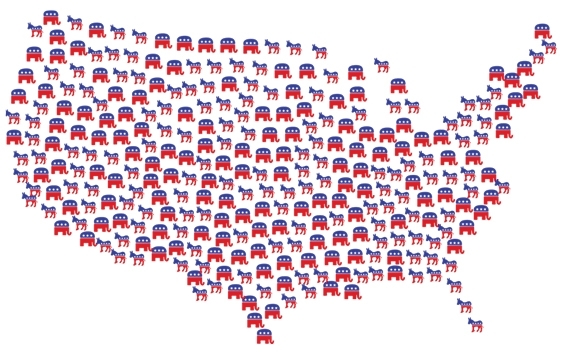 IT'S 2018, and Asian American and Pacific Islander (AAPI) voters will not be silenced.
As previously reported by the Asian Journal, the AAPI Civic Engagement Fund reported the initial results from a post-election survey of AAPI voters that measured the changes in voting behaviors, attitudes and turnout of the fastest-growing electorate.
The survey focussed on six crucial states with battleground races with significant AAPI populations: California, Florida, Georgia, Texas, Nevada and Arizona.
Unsurprisingly, it found that the AAPI electorate continued its trend of voting majority blue: 70 percent voted for Democrats and 25 percent voted Republican in House races.
But a key finding of the survey was the lead-up to the midterms yielded historic highs in civic engagement. Seventy-three percent of AAPI voters in district races encouraged family or friends to register and/or vote.
Notably, health care cost was the No. 1 issue this time around for AAPI voters, coinciding with the ongoing battle between Democrats and Republicans on the Affordable Care Act (ACA), which, if eliminated as Trump has pledged to do, would wipe millions of Americans off their healthcare.
"The poll finds AAPI voters are alarmed with the direction the country is headed in and expressing their dissatisfaction with President Donald Trump," said EunSook Lee, Director of the AAPI Civic Engagement Fund. "Out of enthusiasm for the democratic process, they are showing their power at the polls and through other forms of participation, which has contributed to the Democratic takeover of the House. With AAPIs activated in momentous levels, it will be important to see how this newfound civic activism will impact public policies in the months to come."
But why is mobilization of the AAPI electorate important?
Paul Ong, Melany Dela Cruz-Viesca and Don Nakanishi of UCLA's Asian American Studies described the AAPI electorate as the "sleeping giant," a steadily growing subset of eligible voters that could swing elections, in a 2008 study that explored civic engagement among the electorate.
The 2008 election of Barack Obama was a huge milestone in the history of American politics, but it also marked the arrival of Asian Americans as a pivotal voting bloc that has the power to swing elections.
Although Asian Americans count for only about 6 percent of the overall American population (according to the Census data); by 2040, the AAPI population is expected to double, increasing its electoral impact.
Moreover, high concentrations of Asian Americans exist in some of the most pivotal regions, including those surveyed in the 2018 AAPI Civic Engagement Fund exit poll.
But despite the poll's results that may provide important foresight into future electoral politics, it's striking to know the decades-long effort to mobilize AAPI voters and shirk misconceptions of the community at large.
The correlation between citizenship and eligibility to vote is direct; in order to vote, you have to be a citizen. Asian Americans gained the right to vote in 1952 when the federal government officially eliminated the federal policy that barred Asian immigrants from becoming U.S. citizens. (These policies began to lift in 1943, but a majority of Asians in the U.S. were granted the right to naturalize in 1952.)
Then in 1965, the Voting Rights Act (VRA) was signed into law and outlawed racial discrimination at the polls. In 1992, the VRA expanded in 1992 to include language protections for regions with significant populations of non-English or limited English speakers.
"It's part of the history of non-AAPIs having preconceived notions about who Asian Americans and Pacific Islanders are," Taeku Lee, managing director of Asian American Decisions and one of the key researchers in the AAPI Civic Engagement Fund election eve poll, told the Asian Journal in a recent interview. "Specifically, for a long period of time, there was [a] prevailing stereotype that Asian Americans were not interested in politics, and that's why they were under participating in electoral politics."
Among the stereotypes attributed to the lack of attention given to Asian American voters by candidates, pollsters and non-AAPIs in general are the notions that Asian Americans either don't care about American politics or that they're only interested in the politics of their motherlands; two misconceptions that Lee says are "patently untrue."
For example, if you're a Philippine-born voter and you've expressed interest in the politics of the Philippines, you're likely to also be engaged in American politics, Lee posits.
"So it's not a zero-sum trade-off, the idea that being interested in politics of the home country means you won't be interested in U.S. politics," Lee said. "The opposite is true: that if you're more politically-engaged, you're just more politically-engaged, in any context."
Overcoming barriers to voting
Lee pointed out three interconnected barriers that, to this day, obstruct AAPI voter mobilization for political campaigns and pollsters: cultural competence, technical know-how and cost.
He explained that the overall heterogeneity of the AAPI electorate means that you would need bilingual interviewers, sample lists of people who may Asian Americans and translate in several languages.
"It's cost coupled with the idea that this is a sufficiently small segment of the electorate that it doesn't make any difference if we don't get any data on them," Lee said, adding that the AAPI electorate is growing "so exponentially" that it's becoming more difficult for candidates and campaigns — especially in certain jurisdictions where the concentration is more saturated — to adhere to that logic.
For the Filipino-American electorate, in particular, it's all the more difficult, primarily because of the Spanish surname.
Aquilina Soriano Versoza, executive director of the LA-based Pilipino Workers Center, discussed the stereotypes that could put off campaigns and pollsters from taking advantage of the AAPI vote.
The model minority myth, which is often applied in an academic context, can also explain the lack of attention the AAPI community receives, especially in terms of issues like health care cost, jobs and wages and public programs.
However, the widely-accepted veneer of the "well-off" AAPI ignores the concerning realities of many AAPI families and, in turn, could deter campaigns from reaching out to them at all.
"I think that there's this stereotype of the Asian business owner, and that most Asians are conservative that not only has this effect of 'We're not going to make this effort' but also this idea that, 'Oh, we don't want to mobilize that vote because it's going to work against us,'" Soriano Versoza told the Asian Journal in a recent interview.
Soriano Versoza, last year along with Fil-Am philanthropist Alex de Ocampo and communications consultant Marco Meneghin, established the Filipino Voter Empowerment Project (FVEP) which seeks to encourage more civic engagement and voter turnout among Filipino American voters and to make that electorate more visible.
"But the reality is that we have so many working families and those are the people who aren't as visible, and we have so many Asian Americans who are so spread out, especially the Filipino-American community," she added.
"That's our goal with FVEP [to] provide a link to the community to address things like the complicated process of voting, increasing voter contact within the Filipino-American community and to ultimately strengthen those voting muscles to make civic engagement more of a habit rather than a chore," Soriano Versoza said.
It's safe to say that — after the 2018 midterm elections — AAPI voters are more mobilized than ever before, and the results from the AAPI Civic Engagement Fund's survey inspires innovative methodology to increase engagement.
In 2008, Obama and Organizing For America demonstrated the positive effects of a strong ground game — i.e. door-to-door canvassing, voter contact via phone calls and text messages — that involves the campaign team (especially the candidate themselves) making the effort to personalize the mobilization.
Lee described this direct contact as "the best way to convert someone from a couch sitter to an active voter."
Democratic presidential candidate Bernie Sanders famously mobilized voters in the 2016 primary election by employing a comprehensive ground game that involved visiting key districts, knocking on doors, increasing contact with previously ignored electorates and utilizing social media to further mobilization, especially among millennials.
Notably, Democratic senatorial candidate Beto O'Rourke of Texas took it a step further and made diversity a cornerstone of his campaign. This was coupled by strategic social media mobilization which brought his campaign national attention. (Although he lost, O'Rourke won 66 percent of the AAPI vote and, from the looks of it, is likely going to remain a tastemaker in American politics going forward.)
"If you're going to reach out to an AAPI voter, you're likely to succeed if it's an AAPI volunteer on the other end of the phone or on the other side of the door or if it's someone who is a neighbor or someone who you attend church services with," Lee offered. "The more personal you can make the connection, the likelier you are to convert someone into an active voter, and that's another thing we're seeing that has been effective."