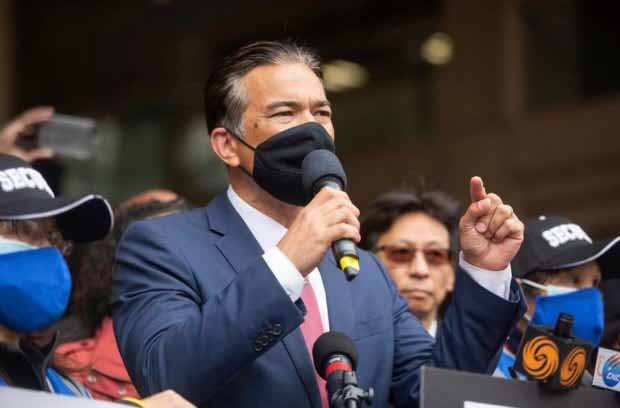 Attorney General Rob Bonta announced that California will restrict state-funded travel to several states due to their banning of transgender youth from athletic competitions and having access to "life-saving care."
The restriction of travel to Arkansas, Florida, Montana, North Dakota, and West Virginia aims to avoid supporting or financing discrimination against the LGBTQ+ community, in accordance with Assembly Bill 1887 enacted in 2016.
"California must take action to avoid supporting or financing discrimination against lesbian, gay, bisexual, and transgender people," Bonta said at the San Francisco GLBT Historical Society Museum on Monday, June 28.
California lawmakers, such as Assemblymember Evan Low (D-Campbell), chair of the Legislature's LGBTQ Caucus, also attended the announcement.
"It's important for our state to send a strong message that we will not endorse any type of discrimination, whether it is based on sexual orientation, gender identity or gender expression," Low said.
The four states have joined twelve others, Alabama, Idaho, Iowa, Kansas, Kentucky, Mississippi, North Carolina, Oklahoma, South Carolina, South Dakota, Tennessee, and Texas in joining California's ban list for passing laws for discriminating against the LGBTQ+ community.
Bonta's announcement came on the 52nd anniversary of the Stonewall Riots, considered the start of the LGBTQ+ movement where members of the community fought back against police raids in nightclubs started by Marsha P. Johnson, a transgender gay liberation activist.
The cultural marginalization of transgender people is perpetuated by the invisibility of transgender individuals in media and politics, which leads to the high rates of discrimination and violence against the community, according to the 2021 Human Rights Campaign (HRC) "Dismantling a Culture of Violence" report.
Transgender women are 1.8 times more likely to experience sexual violence, transgender people are seven times more likely to experience police violence and physical violence from law enforcement, according to a study by the Anti-Violence Project.
In addition to the signing of laws that would prohibit trans students from competing in sports competitions, some of the states have also legislated other policies that discriminate against trans youth.
Arkansas became the first state to pass a law that prohibits physicians from providing gender-according healthcare to transgender minors despite parents' or physicians' input on the medical necessity of the care. They will be added to the list on July 29.
Montana signed into law a policy that allows businesses to refuse service to same-sex couples for their sexual orientation alone. They will be added to the list on July 1.
North Dakota signed a bill that allows some publicly-funded student organizations to restrict LGBTQ+ students from joining sports competitions without losing funding, defying Assembly Bill 1887. It also limits the ability of higher education institutions from sanctioning or disciplining student-on-student harassment. They will be added to the list on August 1.
Florida will be added to the list on July 1 and West Virginia will be added to the list on July 8.
However, the restriction does not include the use of private funding for traveling to banned states for competitions, which has been done by some university teams like those in San Diego State, San Jose State, and Fresno State despite coaches' and staff's salaries, insurance, and benefits coming from the state. The restriction will also exempt necessary travel to enforce California law and to honor contracts signed before the states were added to the list. State legislators have also used political accounts and personal funds for trips to the banned states to attend conferences.
LGBTQ organizations like The HRC have called 2021 a "record-breaking year" for anti-LGBTQ and anti-transgender legislation, as reported by Politico, with the organization's tracking at least 117 bills introduced in the present legislative session that target the transgender community.
The organization has also said about the government's prioritization of "targeting LGBTQ people" instead of "real issues like economic relief, health care or infrastructure." This sentiment is echoed by Bonta.
"Rather than focusing on solving real issues, some politicians think it's in their best interest to demonize trans youth and block life-saving care," Bonta said. "Make no mistake: We're in the midst of an unprecedented wave of bigotry and discrimination in this country — and the State of California is not going to support it."
States that are on the list have tried to counter California's law, like Texas in 2020 after California banned state-funded travel to the state in 2017 for allowing adoption agencies to reject LGBTQ couples for religious reasons.
"Boycotting states based on nothing more than political disagreement breaks down the ability of the states to serve as laboratories of democracy while still working together as one nation – the very thing our Constitution intended to prevent," state Attorney General Ken Paxton wrote.
The high court denied Texas' request in April.
Arkansas' Gov. Asa Hutchinson has also issued a statement against California's law.
"While state employees may be barred from traveling here, Californians are fleeing by the thousands to places like Arkansas for our lower taxes, lower cost of living, and abundant opportunities," Hutchinson said.
Florida's Gov. Ron Desantis' press secretary Christina Pushaw said the law Desantis signed was actually fair.
"In fact, it's the opposite — the legislation ensures that women's sports remain fair," Pushaw said. "On the contrary, allowing biological males to compete in women's sports is discriminatory, because it puts girls and women at a disadvantage based on immutable, innate characteristics." n