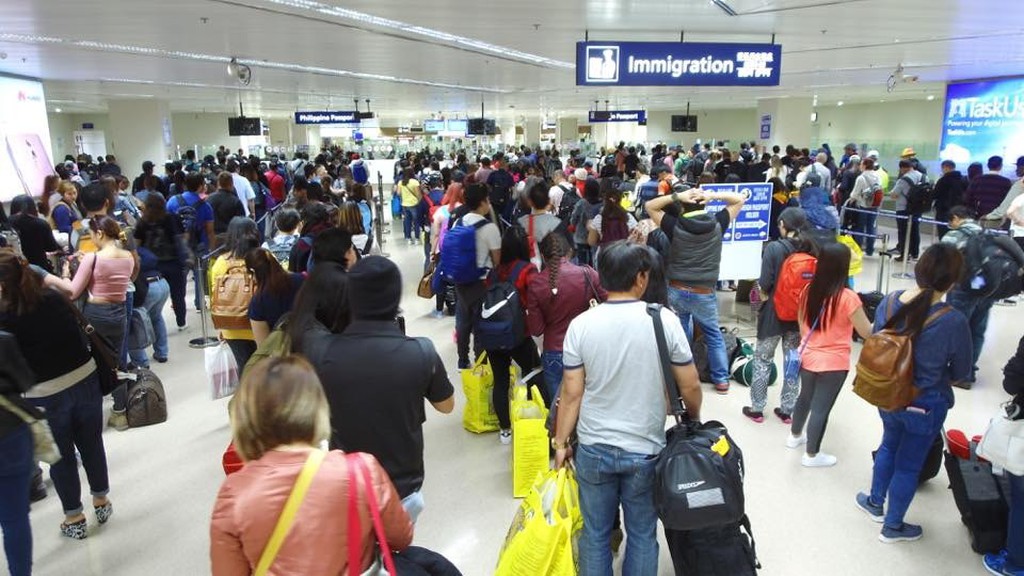 Eased restrictions do not apply to individuals arriving from the United States 
FULLY vaccinated individuals from certain "green" or low-risk countries will only have to spend seven days in quarantine upon arrival in the Philippines starting in July.
In a statement released Wednesday, June 30, Presidential Spokesperson Harry Roque named 57 "green" countries and jurisdictions covered by the latest resolution of the Inter-Agency Task Force for the Management of Emerging Infectious Diseases (IATF-EID).
The new guidance, however, does not apply to the United States. Travelers coming from countries like the U.S. not considered "green" will still have to quarantine in a government-approved facility for 10 days and get a swab test on the seventh day.
Below is the list of "green" countries and jurisdictions classified by the PH Department of Health as "low-risk":
• Albania
• American Samoa
• Anguilla
• Antigua and Barbuda
• Australia
• Benin
• Belize
• The British Virgin Islands
• Brunei
• Burkina Faso
• Burundi
• Cayman Islands
• Chad
• China
• Cote d' Ivoire (Ivory Coast)
• Eswatini
• Falkland Islands
• French Polynesia
• Gambia
• Ghana
• Greenland
• Grenada
• Hong Kong
• Iceland
• Isle of Man
• Israel
• Laos
• Liberia
• Malawi
• Malta
• Marshall Islands
• Mauritius
• Micronesia
• Montserrat
• Morocco
• Mozambique
• New Caledonia
• New Zealand
• Niger
• Nigeria
• Northern Mariana Islands
• Palau
• Rwanda
• Saba
• Saint Barthelemy
• Saint Kitts and Nevis
• Saint Pierre and Miquelon
• Sierra Leone
• Senegal
• Singapore
• Sint Eustatius
• South Korea
• Taiwan
• Togo
• Turks and Caicos Islands (UK)
• Vietnam
• Zimbabwe
Roque also said that presenting Philippine Overseas Labor Office (POLO) validations as proof of vaccination status is exclusive to overseas Filipino workers (OFWs).
POLO will begin accepting applications for vaccination status validation on July 5.
The spokesman added that OFWs who can present international certificates of vaccination (ICV) can start using the green lanes on July 1, provided they comply with other requirements.
On Tuesday, June 29, Roque announced that the country's task force, in its latest resolution, agreed to shorten the quarantine period to seven days for individuals who have completed their COVID-19 vaccination and have stayed in "green" countries.
"Their date of arrival will serve as the first day of quarantine," he said during a press briefing.
Individuals should have stayed exclusively within the "green" countries 14 days prior to their arrival in the Philippines. They will be considered fully vaccinated two weeks after completing their shots.
They are also required to carry their official documentation of full vaccination validated through POLO, or present their ICV.
According to Roque, the Bureau of Quarantine (BoQ) will ensure strict symptom monitoring while the travelers are in quarantine facilities.
On the fifth day of their quarantine, they will be required to take a reverse transcription-polymerase chain reaction (RT-PCR) test.
"If they tested negative, they would still need to complete the seven-day facility quarantine. And if they tested positive, they would need to observe the prescribed isolation protocols," Roque said in Filipino.
Individuals will receive a quarantine certificate issued by the BoQ where their vaccination status is indicated upon completion of the seven-day facility-based quarantine.
"This testing requirement that I have mentioned will go through a review 30 days after it is implemented," the spokesman added.