It's no secret that Los Angeles is home to one of the largest Filipino populations outside of the Philippines.
Filipinos have made their mark in various facets of the city, whether it's entertainment, business or politics. Many have even been involved with the inner workings of LA to ensure that it is functioning properly and efficiently.
The Los Angeles Filipino Association City Employees (LAFACE) boasts over 500 members and as of last fall, the LA Mayor's Office had six Fil-Ams, working in departments such as immigrant affairs and gang reduction.
"This is one of the great Filipino cities of the world and Los Angeles should think itself that way," Mayor Eric Garcetti told the Asian Journal's MDWK Magazine in November 2016, adding that "I don't think there's a department that…doesn't have somebody Filipino-American."
The mayor's push for diversity is evident in the composition of his administration. Most recently in June, he appointed Miguel Sangalang as deputy mayor for budget and innovation, where the latter was previously executive officer.
While several Filipino-Americans have taken on similar capacities for previous mayors, the 34-year-old became the first Fil-Am deputy mayor under Garcetti.
"We have a responsibility to use Angelenos' tax dollars as wisely as we can — and Miguel's brilliant strategies and tireless work ethic have been critical to helping us meet that obligation," the mayor said in a statement. "Miguel has helped us find innovative ways to make our city run better, and that positive influence will have even greater impact as he becomes my new deputy mayor."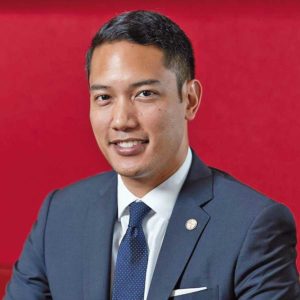 Working his way to public service
Sangalang, who was born in Quezon City, Philippines, recalls immigrating to Walnut, California at four years old and not knowing how to speak English.
"It was…kind of a culture shock for me, where my cousins spoke a different language. But I eventually learned through English as a Second Language (ESL) [classes]," he said in an interview with the Asian Journal. "I am a product of the California public school system, from grade school all the way to college."
He went on to the University of California, Los Angeles, where he earned a degree in Japanese with a minor in public policy.
Growing up in a "civically minded" family and benefitting from opportunities compelled him to enter into a public service career.
"I've always thought every man, woman, and child should have the same opportunities that I do and what better way than the place that's supposed to look out for that, which is government," Sangalang said.
After training himself in information technology, he landed his first job with the city of LA as an IT specialist in the Bureau of Sanitation. A few years later, he received a fellowship and moved to finance and performance management during then-Mayor Antonio Villaraigosa's tenure.
During Garcetti's first term, Sangalang was a director for innovation and performance management before transitioning to the Mayor's Office of Budget and Innovation.
LA as a hub of innovation 
Now a 10-year veteran of the city, Sangalang remarked how LA, under Garcetti's leadership, has invested in technology and innovation to have a more direct line of communication between residents and the local government.
"It's great that [Garcetti] just doesn't see a Michael, he sees a Miguel. He doesn't see just David, but a Ding or something like that, to be able to do these things and really be inclusionary. That's part of what he sees as being an inclusionary and dynamic LA of the future and it's been great to help implement his vision and really restoring faith in city government by going back to basics," he said.
Upon assuming office in 2013, the mayor laid out a "Back to Basics" agenda that looked at revamping how accessible the government is in terms of response times and deploying services. In the following year, the Mayor's Office launched a website that publishes up-to-date data to increase transparency and accountability of the city's performance and usage of taxpayer dollars.
"I helped author the mayor's open data executive directive to start sharing some information, not only between departments but to the public who [has] a hand in making their city a better place," Sangalang explained. "Not all the best ideas come from one source so we're really looking to make those connections to the civic tech world."
He added, "The fact is that Mayor Garcetti is detail oriented where not a single dollar… gets past him. Rest assured, we're trying to use the money that taxpayers of Los Angeles have entrusted with us in the best and most efficient possible way."
This past June, LA's CleanStat program — which uses data to assess how clean LA's streets and alleys are — received the City Livability Award during the U.S. Conference of Mayors' annual meeting.
Since being appointed deputy mayor a month ago, Sangalang said his goals for the role continue on this initiative in terms of leveraging technology to manage information "in a secure and thoughtful way" and how people interact.
"Being an immigrant and a person who has seen [the] differences in poverty, equity and service, it's along the lines of the CleanStat model where we're driving out the outcomes to make sure that the money and the resources are going to the right places so it's much more strategic and that we actually drive to cleaner streets, have healthier kids, make it so the air is cleaner, and we could get to locations in LA in a quicker way," he said.
The city is also looking at how to adapt this model to address the homelessness problem, which in the past two years has become a top priority for Garcetti.
Mentoring future Fil-Ams in government 
As he oversees making LA's government a more modern and efficient operation, Sangalang said one of the most significant aspects of his role is engaging with neighborhood councils and community groups, like Search to Involve Pilipino Americans (SIPA) or the International Society for Filipinos in Finance and Accounting (ISFFA) so they understand what the city is trying to achieve.
"On a larger scale, the city of Los Angeles has always fostered Filipinos. We have Historic Filipinotown and we have Eagle Rock as a major center… Right now, looking at Downtown, there's an explosion of Filipino cuisine at LASA and Ricebar so there's more and more general acceptance and elevation of the Philippines and its culture. Moving forward as the largest congregation of Filipinos outside of the Philippines, it's a significant type of purchasing power with $1-2 billion that people would want to invest in. In a lot of aspects, it is very encouraging to be Filipino-American here…" he said.
Further, as a Fil-Am in this role, he noted how important it is to mentor future generations who are looking to pursue public service. As a member of LAFACE, he credits past mentors for helping him reach this point in his career.
"The one thing I really want to highlight there is the mentorship aspect because we're looking out for each other and making sure that the next generation can actually start doing some of the things and exceeding us. I've benefitted from having, in the previous administration, Deputy Mayor [Romel] Pascual who took me under his wing. We have Susana Reyes, who has worked for Mayor Garcetti, who's on the board of the Sierra Club, which is the largest environmental organization in the world, and she's Filipina-American and proud of it."
As for his advice, he said that an individual shouldn't "peg" him or herself in a certain way, as opportunities tend to present themselves and to not forget those who have helped you along the way.
"If you look at my background and how I got here, it's not necessarily a straight line to government. All of those experiences end up being a part of who you are so you need to have them in order to calibrate your own internal compass because, in places where you have greater responsibility and greater elevation, it becomes a little hazier — cloudier, I'll say. You always need that internal compass to help guide you," he said.