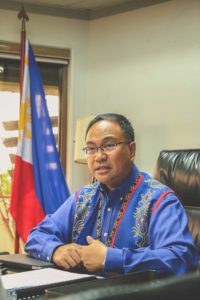 MARKETING veteran Arnold T. Gonzales was chosen unanimously by the Board of Directors, chaired by Tourism Secretary Bernadette Romulo Puyat, as Officer-in-Charge (OIC) of the Tourism Promotions Board (TPB), following the resignation of TPB COO, Cesar Montano.
Gonzales graduated from the University of the Philippines in 1982 with a degree in Tourism. He finished his Master's Degree from the De La Salle University in 1995. He has been a civil servant most of his career, spending two years in the private sector as a tour coordinator, and then rising to Assistant Operations Manager at Rajah Tours Philippines Inc.
He is no stranger in the tourism sector, having been with the Department of Tourism (DOT) and TPB for 30 years, assigned to various posts in the Philippines and abroad. When he was the senior tourism operations officer/marketing specialist, he pushed the marketing efforts of the DOT at Frankfurt and Paris offices, with focus on Western and Southern Europe (France, Spain, Portugal, Benelux countries, Italy, Greece, Turkey and the Middle East.) Prior to his designation, Gonzales has been serving as OIC of Domestic Promotions Department of the TPB.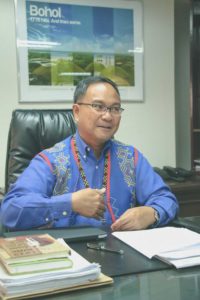 Gonzales was just settling in his new office as the Officer-in-Charge of TPB when he sat down with Balikbayan Magazine/Asian Journal for a quick interview:
Balikbayan Magazine/Asian Journal: How does it feel to be appointed as TPB's Officer-in-Charge?
Gonzales: I'm humbled and yet challenged by the new assignment. Being the OIC entails a daunting task ahead, but with the support of the employees and the private sector, I feel empowered to handle this job. I am also humbled yet overwhelmed by the positive response I've been receiving from everyone.
BBMag/AJ: What do you think are the challenges you might encounter as the OIC?
Gonzales: One of the challenges is basically the immediate implementation of projects. Tourism Secretary Bernadette Puyat instructed us to pass through all projects to the Commission on Audit (COA) for review.  Since there are a lot of projects, we're being very careful in implementing these, to avoid any more controversies.
BBMag/AJ: What do you think should be an OIC's best quality?
Gonzales: First and foremost, a TPB OIC should manifest exemplary leadership in managing the affairs of the office and its employees.  A TPB OIC should focus on the mandate which is marketing and promoting the Philippines domestically and internationally as a major global tourism destination. He should consider certain factors in implementing a project. The project has to bring in international tourists as well as entice Filipinos to travel within the country.
BBMag/AJ: What are your plans and projects for TPB?
Gonzales: I would not say plans, but my mission is to empower all employees and officials, ensure transparency in transactions of the corporation, and establish a work-life balance. And, of course, ensure that no corruption will happen in this organization.
BBMag/AJ: How do you plan on accomplishing those?
Gonzales: TPB is an ISO-certified world-class organization that highly values transparency in all its transactions. We will continue to ensure that all processes are followed accordingly, and all projects will undergo proper vetting procedure before crucial decisions are made.
The public has the right to know where their taxes go so it is our duty to make sure that everything is accounted for. We will also ensure that TPB's resources will be allocated to projects that are in line with our mandate — this means no more sponsorships of projects such as beauty pageants, fashion shows, concerts, and unnecessary sporting events.
On empowerment for TPB employees, we have to constantly remind each and every employee of this organization's rules and his/her role as a civil servant. And more importantly, they have to be given the opportunity to voice out their opinions and even make important decisions to be reminded that we work as a team, and not as individuals with personal agenda. There will also be no more unnecessary reassignment of career employees as this affects their efficiency and productivity.
One of the best ways to empower is to build a work-life balance culture that will allow each and every employee to see work not as a burden, but as an opportunity for growth. We will do this by allowing our employees to engage in trainings and activities that will not only improve their skills but also build their network toward growth and development.
With empowered employees, expect no corruption in this organization. But since corruption can also stem from poor leadership, it is my duty to lead by example, communicate and engage and treat everyone equally and with respect. The COO's door is always open to show that we do not ostracize and there is no barrier between the management and its subordinates. We are one as a team and we will work as a team to serve the best interests of the country.
BBMag/AJ: What is your vision for TPB in 2018 in order to make it a world-class organization worthy of the Philippine brand?
Gonzales: TPB over the years has sponsored various outfits whose objectives are aligned with our mandate to market and promote the Philippines as a major global destination.
But following the directives of Secretary Puyat in promoting farm tourism, heritage, and ecotourism, we will be moving forward and focusing on projects that fuel these avenues toward tourism growth. This means projects related to fashion shows and pageants will have to take a backseat. There are exceptions however, provided that we still apply the proper procedure in vetting and evaluating proposals.
In this connection, we are in the process of finalizing our guidelines for the vetting of financial sponsorships. The guidelines will have to be ratified by the board so that whoever sits as the COO will now have to follow the process.
(Published in Balikbayan Magazine's August-October/Autumn 2018 issue)