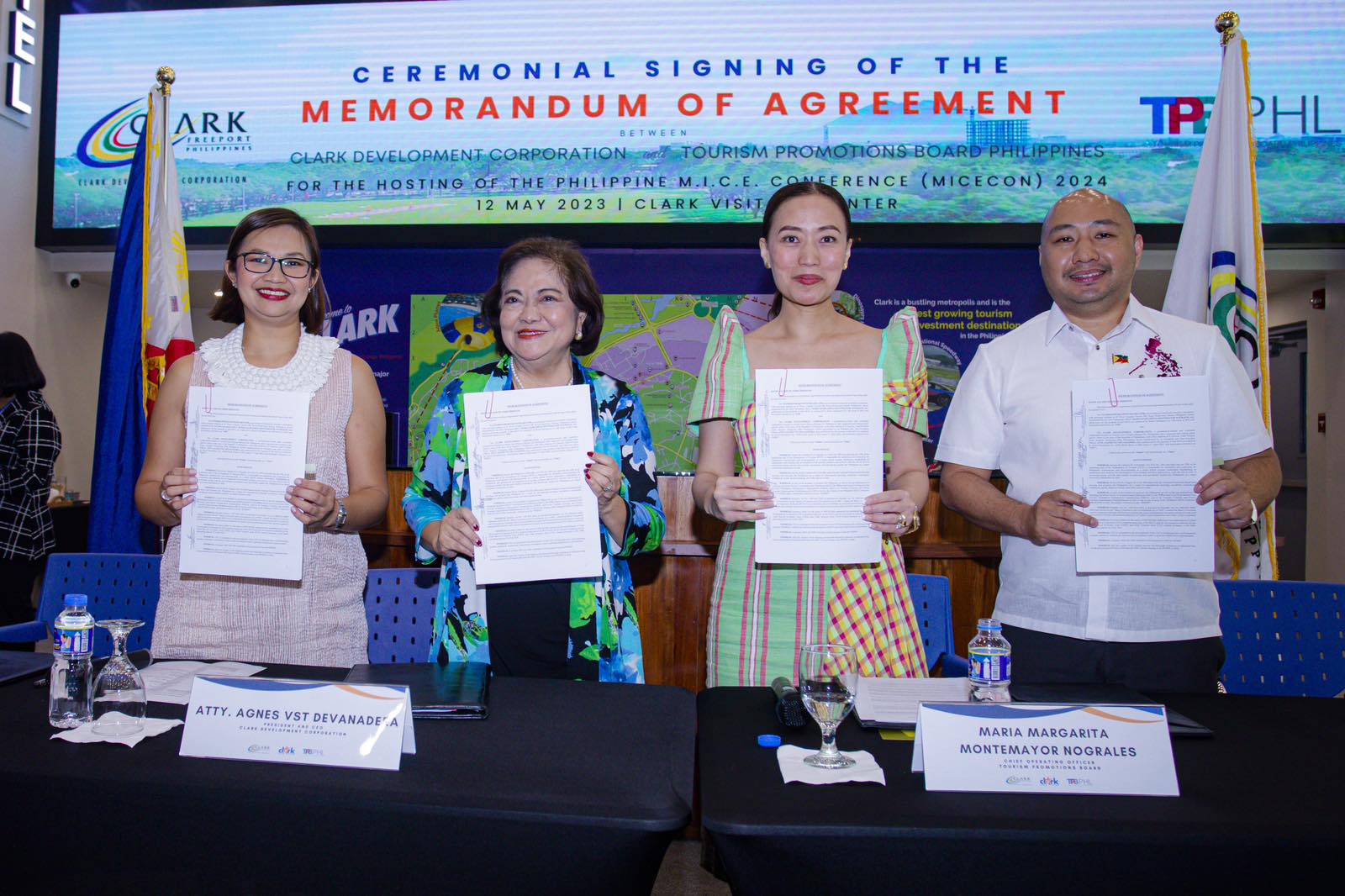 CLARK FREEPORT — Having won the bid to host the MICECON 2024 at the Clark Freeport Zone in Pampanga, Clark Development Corporation (CDC) formally sealed its partnership with the Tourism Promotions Board (TPB) Philippines through the signing of a Memorandum of Agreement (MOA) to stage the largest gathering of Meetings, Incentive Travel, Conventions, and Exhibitions (MICE) professionals in the country next year.
The ceremony was led by TPB Chief Operating Officer Maria Margarita Montemayor Nograles and CDC President & Chief Executive Officer Agnes VST Devanadera. They were joined by other key officials including TPB Deputy COO for Corporate Affairs Atty. Vince Manuel, CDC Vice President for Business Development and Business Enhancement Group Atty. Noelle Mina Meneses, CDC Tourism & Promotions Division Officer-in-Charge Elenita S. Lorenzo and CDC Legal Affairs Group Officer-in-Charge Atty. Anna Gayle T. Barin.
As the Metro Clark area prepares to host the conference for the second time since 2014, MICECON 2024 will provide an opportunity for Clark and its adjacent communities to showcase again the areas' rich history, culture, and heritage to local and global MICE delegates.
The event is also envisioned to usher in new investments and business opportunities that will contribute significantly to the city's economic growth.
Clark is set to highlight its strengths as a first-rate destination to host world-class conferences, with its modern infrastructure facilities, beautiful attractions and strategic location at the heart of growing markets in Asia Pacific that make it attractive for meetings, business transactions and hosting events. There are popular international hotel chains with modern, large capacity rooms, access to several Industrial and Technology Parks within the zone, and Clark International Airport (CIA), a state-of-the-art premier gateway to the Philippines offering a seamless experience for all types of travelers.
With its dynamic efforts to be the country's first smart, resilient and sustainable city, Clark will soon also open the Malolos-Clark Railway in 2025, which is designed to streamline travel between Clark in northern Pampanga province and Manila via high-speed train. This will not only cut regular commuting time but also contribute to the lowering of greenhouse gas emissions by more than 60,000 tons annually.
Devanadera thanked the TPB for choosing Clark as the official host of the MICECON 2024 and expressed optimism in hosting the event.
"We are thrilled to have been given the opportunity to showcase the unique features, rich culture, and state-of-the-art facilities of Clark and its adjacent communities. This event will undoubtedly help to solidify Clark's position as a premier and highly sought-after destination for investments and tourism in the Asia Pacific Region. We look forward to demonstrating the warmth and hospitality of the Metro Clark area, and to providing attendees with an unforgettable experience," she said.
"Holding MICECON next year at Clark will further cement the Philippines' standing as a top MICE destination in Asia. With the city's stunning natural landscapes, iconic and historical destinations and modern infrastructure projects with great innovation and sustainability initiatives, we will be able to draw in more tourists and investments, and contribute to the reinvigoration and revitalization of the tourism industry," said TPB COO Nograles.
To be held on July 10 to 12, 2024, MICECON 2024 is a must-see event to discover and experience the wonders of Clark, network with other MICE players and strengthen ties with local and international stakeholders.