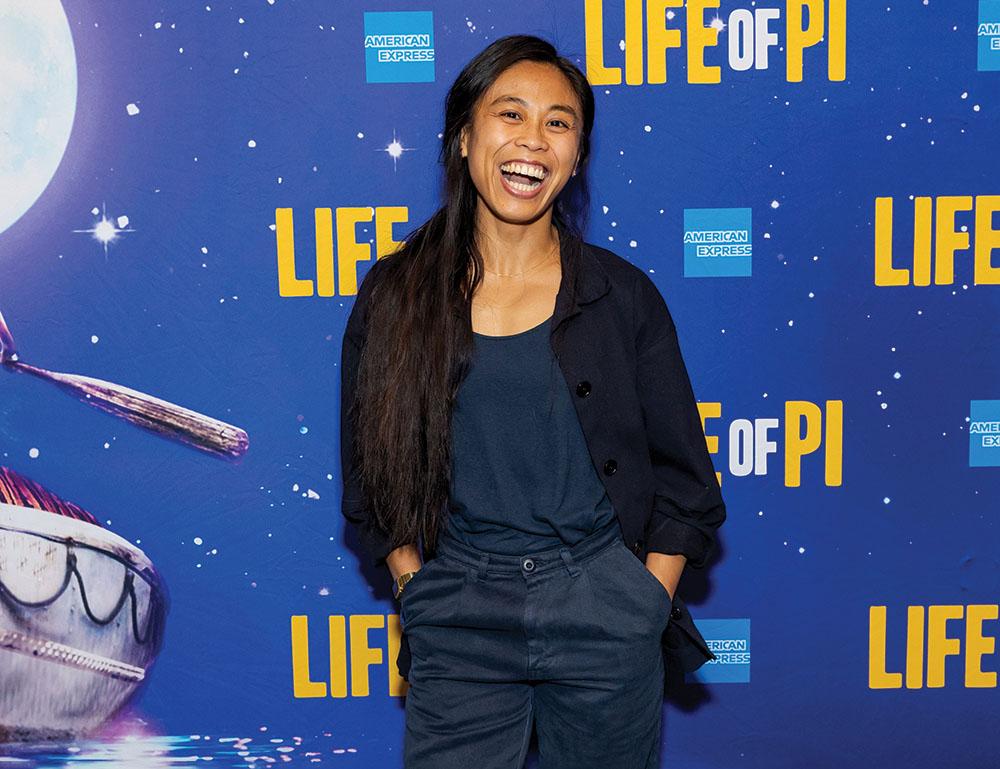 Nikki Calonge never imagined herself performing on Broadway, but last week, she made her debut as part of the cast of "Life of Pi." Despite never having dreamed of this opportunity, she worked hard, auditioned, and now, has reached an achievement many aspiring actors could only wish for.
"I thought I always wanted to be a writer and I know I wanted to live in New York," Calonge told the Asian Journal. "I am completing my master's to be a dance movement therapist, creativity is really important to me and I think expression through movement is crucial in understanding myself and helping others."
Calonge is among 22 cast members – many of whom are South Asians – who are making their Broadway debuts. She feels immensely proud of this new family they have created.
Born in Manila and raised in Virginia, Calonge is currently based in Brooklyn. Her dad is retired Ambassador Generoso Calonge and her mom Gloria is an immigration lawyer from Virginia.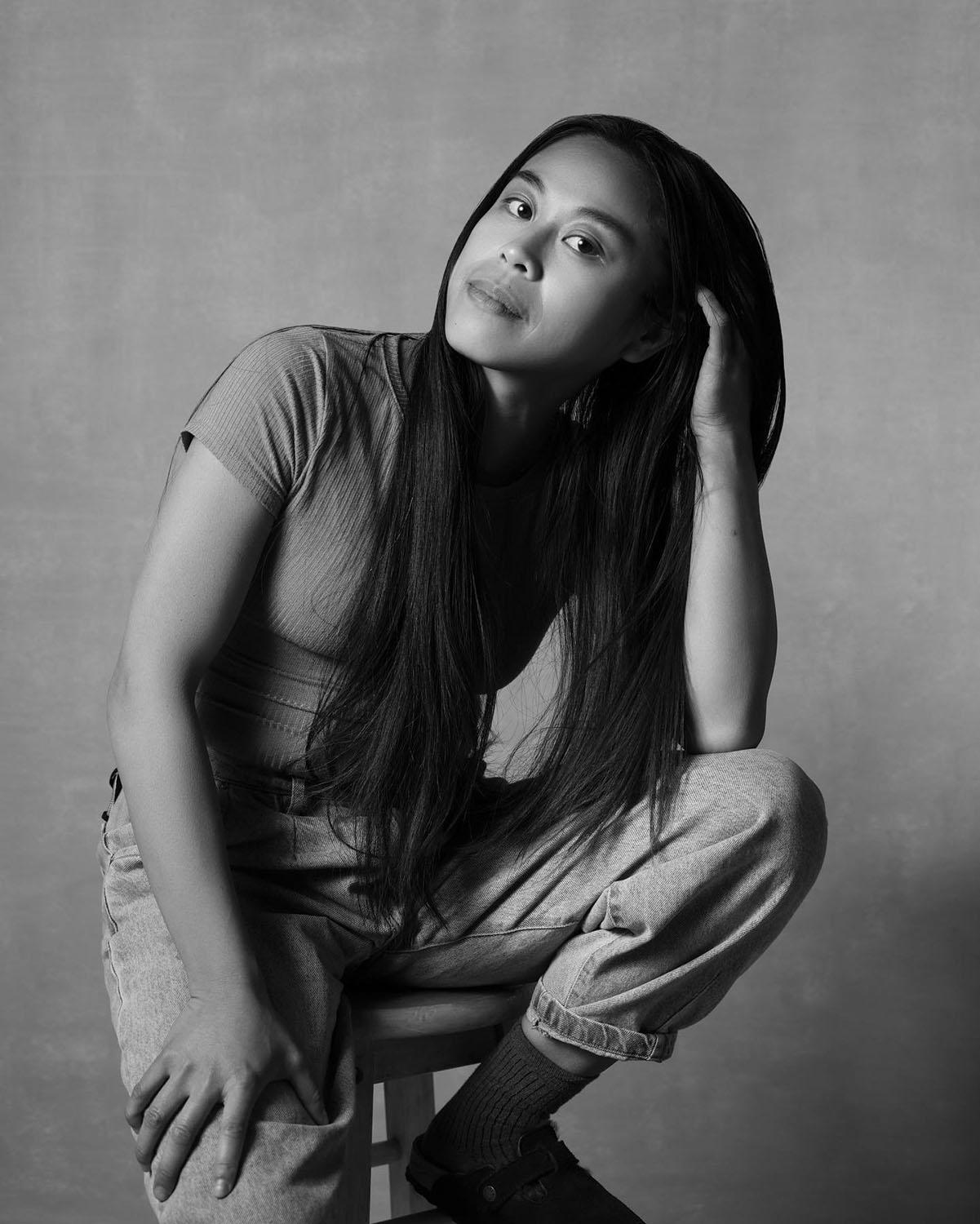 "I'm grateful to them because they gave me the freedom to do what I wanted," she shared.
Armed with a degree from NYU-Tisch Experimental Theater Wing and Playwrights Horizons Theater School and training from The Patravadi Theatre and Theater Mitu in Thailand and Traditional Dance and Wayang Kulit in Bali, Indonesia, Calonge set out to conquer the world.
"After school, you take what you can get but there's no real supply and demand for experimental theater," she shared. She dabbled in puppetry and dance theater, performing in downtown theaters like La Mama.
Then the pandemic happened but that didn't stop her from performing outdoors in Bushwick, doing new works. A friend saw who saw her at the Chicago Puppet Festival encouraged her to audition for Life of Pi.
Calonge describes herself as a physical performer. She practices martial arts, runs her yoga practice, and is currently in graduate school for dance/movement therapy at Pratt Institute. The show was perfect for her.
"I'm not in musical theater. I'm not a very strong vocal performer, I don't dance," she shared. "You know, I'm just kind of smart and funny."
"Broadway has always been an idea but never…even a trajectory. We live in New York so even the term Broadway feels like a description for things, like the Broadway version of this or that," she added.
Her journey to Broadway happened quite quickly. After a two-month pre-Broadway run in Boston, the cast moved to New York.
For Calonge, Boston was an excellent preparation for the cast as it allowed them to work on a smaller scale. They would walk to the theater together, which helped foster a strong sense of cohesion among the cast.
"The interpersonal aspect of the show has been very familial and friendly, which is incredibly important to me. I can't imagine how other people manage to just slide into shows without this level of comfort and camaraderie," she said.
"It was a small but significant preparation for what was to come. Now that I'm home, I have my routines in place. I know I can go to the dojo in the morning and the yoga studio in the afternoon," she added. "I feel stronger and more capable than ever before and I'm slowly adjusting to the new normal."
Becoming Richard Parker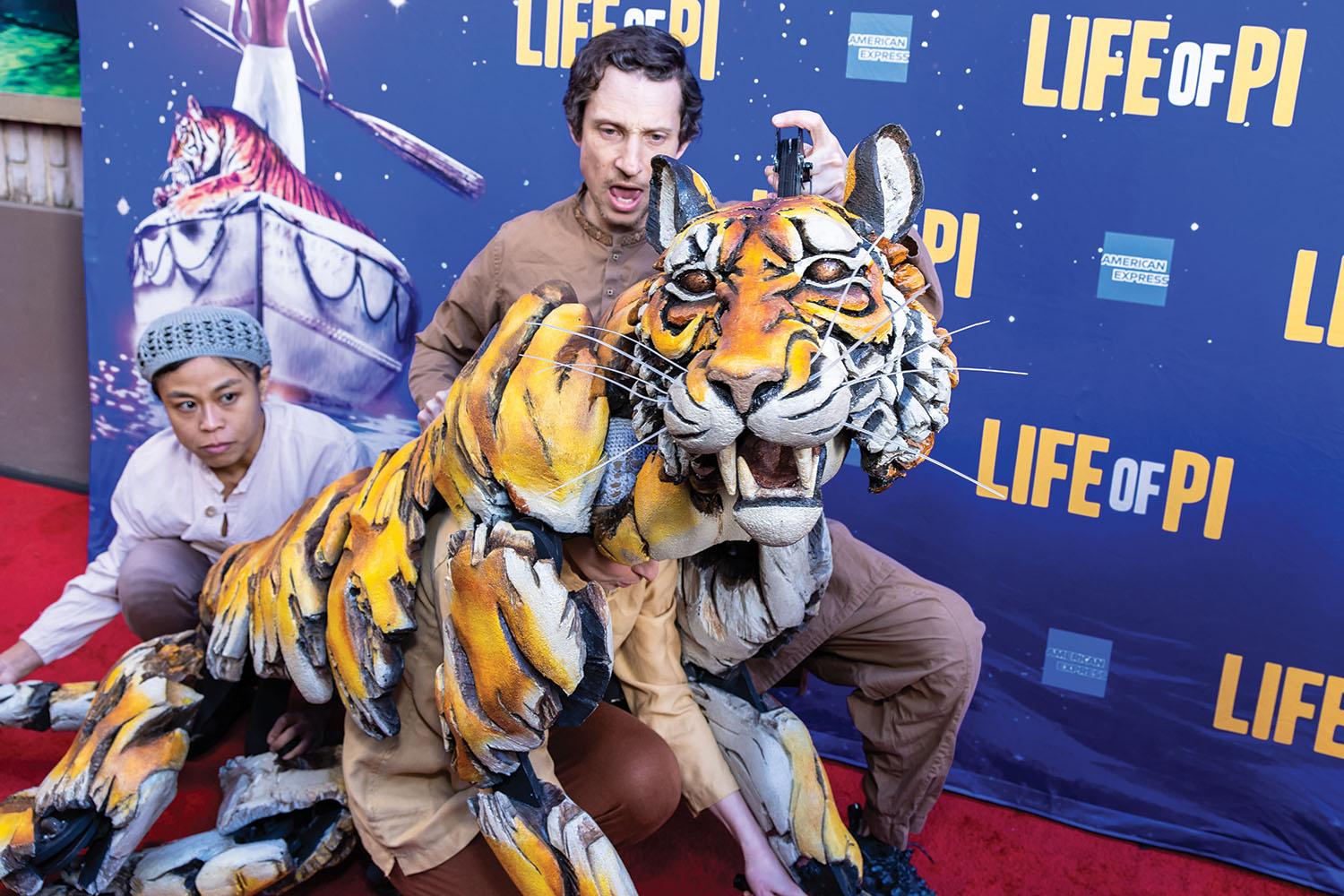 Calonge is one of three puppeteers who bring the Royal Bengal Tiger named Richard Parker, to life. The team of three has specific roles to fulfill as a head puppeteer, heart puppeteer, and hind puppeteer.
Since it is a physically demanding show, they constantly rotate to prevent injury and repetitive motion strain.
For the tiger to "act", the puppeteers learned how to collectively breathe and pant and create roars and grunts, depending on the scene and interaction with the titular character, Pi Patel.
"We can't communicate, we are not talking in there," she explained, adding that they follow each other's internal cues. "Even if it's choreographed, it's alive, it's not necessarily a dance, we have to be responsive all the time."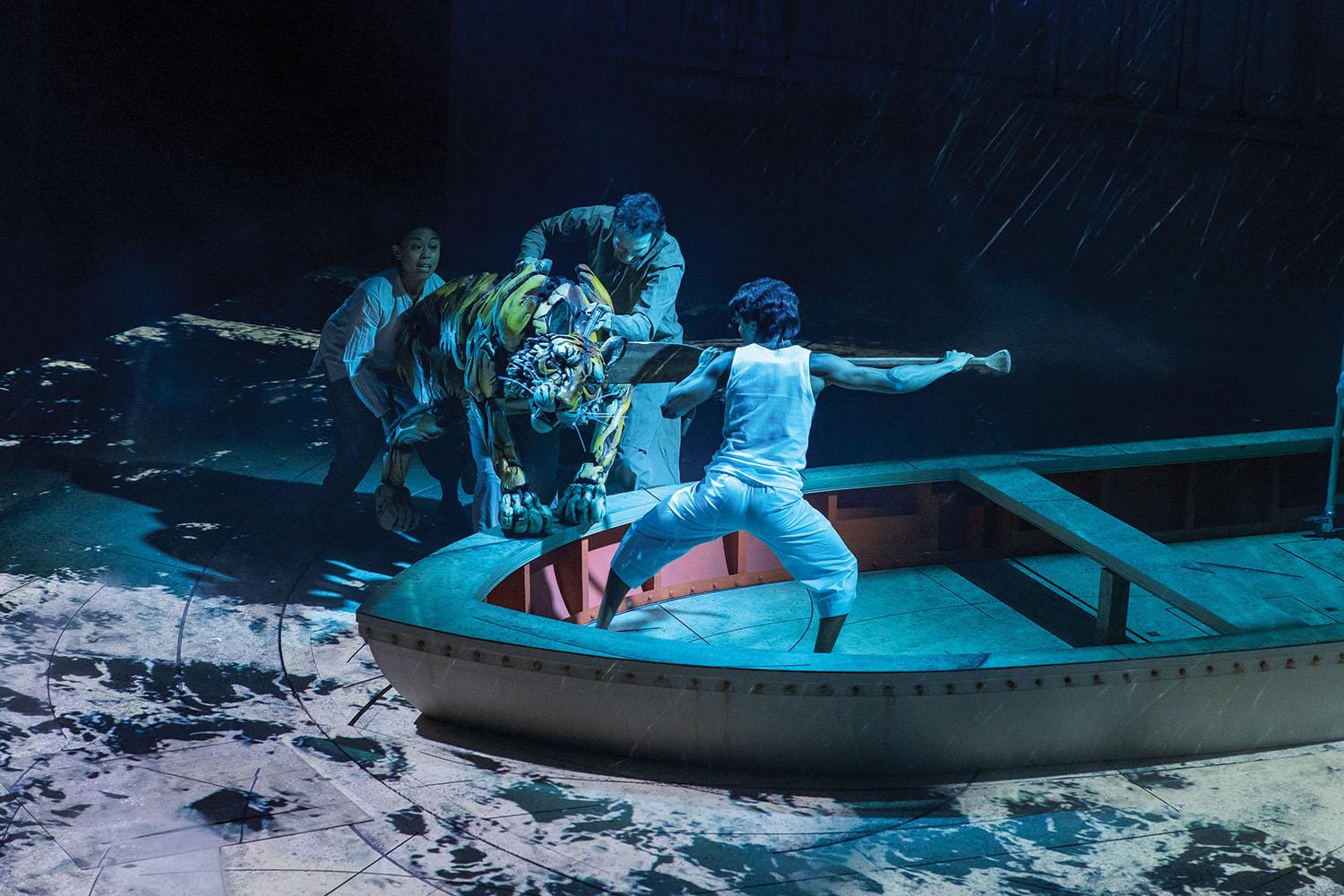 Each puppeteer has a unique focus and awareness, as the head puppeteer communicates directly with what Richard Parker sees while also connecting with the puppet's spine, and the heart puppeteer uses their pauses and breath to convey emotion.
"As for me, I maintain attention on the cage or spine, using cues such as a crossed back leg or a foot on a bench to anticipate movements and actions," she explained.
All puppeteers need to be aware of the overall performance and work together to create a believable world on stage. These visual cues and signals help in making Richard Parker work properly. They need to stay alert and attentive at all times.
The movement of the set and the character of Pi all contribute to the overall movement of the animals as well. It's crucial for them as puppeteers to react to these movements and make them believable for the audience.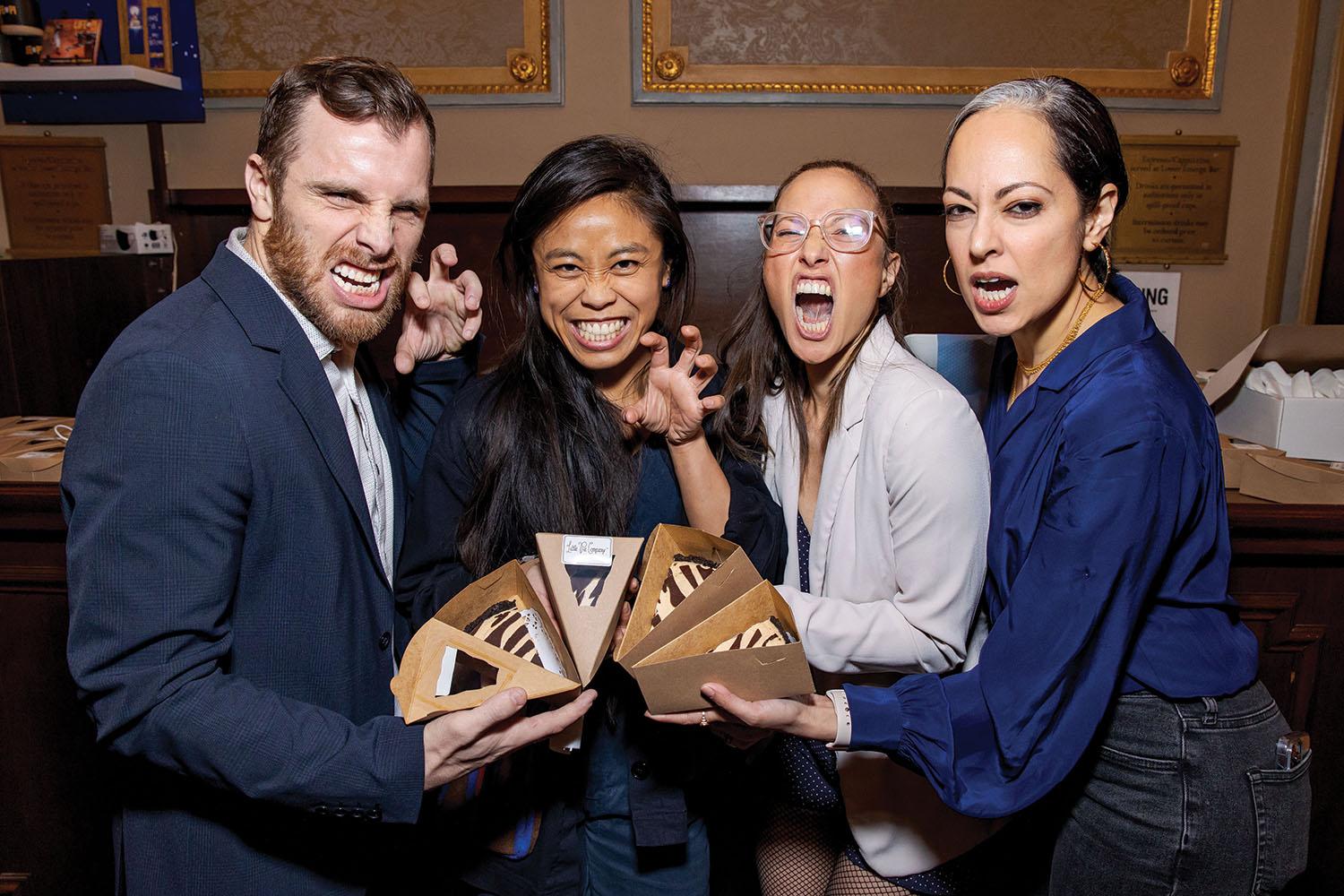 "There's even this concept, if there are three on the Tiger, there's a fourth puppeteer. That fourth puppeteer is the person who's acting with the puppet so it's really important for Pi to give just as much response," Calonge explained.
Hiran Abeysekera, a Sri Lankan actor who won the Laurence Olivier Award for Best Actor reprised his role as Pi on Broadway. On some days, the character will be performed by an alternate, Adi Dixit.
This means the puppeteers have to adjust to the dynamics since both actors attack the character differently, and for Calonge, it is always a welcome challenge.
"I'm grateful for this experience forever because I think I've grown exponentially because of it," she shared.
For every performer on Broadway, completing eight physically demanding shows a week is a challenging feat. Knowing this, Calonge has implemented a strict regimen to maintain her energy levels and overall health during the run of the show.
"Basically, it's eat well, sleep well, meditate, exercise," she explained. "That covers my baseline, if I can do those things every day, I'm good."
She also practices aikido and yoga and gets a lot of massages, acupuncture, and cupping.
From book to film to theater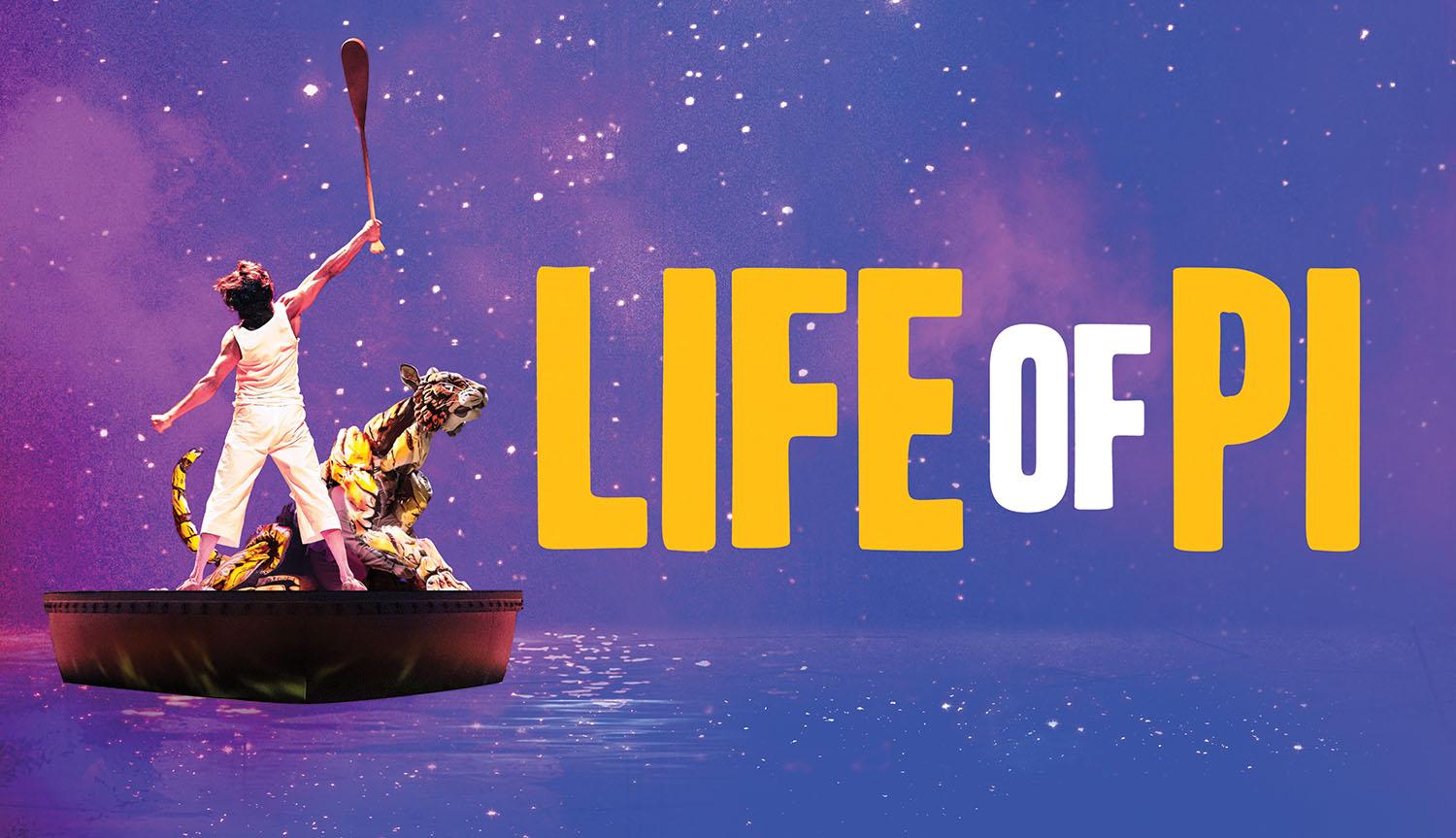 Life of Pi, the best-selling and beloved novel by Yann Martel transitioned to the theater in Sheffield, England before moving to London's West End last year, winning the hearts of critics and fans and along with it, five 2022 Olivier Awards including Best New Play. It was adapted for the stage by award-winning playwright Lolita Chakrabarti.
"It has been such a privilege to adapt Yann Martel's modern classic Life of Pi for the stage. It was daunting, creatively, exciting, and always collaborative. To be able to tell this story the way I imagined it, to create the world using my references and viewpoint has been an extraordinary gift. And to see it resonate with young and old audience members alike has been humbling," said Chakrabarti. "It is a beautiful, visceral, magical show, a story of survival which all of us can fundamentally relate to after the effects of the pandemic. I am beyond thrilled that we will bring this play to Broadway."
An epic tale of perseverance and optimism, the play is a stunning new theatrical interpretation of one of the most beloved works of fiction – a winner of the prestigious Man Booker Prize, with over fifteen million copies sold globally.
The story is about sixteen-year-old Pi and his family who set off to emigrate from India, but after their ship sinks in the middle of the Pacific Ocean, Pi is left stranded on a lifeboat with four other survivors—a hyena, a zebra, an orangutan, and a Royal Bengal tiger.
The show made its North American premiere at the American Repertory Theater in Cambridge from December 2022 to January 2023 before moving into their Broadway home at the Gerard Schoenfeld Theater.
The West End production won five Olivier Awards including Best New Play, Best Scenic Design, and Best Lighting Design. In a historic first for the Olivier Awards, the seven performers who play Royal Bengal tiger 'Richard Parker' were collectively awarded Best Actor in a Supporting Role.