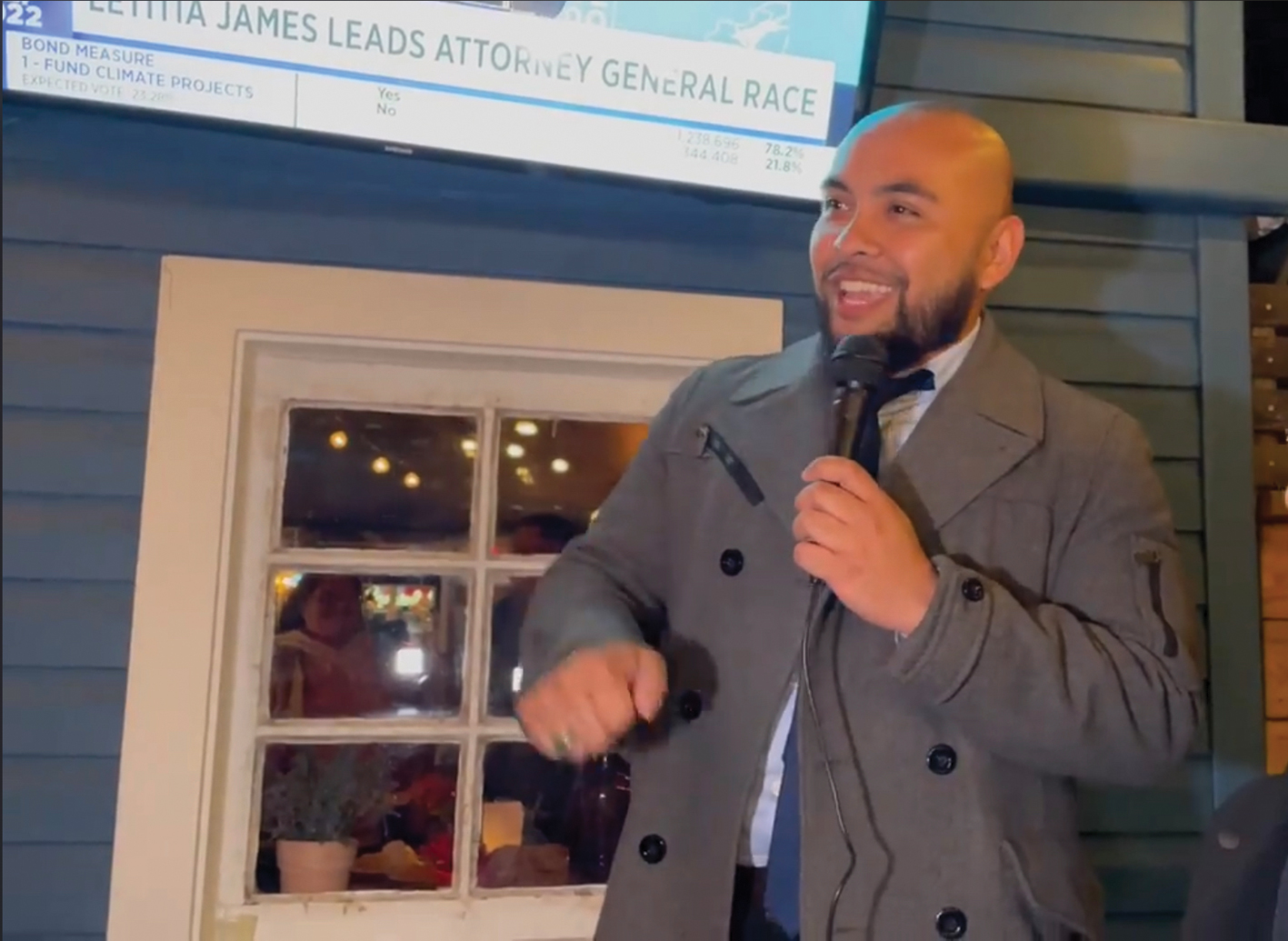 NEW York State Assembly District 30 candidate Steven Raga has made history as the first Filipino-American elected to office in New York State.
On election night, Raga won his race to serve in the state assembly. There are 150 seats in the New York State Assembly that serve two-year terms without term limits.
Raga won against his Republican opponemt Sean Lally in Tuesday night's (November 8) general election, garnering 57.84% of the votes (10,972 votes), against Lally's 41.12% of thevotes. The results will not be certified until all ballots are counted as Raga's district has registered 97.66% of precincts reporting according to unofficial results from the city Board of Elections.
Raga expressed thanks and gratitude to all the support that his campaign received during the past eight months of the historic campaign for an Assembly seat.
In an Election Day post on social media, he described himself as "a kid from Queens who grew up with a single mother, working three jobs while pursuing my education, the overwhelming support from all corners of the district means a lot to me."
Raga was a former chief of staff of Assemblymember Brian Barnwell of District 30 who announced last April that he won't be running for reelection. Raga was thrust into the position when he was selected by a committee to determine who would replace Barnwell on the ballot.
Addressing his supporters, Raga praised his campaign team and the volunteers and recalled "being out in the train station stops at 6 a.m. and at bus stops, knocking doors, and figuring out hashtags for future posts."
"I am very proud of the campaign we ran," he said. "This is really a team effort, this is a movement and effort that we are going to continue next year and for years to come."
"This neighborhood means a lot to me," Raga added as he talked about his family who has called it home for the past few decades. "I look forward to advocating for everyone here, defending our rights and working in partnership with our other forward-thinking legislators to bring more value to all New Yorkers, specially our most vulnerable, and our new immigrants."
As a candidate, Raga amassed a slew of endorsements from elected officials and community and civic leaders and won his primary race in June. Among those who threw their support were Congresswoman Grace Meng, Congressman Gregory Meeks, State Sen. John Liu and Assemblymembers Ron Kim, Catalina Cruz, and Jessica González-Rojas, who was present to congratulate him on his win.
Assembly District 30 has undergone significant change due to redistricting. It currently covers the neighborhoods of Woodside, Maspeth, and Elmhurst, along with parts of Jackson Heights. The district is one of the most diverse in the state and is majority AAPI (Asian Americans and Pacific Islanders).
During the campaign, Raga's days start with him giving out literature and campaign materials at train stops and then he goes to the poll sites before meeting with community leaders to put campaign events. He then spends six hours knocking on doors and calling voters.
"We're still putting in the hard work and we're not taking anything for granted," he told the Asian Journal in a previous interview. "Although it looks good, we want to make sure that we follow through until the very end and we just want to stay the course."
Raga was the Executive Director for Woodside on the Move, a social service and advocacy non-profit located in Woodside. Before that, he served as the Northeast Regional Manager of Policy & Advocacy for the Komen Foundation, and before his time in politics, he spent nearly a decade doing non-profit work, including his time as a Senior Strategist Multicultural Leadership for AARP.
He served as Barnwell's chief of staff for four years. He is also a board member of Queens Pride and the National Federation of Filipino American Associations. Raga is also the founder of Pilipino American Unity for Progress (UniPro).
"From experience, I can tell you issues that everyday residents are facing; I've worked with non-profit organizations that are filling vital gaps in providing community resources and services. I was able to develop bonds with so many of my own neighbors while also learning about pertinent legislative issues to Western Queens and the complex relationship between City and State politics," Raga shared.
Last June when he won the primary, he said he was looking forward to proudly wearing a Barong Tagalog on the floors of the New York State Assembly if he gets elected.
Among his top priorities are combating Asian American hate, coming up with a comprehensive measure to protect both tenants and homeowners, and helping small businesses or any businesses that helped especially during COVID.