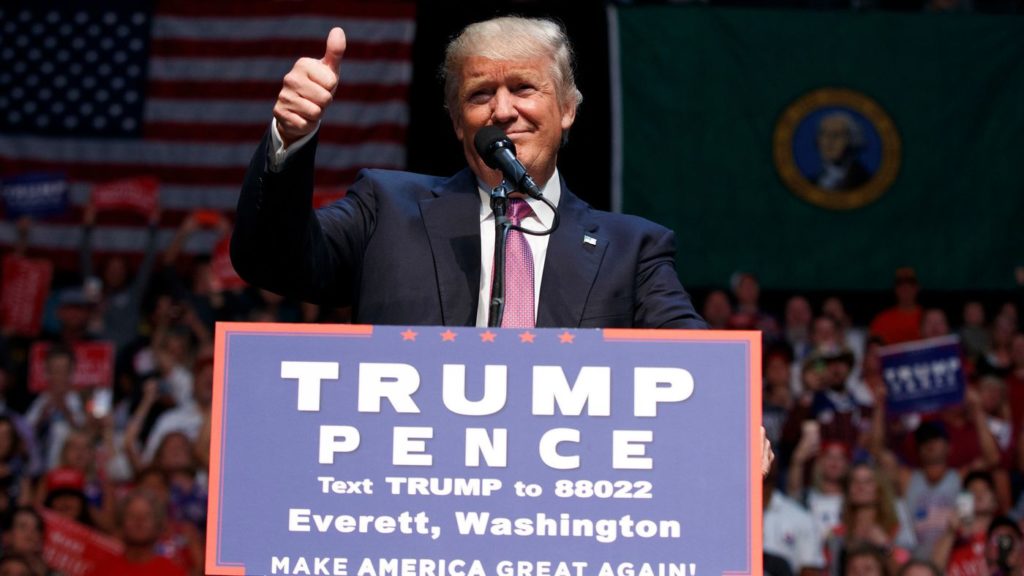 Majority of Americans not convinced by "America first" approach
With the second year anniversary of President Donald Trump's election approaching, recently released polls are indicating that the U.S. president's foreign policies may not be too popular among both Americans and foreigners.
A new 25-nation Pew Research Center survey released on Monday, October 1 found that Trump's image remains poor among foreigners, with 70 percent of surveyed foreigners saying they have no confidence in Trump — a higher percentage of low confidence than reported for Chinese President Xi Jinping (56 percent), and Russian President Vladimir Putin (62 percent).
On the other hand, German Chancellor Angela Merkel and French President Emmanuel Macron  received more positive opinions with a lower 31 percent reporting "no confidence" in Merkel, and 34 percent saying so for Macron.
Such opinions have reflected upon the U.S' global image which the nonpartisan fact tank said, "plummeted following the election of President Donald Trump, amid widespread opposition to his administration's policies and a widely shared lack of confidence in his leadership."
"Ratings for the United States are much lower than during Barack Obama's presidency," said Pew Research.
The survey further found that a large majority (70 percent) of the international community believes that the U.S. does not take into account the interests of other countries when it comes to making foreign policy decisions.  More foreigners (37 percent) also believe that the U.S. is doing less than it used to in helping address major global problems.  Only 14 percent said the U.S. was doing more in helping, while 34 percent said it was doing about the same.
Found to be most frustrated with the U.S. under Trump's administration included some of the nation's closest allies and partners including Germany and France.  Neighboring countries Canada and Mexico also shared critical views.  Trump got his lowest ratings from Mexico, where  only six percent expressed confidence in his leadership.
But countries having the most favorable views of the U.S. were Israel and the Philippines, both of which had 83 percent of people surveyed giving the U.S. positive ratings, followed by South Korea with 80 percent.
Views at home
Following the Pew Research report, the Chicago Council on Global Affairs came out with another survey on Tuesday, October 2, exploring American opinions on Trump and the U.S.
What it found was that a majority of Americans were not in favor with Trump's "America First" approach.  It said, the Trump administration's "bold attempts to reshape U.S. foreign policy have not convinced many Americans."
"While the Trump administration has taken action along this path — unilaterally withdrawing from the Paris and Iran agreements, pulling the United States out from the Trans-Pacific Partnership (TPP) trade agreement, and questioning the value of long-time alliances like NATO — the majority of the American public has not followed this lead," said the Chicago Council.
According to the 2018 Chicago Council Survey, 70 percent of Americans reported wanting the U.S. to play an "active part" in world affairs.
"This is the largest recorded majority than at any point since 1974, except for 2002, when the Council conducted its first survey after the September 911 attacks," said the Chicago Council.
An increase was also seen among Americans who believe the U.S. should participate in the Iran Deal and the Paris Agreement.
On Americans' opinions on how the U.S. should be perceived by the international community, the survey found the 39 percent believe that the U.S. is currently more feared than admired, and 73 percent think that admiration of the U.S. is more important than fear when it comes to achieving U.S. foreign policy goals.  More than half (57 percent) of surveyed Americans believe that the U.S. is losing allies.