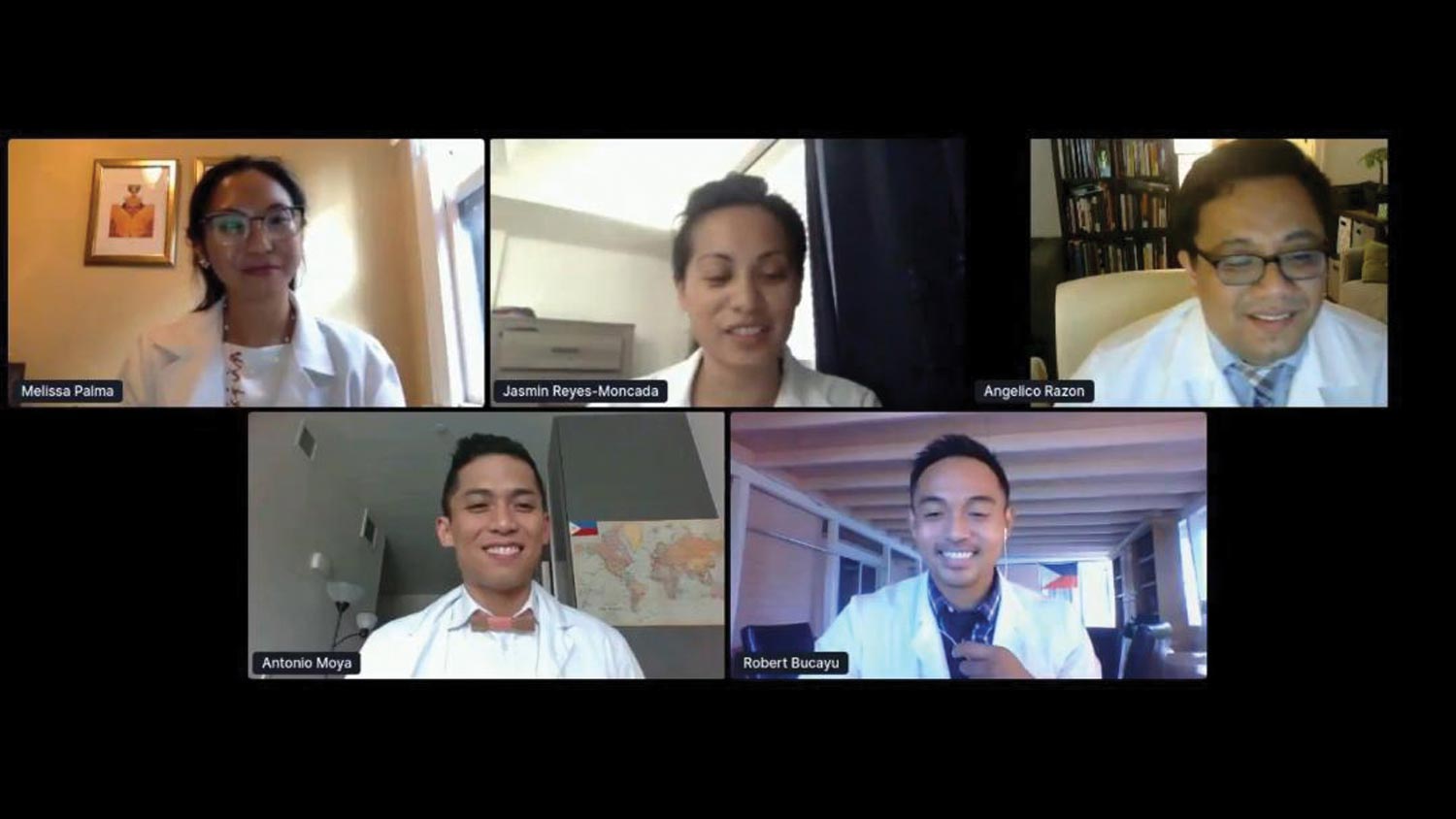 By Antonio Moya, Dianne Lumaquin, and Allen Siapno
The Council of Young Filipino Americans in Medicine (CYFAM) hosted its inaugural conference on October 10-11, with the theme "Isang Bagsak: United in Health".
This two-day virtual conference brought together more than 500 attendees from all over the United States including Hawaii as well as from Canada and the Philippines, organized through the generous support of the UCSF PRIME-U.S. Program, Princeton Review, as well as the support of its parent organization Association of Philippine Physicians in America (APPA), Filipino Young Leaders Program (FYLPRO), Mabuhay Credit Union, and the Philippine Consulates General Los Angeles and New York.
The conference's theme "Isang Bagsak: United in Health" signifies how the Filipino American community rises and falls together. It is associated with the Unity Clap of Filipino and Latino laborers of the 1960s who organized around common struggles and experiences.
During this completely virtual conference, young Filipino American physicians, medical students, and pre-med undergraduates from all over the U.S. gave interactive discussions based on the themes of kalusugan (health), pagdiriwang (celebration), kapwa (fellowship), and paroroonan (career destinations). The conference included inspiring keynote speakers: Dr. Imelda Dacones, president and CEO of Northwest Permanente, and Dr. Peter Bretan, president of the California Medical Association and adjunct clinical professor at Touro University. Other supporters of the conference included PhilDev, National Federation of Filipino American Associations (NaFFAA), Salamat Yoga, and Kayamanan ng Lahi.
During this conference, the members of CYFAM shared their experiences and challenges as physicians and trainees of color across the educational pipeline, working to unite under a call to action to support community health and leadership in medicine.
After hearing the first keynote speaker on Saturday, Mericien Venzon, an MD/Ph.D. student at the New York University School of Medicine, said, "Dr. Dacones so eloquently reminded all of us women of how we must 'take our seat at the table' and not let the fear of failure or intimidation keep us from having our voices be heard. Hearing her speak at the conference inspired me to emulate her leadership, especially in the way that she encourages others to take risks and also uplifts the women around her so they can assume places of leadership as well."
Following the remarks from the keynote speakers, conference attendees participated in various workshops based on that day's theme. On Saturday, the workshops focused on celebration, identity, and mentorship. One session included a presentation from Dr. Rommel Rivera, current president of APPA, who gave a lecture about the history of the Filipino American physicians and the establishment of FilAm medical societies. In another workshop, Dr. Melissa Palma led attendees in a storytelling session where she reflected on her 10-year journey in immigrant health advocacy. The attendees then had the chance to interact within mentorship groups known as "pamilyas," which were composed of one physician mentor, four to five medical students and about 10 pre-medical students. The 23 pamilyas were each carefully selected in order to build a community of members with for future collaborations.
"Meeting other Filipino Americans in this field is very motivating, because many times I do feel like an imposter, but seeing others that look like me in such a rigorous field and knowing I have this community uplifting me is extremely reassuring," said Stephanie Anciro, a 4th-year medical student from Drexel University College of Medicine in Philadelphia.
On Sunday, the conference themes were kalusugan, paroroonan, and community building. Health workshops included presentations from Dr. Katrina Heyrana about "Filipino Sexual Health through a Reproductive Justice Lens," as well as Alexander Adia and Irene Quilantang, who spoke about the current state of the HIV epidemic in the Philippines and the impact of COVID-19.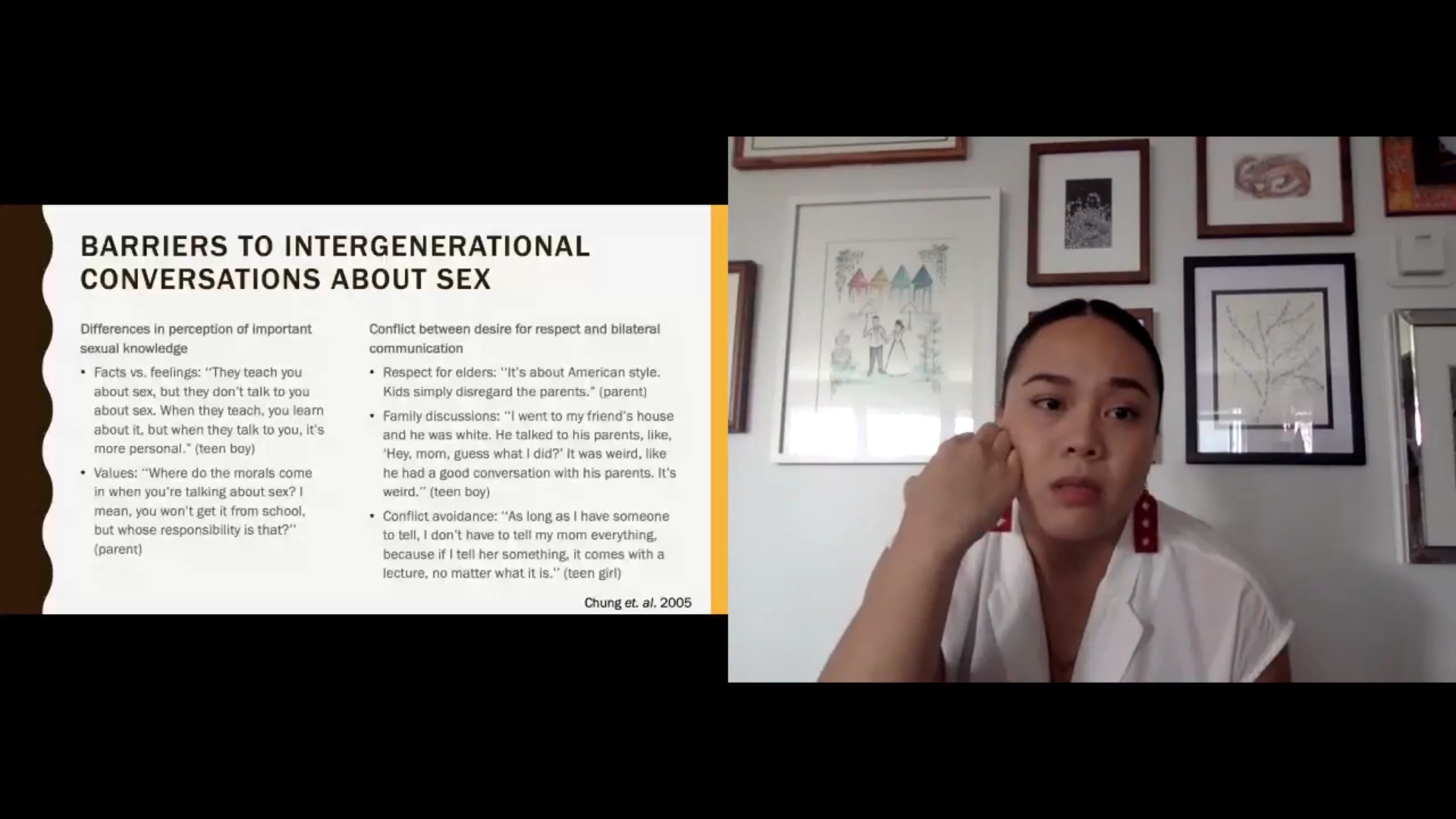 The attendees then had the opportunity to learn from Dr. Drew Park about "Entrepreneurship in Medicine," or Drs. Carlos Oronce and Hafifa Shabaik about "Career Paths in Research." International Medical Graduates from the Philippines, Drs. Nico Cabrera, Denise Sese, Martin Amor, John Macheal Racoma, and Jeremy Santiago also hosted a panel where they discussed how to navigate the medical education system in the Philippines and then in the U.S.
"The communities of people in the U.S. with roots in the Philippines are diverse and that's particularly true of those in medicine," said Dr. Nico Cabrera.
"As IMGs and AMGs we certainly experience the U.S. healthcare landscape differently but hopefully we can learn from and understand each other and maybe even help each other out along the way," stated Dr. Denise Sese.
This conference of Young Filipino Americans in medicine also featured an interactive virtual research symposium, which highlighted work from 21 Filipino American researchers across the U.S. in a variety of disciplines and levels of training.
This was a particular highlight in the conference given the relative lack of Filipino American focused research shared in the U.S. medical community. Research presentation topics spanned across basic science, clinical medicine, and public health. The Judge's Choice for "Best Abstract" was awarded to Sabrina Christensen, a medical student at the California Northstate University College of Medicine. Her presentation was on the "Role of Sirtuin 3 in Adipogenesis and the Insulin Cell Signaling Pathway." The online audience voted for the "Audience Choice Oral Presentation" in each session which was awarded to Jed Keenan L. Obra, a pre-medical student at the University of California, Davis who studied "The Role of Collagen Composition and Orientation in Lateral Force Transmission with Aging," and Mr. Alexander Adia, a master's student at the Brown University Philippine Health Initiative who presented "Disaggregating Health Conditions, Outcomes, and Service Access & Implications for COVID-19 Among Filipino Adults in California."
In October 2019, Dr. Antonio Moya and Dr. Angelico Razon established CYFAM as a means to create a national community of Filipino Americans in medicine.
It was noted that though there were many professional physician organizations for Filipino physicians who later migrated from the Philippines to the U.S. to practice medicine, there was not a single national young Filipinx American physician organization that worked to unite the community.
Through a nationwide survey of this community and after many town hall discussions, it was established that the mission of the Council of Young Filipinx Americans in Medicine (CYFAM) is to promote the leadership development of young Filipinx American physicians and trainees, reinforce the educational pipeline, and address structural inequities in health through advocacy, scholarship, and community partnership. CYFAM's vision is to embolden leaders to amplify the voice of our members, patients, and community. Ultimately, the goal of the organization is to equip and empower every Filipinx American medical student, trainee, and young physician to be an effective change agent in tackling the community's most pressing health priorities.
"Being a committee head as a pre-medical student was definitely a challenging yet extraordinary and immensely rewarding experience for me. It was a unique opportunity to grow as a leader while building community with so many amazing healthcare leaders across the country. One of my biggest take-aways from being a part of the planning committee is that we don't have to go through our journey to becoming healthcare professionals alone. To me, being a part of this committee is a real-life example of Bayanihan, or the spirit of collectivism and communal action towards a shared goal. It really does take a village to pull off such a big event, and we were able to do that primarily because of everyone's shared commitment to creating a professional and educational space for Filipinx/Filipinx-Americans in medicine," said Jaira Mendoza, a pre-medical student at UCLA and a member of the planning committee.
Building off the momentum from this historic conference, CYFAM plans on creating an online mentorship program as well as a directory of Filipino American physicians from all over the U.S. that can also be linked to APPA.
With the pandemic amplifying existing health disparities in the community, programs will also be specifically focused on pandemic relief.
"It's time for young Filipino Americans in the U.S. to have a voice in our U.S. health care system. We cannot remain silent when it is well known that our Filipino community suffers disproportionately from stroke, heart disease, diabetes, and now COVID-19 compared to other Asian Pacific Islander and minority communities," Dr. Antonio Moya stated.
"The dream of creating a national network of Filipino Americans in Medicine started as a conversation many years ago, but it wasn't until the pandemic occurred that this dream of a nationwide Fil-Am pamilya in medicine became real," said Robert "Robi" Bucayu, a 4th-year medical student from UC Irvine School of Medicine and the Conference Coordinator.
For more information regarding CYFAM, please visit theappa.org/cyfap or cyfam.org; please also follow @thecyfamorg on Twitter, Facebook, and Instagram