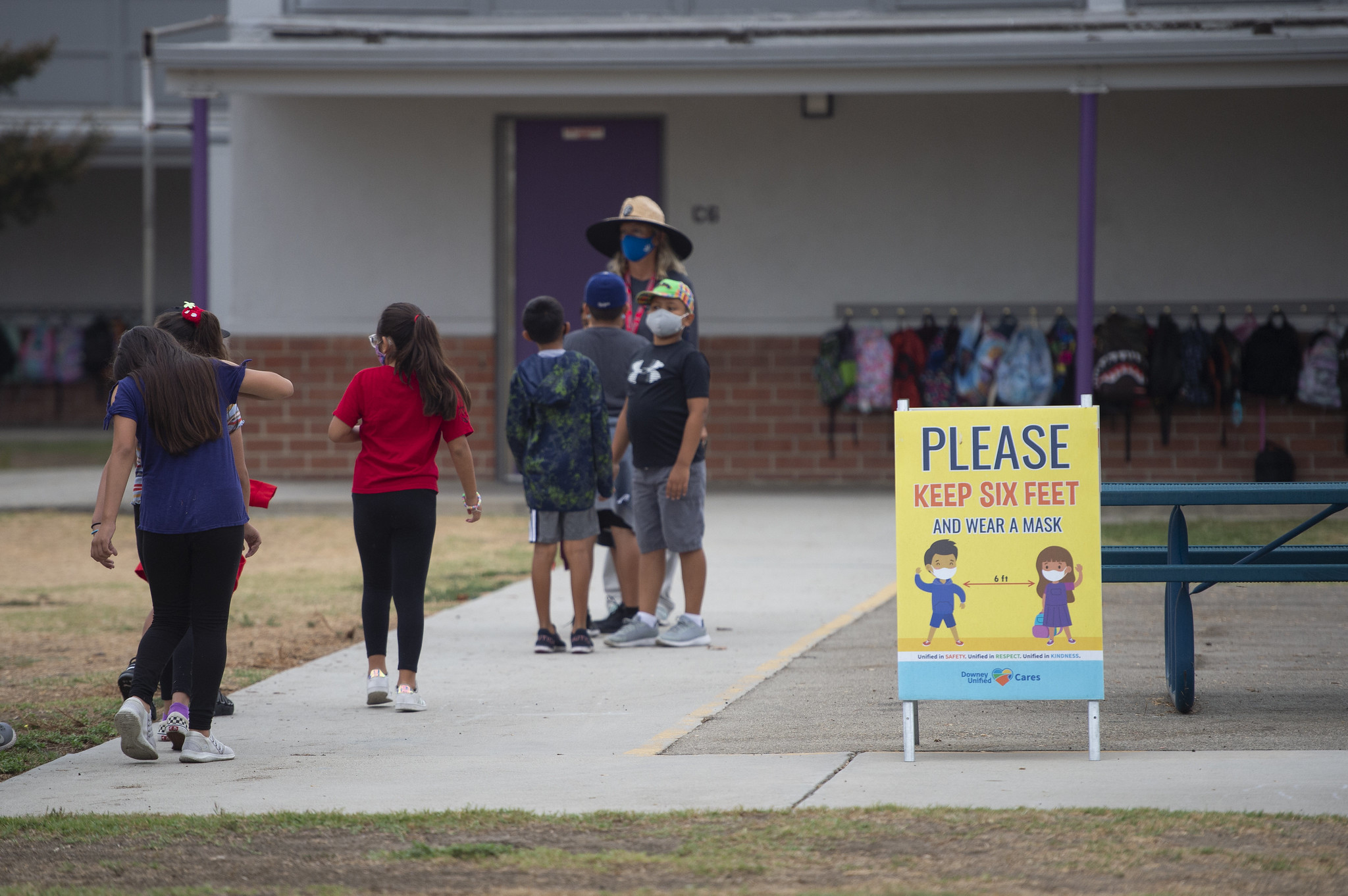 By Sunita Sohrabji/Ethnic Media Services
As kids return to school this fall, parents have some homework to do: helping to keep their kids safe amid the ongoing COVID-19 pandemic.
With vaccines now available for children as young as six months, doctors and public health officials encourage parents to get their kids and themselves vaccinated and boosted when eligible. They say those who are unvaccinated are at greater risk for COVID-19.
As back-to-school season commences, vaccines are especially important tools for safely sending children to day care, preschool and school environments.
According to Aug. 11 data from the California Department of Public Health, just about one third of children ages 5-11 are vaccinated and less than 25 percent of Black and Latino children in this age group have received their primary series. In the two months since the vaccine became available for children under 5, only 1.6 percent of children under 5 years old statewide have received their primary series.
Dr. Priya Soni, a Pediatric Infectious Disease Specialist at Cedars-Sinai Medical Center, addresses some common concerns parents have about sending their children back to school.
EMS: How confident are you that kids can return to school safely?
Dr. Priya Soni: I am confident that children will be able to return to school safely in the fall. The pandemic is not over but we must acknowledge that we are not in the same place that we were over two years ago. We not only know more about the transmission in children, but we have the opportunity vaccinate and better protect our youngest children now.
None of us have a crystal ball – but as we head into the later fall and winter, we may be faced with another cycle of high COVID-19 transmission – something we have been seeing now consistently every four to six months. We should anticipate these surges now, but it is reassuring to know that we are better equipped to handle them than any other time in the past.
EMS: What kinds of questions do you hear most frequently, and how do you respond?
Dr. Priya Soni: Does COVID really impact children? What are some symptoms of COVID-19 in children? Yes it does. Symptoms includes fever, cough, chest pain, new loss of taste or smell. With BA.5, we are seeing a lot of patients start with initial symptoms of sore throat, headache, muscle aches and chills. The threat of long-term symptoms occurring after infection, known as long COVID, can impact children.
Which vaccine is preferred for children – Moderna or Pfizer? Speak with your pediatrician about any concerns and the vaccine options for your child to be fully vaccinated. Moderna is a two-dose series, 4-weeks apart. Whereas, Pfizer is a three-dose series, given at different intervals, which will take longer to complete in full. Both are highly effective in protecting your child against some of the most severe complications of this infection.
EMS: The majority of preschool and K-6 children will return to school this fall unvaccinated. Are you concerned about surges at school sites?
Dr. Priya Soni: We hope that this is not the case. But looking at all the vaccination rates, it is concerning to see that as of August 3rd the CDC reported that only 900,000 of children ages 6 months through 4 years have received at least one dose of COVID-19 vaccine. This represents only 5 percent of young children – ages 6-months through 4-years old. About 16.5 million children have yet to receive their first COVID vaccination. This number of course varies from state to state, however, I hope that by the time all schools re-start in the fall, we see higher numbers of vaccination.
I will be concerned about small surges at school sites if these numbers are not improved. We know that vaccinations remain the mainstay of protecting ourselves. Vaccines continue to prevent against severe complications, including MIS-C and long-COVID, hospitalizations and deaths even in children. Parents need to realize that COVID-19 was a leading cause of death among children ages 0 to 4 years during the pandemic from March 1, 2020 – April 30, 2022 and it is continuing to impact children significantly.
EMS: Do you agree with the CDC's newest recommendations, including ending quarantines for exposures as long as people are asymptomatic?
Dr. Priya Soni: I do agree with their position to focus on the fact that COVID-19 is here to stay and that we should focus on higher yield strategies that keep us all safe – strategies that no longer severely disrupt our daily lives. Some of the guidance that was particularly helpful was to end quarantine recommendations for exposures. We know this virus has taken a significant toll on our children and their ability to attend school without disruption.
One of the other measures they have eased is the weekly screening tests – these are no longer necessary as routine practice in school settings in asymptomatic children. The CDC does mention that these screening tests can be helpful at times of high-risk activities in school including close contact sports, band, choir, and theatre. As well as in certain times of the year when we see increased transmission. Overall, these new recommendations help support optimizing in-person classroom time and minimize attendance disruptions that were so prevalent over the last few years.
EMS: What safety measures would you recommend for parents of school-aged children?
Dr. Priya Soni: In addition to getting the whole family vaccinated and boosted, I would recommend parents keep one main thing in mind. If a child is ill, they should stay home and get tested. Everyone with COVID-19 should stay home and isolate for at least 5 days. School policies will vary on when a child who has COVID-19 can return to school.
EMS: Should kids keep masks on throughout the day, even when they are outside on the playground? What about lunchtime and PE?
Dr. Priya Soni: Wearing a mask reduces the risk of spreading the virus that causes COVID-19. Individual school districts may have their own requirements or recommendations on masking, which should be guided by community transmission levels. The CDC recommends universal indoor masking in schools and early childhood education programs during times when community transmission is high. Unless otherwise directed by local health departments or local educational agencies, students and staff should follow the California Department of Public Health masking guidance for the general public. As now much of our country is at a medium COVID-19 community level, it is important for children who are immunocompromised or at higher risk of getting very sick with COVID-19 to wear a mask indoors.
Of course, any parent who encourages their child to wear a mask, and a child who chooses to wear one, should be supported in that decision – regardless of what COVID-19 community level we are experiencing.
EMS: If a parent tests positive for COVID-19, should they isolate themselves as well as their children? How often should parents test their children for infection?
Dr. Priya Soni: If a parent tests positive for COVID-19, they should try to wear a mask and do their best to practice good hygiene measures at home in efforts to prevent spread. At minimum, you should try to use separate bathrooms, if possible, and try to stay at least more than 6 feet apart, as much as possible. It's wise to avoid sharing personal items such as eating utensils, drinking cups and pillows.
When a parent who is positive is caring for a younger child who cannot be left alone, I recommend wearing a well-fitted surgical mask and regularly sanitizing surfaces and washing your hands when interacting with your child. If you are breastfeeding, you can continue to do so, just make sure you're wearing a mask when interacting with your baby.
Quarantine is no longer recommended for children that are exposed to COVID-19. Parents should follow CDPH recommendations to self-isolate and test as soon as possible to determine infection status.
EMS: If there is an outbreak at a school site, would you recommend that children stay home for a few days, even if they themselves test negative? If your child is positive, when can they safely return to school?
Dr. Priya Soni: If there is an outbreak in your child's classroom, but your child is vaccinated and asymptomatic, they may still be able to stay in school and attend with a mask in place. Follow the school's guidance on this. If your child develops symptoms, while on campus, while wearing a mask, there may be on-site testing available at the school. If the school is unable to provide on-site testing right away, the child should be sent home right away.
If your child does test positive after a school related outbreak or classroom exposure, they should stay at home and be excused from school until at least five days from symptom onset or test positivity.
If your child has no symptoms or symptoms are resolving, they may end isolation after day 5. If they had symptoms including fever and cough, they should return after day 5 when fever-free for at least 24-hours (without the use of fever reducing medication) and their symptoms are improving. Once your child has ended isolation after at least day 5, they should continue to wear their mask at school through day 10. If parents have access to antigen tests, they may consider testing their child towards the end of their illness.
EMS: What general recommendations would you offer to keep kids safe and healthy as we go through this next wave of COVID?
Dr. Priya Soni: Overall, it is important for parents to keep an open and honest conversation going with their child's pediatrician. This includes discussing any hesitancies they may have with return to school or with getting their child vaccinated. Let your pediatrician be home-base for your child as you sift through important decisions to keep your child safe.
Lastly, I would remind parents that while we have made significant strides since the start of the pandemic, we are still going to be faced with evolving threats of the sub-variants of this virus. Children are not exempt from the consequences of this unpredictable virus.