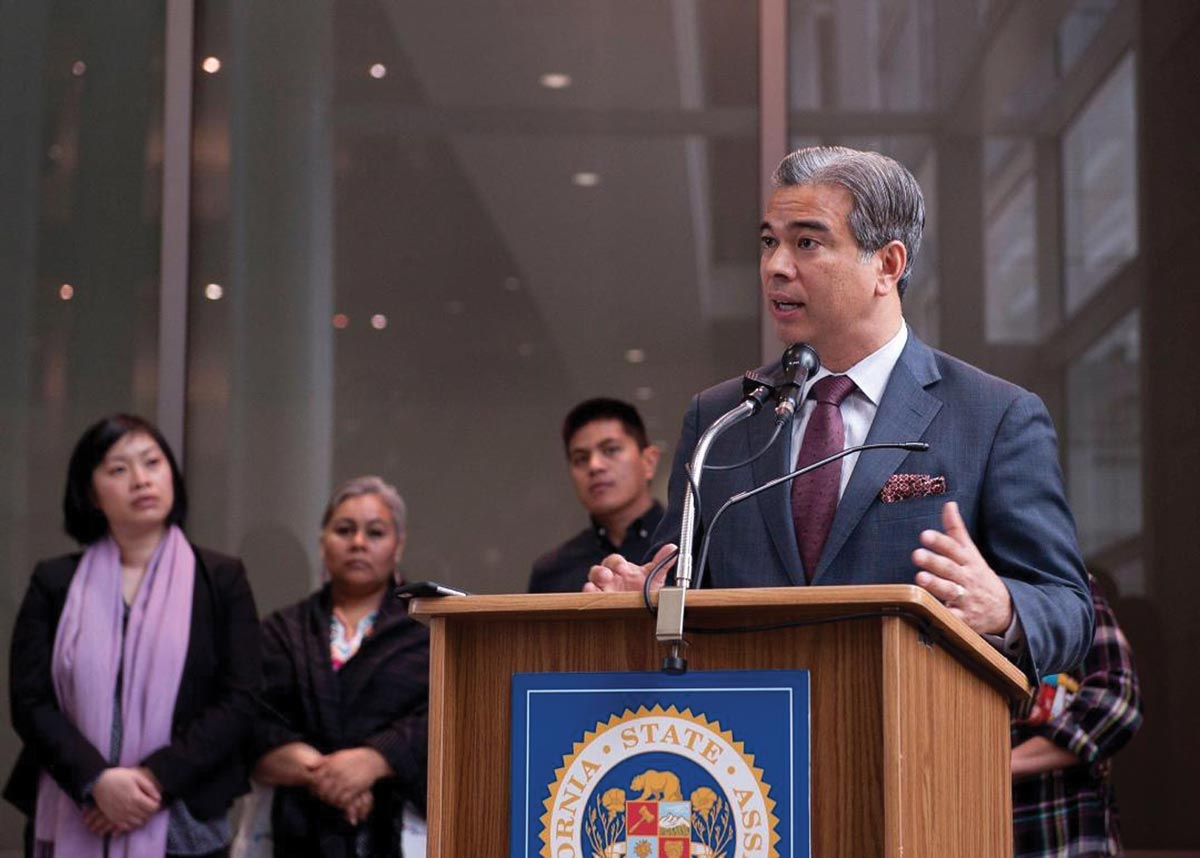 DOZENS of Asian American and Pacific Islander (AAPI) elected officials, community leaders and advocacy groups are coming together anew to urge Governor Gavin Newsom "to make history" by appointing Assemblymember Rob Bonta as attorney general.
Another letter was sent to Newsom's office on Feb. 3 reminding the governor that he has "the unique opportunity in this critical moment to send a strong message and make history" given that AAPIs are the fastest-growing and third-largest ethnic group in the Golden State.
Bonta — the state's first Filipino American legislator — was reelected for a  fifth term  last November to represent the 18th Assembly district, which covers the East Bay areas of Oakland, Alameda, and San Leandro. He currently serves as the assistant majority leader, and sits on several committees, including appropriations and health.
Since December, he has become a contender to fill the seat once Attorney General Xavier Becerra is confirmed as the Health and Human Services secretary for the Biden administration.
"Regardless of race, Assemblymember Bonta is the best candidate, most uniquely qualified, and most capable of leading as California Attorney General. He was one of your earliest supporters for Governor, is a team player, and is a respected legislator who could help implement your agenda. He is trustworthy, dedicated, honest, and places the public interest first; he will be an asset to you and your Administration. Assemblymember Bonta is someone we can all be proud of," reads the letter.
Signatories include state Treasurer Fiona Ma, elected officials in the California Asian Pacific Islander (API) Legislative Caucus and in various capacities across the state, and groups like the Pilipino American Los Angeles Democrats and the CalAsian Chamber of Commerce.
Several Fil-Am leaders, such as Sierra Madre Mayor Rachelle Arizmendi, Daly City Councilmember Ray Buenaventura, El Cerrito Mayor Pro Tem Gabe Quinto and Los Gatos Mayor Marico Sayoc, also threw their support.
The state's API Legislative Caucus, which is comprised of lawmakers in the state Assembly and Senate, separately sent an endorsement letter endorsement this week. It previously called on Newsom to appoint an AAPI — and offered four candidates for consideration — to be the state's next chief law enforcement officer.
But the caucus now says that while it "recognizes there are many highly qualified API candidates," it is backing Bonta based on his track record before and during his service in the Assembly.
"During his tenure, he has distinguished himself as a leader among leaders, successfully authoring groundbreaking legislation to protect Californians in the areas of criminal justice reform, consumer protection, environmental policy, and many others," said the Feb. 3 letter, signed by state Senator Richard Pan, who serves as the caucus chair.
Newsom this week said he would wait until Becerra's confirmation before naming a successor.
"I'm very close to making that decision," Newsom said during a press briefing in Oakland on Wednesday.
He added, "Our current attorney general is still the current attorney general, [and] has not been formally confirmed by the United States Senate, and so the timing of a public announcement will be determined on the basis of that confirmation."
Other candidates vying for the seat include Rep. Adam Schiff and state Supreme Court Justice Goodwin Liu, according to various reports.
Bonta, who was born in Quezon City, Philippines, immigrated with his family to California's Central Valley, where his parents worked for the United Farm Workers of America, organizing Filipino and Mexican American workers. Prior to his election to the state Assembly in 2012, Bonta was San Francisco's deputy city attorney for nearly a decade, and served as director of the Alameda Health Care District and then vice mayor of Alameda.
The growing support for Bonta also comes from high-profile personalities and celebrities, and unions like the California Faculty Association and the United Teachers Los Angeles.
"Pleased to support  @RobBonta for CA AG. Rob is a trailblazer & progressive champion for justice, opportunity, equity & inclusion. He is the 1st Filipino American state legislator in the history of CA & would be the 1st Filipino American AG," actor Lou Diamond Phillips wrote in a tweet.