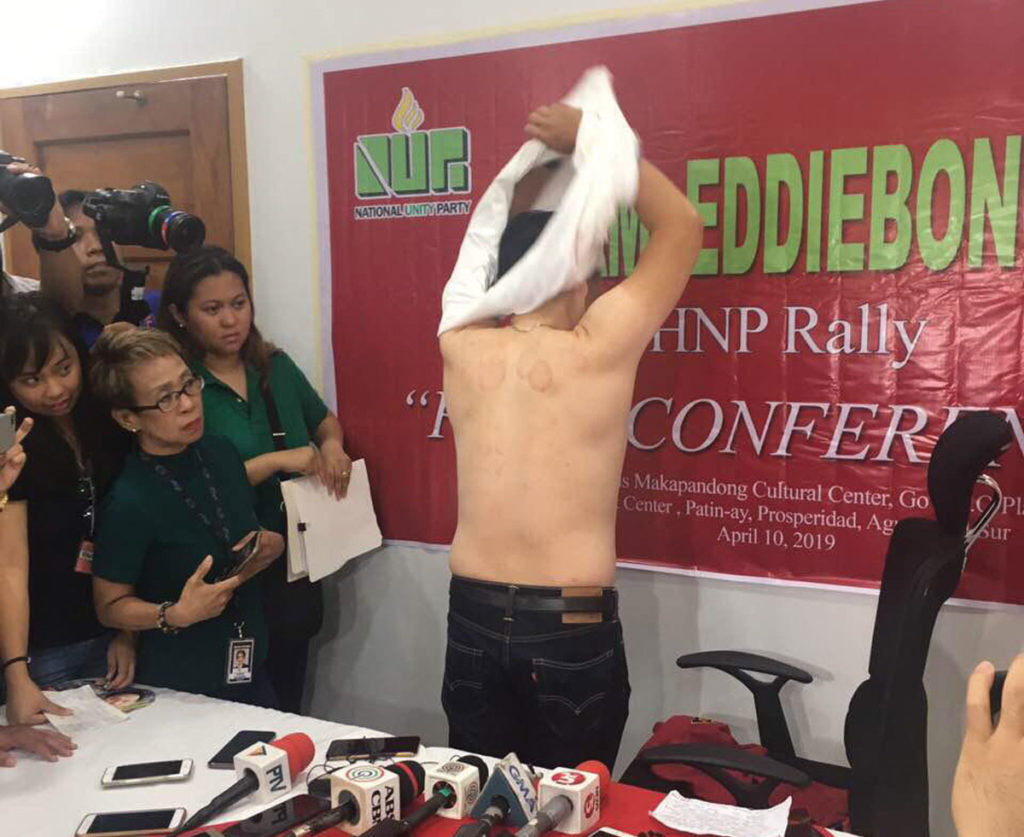 Davao City Mayor and presidential daughter Sara Duterte-Carpio on Tuesday, April 9, urged her brother Paolo, not to show the tattoo on his back unless a court issues an order mandating him to do so.
During a Hugpong ng Pagbabago (HNP) campaign sortie in Surigao, Duterte-Carpio told the reporters that she would not show her tattoos if she were in her brother's shoes because she has the constitutional right to refuse.
"Kung ako, 'di ko ipapakita yung tattoo ko kasi I have my right to privacy (If it were me, I would not show my tattoo because I have my right to privacy)," the Davao City mayor said as reported by The Philippine Star.
"Unless there is a case about my tattoo, kung sinasabi ng judge ipakita mo yang tattoo mo then that's the only time na magpapakita ako (Unless there is a case about my tattoo and if the judge ordered me to show my tattoo then that's the only time that I would show it)," she added.
This came after Senator Antonio Trillanes IV dared the former Davao City vice mayor to dismiss the accusations regarding the latter's involvement with the illegal drug trade in the country by showing the tattoo on his back.
According to the opposition senator, Paolo Duterte has a dragon-like tattoo on his back that marks his ties with a known drug-trafficking triad. The younger Duterte already admitted that he has a tattoo on his back but declined to show it by invoking his right to privacy.
Duterte clapped back at the opposition senator and his critics as he taunted them to get a tattoo for themselves instead of focusing on his body art.
"Pakialam gyud akong tattoo? Pabuhat mog inyo uy! (Really, pick on my tattoo? Have one yourselves)," Duterte said in a post on his Facebook account.
The presidential son said that he has not spent years for his tattoo, enduring cries and sweats of pain, only for critics to feast on.
"Are you out of your mind? No way, Trillilings," Duterte said as reported by The Philippine Daily Inquirer.
Locsin: Never accommodate enemies
Department of Foreign Affairs (DFA) Secretary Teodoro Locsin Jr. agreed with the president's daughter and advised the younger Duterte not to accommodate requests from the opposition so that they would not act "self-importantly."
"I won't even show our notes verbale regarding China, tattoo ko pa? Manigas na silang lahat (What more with my tattoo? It won't happen). It is a matter of honor never to accommodate enemies," Locsin said in a tweet.
A six-minute video documentary detailing Duterte's involvement in a drug syndicate circulated online last week. Duterte's camp claimed that political enemies were behind the release of the said video.