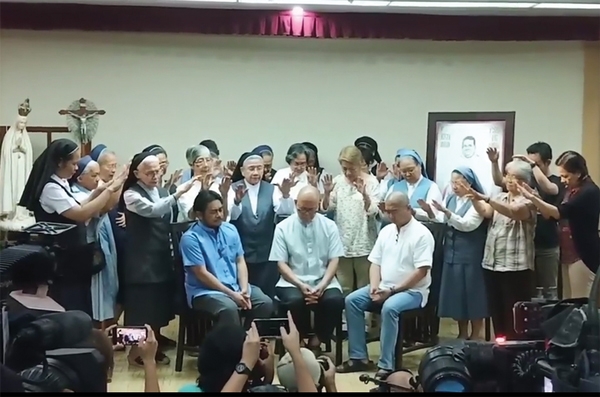 Priests remained firm in their criticism of the alleged extrajudicial killings in the Philippines as they shared the hateful messages they received from calling out the flaws in the government.
Three Catholic priests Father Flavie Villanueva, Father Robert Reyes and Father Albert Alejo on Monday, March 11, revealed a series of death threats they received following the verbal attacks of President Rodrigo Duterte towards the religious institution.
"Hindi pananahimik, kundi ang malinaw, mahinahon, at matapang na pamamahayag at paninindigan. Itigil na ang pananakot, itigil na ang pagpatay (Not silence, but the clear, sober, and courageous proclamation and conviction. Stop the threats, stop the killings)," they said.
In a press conference at the Saint Vincent School of Theology in Tandang Sora, Quezon City, the priests shared with the media the threatening messages they began to receive after Duterte's tirade against the church.
"Ang mga text na ito ay mga nakakatakot na banta na nagsimula sa matabila na dila mismo ng ating presidente dahil sa galit niya sa ating Simbahan (These text messages are scary threats that began with the loud mouth of our president because of his anger at our Church)," Reyes said.
Alejo, a Jesuit priest revealed that there were also unanswered calls before he received threatening messages. He noted that they too were scared but they continued on calling out the alleged state-sponsored killings in the Philippines.
"Aaminin ko po na lumabas po kami dahil may takot din kami. Nananawagan kami sa mga utak, sa mga ulo, sa mga pasimuno ng pagpatay, itigil na po natin 'yan. Itigil na ninyo ang mga nakawilihan ninyong negosyo (I admit we came out now because we are afraid. We appeal to the brains, the masterminds, the proponents of the killings, please stop it. Stop the livelihood you have been accustomed to)," Alejo said.
The Jesuit priest exposed the curse-filled and disturbing messages he received on a Sunday night, February 10.  
"P***g**a ka! Bilang ng araw mo animal ka. Di talaga kayu masabihan nila David anu. P***g**a talaga kayu. Magkano ba gusto nyu? P***g**a tala kayu. Pesteng yawa. P***g**a p***g**a nyu. Papatayin ko kayu (Son of a b****. Your days are numbered you animal. You and David don't really listen. Sons of b****es. How much do you want? Sons of b****es. Devil shit. Sons of a b****. I will kill you)," the text message stated as reported by Rappler.
One message even threatened Archbishop Socrates Villegas to prepare for his funeral as they warn him that his next mass would be on his death.
"Ihanda nyu na ang lugar na pagbuburolan ninyo. Dahil ang sunod na Misa, ay Misa na para sa kapayapaan ng kaluluwa nyu (Prepare now the place where your wake will be held, because your next Mass — is the Mass for the repose of your souls)."
Another message addressed to Bishop Ambo David on a Wednesday, February 13 was included in the threats they revealed.
"Masyado kayung pakielamero ni Socrates lalo na yung olopong nyung pari si Alejo at Reyes. P****g i*a talaga kayu. Pakialamero kayu (You and Socrates, and the snakes among your priests, Alejo and Reyes, love to meddle. You sons of a b****. You meddlesome people)."
In a speech on February 25, the president read aloud a text message from Manila Archbishop Cardinal Luis Antonio Tagle emphasizing the threats the religious leaders have been receiving.
"Good day po. Greetings from Rome. I was informed that Bishop David, some priests got death threats from someone claiming to be working for the President's family. Just to let you know, baka may naninira (someone might be trying to destroy your reputation). Thanks. We pray," Tagle reportedly said.
Presidential Spokesperson Salvador Panelo said that the text "could be coming from pranksters, or could be from anti-Duterte trolls" to put Duterte "in a bad light." He said these could also come "from personal enemies of the priests."
"Sending threats via text messages is the easiest and convenient thing to do, you can't trace the source," Panelo said.
However, critics believed that the chief executive's tirades emboldened such threats to surface.