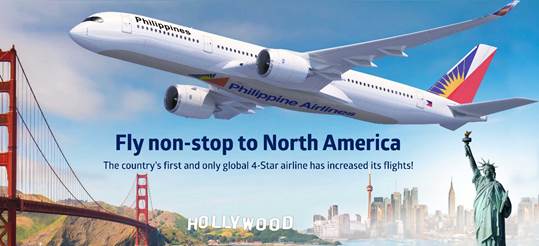 MANILA  – Visiting North America wasn't as easy as it is now. Back then, traveling to the continent meant going through a series of connecting flights flying over 28 hours just to get there. But nowadays, visiting the other side of the globe is faster and easier with Philippine Airlines! Only PAL can fly you straight to New York, Toronto, San Francisco, Los Angeles, Honolulu, and Vancouver. But what does this mean for the average traveler?
Nonstop flights mean non-stop fun. Gone are the days when you had to endure the hassles of connecting flights. Say goodbye to plane transfers and waiting at the airport. Flying straight to your destination with PAL cuts your travel time in half, giving you more time to explore your destination. Imagine leaving Manila at 11 am and arriving in LA at 8 am. That's just like having a good night's sleep! You can have brunch at the famous Republique Bistro and have more time to spare to explore the City of Stars.
Long-haul flights don't feel as long. Feel the difference when you fly with the country's only 4-Star airline. Enjoy your long-haul flight with scrumptious complimentary inflight meals, bust boredom with your own inflight entertainment system, and experience the amazing heartfelt service only PAL can provide. This way, you'll arrive at your destination refreshed and ready to take on the adventures that await you!
Discover the Great North. Traveling to North America is a must-do for any vacationer. The continent is filled with cultural diversity, amazing cuisine, and one-of-a-kind sceneries. With PAL's large network, you can easily fly non-stop to the wonderful destinations the North has to offer! Take a selfie with the famous Hollywood sign in LA, eat delicious seafood at Fisherman's Wharf in downtown San Francisco, attend a luau in Honolulu, watch a Broadway play in New York, make friends with the locals in Toronto, or go skiing in Vancouver! Traveling there will definitely be worth the trip.
The wonders of the North are yours for the taking. Enjoy increased non-stop flights to New York, Toronto, and San Francisco starting March 31, 2019, Los Angeles on May 16, 2019, Honolulu on October 28, 2019, and Vancouver on October 28, 2019! When it comes to traveling to North America, only Philippine Airlines can fly you non-stop to your greatest getaway yet.
For more information on Philippine Airlines, visit ‪www.philippineairlines.com, or follow its Facebook page (‪Facebook.com/flyPAL), Twitter (@flyPAL) and Instagram (@flyPAL).
–
About Philippine Airlines
Philippine Airlines (PAL) is the national flag carrier of the Philippines, proud to be the first and longest-serving airline in Asia under its original name since being founded in 1941. Philippine Airlines is a full-service scheduled airline whose fleet of 85 aircraft operate flights to 33 destinations in the Philippines and 40 international destinations in the United States, Australia, Canada, the United Kingdom, the Middle East, New Zealand and all over Asia. It also serves an additional 41 destinations through code share alliances with partner airlines. Philippine Airlines recently received a 4-Star global airline rating from Skytrax, the international air transport rating organization, having proven excellence and commitment to world-class standards across Skytrax's global metrics that measure product and service quality.