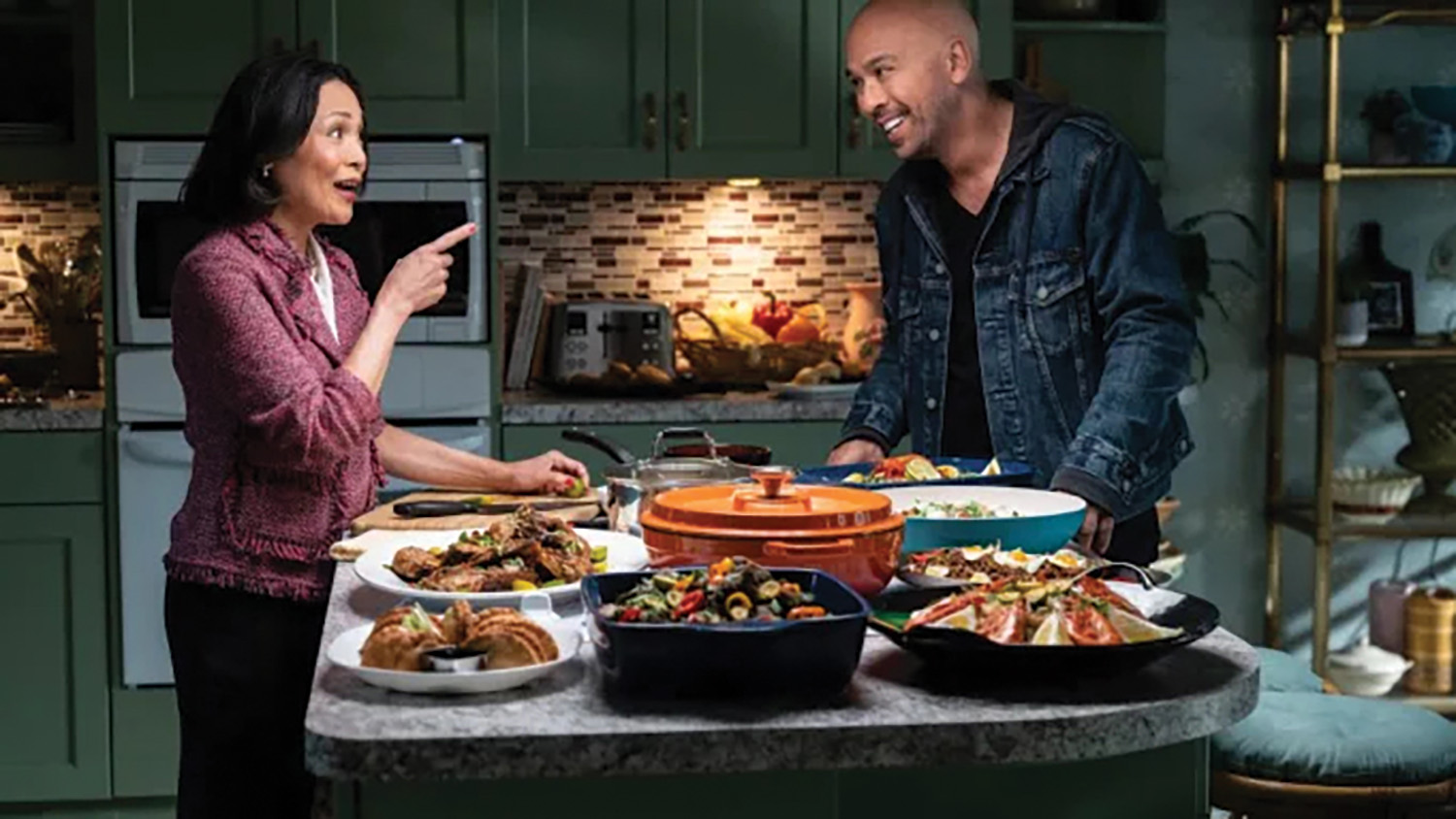 Despite a less-than-ideal weekend opening, the actors of Easter Sunday celebrate the largest Filipino-centric summer comedy
LAST weekend, the highly anticipated comedy "Easter Sunday" premiered in theaters across the world and, on its surface, it was a groundbreaking moment.
The film stars Filipino American comic Jo Koy, and for months, has been drumming up high expectations as reportedly the first major summer blockbuster starring a majority-Filipino cast.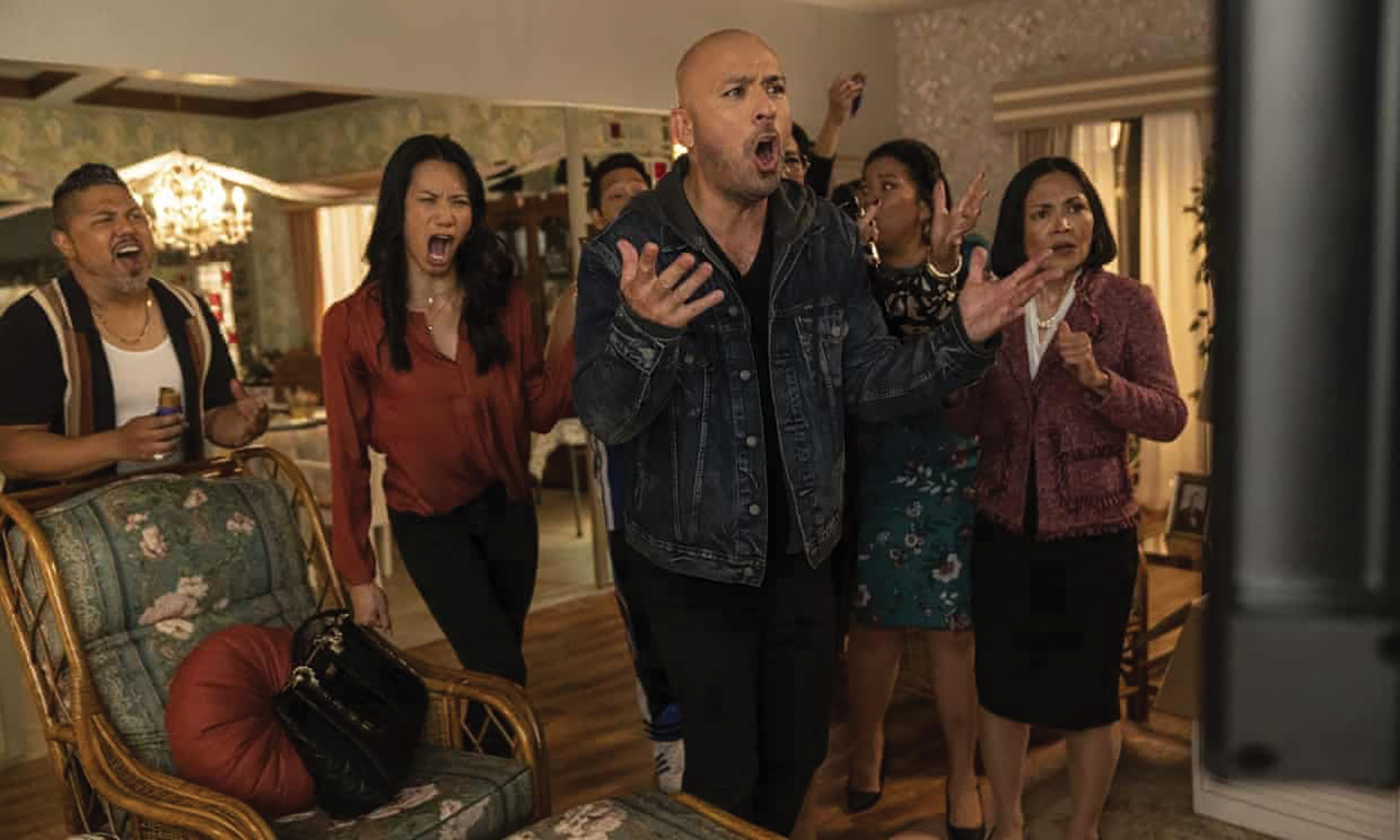 Despite the groundbreaking moment of showing one of the largest Asian American groups on screen, the film's opening weekend gross was $5.3 million, earning eighth place on domestic box office charts.
The film follows Joe Valencia (Koy), a hapless stand-up comic and divorced father who goes back home to Daly City to spend Easter with his family. Joe is largely based on Koy himself, and as the film opens, he's in the process of locking a role on a TV pilot.
And he's basically got the job — but the studio wants him to adopt a Filipino accent, similar to the one that Joe (and the real-life Koy) adopts in his stand-up sets when he emulates his mother.
The film takes twists and turns centered around Joe's haphazard life: he's got a teenage son (Brandon Wardell) who chafes at his father's constant phone calls and appointments with his agent. A somewhat strained relationship with his mother, Susan (Lydia Gaston), who is fueding with her sister Theresa (Tia Carrere), provides the emotional nucleus of the film.
Other Filipinos in the cast include Lou Diamond Phillips, Eva Noblezada, Eugene Cordero, Elena Juatco, and Rodney To. As a Filipino seeing in the film in the theater, at first, the onslaught of Filipinos on the screen can feel like a huge win for the community.
But for the actors themselves, being around a bunch of other Filipino actors on set of a major film felt like a long-overdue achievement.
"It felt like coming home," Carrere told the Asian Journal at a press junket for "Easter Sunday."
Carrere, who has been a working actor since the 1990s, added, "It felt so comfortable and we just had that camaraderie right off the bat, and we're joking back and forth. Usually with a cast, it takes a while to find your rhythm, but I don't think we had that problem."
The last few years in show business have shown, among other breakthroughs, that Asian Americans are storming toward the forefront of mainstream cinema.
Hollywood, in particular, is experiencing a seismic shift of increased diversity wherein audiences are calling epresentation of traditionally ignored communities has become a major priority among actors, filmmakers, and of course, studio executives, who are seeking to capitalize on the demand.
If one's metric for how good a film is is purely based on how many Filipinos appear on screen, "Easter Sunday" deserves roses.
It is a win for the Filipino who merely wants to see themselves portrayed on the big screen. But unprecedented Filipino representation aside, the film leaves more wanting in being a substantial film that celebrates the intricacies of Filipino identity.
"Easter Sunday" — a product of Universal and Steven Spielberg's Amblin Entertainment — is directed by Jay Chandrasekar (of "Super Troopers" fame), written by Ken Cheng and Kate Angelo, produced by Dan Lin and Jonathan Eirich.
None of these individuals, despite their merits, are of Filipino descent, making it all the more difficult to celebrate superficial representation in a film that rehashes tired stereotypical jokes and stale schtick at the expense of Filipinos everywhere, but especially immigrants.
The irony of "Easter Sunday" lies in the sub-plot of Joe refusing to do a Filipino accent for the audition he's trying to nail. He argues that when he mimics a tita accent during his stand-up, he's doing his mom. But that argument feels thin: so he's willing to get on stage to do an exaggerated accent in a comedy club but he won't do it for television?
This is the center of what makes Koy's comedy in general feel extremely outdated, and what colors much of "Easter Sunday" and the subgenre of "tita humor."
Throughout his career, Koy's signature was caricatures of his real-life Filipina mother, using as a punchline, her vocabulary, her hyper-resourcefulness, and, of course, her accent.
Neither Carrere nor Gaston, who play the titas in this film, have naturally Filipino accents. (Gaston was born in New York City and boasts an extensive musical theatre background and Carrere was born in Hawaii.) Both told the Asian Journal that their accents for the film were inspired by Filipinas and titas in their personal lives, and the result was two performances that perfectly encapsulate tita humor.
"Tita humor" is primarily a caricature of a theatrically neurotic Filipina mom or auntie with a comically thick accent who is, above all else, loud and often petty. Throughout the years, "tita humor" has made its way on social media with content creators like Jeppy Paraiso and even Oscar-winning musician H.E.R. impersonating a stereotypical tita.
Generally, there isn't anything inherently wrong with playfully impersonating your auntie. But when tita humor becomes a major plot device for a global audience, and when that film is being heavily marketed as a "Filipina American film," that's when it gets problematic.
And it shouldn't be the extent of Filipino American comic relief, and for years, it's almost the only thing that Koy and so many other comics have ever offered. Meaningful representation should be rooted, first and foremost, specificity in character and narrative.
"Easter Sunday" went in guns blazing with as many Filipino and Filipino American tropes, caricatures, and references as it could fit within a 96-minute window that lacked any kind of imagination. Aside from the socially problematic implications therein, it is wildly and astoundingly unfunny.
The characters that Gaston and Carrere played felt like two-dimensional imaginations of the stereotypical tita wearing a duster, pointing with her lips, and yelling at her kids. Sure, it may be amusing for a tight five at The Laugh Factory, but not as a primary comedic vehicle in a summer blockbuster.
Among the barrage of screenplay and acting choices, Noblezada — a Tony Award-nominated actor who previously turned out a stellar cinematic performance in the film "Yellow Rose" — shines as a manic pixie dream girl character who helps Joe and his family thwart the threats of a local gangster (yes, that is really a sub-plot in this film). Comedy stalwarts Tiffany Haddish and Jimmy O. Yang made cameos that were among the few enjoyable parts of the film.
Representation should not just be about be filling a quota, whether it's measuring how many Filipinos are on the cast list, how many Asian-led films are being released, or any other half-baked attempt to attract crowds seeking diverse entertainment.
Like with "Easter Sunday," it's difficult celebrate its profundity of a majority-Filipino cast when it's severely and frustratingly undermined by a thin premise and shoddy storytelling.
At the end of the day, the film feels less like an honest story that honors Filipino-centric character and narrative with intention and more of a shallow attempt to placate calls for diversity.
But the very fact that this movie exists is a sign that the industry is willing to give Filipino stories a chance and to make way for better, more thoughtful storytelling from the Filipino community.