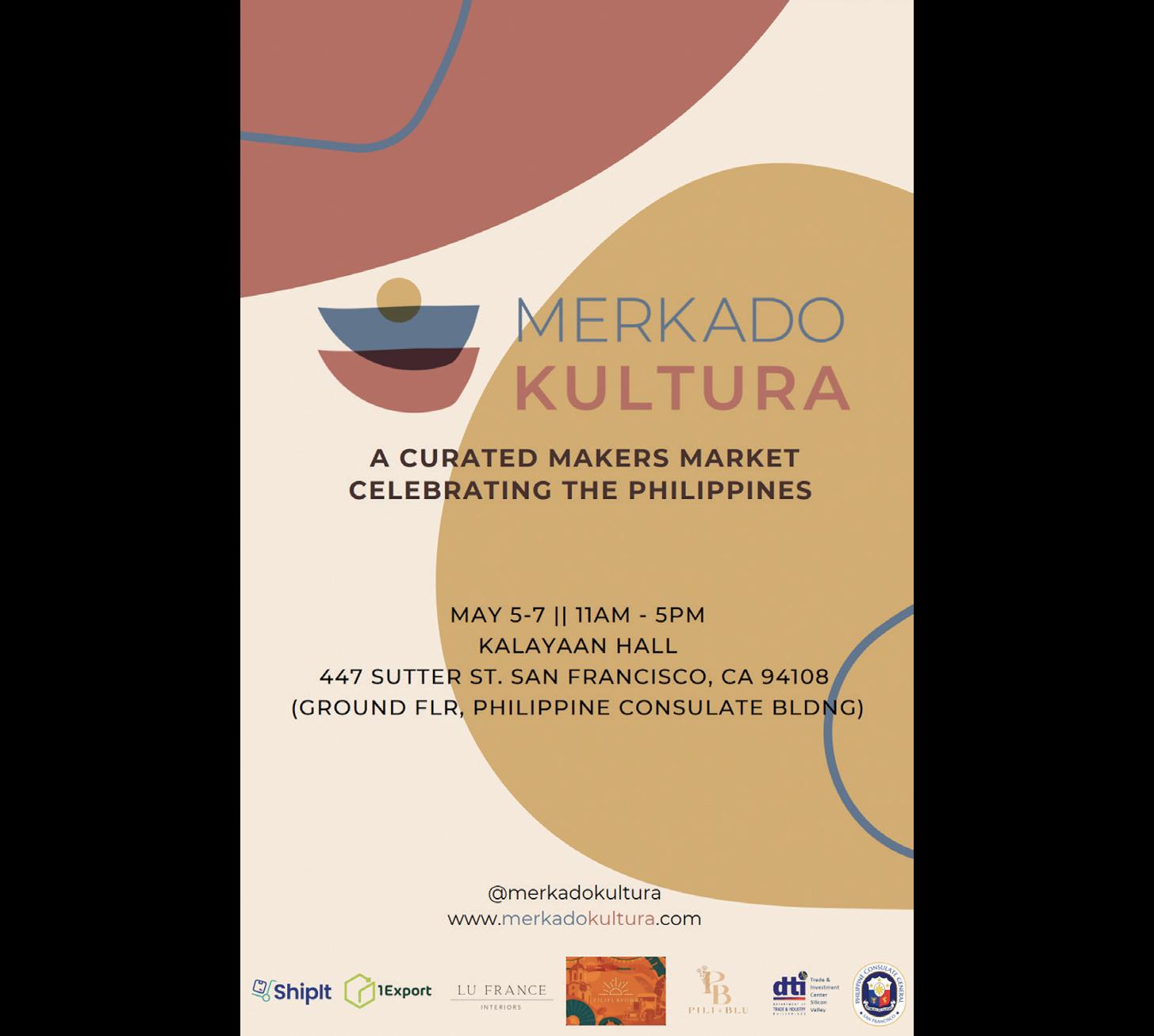 A UNIQUE pop-up will take place at the Kalayaan Center in the Philippine Center Building (447 Sutter Street) in San Francisco on May 5-7 called Merkado Kultura.
From home décor to lifestyle brands to clothing and accessories as well as Philippine inspired food brands, there will be more than 20 vendors in total from the Philippines and the United States who will participate in this pop-up.
Among the companies who are expected to show their wares and products at the Merkado Kultura are Angkan, Anthill, Bago, Bagong Barkada, Chunky Butt Ice Cream, Filiflavors, Gaenz, Hara, Hulma, Kokak Chocolates, Kubo California, La Kalidad, Lacson Ravello, Lu France Interiors, Mackbox Desserts, Malngkat, Narra, Narra Studio, Oodaalolly, Pampasaya, Pili and Blu, Sarap Now, Sewn Sandals, Studio Zedsie, Stuyle Ana, and Ube Galore Breads & More.
The Merkado Cultura pop-up is curated by Lu France Interiors in San Diego, and organized together with ShipIt and 1Export in the Philippines, Filiflavors and Pili & Blu in San Francisco, and in partnership with the Philippine Consulate General in San Francisco and the Philippine Trade Investment Center-Silicon Valley. discovering
Organizers France, Mel, and Bianca grew up in the Philippines, frequenting local curated bazaars and markets – something that they have aimed to bring to the U.S. Working with artisan communities and small businesses, their aim is to highlight and amplify the amazing skills, artistry, and talents of Filipino makers, connecting them to an audience beyond Filipino communities.
Together with Filipino American owned brands in the U.S., Merkado Kultura hopes to be a way for discovering Philippine-based and U.S.-based brands that celebrate all things Philippines – its culture, traditions, food, and products through handcrafted, artisanal, and sustainably made pieces, one city at a time.
The first Merkado Kultura took place in October of 2022.
For more information about Merkado Kultura, visit the website at www.merkadokultura. com. Inquiries can be sent via email to [email protected]. Follow Merkado Kultura on Instagram: @merkadokultura.