"Crazy Rich Asians" star Nora Lum, also known as Awkwafina, debuted her new film "The Farewell" at the Sundance Film Festival this past January.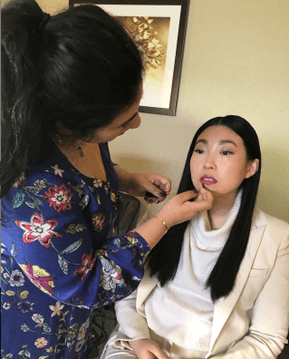 Kirin Bhatty, Awkwafina's makeup artist, created a fresh and minimal look with a pop of color for the weekend in the snow.
She kept her skin radiant with Shiseido skincare. Using Shiseido's newly relaunched makeup collection, Awkwafina looked fresh for all her appearances.
Shiseido is set to launch the new Controlled Chaos Mascara which comes in four colors; Black Pulse, Sapphire Spark, Violet Vibe, and Emerald Energy.  These mascaras are set to launch in March 2019.
Q: Nora wore little to no makeup in "The Farewell." What have you made a point to emphasize in her looks at Sundance in order to separate the two?
Kirin: Sundance is a time to celebrate the films you've worked so hard on. I felt inspired by the celebratory mood in the air and went for a touch of subtle shimmer on the way paired with beautifully coated lashes.
Q: How do you prep Nora's skin?
K: At Sundance, I actually used the Shiseido Future Solution LX Total Regenerating Cream for the whole day because the conditions are so tough. This cream is hydrating and protective which kept her skin looking glowy and fresh throughout the entire festival.
Q: What is your vision of a fresh day look?
K: For me, a fresh day look is a blend of simplicity with something special to set you apart. I love keeping skin simple but then going for an inky, fluttery lash as a nice juxtaposition. The new Shiseido ControlledChaos MascaraInk launches in March and gives the perfect lash for a fresh, day look.
Q: Any tips on how we can recreate the look, with a subtle, everyday take on it?
K: I love buildable beauty – so start light because you can always add more. Also, when using the Shiseido Aura Dew as a highlighter on the eyes, I apply with my fingers to the center of the lid to create dimension and depth. Finish with 2 generous coats of the new ControlledChaos MascaraInk (launching in March!) and you have a classic look paired with a subtle shimmer to really bring your look to life.
Q: What's your personal makeup philosophy, & how does Shiseido fit in with that?
K: I'm all about enhancing what you have, not recreating it. Shiseido is right on par with that as the products all have buildable capability and beautiful textures. Shiseido makes it really easy for you to start with sheer beauty and build until you find the drama you are looking for.
Kirin shares a step-by-step guide to Awkwafina's Sundance look
Prep skin – I massaged Shiseido Future Solution LX Total Regenerating Cream on to freshly cleansed skin.
Foundation – With a damp sponge, I took the Synchro Skin Glow in Neutral 2 and blended into the skin for a soft, sheer luminous finish.
Concealer– I then took the Perfecting Stick Concealer in light 11 and natural light 22 to spot treat and also brighten the undereye area.
Brows – I lightly penciled in using Brow Ink Trio in deep brown then brushed the product through and up to create full,natural-looking brows.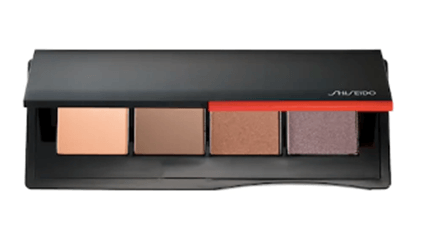 Eyes – I used the Essentialist Eye Palette in Kotto Street Vintage. I took the lighter two shades in the palette to create a soft wash over the entire lid. Then taking the bronzey shade, I defined her eye crease. Finally, I took the Kajal Ink Liner pencil in Tea House and pushed it along the lash line and slightly flicked it out at each end of her eye to create a soft wing. I then dipped back into the Kotto Street Vintage palette into the darkest shade and used it to go over the line I just drew with the liner. This helped define the soft wing a touch more and also added dimension. I then took the Aura Dew in rose gold and tapped this onto the center of the lid with my finger to add a hint of shimmer.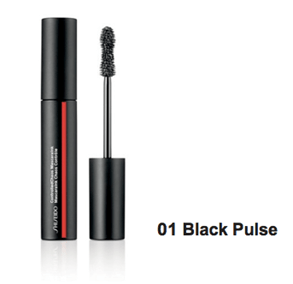 Mascara – I then curled her lashes and applied two generous coats of ControlledChaos Mascara in Black Pulse. I optimized this application and coated every lash by wiggling the brush from root to tip in order to get maximum product coverage on every single lash!
Cheeks – with my fingertips I blended a tiny bit of the Minimalist WhippedPowder Blush in Sonoya and applied to the apples of the cheeks and blended upward toward the hairline. I then took the inner glow cheek powder in floating rose and went over where I put the cream blush to add an additional texture and heighten the color.
Highlight – Taking Aura Dew in Solar I lightly tapped and blended this on to the high points of the face including the orbital bones and the bridge of the nose to add a touch of sheen and glow.
Lips – I took the VisionAIRY Gel Lipstick in rose muse and applied it onto the lips, then diffused the color a bit with my fingers. I added a touch of the Lacquer Lip Shine in Optic Rose to the center of the pout to add a touch of shine and boost moisture.