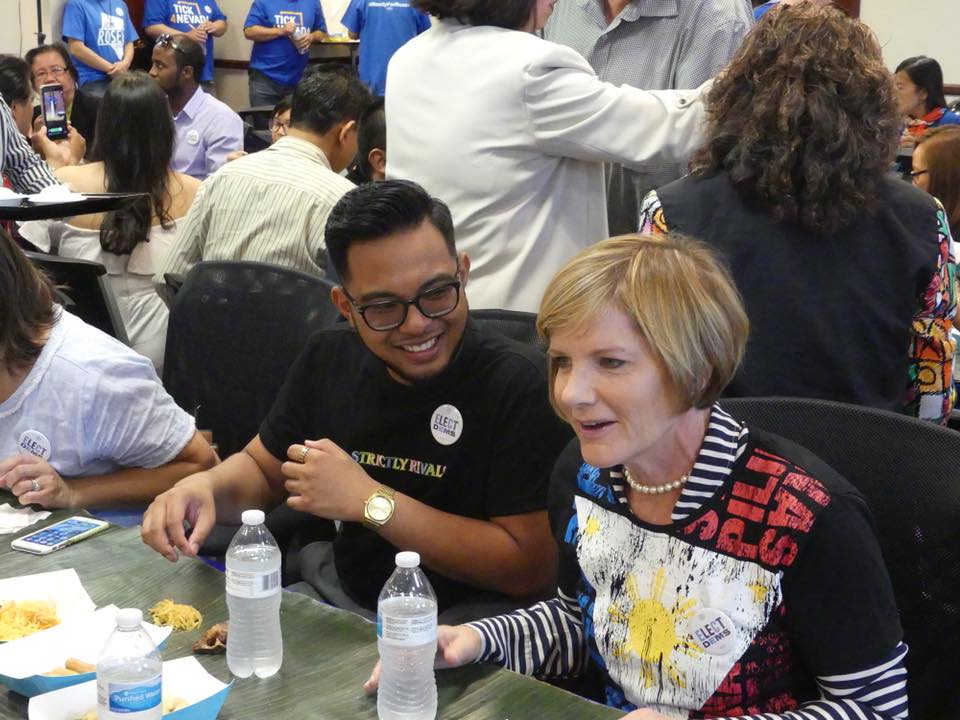 By Angelyn Tabalba, President, AAPI Democratic Caucus of Southern Nevada
It has been a long two years for Southern Nevada. While COVID-19 relentlessly afflicted our communities, we saw our biggest industries shut down, our small businesses struggle to stay afloat, and an unprecedented spike in employment in the heart of the entertainment capital of the world. The combination of all of these factors was devastating for Las Vegas' Asian American and Pacific Islander (AAPI) community, but there was another layer to our struggles that made the pandemic even more harmful.
AAPIs across the nation endured increased hate and violence during the COVID-19 pandemic. According to Stop AAPI Hate's latest report, 10,905 incidents against AAPI persons were reported from March 2020 to December 2021, noting verbal harassment as the biggest share of total incidents and a majority of incidents reported by women.
These challenging moments and painful experiences emphasize even further that we need allies in Congress who will work overtime to protect our communities. That's why we are fortunate to have a staunch advocate in Congress who has been fighting for our AAPI community for the past three years: Congresswoman Susie Lee.
When the pandemic hit, Congresswoman Lee acted quickly to bring Democrats and Republicans together to pass the CARES Act and secure critical funding for our small businesses, including the 21,000 Asian-owned small businesses that call Nevada home, and send direct relief to our working families. Thanks to Congresswoman Lee's swift and decisive action, over 10,000 small businesses were able to keep their doors open and over 100,000 Nevadans kept their employment in Nevada's Third District.
She didn't stop there. As COVID-19 continued to ravage our community, she helped send the American Rescue Plan to President Biden's desk, which stimulated our travel and tourism industry, boosted vaccine distribution—including the Asian Community Development Council's distribution efforts—expanded Affordable Care Act premium subsidies, and more—all to get southern Nevadans back to work, send our children back to school, and allow our businesses to prosper.
Congresswoman Lee not only delivered for us economically, but also stood in solidarity with the AAPI community as we fought back against anti-Asian hate amidst the pandemic and beyond. She co-sponsored the bipartisan COVID-19 Hate Crimes Act to strengthen the nation's response to hate crimes, as well as Congresswoman Grace Meng's resolution condemning all forms of anti-Asian sentiment as related to COVID-19. There is no doubt that as we continue to recover, Congresswoman Lee will continue to keep our community at the forefront.
The proof is in her actions, which demonstrate that she is working day in and day out to ensure that our families thrive in the long term.
As part of the Problem Solvers Caucus, she played a critical role in negotiating the Infrastructure Investment and Jobs Act to set the Silver State on a path toward a clean energy future and target workforce development opportunities in underserved communities to advance environmental justice. The Infrastructure Investment and Jobs Act also included her water recycling bill, which will fund vital projects to secure access to safe, clean water for our future generations. Her proactiveness to mitigate the effects of the climate crisis will yield dividends in our state for years to come.
Congresswoman Lee is the fighter that our AAPI community and all Southern Nevadans need in Washington. Now more than ever, we need lawmakers who will reach across the aisle to deliver on sensible solutions to our most important issues. We must band together to re-elect Congresswoman Lee and do all that we can to help her as she continues to build a brighter future for Nevada's Third District.
* * *
The opinions, beliefs and viewpoints expressed by the author do not necessarily reflect the opinions, beliefs and viewpoints of the Asian Journal, its management, editorial board and staff.