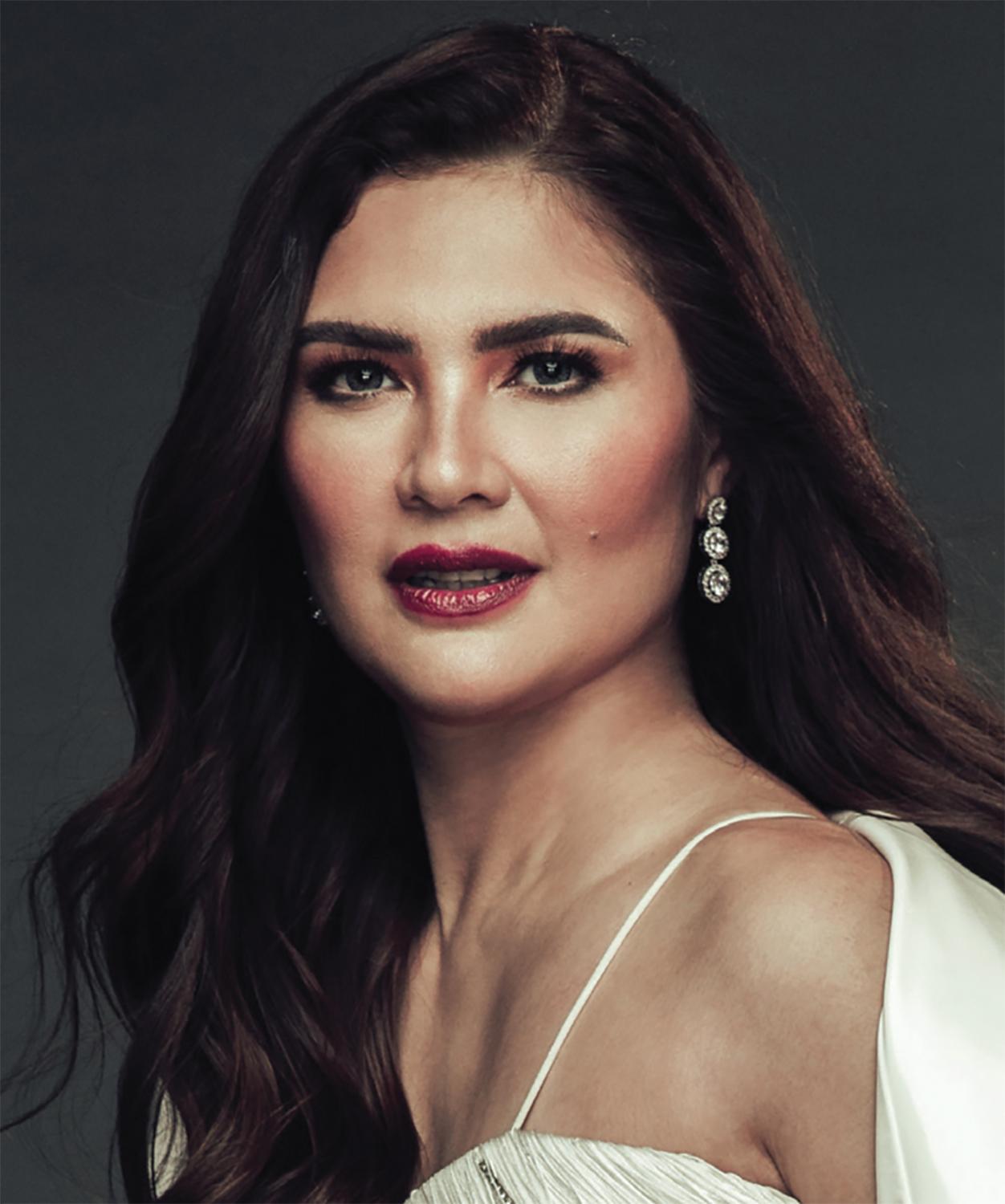 The producers of Here Lies Love, the groundbreaking musical from David Byrne and Fatboy Slim, are pleased to announce the upcoming Broadway debut of popular Filipino actress Vina Morales, who will join the show performing as "Aurora Aquino" for a limited guest engagement from Friday, September 22 – Sunday, October 22 at the Broadway Theatre (1681 Broadway at 53rd Street).
Morales steps into the role following Lea Salonga's final performance as "Aurora Aquino" on Saturday, August 19 at 3:30pm. Salonga remains a key member of the show's co-producing team. Cast member Reanne Acasio steps back in as the full-time "Aurora Aquino" in the interim.
As previously announced, Here Lies Love is committed to featuring various guest stars from the Philippines in the role of "Aurora Aquino," showcasing the country's abundance of talent. This production marked the first time Salonga played a Filipino role on the Broadway stage.
Lea Salonga said, "I am so excited to share the news that my friend Vina Morales will be joining our fabulous all-Filipino company in Here Lies Love! So talented and lovely, but most of all, so kind. She will be a wonderful addition to our cast!"
Vina Morales said, "To be able to perform on Broadway is a dream come true for any artist! I am grateful to 'Coach Lea' Salonga for guiding me along the way. You're the best, Lea! =) I am excited to be part of the Here Lies Love family and I can't wait to perform for all of you!"
Alex Timbers said, "David Byrne and I were first introduced to Vina's extraordinary talents over ten years ago in Manila, when we were casting Here Lies Love's National Theatre production. It's an exciting, full-circle moment to have her join us now on Broadway; and an honor to introduce her, in this show-stopping role, to our incredible audiences."
Morales is a multi-talented and awarded artist, who started her career at the age of 8. She has done more than 40 films and primetime soap operas. She has released 14 albums, done concerts worldwide and has performed with David Pomeranz and Jim Brickman. She is an IKON Asean Champion and was the first Filipino to perform in the NY Music Festival. She played Sherrie in Atlantis Productions' local adaptation of Rock of Ages.
Here Lies Love began previews Saturday, June 17 and opened to rave reviews on Thursday, July 20, 2023.
From David Byrne Academy Award®, Grammy® Award, and Tony Award® winner) and Fatboy Slim (Grammy Award winner), Here Lies Love is "a truly fabulous piece of visual theater with a soundscape more beautiful, more exciting and more surprising than any score on Broadway" (Chicago Tribune). This revolutionary new musical about former Filipina First Lady Imelda Marcos' astonishing rise to power and subsequent fall at the hands of the Philippine People Power Revolution, has been hailed as "a political chiller that's also a red-hot adrenaline rush" (Ben Brantley) "that makes you believe you could dance all night" (The Washington Post).
Developed and directed by Alex Timbers (Tony Award winner) and choreographed by Annie-B Parson (Olivier Award nominee), Here Lies Love is a "roof-raising, disco-infused extravaganza that turns the theatre into a dance floor with thrilling results" (The Guardian). Following sold-out, critically acclaimed runs at The Public Theater, London's National Theatre, and Seattle Rep, "Here Lies love is the most entertaining new show on Broadway right now" (ABC7). Ticket buyers can experience this "undeniably enjoyable show" (New York Post) in two ways: seated or standing immersed within the action.
The show features the first all-Filipino cast to perform on Broadway: Arielle Jacobs (In The Heights, Aladdin, Between The Lines) as "Imelda Marcos," Jose Llana (The King and I, The 25th Annual Putnam Country Spelling Bee) as "Ferdinand Marcos," Conrad Ricamora ("How to Get Away with Murder," The King and I, Soft Power – Grammy nominations) as "Ninoy Aquino," Aaron J. Albano, Melody Butiu, Moses Villarama, Jasmine Forsberg, Reanne Acasio, Jaygee Macapugay, Julia Abueva, Renée Albulario, Aaron Alcaraz, Carol Angeli, Nathan Angelo, Kristina Doucette, Roy Flores, Timothy Matthew Flores, Sarah Kay, Jeigh Madjus, Aaron "AJ" Mercado, Geena Quintos, Shea Renne, Angelo Soriano, and Danielle Troiano.
The creative team for Here Lies Love on Broadway includes three-time Tony Award® nominee David Korins (scenic design), Tony Award® winner Clint Ramos (costume design), Tony Award® winner Justin Townsend (lighting design), M.L. Dogg & Cody Spencer (sound design), and three-time Tony Award® nominee Peter Nigrini (projection design), with casting by Tara Rubin CSA, Xavier Rubiano CSA, Gail Quintos and general management by Foresight Theatrical. Additional creative team members include ATW Jonathan Larson Grant recipient J. Oconer Navarro (music director), Billy Bustamante (assistant director), Renée Albulario (assistant choreographer), Bobby Garcia (casting consultant/Philippines), Gregory T. Livoti (production stage manager), and Ryan Gohsman and Sheryl Polancos (assistant stage managers). Giselle "G" Töngi is the show's Cultural and Community Liaison.
Here Lies Love is produced by Hal Luftig/Kevin Connor, Patrick Catullo, Clint Ramos, Jose Antonio Vargas, and Diana DiMenna and Plate Spinner Productions, with Aaron Lustbader serving as Executive Producer.
They are joined by Lea Salonga, H.E.R., Jo Koy, Apl.de.Ap/Tala Creative Live, Rob Laqui, Giselle "G" Töngi, Adam Hyndman, Eva LaBadie, Georgina Pazcoguin, Marikit Ventures/Miranda Gohh, DJ CherishTheLuv/Garcia At Rodis, Don Michael H. Mendoza/Lora Nicholas Olaes, Celia Kaleialoha Kenney/Jeremiah Abraham, No Guarantees, Yasuhiro Kawana, Elise K. Haas, Len Blavatnik, Warner Music Entertainment, Shira Friedman, James L. Nederlander/Independent Presenters Network, LaChanze, Wendy Federman/Suzanne Niedland, Katler-Solomon/Charlotte Cohn, Cathy Dantchik, Elizabeth Armstrong, John Gore Organization, The Shubert Organization, Hunter Arnold, Creative Partners Productions, Eastern Standard Time, Global Creatures, The Public Theater, Triptyk Studios, Iris Smith, Michael Robin Productions/Anastasia Muravyeva, Alexi Melvin/Beesham A. Seecharan, Andrew Diamond/Patrick Trettenero, Buzzy Geduld/Gilad Rogowsky, Craig Balsam/David Brendel, Sok Sabai Productions/Ride or Die Productions, Marco Santarelli/Das Ellman & Howe, Linden Delaney/Smigelrutter Fitviavi, and Laura Ivey/Janet Brenner.
Tickets are on sale now at Telecharge.com, by phone at 212-239-6200, or at the Broadway Theatre box office.
For information on groups of 10+, contact Broadway Inbound at broadwayinbound.com or call 866-302-0995.
Rush tickets are available in-person at the Broadway Theatre box office on the day of the performance for $35 each. Tickets are limited to a maximum of 2 per person and are subject to availability.
Digital lottery entrants can register for the chance to purchase up to 2 tickets at $39 each. Entries for the Here Lies Love digital lottery start at 12 AM, one day before the performance, and winners are drawn the same day at 10 AM and 3 PM. Visit rush.telecharge.com for more information and to register. Drawings only appear when they are open for entries. n