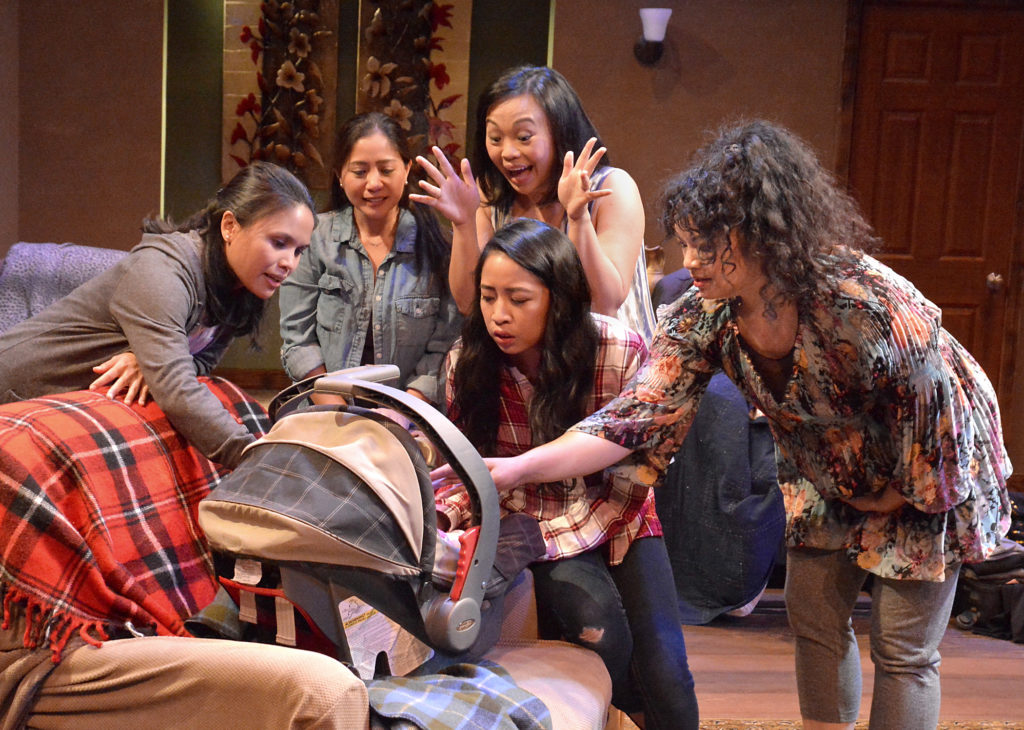 "THE man who is 'fighting for his rights' is working in the wrong way. The only way to be sure that we get our 'rights' in life is, to 'plug in' and let the divine activity of light and love express through us to do things in the right and perfect way at the right and perfect time. The artist, the composer, the scientist, the researcher – all demonstrate this attitude of meekness toward the law, toward the inner source of ideas. Einstein said that great ideas came to him after he had relaxed and ceased from the strenuous stretch for his objective. The meek or receptive mind invites God-ideas. The meek consciousness is not self-centered. It is God-centered. It is humble in the recognition of human limitations but confident in the conviction of divine resources. And it is not afraid of public opinion nor of resistance – not even of failure. Because success to this person is not a matter of public-acceptance but of God-acceptance." – Eric Butterworth, "The Amazing 'Be' Attitudes" in "Discover the Power Within You," 1989.
Light within and from the audience
There is a certain confidence displayed by the all Filipino-American cast of "America Adjacent" at the Skylight Theater in Los Feliz, as well as by the play's director and playwright. It is as if they are bound by an invisible spiritual linkage that "all are enough," and a high level of respect and a warm welcome are the codes of conduct.
It is perhaps why I am quite relaxed in watching a play directed by Jon Lawrence Rivera and written by playwright Boni B. Alvarez. I expect excellence and I usually get that from their plays.
There is no pretension in staging, there is no anxiety in the pacing of the play, there is simply a stage made fertile by the countless hours of preparation and theatre experiences that when and if conflicts ensue as part of the scenes, the exchanges and tones evolve naturally and without screaming from nowhere.
On preview night as another evening that I went, scene changes progressed organically from one to the other, by this well-prepared cast. There was a natural rhythm to their stage movements. You don't get annoyed from a disconnect of characters or from ill-timed props removal, just when an audience is just getting engaged in the characters.
In fact, one evening, a blackout occurred in the middle of the play and said power failure would take hours for DWP to repair, that the management offered a refund for another show. Surprisingly,  the audience, eager for the ending, offered to light up the stage with their cellphones. How about that for a true dramatic collaboration? Would you not give it your all under those circumstances?
Could it be also from Rivera's skillful direction, as much as the dialogue credibly developed by Alvarez, the playwright, who stays true to discovering his Filipino community's sensibilities as well as his own craft of writing?
There is a sweetness and charm to their personalities that even though accolades are given, they accept them with smiles and a demurrer from Boni at times who confides that he "does not feel" that success.  Even as we were taking photos at the end of the play, we had to coax Boni who was hiding in the back to join us.
Maybe it is that constant self-critique that keeps this duo moving forward such that may their last play be the measure of excellence and the next one to echo that level of quality and even exceed it.
Tackling issues onstage
Of the play's inspirations, Alvarez wrote, "I read an article about a birthing house filled with expectant Chinese mothers in San Gabriel Valley that had been raided. Neighbors complained of excessive trash and reported heavy traffic in and out of the house. The authorities investigated and the landlords were fined and cited. The women who were still able to fly were quickly deported, while others were detained. In 'America Adjacent,' I have adapted the women to be Filipino."
In "America Adjacent," the women are not poor, they paid thousands of dollars to come to the U.S. to stay in a cramped apartment, whose living room was converted to have four lazy-boy recliners as sleeping spaces until these women give birth to their babies.
"I wanted to know who these women are who made this journey and what they risk to birth American babies," Alvarez wrote.
At least the stage presents a bit of comfort, though it still feels like the pregnant mothers are on house arrest, prevented by the administrator from discovering the neighborhood, as she confiscated their passports and cellphones.
Can you imagine solitary confinement, even if with five other women? Does it not feel like they are without freedom and yet the irony is that all these expectant women came to give their children "everything for their future consideration?"
What a beautiful line in the dialogue which captures the essence of what it is to be an American vs. what it was in their homeland – familiar, comfortable, but confined to one's economic class status.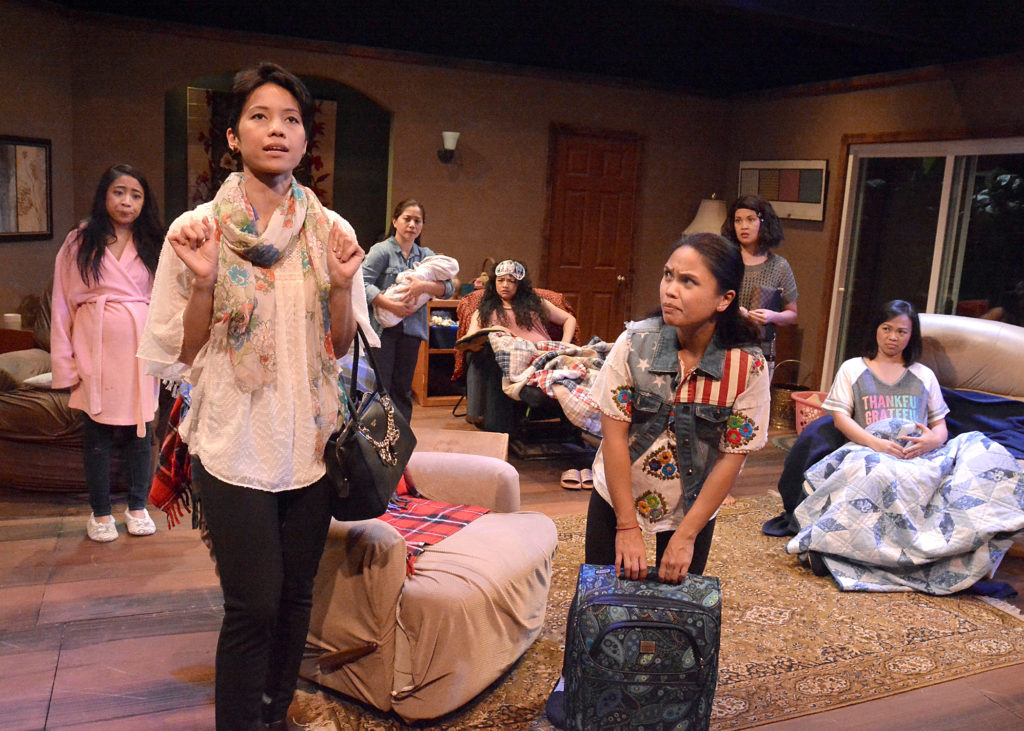 "America Adjacent" involves a cast of actresses honed in theater: Evie Abat as Janelle May Cabusao, Toni Katano as Paz Locsin, Hazel Lozano as Administrator, Samantha Valdellon – cast as Sampaguita Bautista, Sandy Velasco – cast as Aimee Reyes, though  one is quite new to LA Theatre debut, Arianne Villareal- cast as Divina Ayala.
Angela Baesa is cast as Roshelyn Sandoval and she has also been pursuing film and television. She has finished a feature, "8 days Carlo," filmed in Mexico and several short films, "Anito and Bicultural."  So versatile is also Toni Katano, playing Paz Locsin, whose upcoming films include "The Florist" and "Nanay Ko" alongside Paolo Montalban. Samantha is a familiar face having appeared as Lee Lee in the premiere of "Bloodletting," another play written by Alvarez and directed by Jon Rivera in Atwater Village.
The play's richness is in the simplicity of its credible, easy to understand, fast-moving dialogue that belies the multiple social issues it tackles. At times, the audience is laughing, amused by the women's adept memories of home, but is also moved by the sacrifices they went through.
One memory recall stood out for me that was well acted by Sandy Velasco who played Aimee Reyes – it was the love-making experience with her partner.  She made it quite hilarious and the audience laughed with her. This is worth seeing for both its comedic and acting values and how she demonstrates it further. It is both funny and endearing as Filipinas in sisterhood do when they hang out with one another – no holds bar conversations.
Another is the Administrator's tenderness switch on and off, played well by Hazel Lozano. She vacillates from being the strict, in your face administrator, who has to extract compliance from these pregnant women, and then becomes tender and gentle when she persuades these women as she was about to take the infant of Janelle May Cabusao (played adeptly by Evie Abat) into a relative's home, after Janelle May abandons her baby. Her movements showed how privileged she was, quite selfish and self-centered as her roommates would say, yet also caring in how she treats some of her roommates. Find out why she hugs her high heels to sleep in a Lazy-Boy recliner.
There were many memorable scenes that were giveaways and gifts to those who are part of the Filipino-American community as they are universal conversations in many immigrants' homes.
As first generation immigrants, we are daunted by the memories we recall, the tenderness of our childhood experiences in contrast with the harshness and the shock of an inhospitable culture layered with fear of enforcement authorities and the uncertainty of what the future offers.
It is not in the birthing of their babies that the suffering is detected, but it is in the displacement from being surrounded by what is familiar: language, community, going to mass in the same church, even watching Tagalog movies. The play depicts these familiar memories with humor, including the simulated celebration of the Eucharist on Easter Sunday.
I like the play's treatment of difficult women's issues of postpartum, mental disorder, fear including who the fathers are to these babies about to be born, with a surprise twist and a detour to an orphan's journey, and the difficulties that came with an unsheltered childhood and being vulnerable to an uncle, and being "dark-skinned and unwanted."
Beyond our home provinces and birthplace cities' churches in the Philippines, the beauty and strength of our homegrown Filipino-American communities come from being loyal followers of our churches here in the U.S., but also that we are connoisseurs of good Filipino restaurants and in the last few years, giving birth to a vibrant Filipino Food Movement. In Los Angeles alone, there are 18 restaurants to choose from.
With cultured sensibilities of our palates and caring for our souls by prayers and faith rituals, can we perhaps show similar loyalty as well to our live theatres? After all, if you check the listing of 102 live theatre venues in Los Angeles, we have one of those to be proud of: "America Adjacent" at the Skylight Theatre in Los Feliz. Can we show some love for this play as it will be ending Sunday, March 24?
With "America Adjacent," a special bonus awaits the audience – on special days, you get to hear from Giselle Tongi, associate producer, moderating  a panel of women speaking about their experiences here in America, with American children born here in the U.S. and the gaps in language, terminology, accent, cultural norms and even different expectations. This panel is quite informative as our daily grind schedules gloss over these gaps and conflicts usually arise.
If only for a few hours, we get to examine and reflect on how far we have grown and even evolve as a Filipino-American community here in the U.S.,  finding our safety net here by engaging our creative spirits, and in support of one another, to nurture those creative sparks of light.
Can we make this play another resounding success with our active presence and support? I thank you in advance.
* * *
Prosy Abarquez-Delacruz, J.D. writes a weekly column for Asian Journal, called "Rhizomes." She has been writing for AJ Press for 10 years. She also contributes to Balikbayan Magazine. Her training and experiences are in science, food technology, law and community volunteerism for 4 decades. She holds a B.S. degree from the University of the Philippines, a law degree from Whittier College School of Law in California and a certificate on 21st Century Leadership from Harvard's Kennedy School of Government. She has been a participant in NVM Writing Workshops taught by Prof. Peter Bacho for 4 years and Prof. Russell Leong. She has travelled to France, Holland, Belgium, Japan, Costa Rica, Mexico and over 22 national parks in the US, in her pursuit of love for nature and the arts.