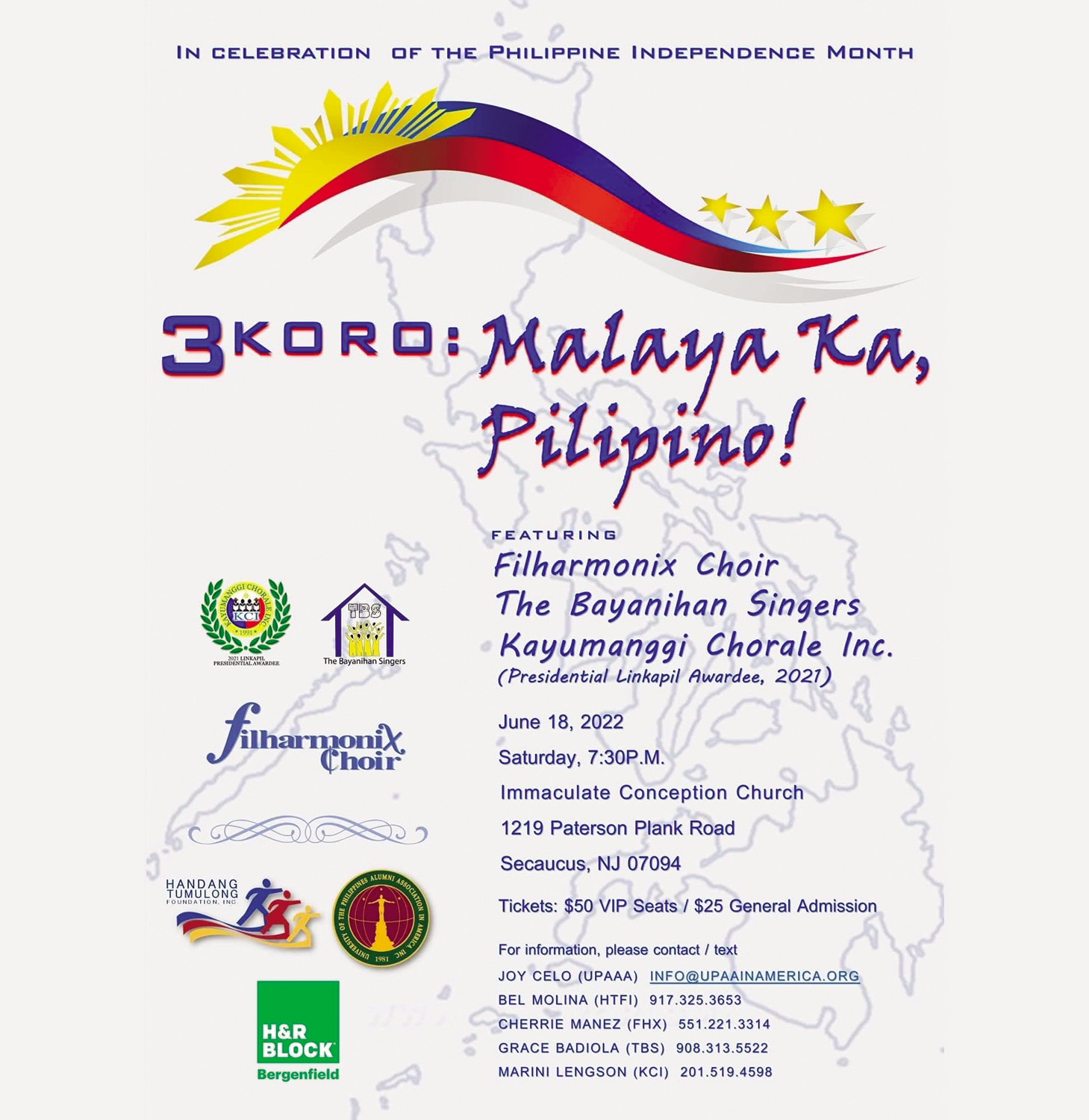 NOW is the time to give ourselves a treat that we truly deserve. After a long hiatus from the pandemic season, we are back in finding the best live entertainment that suits our distinct musical taste. As they say, "Singing is a way to express our thoughts and feelings and has the power to alter our moods and conjure up memories."
In addition to the festive celebration of the historic Philippine Independence Day this month of June, the University of the Philippines Alumni Association in America, Inc. (UPAAA), and Handang Tumulong Foundation, Inc. bring us a grand showcase of Filipino talent in-person on a full-length concert entitled, Tatlong Koro: Malaya Ka Pilipino! This musical event will be staged at the Immaculate Conception Church in Secaucus, New Jersey, on June 18, 2022, Saturday, at 7:30 P.M.
One main attraction of this production is the feature of various genres of Filipino music in history as performed by the Filharmonix Choir, the Kayumanggi Chorale, Inc., and The Bayanihan Singers. These three renowned Filipino choral groups are homegrown to and a source of pride in the New Jersey Filipino American community. Funds raised by this event will benefit the scholarship fund of UPAAA, and projects of other sponsoring organizations. H&R Block Bergenfield, NJ is the event's Corporate Sponsor.
Concert Overall Chair, Dr. Winston Umali from UPAAA appeals to the public and said that "Let's support and enjoy this concert that conveys a message of love, peace and harmony while commemorating the birth of our Filipino freedom."
The UPAAA Scholarship Fund helps undergrad, graduate and post-graduate students at UP for school fees. It also provides assistance to students at UP Baguio with on-going medical expenses, temporary housing and basic electronic equipment.
For tickets, donations and other details, please contact Dr. Joy Celo at [email protected], Bel Molina (HTFI) 917-325-3653, Cherrie Manez (FHX) 551-221-3314, Grace Badiola (TBS) 908-313-5522, Marini Lengson (KCI) 201-519-4598. n