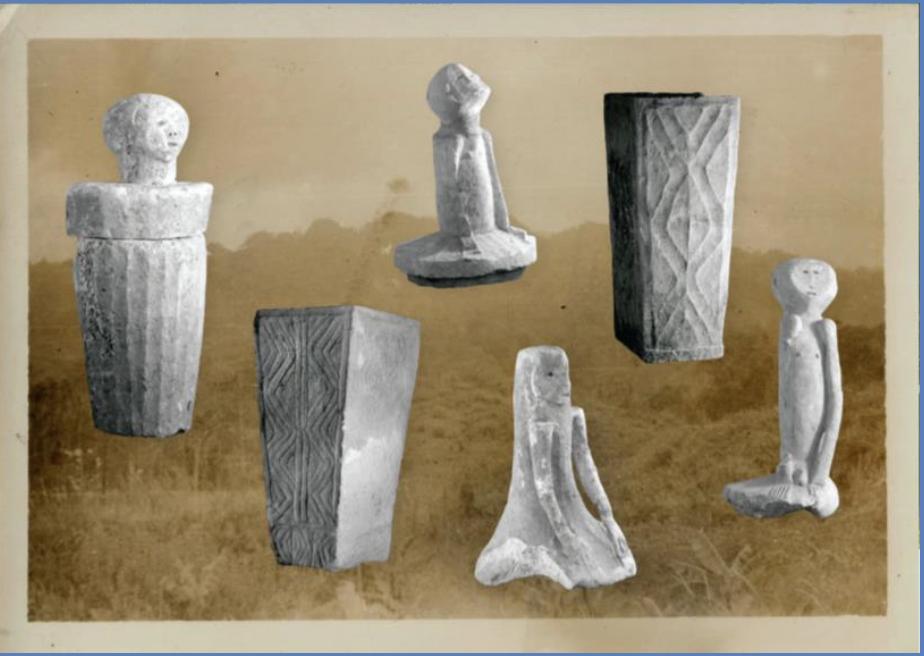 Rare pre-colonial artifacts from the Sally von dem Hagen collection
For the first time ever, pre-colonial limestone artifacts from Cotabato will be presented to the Los Angeles public. The exhibit will be launched on March 7, 2023, at 6:00 p.m. at the FASGI Bayanihan Center, located at 135 North Park View Street, Los Angeles, CA 90026. The display of rare limestone urns, covers and figures are from the Sally von dem Hagen Collection.  The exhibit launch will feature an introduction by Philippine Consul General Edgar Badajos and a short lecture by Dr. Stephen Acabado, Director of the UCLA Center for Southeast Asian Studies and Chair of the UCLA Archaeology Interdepartmental Program.
The purpose of the exhibit is to engage the more than half a million Filipinos in Los Angeles to be active participants in reclaiming our collective material culture. We hope to: (1) elevate Filipino American identity by increasing knowledge on shared Filipino history and culture; (2) dispel propagated myths and provide accurate information, especially those in reference to pre-Colonial indigenous people; and (3) honor the legacy of Sally von dem Hagen.  According to Dr. Acabado, "Access to heritage information facilitates a strong sense of ethnic identity. Studies have shown that immigrant youths exposed to their parents' culture and history are more likely to succeed later in life. We hope that this event is the first of many engagements with the LA Filipino community."
The artifacts to be exhibited were likely constructed approximately 2800-1000 years ago and most were used as secondary burial urns. A Monobo tribe sold the pieces to Sally von dem Hagen over a period of two years in the late 1970s.   The artifacts were removed from caves, located in Manobo land in Cotabato, and sold over a series of blessings and rituals.  All sales were well-intentioned with the understanding that the tribe needed financial help and the buyer would treat the items with respect, borne out of her love for ethnic Filipino culture, and would eventually be shared with the Filipino community. In Mrs. von dem Hagen's own words, "When one views the collection in its entirety, one gets an uncanny view into the culture, artistic expression, and view-of-the-world of the 'primitive' society that once existed so long ago in the mountainous jungles of Mindanao.  The jars seem to call out, telling us that the concerns of the human heart are ageless and changeless. I would hope that the collection could be kept together for that reason."
The Filipino American Service Group (FASGI) is humbled to be the caretaker of these artifacts while logistics are being negotiated for repatriation to the National Museum of the Philippines. Consistent with Filipino tradition, the artifacts were blessed after arrival at the FASGI Bayanihan Center by Fr. Rodel Balagtas, Pastor of Incarnation Catholic Church in Glendale.  While the artifacts are at FASGI, ongoing studies and programming will continue to be conducted in partnership with the UCLA School of Archaeology.  These studies will be released to the public as they are finalized.  Dr. Acabado's students have been working with full commitment and excitement in studying the artifacts.  His two lead students – Earl John Cedo Hernandez, PhD student at the UCLA Cotsen Institute of Archaeology, and Madeleine Yakal, PhD candidate at UCLA Anthropology Department – both state, "The UCLA Southeast Asian Archaeology Lab is committed to growing Filipino cultural heritage both in the Philippines and in the diaspora. We encourage the Los Angeles FilAm community to participate in the exhibit, learn more about archaeology, and engage in cultural stories in meaningful ways." We are confident that our collective activities would help the Filipino community in Los Angeles to gain a deeper understanding of the tribal, indigenous, pre-colonial, and multifaceted Filipino culture
The launch of the Cotabato Limestone Exhibit on March 7 will include a display of Mindanao cultural items curated by Celia DeFato (Kultura Philippine Folk Arts) and Jose Chin, Jr. (Fiesta Fastfood). According to Ms. DeFato, "A Mindanaon myself from Davao City, I look forward to experiencing and sharing with Californians the rich and colorful culture of the various ethnolinguistic tribes that inhabit neighboring areas of Cotabato, such as the Manobo, Tiboli, Bilaan and Muslims."  Food will also be served, which will include an indigenous Manobo dish created by Jose & Minda Chin from Fiesta Fastfood, as well as other Filipino food from Auntie Dee's and other Filipino food establishments.
FASGI is proud to partner with the von dem Hagen family, the Philippine Consulate General in Los Angeles, Sentro Rizal Los Angeles, UCLA Program for Early Modern Southeast Asia, UCLA Southeast Asian Archaeology Lab, Ethel G. Rubio Associates, Kultura Philippine Folk Arts, Asian Journal, Fiesta Fastfood, Auntie Dee's, and the Filipino American Community of Los Angeles.
Come and see this rare collection in its entirety at the launch on March 7.  Prior to repatriation to the Philippine National Museum, the artifacts will be available for private viewing on an ongoing basis.  Interested parties may schedule an appointment by sending a text message to 818-271-0901 after
March 7. This exhibit is part of FASGI's Cultural Program. For more information, please visit fasgi.org.