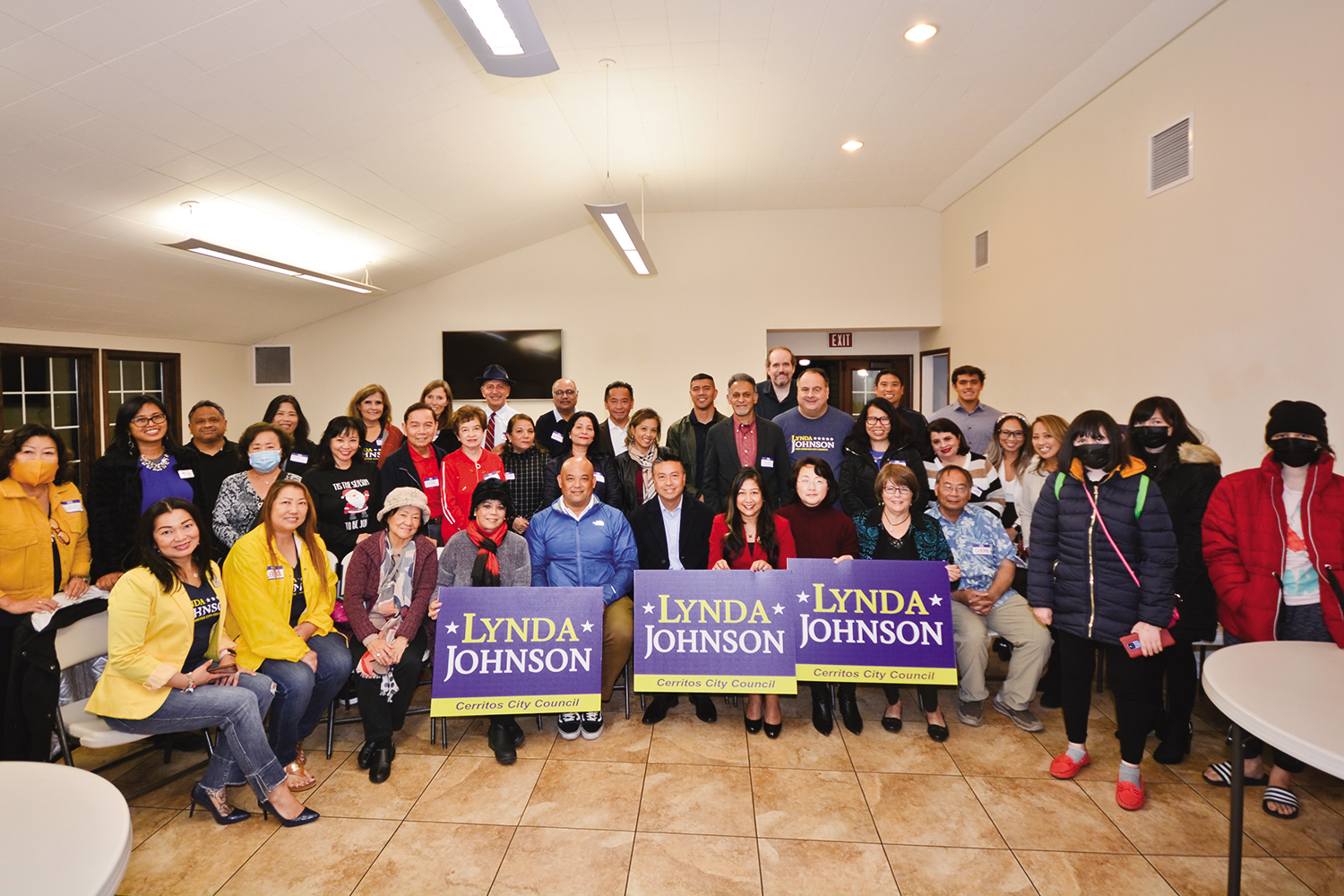 Cerritos, CA — With her vast and glowing experiences as paralegal and field  deputy of Los Angeles County's two branches of services, Lynda Johnson may yet be the first Filipina American woman to break the glass ceiling as councilwoman of the City of Cerritos. Election day is April 12, 2022.
Tangible signs are pointing to that direction as Democrats, Republicans and Independents and from the cross section of the community, showed their support during her official kick off campaign and subsequent meet and greet and subsequent rallies.
Over 80 people were in attendance to support Lynda during kickoff event including speakers L.A. County Sheriff Alex Villanueva, Cerritos Mayor Pro Tem Chuong Vo, Cerritos Councilmember Naresh Solanki, Cerritos Councilmember Bruce Barrows and former Artesia Mayor Rene Trevino.  All spoke in earnest in support of Lynda for the Cerritos City Council who has the widest experiences in constituent engagement.
During her Meet and Greet at Shadow Park in Cerritos, Fil-Am Councilman Ariel Pe of nearby Lakewood, Cerritos Mayor Pro Tem Chuong Vo and ABC Unified School District President Soo Yoo led the batteries of speakers extolling Lynda Johnson's readiness to be the next councilwoman of Cerritos.
Lynda has lived in Cerritos since 1971. Her father, Samuel Johnson, was born in Manila, Philippines and her mother Delia Provido Johnson is from Jaro, Iloilo. Samuel Johnson served in the United States Navy and retired as Chief Petty Officer, Lynda's youngest child  is a graduate of  the United States Naval Academy, commissioned as a Marine officer and achieved the rank of captain in the United States Marine Corps.
The first woman Fil-Am candidate for the Cerritos City Council was a parent volunteer at her children's elementary schools. Lynda coached basketball and T-Ball through the City Council Parks and Recreation sports programs. She also served  as a three-term Cerritos High School PTSA President and six years as an ABC Unified School Board member where she ensured that the district had a balanced budget and were fiscally prudent.
Professionally, Lynda has served Los Angeles County for 35 years which includes 20 years as a Paralegal with the Los Angeles District Attorney's Office where she testified as an expert witness for special allegations and sentencing enhancements on felony trials. In the last five years, she served  as the Field Deputy to Los Angeles County Supervisor Janice Hahn serving six cities including the City of Cerritos. In this capacity, she worked closely with the management at both the Los Cerritos Shopping Center and the Cerritos Auto Square, to ensure that they remained open during the pandemic to protect the city's revenue stream.
As L.A. County Field Deputy, Ms. Johnson has assisted many constituents of her former boss L.A. County Supervisor Janice Hahn and "got things done without much fanfare and braggadocio," chorused by those she had helped.
Currently, Lynda Johnson is the Field Deputy to Los Angeles County Sheriff Alex Villanueva, overseeing the 10 million residents of L.A. County. She maintains a satellite office out of the Cerritos Sheriff's Station. "Public safety is my top priority for Cerritos City and I'm in a position to ensure our concerns are heard. I share the same passion with the County Sheriff," she enthused in an interview.
Lynda is the only candidate endorsed by Sheriff Alex Villanueva and three current Cerritos Councilmembers, who all spoke at her kick-off campaign. She also has endorsement of four former Cerritos Mayors: Carol Chen, George Ray, Barry Rabbitt and Dan Wong, former Assemblywoman Sally Havice, ABC School Board members Brad Beach and Michael Eugenio, Lakewood Council Members Steve Croft, Todd Rogers, and Fil-Am Ariel Pe, Lomita Council Member Mark Waronek and Paramount Council Member Vilma Cuellar-Stalings. Lynda has also gained support from surrounding cities in the Gateway Region: Bellflower Fil-Am Mayor Pro Tem Sonny Santa Ines as well as Council Members Ray Hamada and Victor Sanchez, Artesia Council Member and former Mayor Tony Lima.
Information on Lynda Johnson can be found at www.vote4lynda.com. She can be reached at [email protected] or at 310-650-6159.