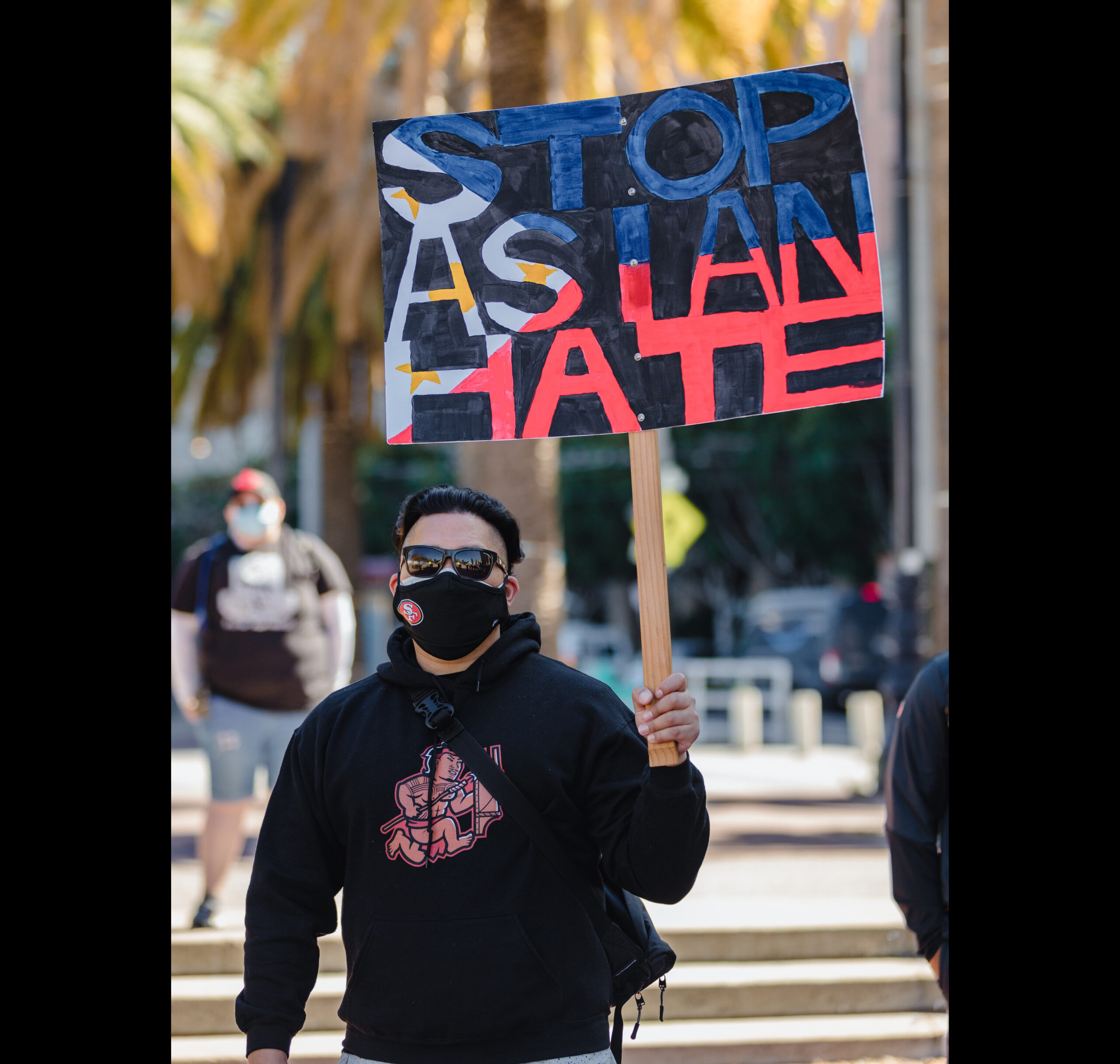 The Asian American and Pacific Islander community in Los Angeles County holds deep fears of racial attacks, according to a new survey released by the Pat Brown Institute for Public Affairs at Cal State LA and the California Community Foundation.
Nearly a quarter of the 1,500 AAPI residents who were surveyed reported being a victim of a physical or verbal attack because of their race or ethnicity during the COVID-19 pandemic. Two-thirds said they are worried about being a victim of a hate crime, and 80% said they believe anti-Asian racism has been a serious problem during the pandemic. Half of the survey respondents said they have experienced racial discrimination in public spaces.
The survey comes a year after the killing of six Asian women in Atlanta, Georgia, and following a marked rise in anti-Asian hate incidents across the U.S. since the start of the COVID-19 pandemic. The survey results provide in-depth insight into the views and experiences of AAPI residents, both voters and nonvoters, who make up about 15% of L.A. County's population.
"It is rare to have a survey with such a large sample of AAPI residents in a single geographic area, allowing an unprecedented deep dive into the challenges, hopes and aspirations of the fastest-growing demographic group in America," said Raphael J. Sonenshein, executive director for PBI. "The intensity of the community's concerns about anti-Asian speech and action, and about discrimination, is particularly timely on the first anniversary of the horrific murders in Atlanta."
"With election campaigns underway in L.A. city and throughout L.A. County, the survey can help open the door to greater and more productive engagement by candidates and parties with the AAPI community," Sonenshein said.
The survey was conducted by research and polling firm BSP Research from Nov. 8 to Dec. 24, 2021, under the direction of veteran researcher Matt Barreto of BSP Research in association with PBI research associate Nathan Chan, and with funding from CCF. The results were released during a webinar held on March 15, the second in a two-part Voices of L.A. survey series from PBI and CCF. The results from the first survey of Latina/o residents were released earlier this month.
During the webinar, Chan outlined key findings and Sonenshein moderated a panel discussion with Manjusha P. Kulkarni, executive director for the AAPI Equity Alliance and co-founder of Stop AAPI Hate; Lian Cheun, executive director for Khmer Girls in Action; and Frank Shyong, a columnist for the Los Angeles Times.
The survey found that AAPI residents who reported experiencing racial discrimination were more active in political activities, including contacting elected officials, discussing politics with friends or family, signing petitions, donating and volunteering on campaigns.
"The AAPI community has not been silent," said Chan, who is a Ph.D. candidate in political science at UCI and an expert in AAPI public opinion and voting behavior. "The AAPI community has responded to racial discrimination with even more involvement in politics, making their voices heard. The era of COVID-19 and anti-Asian hate has the potential to usher in a contemporary wave of AAPI political activism."
The survey also explored the AAPI community's views on key issues facing Los Angeles, such as homelessness and the pandemic.
More than half of respondents said they would support new ballot measures providing funding to address homelessness in Los Angeles, similar to Proposition HHH and Measure H, which were passed by voters in 2016 and 2017.
During the pandemic, 36% of all respondents—and 48% of 18- to 34-year-olds—said they lost their job or had their hours cut.
Most respondents indicated that police funding should remain the same or increase, with 42% reporting it should not change. However, views varied by national origin, with Indian Americans and Chinese Americans being most likely to favor status quo funding levels at 50% and 48% of respondents, respectively, and 37% of Korean Americans and 39% of Vietnamese Americans favoring a slight increase in funding.
Half of the AAPI residents leaned Democrat and 35% of respondents identified as Independent or with neither party.
Nearly 60% of respondents hold unfavorable views of former President Donald J. Trump and generally approve of Democratic leaders like President Joe Biden, Gov. Gavin Newsom and Mayor Eric Garcetti.
An overwhelming majority of respondents—92%—reported being enthusiastic about participating in the 2022 midterm elections. Nearly 85% said having an Asian American elected official representing them was very or somewhat important.
The survey also pointed to potential gaps in current political outreach efforts to AAPI voters, with 58% of respondents saying they have not been contacted about registering to vote or voting in the last two years. The percentage who reported not being contacted was even higher for foreign-born respondents at 65%.
During the discussion of the findings, Cheun said the high enthusiasm for voting, the substantial number of respondents who did not identify with either major political party, and the low levels of outreach reported in the survey indicate that there is untapped potential for candidates to connect with AAPI voters in Los Angeles.
"For a community that often feels invisible in the political landscape, the data that we are seeing today really show a community worthy of engagement," Cheun said. "… The problem here is that there is simply not enough investment put into talking and outreaching to our communities."
Overall, 70% of respondents completed the survey online and 30% were interviewed by phone. Participants were able to complete the survey in their preferred language among English, Spanish, Chinese, Tagalog and Korean. The poll's margin of error is ± 2.5%.
View the survey results and the key findings on the PBI website.
The Voices of L.A. survey series is part of agroundbreaking multiyear PBI project to survey four major racial and ethnic populations in Los Angeles County: the Asian American and Pacific Islander, Latino, Black, and Jewish communities.
"I'm just so thrilled for the California Community Foundation to have an opportunity to partner with the Pat Brown Institute's polling series, which for years has been helping to uplift the critical voices that make up our multiracial democracy here in L.A. County," said Efrain Escobedo, vice president of public policy and civic engagement of CCF.
PBI and BSP Research plan to continue to analyze the survey results, examining the findings based on factors such as gender, national origin and age, and will make the continued analysis available to the public.
"In our view, this is the beginning of a conversation, not the end of a conversation," Sonenshein said.