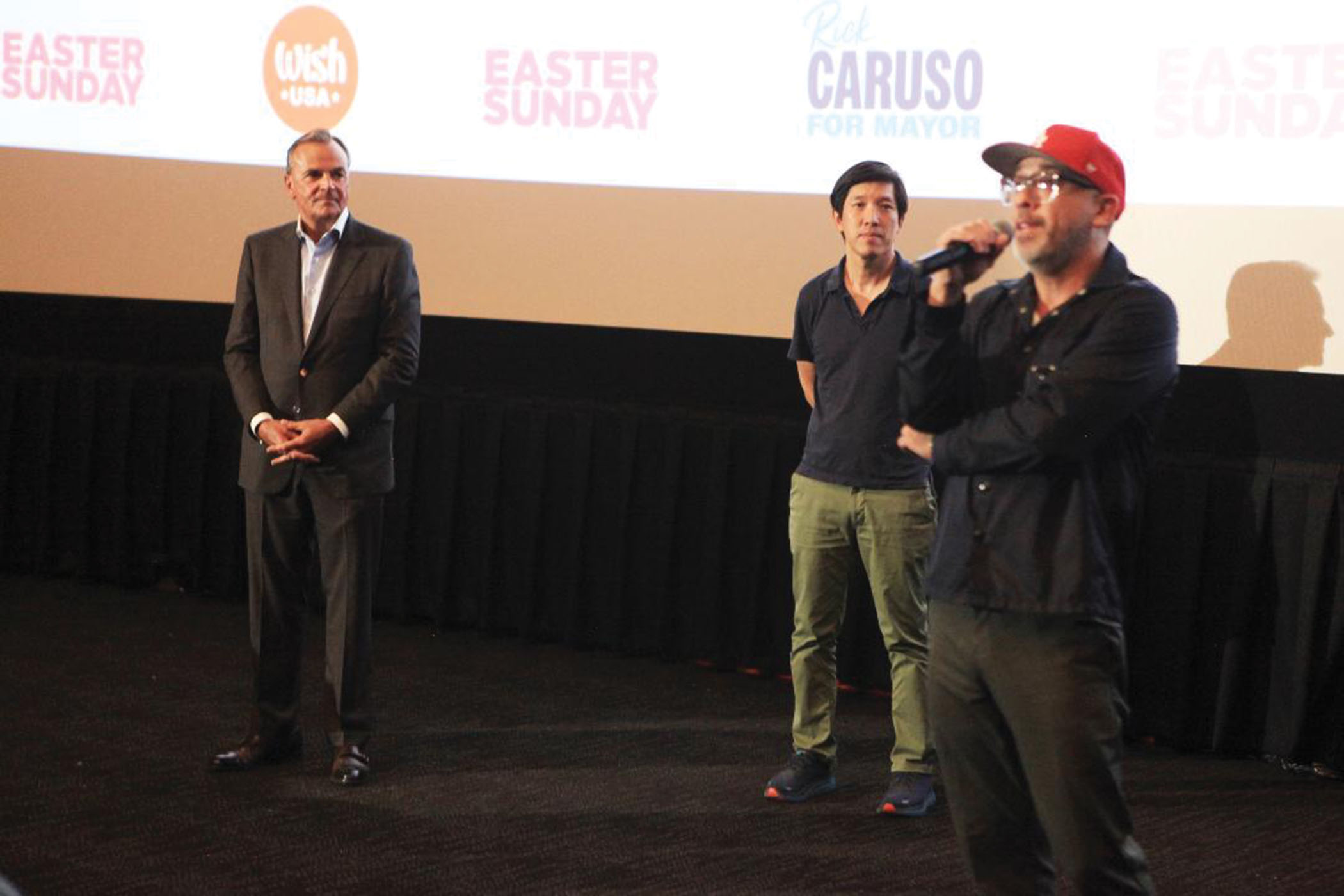 IN a bid to court the Filipino American vote, Los Angeles mayoral candidate and real estate billionaire Rick Caruso recently hosted a special community event in celebration of the first major Fil-Am Hollywood studio film "Easter Sunday," starring stand-up comic Jo Koy.
The event, dubbed "A Celebration of Filipino Americana," had Jo Koy and the film's producer, Dan Lin, in attendance.
In hosting the event, Caruso said it is only befitting to hold a very special day for the Fil-Am community, the largest Asian American population in California and among the largest immigrant groups in the country.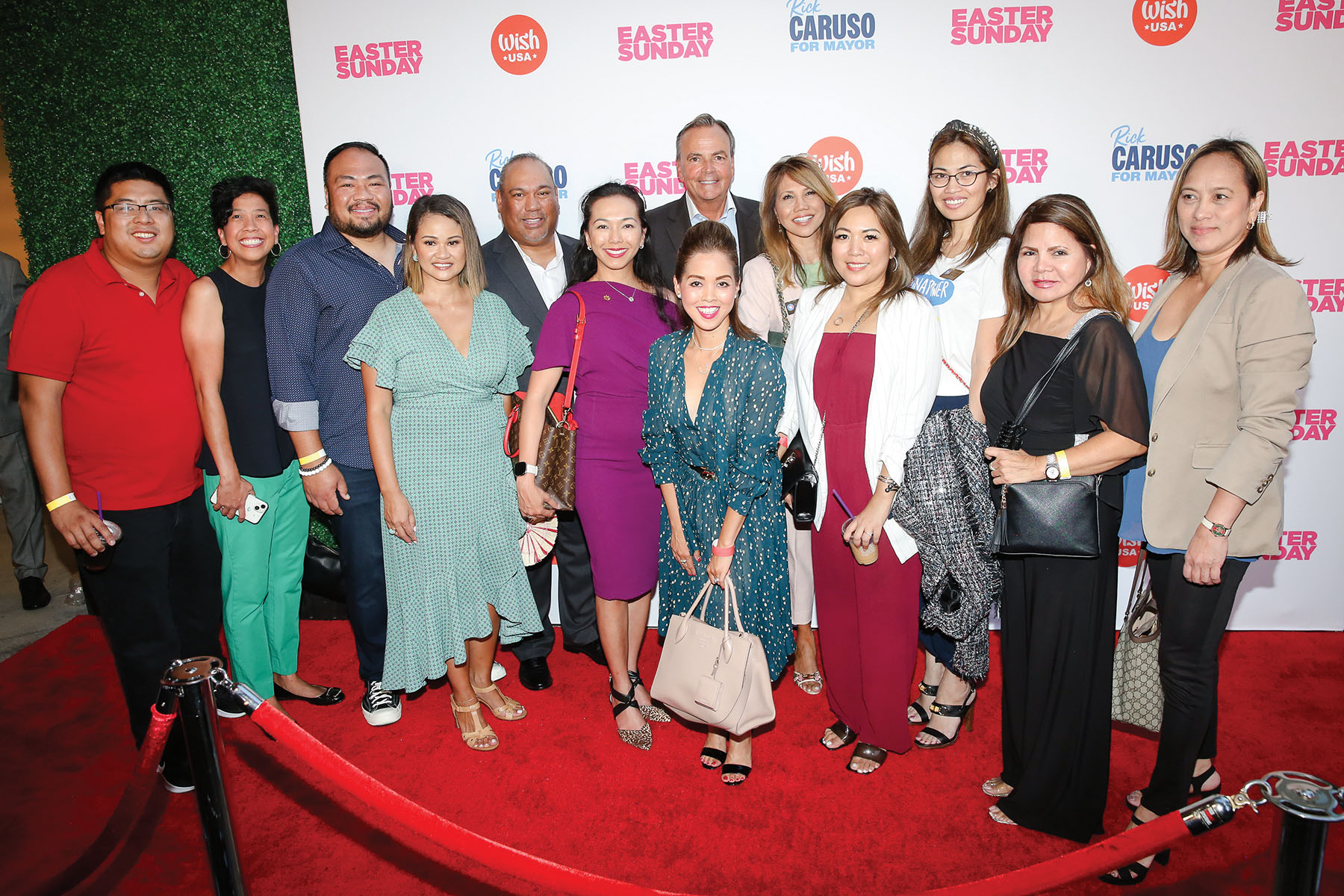 Asked how he feels about the successful turnout of the event, Caruso told the Asian Journal, "It's incredible. It's amazing."
"I feel honored and blessed to have them here," he added.
More than 700 people attended the event held at The Americana at Brand in Glendale, which is one of Caruso's
Caruso, who is a well-known real estate developer before he joined the public service, owns The Americana at Brand, The Grove, and Palisades Village.
"(I think) we've got hundreds of people here (attending the event), not only from the Filipino community but all those who support our cause of championing Filipino talents," said Caruso, who is running for mayor against Rep. Karen Bass.
Caruso is elated to share that he has been getting a lot of support from the Filipino community.
"My message (to the Filipino community) is (that) I understand your culture. I've been to the Historic Filipinotown. I've been meeting people for the last few months," he said.
He particularly noted the similarities between Filipino and Italian cultures. "It's very much like the Italian culture. (We also have) a lot of immigrants coming here. "(We have) strong faith, strong family, strong sense of community, and (always) want to work hard," he said.
Caruso's grandparents came to America from Italy through Ellis Island and his father served in WWII, attending the University of Southern California on the GI Bill. In 1987, he founded Caruso, a real estate company that has gone on to build some of Southern California's most popular shopping centers.
For his part, Jo Koy said being able to open doors of opportunity to showcase Filipino ingenuity and talents in the entertainment industry is a dream come true.
"I had a goal and this is all I wanted. This right here. This moment right here, make a movie, promoting my culture, talking about my people, this is it all about. I am speaking for other immigrants that come to this country that need a voice," Jo Koy, who is fondly called "Josep" by his fans and followers.
The 51-year-old Joseph Glenn Herbert, Sr., known professionally as Jo Koy, was born to a white father who was in the United States Air Force stationed in the Philippines when he married Koy's Filipina mother.
Jo Koy said he hopes that these kinds of initiatives that promote Filipino culture in the film industry will continue long term. "We need to keep the door open," he said.
He called on all Filipinos, not only here in America but around the world, to come together and support these opportunities.
"We have to support each other, instead of taking one down, that's the most important, sometimes within our own community, we'd like to pull each other down and not help one another," he said.
"This door is open, let's keep it wide open and let other people through. I'm already here and I just want to keep it going and let other people in," he pointed out.
Jo Koy has also expressed gratitude to those who made the "Easter Sunday" movie possible.
"(I would like to) thank Steven Spielberg who made it happen and made it possible, and not only for the Filipino family, but for everyone. This door is open and let's keep it open so this is one family with their story and let's have other families not just Filipino families," the comic, who began his stand-up career in 1994 at a comedy club in Las Vegas, said.
Jokoy's stand-up comedy shows, which have sold out arenas, spotlight his personal stories of his family and Filipino culture. It wasn't until Steven Spielberg got involved that Jo Koy finally got a chance to tell these stories on the big screen.
He said "Easter Sunday" is a story not only for Filipino families but all families with different and distinctive cultures, traditions and values.
"We are all relatable. The message is clear. We need to hear other people's cultures…When you watch it, you'll see that we're all the same, all relatable, moms to moms, sons to sons, doesn't matter who you are, that's what I want us to see in this movie," Jo Koy said.
Easter Sunday is an American comedy film starring Jo Koy as Joe Valencia, a struggling actor, comedian, and single father who attends a gathering of his loud and dysfunctional Filipino American family on Easter Sunday.
The roughly 90-minute film is directed by Jay Chandrasekhar and written by Ken Cheng and Kate Angelo, from a story by Cheng. In the United States and Canada, Easter Sunday was released alongside Bullet Train, and was projected to gross $5–7 million from 3,175 theaters in its opening weekend. The film reportedly made $2 million on its first day, including $500,000 from Thursday night previews.
Aside from Jo Koy, the film also stars Jimmy O. Yang, Tia Carrere, Brandon Wardell, Eva Noblezada, Lydia Gaston, Asif Ali, Rodney To, Eugene Cordero, Chandrasekhar, Tiffany Haddish, and Lou Diamond Phillips.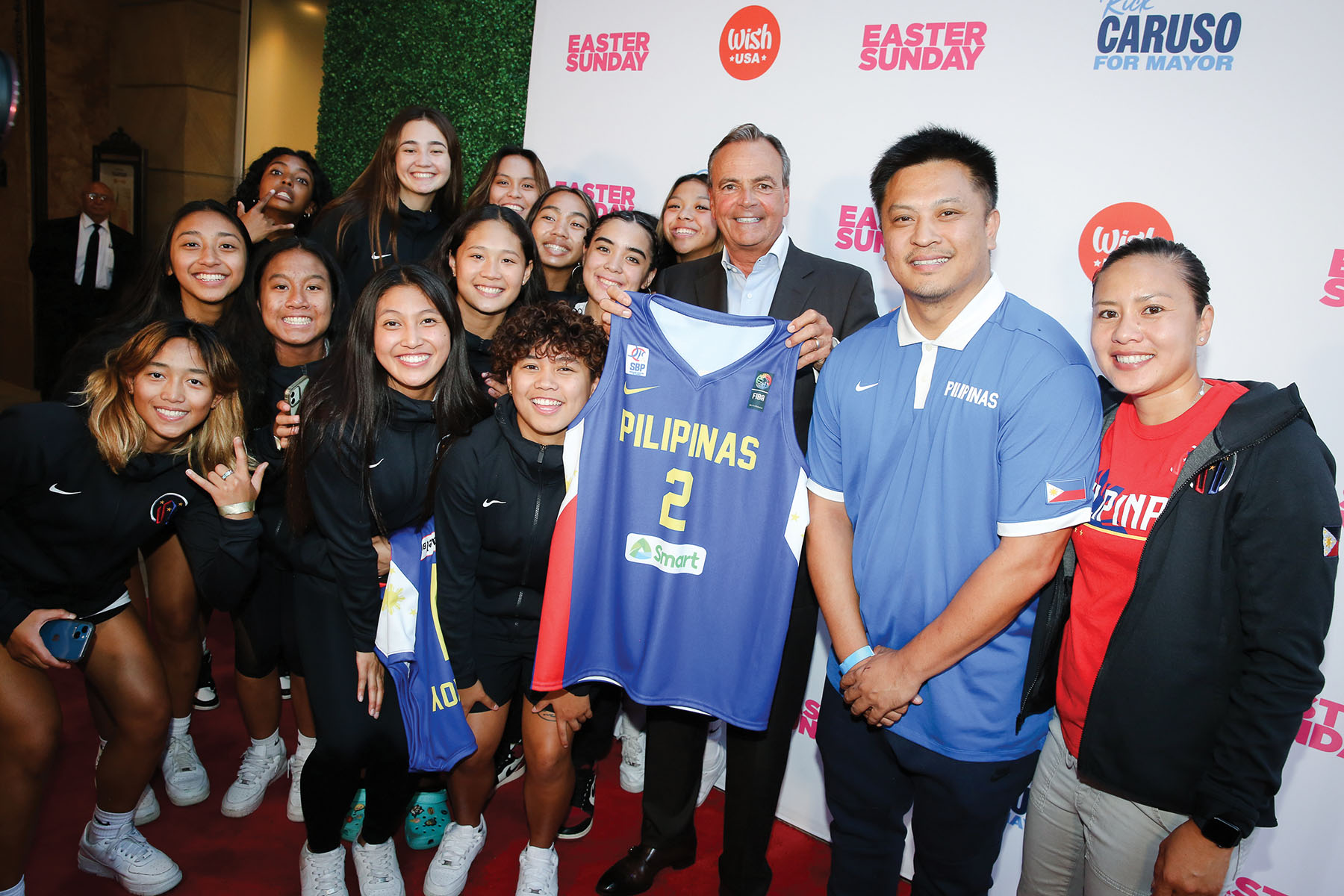 The Filipino Americana event began with a reception where guests were treated to a live band entertainment staged at The Green space at the Americana at Brand. Attendees were also able to savor a wide variety of Fil-Am cuisines from well-known local Filipino restaurants — Kuya Lord, Big Boi, B Sweet, and Café 86.
The event also had a special performance from the Wish Bus, a traveling stage run by Wish 107.5 radio station.
Following the reception, guests were treated to a special screening of Easter Sunday with opening remarks by Jo Koy and Caruso.
Also spotted in the crowd during the event were Filipino balladeer and Concert King Martin Nievera and his son, Robin; Filipino R&B singer and songwriter Kiana V, Gary Valenciano's daughter; PBA player Alex Cabagnot; film producer Dan Lin; The Philippine Women's Basketball team; American Idol Season 1 finalist Rocky Sandoval; singer Jules Aurora; and musical artist Jamieboy.